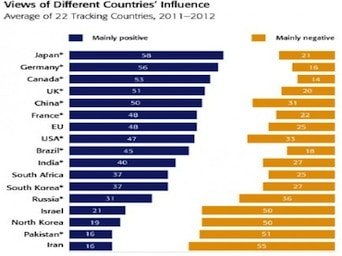 Haaretz reported yesterday that, "Israel, Iran, Pakistan and North Korea were ranked most negatively by 24,000 people surveyed in an annual BBC poll."
It would appear that in spite of the extensive Hasbara campaign and the Jewish lobby buying every morally lax living politician, people of the world increasingly see Israel for what it is.
The broad international survey was an initiative of the BBC World Service. Over 24,000 people from 22 countries took part in the poll, which was conducted from December 2011 to February 2012.
Haaretz confirms that the survey's findings on global attitudes toward Israel are "worrying indeed." Last year's survey already confirmed that attitudes toward Israel were negative, but the situation has become more serious this year: Some 47% of participants in the 2011 survey had negative views of Israel's influence on the world, but this year the number has gone up to 50%.
If Israel and Zionism were set initially to bring to the world a humanist civilised Jew, this poll results suggest that both Zionism and Israel failed completely. In spite of Israeli Hasbara, Jewish lobbying and the Jewish stronghold over the media, the people of the world, see the Jewish State negatively.
Some 50% percent of Americans that took part in the poll said they had a favorable view of Israel. Yet, with just half of the American people seeing Israel favourably, the blunt support of America's political system of Israel is staggering and pretty revealing.
In Europe, Israel is losing popularity rapidly. Some 74% of Spanish respondents (an increase of 8% from last year) and 56% of French respondents (an increase of 9%), see Israel in a negative light. In spite of their guilt and the heavy pro Israeli indoctrination, 69% of German respondents see Israel negatively. And in Britain, despite the embarrassing fact that 80% of our Tory MPs are Conservative Friends of Israel, 68% of the Brits are not at all friendly towards the Jewish State.
In emerging economies, people also have some problems with Israel. According to the poll. 45% of Chinese participants, 58% of Brazilians and 29% of Indians have negative views of Israel, and the number of Israel sympathizers in these countries is markedly low.
The survey also found that in Russia, which last year stood out as a country where public opinion of Israel was positive, only 25% of Russian participants had positive views of Israel this year, compared to 26% who see Israel in a negative light. This is not very surprising bearing in mind that 7 out of 8 Russian oligarchs are Jews possessing with Israeli citizenship.
Israel may want to consider changing its path immediately. Rather than investing in Hasbara and extensive Jewish lobbying, it may want to open its eyes to the prospect of humanism and peace because it appears that humanity clearly shows some real signs of fatigue towards the 'Jews only State'.
Gilad Atzmon is an Israeli-born British jazz saxophonist, novelist, political activist and writer.
Atzmon's album Exile was BBC jazz album of the year in 2003. Playing over 100 dates a year,[4] he has been called "surely the hardest-gigging man in British jazz." His albums, of which he has recorded nine to date, often explore the music of the Middle East and political themes. He has described himself as a "devoted political artist." He supports the Palestinian right of return and the one-state solution in the Israeli-Palestinian conflict.
His criticisms of Zionism, Jewish identity, and Judaism, as well as his controversial views on The Holocaust and Jewish history have led to allegations of antisemitism from both Zionists and anti-Zionists. A profile in The Guardian in 2009 which described Atzmon as "one of London's finest saxophonists" stated: "It is Atzmon's blunt anti-Zionism rather than his music that has given him an international profile, particularly in the Arab world, where his essays are widely read."
His new book The Wandering Who? is now availble at Amazon.com
ATTENTION READERS
We See The World From All Sides and Want YOU To Be Fully Informed
In fact, intentional disinformation is a disgraceful scourge in media today. So to assuage any possible errant incorrect information posted herein, we strongly encourage you to seek corroboration from other non-VT sources before forming an educated opinion.
About VT
-
Policies & Disclosures
-
Comment Policy
Due to the nature of uncensored content posted by VT's fully independent international writers, VT cannot guarantee absolute validity. All content is owned by the author exclusively. Expressed opinions are NOT necessarily the views of VT, other authors, affiliates, advertisers, sponsors, partners, or technicians. Some content may be satirical in nature. All images are the full responsibility of the article author and NOT VT.