THE WORLD TODAY IS PRIMARILY A BUSINESS COMPRISED OF A LARGE CONFEDERACY OF INTERLOCKED MAJOR INTERNATIONAL CORPORATIONS
DURING WW2 THE WORLD'S BIGGEST BUSINESS BECAME WAR  
By the end of WW2, America had the largest war industry with Russia close behind. After WW2, the biggest business became the Cold War. Then it became the War on Drugs, and now it's the WAR ON TERROR which is being turned against the American Citizens.
Here's how it happened. Here's what it means, and here is how it may play out as it runs its natural course until all available resources are consumed and the People will have no more of it.
http://www.youtube.com/watch?v=jxiT30N6ti4
[youtube jxiT30N6ti4]
THE WAR ON TERROR HAS BECOME A HUNGRY MONSTER THAT IS OUT OF CONTROL AND WILL CONTINUE TO CONSUME TAXES, JOBS AND MOST AMERICAN AND FOREIGN HOLDINGS UNTIL ABSOLUTE ENVIRONMENTAL & SOCIAL LIMITS ARE REACHED, AT WHICH TIME SERIOUS AND SIGNIFICANT RESISTANCE INSIDE AND OUTSIDE THE SECRET SHADOW GOVT WILL ENSUE
The War on Terror is a Hungry Monster, which consumes all available taxpayer funds and even much more as provided by sophisticated financial scams run by intel agencies and by the long running War on Drugs which has been operational since the mid 1960's. This War on Drugs has been exposed to be a phony and is merely a cover to provide huge amounts of black budget funds for covert operations by American Intel.  It has also produced a massive prison system now in place with about 40% of its inmates incarcerated for minor victimless non-violent drug offenses, making private prisons a huge and highly profitable American industry in and of itself, creating a gulag type system for folks who have no need for incarceration.
This massive collection of major funds for the Secret Shadow Govt is criminal (major RICO organized crime) and has been done while simultaneously manipulating Congress and the highest courts to sacrifice the US Constitution, American Freedom and Liberty, and everything the American Founding Fathers fought to take back from England when they established a new Republic based on Liberty and Representative Govt.  Our Founding Fathers had written and passed the Constitution with the hope of preventing any more such British style tyranny from occurring in America in the future.
Sad to say that after 200 years the British are back and have successfully imbedded their tyranny into much of American Society thanks to their hijacking of our Banking System in 1913-14, control over our foreign policy via this unConstitutional central bank, and now by the creation and administration of their War On Terror.
Thomas Jefferson said, "When the people fear their government, there is tyranny; when the government fears the people, there is liberty."  The Secret Shadow Govt is now acting as a franchise of the International Crime Syndicate (ICS) run out of "the City" of London Financial District, a separate country like the Vatican with its own ambassadors and police force and no taxes paid to the UK.  "The City" is the home of the Bank of England and major world insurance companies and other key financial institutions.
MASSIVE EXPANSION OF THE SHADOW GOVT HAS PRODUCED CREEPING, PROGRESSIVE INCREMENTS IN TYRANNY
This massive recent expansion of the Secret Shadow Govt in response to their phony War on Terror has produced a new "creeping tyranny" in progressive increments in response to the 911 attacks they planned, instituted and covered up.  The Shadow Govt controls the Major Media which has wrongly claimed in unison that this new Global War on Terror is justified and is necessary to protect Americans from "Terrorists hiding under every rock". Their original position that all terrorists were Muslim fanatics from the Middle East  is now morphing right before our eyes, as they are beginning to label normal US citizens as the "New Terrorists".
So now we have a new internal police state organism, Homeland Security labeling law abiding US Citizens as actual, suspected or potential domestic terrorists.  This is what Homeland Security stated and implied in their MIAC report and other such intel reports prepared and given to police and federal law enforcement, which they never expected to be leaked. This of course is one of the BIGGEST LIES EVER TOLD, because the USG has become the world's biggest Terrorist itself.  It's like the pot calling the kettle black in spades.  Such duplicity is astounding, but up until recently most of the people accepted these lies as truth.
MANY OF THE PEOPLE ARE WAKING UP THANKS TO THE ALTERNATIVE MEDIA ON THE INTERNET
Now, thanks to the Internet and the alternative media like Veteran's Today, the truth is being exposed and more and more people are waking up to the gross lies and duplicity of the USG and their propaganda that the major mass media dispenses by use of "talking heads" including young cutesy women with model's figures, faces tightened by plastic surgery and presentations well coached by experts.  This has served as pretty good mindkontrol up until recently.
Now with the severe financial decay of America and the lack of good jobs for many, many of the people are waking up when they hear the truth spoken in the alternative media on the Internet (thanks Darpa for inventing the Internet and conning the Shadow Govt into financing it and building it, perhaps the greatest sales job in history and a certainly major attempt to "slay the Beast").
Many citizens now starting to view Homeland Security as the New American Gestapo because of their police state appearance and tactics, and the sexual groping done by their evil step child the TSA, which so far has not prevented any terrorism but has done a great job wasting more taxpayer money, nearly ruining the airline business and effectively intimidating passengers and sexually molesting old women and children inside their pants and diapers.  And recent attempts to put MKultra mindkontrolled patsy amateurs on airline passenger aircraft to fool and scare the public have been exposed as poorly thought out and enacted American Intel operations.
THE SHADOW GOVT IS NOW BEGINNING A FULL SPECTRUM WAR AGAINST THE AMERICAN SHEEPLE
Bottom line is that the Shadow Govt has used their 911 inside job/stand-down attacks to falsely justify the greatest buildup inside the Secret Shadow Govt in history, and most view this now as a clear indicator that the Shadow Govt is now declaring a full spectrum war against the Americans which includes:                      1) Homeland Security ordering reinforced portable, armored road stop booths, ordering of 450 million rounds of 40 caliber hollow point pistol ammo and another 250 million rounds of .223 AR ammo to be used against the people;    2) deployment of the US military and foreign troops (claimed to be for training purposes only, yah right);   3) construction of numerous Internment camps and defense contracts requiring the ability to build hundreds of such camps within a 72 hour window when ordered;   4) deployment of air born remote controlled armed drones to spy and attack;   5) use of regional Fusion Centers, NSA and special new FBI sections to tap of all phones and communications, including the Internet;   6) and massive deployment of TSA to mainstream USA, and bus and train transportation, shopping centers and sporting events where they will continue to sexually grope the public, teaching them to be good subservient serfs and accept their sexual assaults and destruction of the US Constitution as normal.
It is expected by some experts that this new war against the American Citizen will start out as psyops and low intensity warfare, then progressing to full scale "in the streets", house to house combat until the people are completely disarmed and subjugated, unless the Shadow Govt is exposed and stopped before it can do so, especially if those in its ranks rebel in mass which is more likely than not.  The Shadow Govt officials fear this possibility and are making provisions to import foreign troops to assist, to be explained and rationalized as training exercises.
If the Shadow Govt is NOT planning for a full spectrum war inside the USA against the people, why then have they activated Northcom, created Homeland Security as a Stasi/Gestapo type organization, why the extreme military buildup inside the USA, the militarization of the police, the passage of unConstitutional draconian laws such as the Patriot Acts, the Military Commissions Act, the NDAA 2012, and many more?  Why the onslaught against all American freedoms from all sides?  So far the Shadow Govt has not justified any of these insane, criminal measures other than to say they are necessary to protect us from FOREIGN TERRORIST, and now the newly arising Domestic or potential or suspected Domestic Terrorists (which darn near includes most law abiding Americans but only exists in their imaginations). Obviously such continued provocations can produce the war they are gearing up for now, but they may get much more than they expect if they continue, because it may turn out to be that their greatest opposition will develop deep inside their own systems by highly trained and skilled individuals who have the ability to take control over their sophisticated weapons systems no matter what protections they have in place and turn them against the Shadow Govt and the Beast.
http://www.youtube.com/watch?v=sTSjg6IGR8I
[youtube sTSjg6IGR8I]
This massive expansion of the Shadow Govt was explored by Washington Post Reporters Dana Priest and William Arkin and reported in a July 19, 2010 article about which several videos were made for Television.  Their reporting seemed to suggest that the Shadow Govt was a new phenomenon of 911, when actually 911 was used as an excuse for a massive expansion of what had been constructed gradually beginning in 1947.
This out of control, hungry, resource addicted monster, the War on Terror is perhaps best described as the "Beast".  It has captured the control centers of American politics and defense via the Secret Shadow Govt and is now in the process of consuming all available financial resources.  This outrageous out of control asset stripping of the American people and destruction of their Constitutional Rights is likely to continue until absolute social and environmental limits are reached.   http://www.bilderberg.org/secret.htm
THE SECRET SHADOW GOVT IS ALLEGED TO BE RUN BY "THE BEAST"
This new post 911 War on Terror is essentially being run by the Secret Shadow Govt, which is controlled by the a Global Federation of  large international corporations with interlocked, interconnected Directors.  The main business agent for this Global Federation is the Secret Shadow Govt.  Some experts refer to this Global Federation as the International Crime Syndicate (ICS), others call it the "World Moneychangers" and others call it simply "the Beast" or the "the City of London" which refers to the private financial district of London which is actually a separate country with its own ambassadors, like the Vatican.
THE SECRET SHADOW GOVT'S MODUS OPERANDI APPEARS TO BE "ORDER AB CHAOS", THAT IS, CREATE MAJOR SOCIAL, ECONOMIC OR POLITICAL PROBLEMS (CHAOS) AND THEN PROVIDE THE "NEEDED" SOLUTIONS (ORDER), THEREBY ACCRUING MORE AND MORE POWER AND WEALTH IN THE PROCESS
The main goal of the Shadow Govt appears to be to use numerous evil machinations to create major societal problems that are so large that only big Govt can provide solutions.  This in turn creates massive primal fear in the populace which strongly motivates them to give up rights and pay more taxes to be kept safe by the USG which has been in a continual and exponential growth pattern ever since the start of WW2.
This claim of the USG to be working to provide solutions to huge societal problems actually appears to be quite a hypocritical fraud because there is substantial evidence to show that the Shadow Govt is actual the entity likely to be responsible for creating the American society's biggest problems and major instabilities, such as illegal, unprovoked, unConstitutional foreign wars, major economic, job and poverty problems, and the problem of so-called  "international terrorism". And this is done to provide massive increases in the size, wealth and power of the Shadow Govt for the benefit of those super-elite deviants who control it.
And now the Shadow Govt has used the "War on Terror" as a means to covertly declare war on the American people, assaulting our basic freedoms guaranteed in the Constitution from every angle possible. The reason our Founding Fathers wrote and passed the US Constitution was to prevent a centralized, Federal Govt from making indecent assaults on our basic freedoms and liberty.  The Second Amendment was included to serve as the final insurance clause which hopefully would never have to be used to fight an over-reaching illegal, unConstitutional regime attempting to unConstitionally hijack America.
IF THE SECRET SHADOW GOVT IS BIG ENOUGH TO SOLVE THE LARGE SOCIETAL PROBLEMS IT HAS CREATED, IT IS GOING TO BE POWERFUL ENOUGH TO TAKE EVERYTHING YOU HAVE WHICH IS WHAT IT WILL DO BECAUSE THAT WAS IT'S GOAL IN THE FIRST PLACE WHEN IT CREATED THE CHAOS
Senator Barry Goldwater (R-AZ) used to say, "Any Govt that is big enough to provide for all your needs is likely to be strong enough to take everything you have and probably will".  It has been alleged by numerous experts that the Shadow Govt's main goals are to generate massive societal problems which provide an excuse to create a larger central and global govt as solutions, with the additional purpose a bigger defense establishment and perpetual but controlled war. It is interesting to note that the drug problem seemed to grow exponentially with the advent of LBJ's great society and massive increases in folks becoming dependent on welfare accompanied by massive welfare programs.
Could LBJ's Great Society program have been used to provide money to urban communities to be spent on USG provided illegal drugs and then funneled back to American Intel as a form of secret, off-the-books financing for black ops and "beyond black" programs, thus massive amounts of secret money collected from the illegal drugs brought in by American Intel at the direction of the Shadow Govt?
UNCONTROLLED SPENDING ON DEFENSE EVENTUALLY WILL EXHAUST THE SOCIETY ECONOMICALLY AND SOCIALLY AND CONSTITUTES A MAJOR PATHOLOGICAL ADDICTION DESTROYING AMERICA–IT MUST BE STOPPED IF THE AMERICAN REPUBLIC IS TO BE SAVED
Exhaustion of resources by the defense industry is of course what occurred at the end of the cold war in the Soviet Union when East German Soldiers lost their motivation to shoot wall-runners (social limits were reached) and the Soviet Union went essentially bankrupt, having to restructure and form joint ventures with the western oil companies and large international corporations in order to survive, signaling their potential entry into the NWO Global system run out of "the City" of London.
Certainly America now seems to be reaching economic exhaustion due to this massive asset stripping by the Shadow Govt under the War on Terror and misappropriation of such funds for black ops and "beyond black" projects. Of course numerous military and intel experts believe that the Shadow Govt created, funded and operated their Global War on Terror through cutouts such as Al Qaeda (AKA  Al Cia Duh), the US and other militaries, and large private mercenary forces fighting as US Surrogates.
Even Secretary of State Ms. Clinton admitted as much during a moment of apparent rapprochement and "public sweetness", something she is not generally known for.
http://www.youtube.com/watch?v=ifZK6SVlQ1Y
[youtube ifZK6SVlQ1Y]
THE SECRET SHADOW GOVT BECAME THE MAIN AGENT FOR "THE BEAST"  AKA THE GREAT DRAGON DRACO,  "THE CITY" OF LONDON
There is fairly good evidence which has surfaced that this UFO panic at the time of Roswell crash recovery provided the impetus to create the Secret Shadow Govt. Later the Shadow Govt was used as a base for all sorts of criminal and anti-American mischief such as the illegal and unConstitutional provoking of unjustified wars for war profiteering, illegal weapons and narcotics trafficking, and use of so-called "national security" as a false cloak to cover every type of crime imaginable.
And all these covert operations were designed to increase the size and power of the Shadow Govt. including the size and scope of American intel (over 80% of which is now privatized), the large Wall Street Banks and the Defense Industry (of which about 40% of our combat troops are now alleged to be privatized mercenaries with very high pay and exempt from the US Military Code of Justice).
Some experts now refer to this global interlocked international corporate conglomerate run out of "the City" of London as "the Beast" and view it as the illegitimate stepchild of the British financial system which goes all the way back to the Opium Wars, American Skull and Bones (i.e. the Russell Trust which made millions off of the opium trade), perhaps the Pilgrim Society too.
As the world-wide British Empire declined militarily it found surrogates to fight its wars and became even stronger financially than ever before.  It exerted its basic financial control over the world systems of trade and manufacturing as well as the illegal global drug and weapons trade, which has provided a significant piece of all the action of this worldwide criminal syndicate, some call the ICS, the International Crime Syndicate, which makes the Mafia look like amateurs.  They don't call the Draco Beast "perfidious Albion" for nothing.  Its specialty is eliciting puppet conflicts through surrogates to keep folks distracted while it steals everyone blind.
WW2 NOURISHED THE "DRACO" SYSTEM AND SET THE PRETEXT FOR THE RE-EMERGENCE OF THE BEAST WORLDWIDE IN A MUCH MORE POWERFUL ROLE THAN EVER BEFORE
During WW2, the American Defense Industry grew at an extremely rapid pace, became the largest industry in history and it provided huge profits to its owners and the large Wall Street Banks financing it.  The coordinated efforts of all Americans to support the war effort further promoted the war industry over and above all other industries, allowing it to assume a prominent controlling role in American Society along with the large Wall Street Banks run out of "the City" of London Financial District, which some students of the esoteric call the Great Dragon or Draco (notice the logo for "the City" of London Financial District signifying their DRACO heritage).
Note the Two Dragons in the Coat of Arms for "the City" of London Financial District, some call these Dracos signifying the Great Dragon. Draco was appointed ruler of Athens in 700 BC and set in place what are now referred to as "draconian laws" which were excessively harsh.  For example a person stealing a head of cabbage was executed.
"And Draco himself, they say, being asked why he made death the penalty for most offenses, replied that in his opinion the lesser ones deserved it, and for the greater ones no heavier penalty could be found."
Plutarch Life of Solon
It is most interesting that this Draco symbol is displayed to represent the City of London.  Perhaps there is a message in this?  Maybe David Icke got this one at least partly right?
http://www.rumormillnews.com/cgi-bin/archive.cgi?noframes;read=141899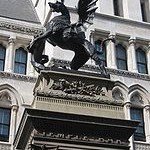 REJUVINATING THE DEFENSE ESTABLISHMENT'S WITHERING VINE AFTER WW2
After WW2, the large American defense contractors were soon withering on the financial vine and the defense industry and the large Wall Street Banks went into crisis planning mode as panic set upon them.  They had become financially dependent on war.  Those super-elites at the top of these hierarchies met in secret and quickly decided that they would have to manipulate world events to create a continuing, perpetual need for their products and services in order to survive and remain financially vital.
Unfortunately for the American taxpayer, various political, banking and industrial back channels via certain international secret societies were utilized to negotiate certain ground rules with the new enemy, World Communism.  If this had become generally known, many top US officials inside the USG, Pentagon, the defense industry and Wall Street would have been tried for Treason and Sedition, because that's what it was and these are potentially quite serious Capital offenses.
At the close of WW2, the Nazi Party, now revitalized and rich beyond measure on confiscated, gold, silver, diamonds and Swiss Bank accounts, was able to use the Cold War and the Shadow Govt via Operation Paperclip to stay covert while it bought up controlling interests in over 700 large international corporations including banking, heavy industry, oil, weapons and pharmaceuticals. This imported Nazi Intel had a critical part in convincing these top officials of the USG and the defense establishment that a new cold war was be fought immediately to stop the onslaught of World Communism.
Of course US imported Nazi intel folks such as Gehlen, Mueller, Skorzeny and Mengele were secretly integrated into the defense establishment inside America and quite easily convinced the defense establishment and Congress that the Soviet Union was far more advanced with their war technology than first believed. The Nazi Intel claim that they had a ready-made spy network deeply embedded inside the Soviet Union was quickly accepted and provided a strong foothold from which to further con and manipulate American Intel into accepting their direction during the cold war, thus enticing the Defense establishment and Congress to provide more and more penetration into the USG and top defense hierarchies.
It has been hypothesized that this quick integration of Nazi Intel into American Intel and its hijacking by them was fostered by deep contacts with those behind the Nazi system in the first place that were prominent controllers of the USG and later the Secret Shadow Govt. This massive post WW2 Nazi Intel influence exerted on the USA has led some to view the Shadow Govt as essentially an expression of the FOURTH REICH, while some researchers believe the opposite,  that Fourth Reich is the expression of the entity that spawned the Shadow Govt. in the first place, the World Money Changers or "the Beast" of "the City".
A very big secret has been that the large Wall Street Banks and certain Congressional leaders were enticed and "greased" one way or the other, legally or illegally by highly paid, connected lobbyists and certain Globalist oriented Non-Profit Foundations had conned Congress into making loans to Communist Russia and China for agricultural products and tractor motors among other manufactured products.
This was all part of a new NWO strategy formed in these American think tanks to "globalize" the world into a one world Govt, thereby conforming to the intentions of "The City" of London Financial District.  Of course this was investigated and reported to a special committee of Congress (The Dodd Report to the Reece Committee, 1954, now available as a pdf text on the Internet for free) but the results gained no traction in the press or within any Major American Media, essentially leaving the American public out of the loop.
AS THE SHADOW GOVT GREW & DEVELOPED, MANY STRANGE WORLD-WIDE BACKDOOR ALLIANCES WERE FORMED THROUGH "THE CITY" AKA THE "BEAST" VIA ESOTERIC SECRET SOCIETY CONTACTS
As this absorption of the Nazis into to the USG was occurring a strange counter-intuitive series of events began. Here's how it happened.  Those in the highest positions of Wall Street's largest banks along with the top officials of American Defense establishment, Congress and the Shadow Govt decided that the only way to keep their war industries built up during WW2 viable after the war was to fight a "Cold War" with World Communism using conventional weapons and some "low intensity" perpetual war.  Sort of like the Spanish civil war, use controlled perpetual wars to test new equipment, to dirty up the troops by placing them in highly compromising, extremely stressful situations with inadequate back up and let them attrit while keeping the supply lines going and the consumed equipment and supplies replaced for a continued war profits, and all without triggering a complete nuclear exchange (WW3).
Strange "partial alliances" developed in secret between "the City", the American Shadow Govt, the surviving but secret Nazi Party, the Vatican, Israel, Russia and China which in essence formed with "the City" as its nexus and created world-wide penetration of the Draco beast (the Great Dragon) and its power and influence exerted against most governments.  Some have called this the "hidden Hand".  President Woodrow Wilson made the following comment about "the Beast":
"There is a power somewhere so organized, so subtle, so watchful, so interlocking, so complete, so pervasive, that they had better not speak above their breath when they speak in condemnation of it." (Woodrow Wilson, 1913)
And strangely enough it is now believed by numerous researchers that American intel and the American Defense establishment actually abandoned Chiang Kai-shek  and put Mao in power in China. And there is substantial reason to believe that the large Wall Street Banks and a certain International law firm actually financed both the Bolshevik Revolution in 1917, and the Nazi takeover and much of its industrialization in the 1930's.
This of course presents a very curious question: why would those controlling the USG put Mao in power in China and promote Communism and the very enemy they would later fight in the cold war, a war that was plenty hot for individual American Intel who tangled with the Russians inside the USA and all over the world.  The answer seems counter-intuitive but is true  nonetheless. The major Wall Street Banks built up the Soviet Union and China in order to have an enemy to fight a perpetual war with, actually a bifurcated war both hot (limited combat) and cold (spy wars i.e. intelligence gathering, human compromise ops and espionage and counter-espionage).
THE SECRET SHADOW GOVT BEGAN TO FUNCTION AS MAIN THE BUSINESS AGENT FOR THE "BEAST", ARRANGING USG CONTRACTS FOR THE AMERICAN DEFENSE ESTABLISHMENT, AND SPECIAL BUSINESS OPPORTUNITIES FOR THE WALL STREET BANKS AND THE AMERICAN POLITICAL MACHINE VIA THOUSANDS OF K STREET LOBBYISTS WITH LOTS OF MONEY TO SPEND SUPPLIED BY THE LARGE INTERNATIONAL CORPORATIONS
During this process of forming the Secret Shadow Govt and American War Machine after the 1947 UFO flap at Roswell,  the Secret Shadow Govt became the biggest business agent in the world for the "Beast", serving as the main tax collector from which massive funds were collected and then distributed to various private defense industries in order to fight the cold war and the controlled perpetual wars on behalf of "the City of London".  The defense industry lobbyists were so successful in obtaining resources from the American People via Congressional actions that they gradually created an insatiable addiction to ever increasing needs for taxpayer dollars which even then were massive and yet became far short of expectations.
This necessitated other forms of capital acquisition including massive financial frauds and schemes such as Enron, the Keating Five S & L scandal, etc, and illegal international arms peddling and narcotics trafficking. Thus this American Defense Industry and its related wall street banking arm became an insatiable financial monster which was so addicted to ever increasing funds for black ops and special "beyond black" projects, that it consumed all available resources, and then proceeded to design new one's such as the housing mortgage bubble scam and other related asset stripping schemes.
The Shadow Govt decided that in order to keep this hungry new monster fed they would have to take instructions from the British Empire's use of the Opium Trade in China (which led to the Boxer Rebellion/Opium Wars) and their continuing use of illegal narcotics trafficking. Thus one important solution selected to keep this hungry new monster fed was to start a massive illegal trading business in illegal arms and narcotics which would provide off the books money for secret contracts, deep cover black ops, "beyond black" projects and some very nice unaccounted personal spending money too (considered a normal perk for certain segments at the top of American Intel).
This "off the books" i.e. unaccounted money allowed the building of vast beyond black underground bases, ultra high tech psychotronic (ie mindkontrol weapons), anti-gravity craft able to travel to outer space, the "other side of the Moon" and Mars, secret orbital space bases, spy systems and space based weapon systems, and plenty of grease or baksheesh to keep politicians and officials cooperating.  Should that incentive fail, other means of human compromise and use of "heavy muscle" could be utilized to gain compliance or problem solutions.
THERE IS NO "ENOUGH" FOR THE SHADOW GOVT
And yet even then this was not enough money for the numerous new and very expensive "beyond black" deep underground base construction projects of the Shadow Govt.  Their planners had to come up with a new scheme to capture more and more taxpayer money, and it became clear in their secret meetings that in order to do this some drastic new measures would have to be taken.  Workable excuses (cover stories) would have to be created to  "justify" the creation of new foreign wars to bring large profits into member corporations.  The Middle East was identified as a strategic situation because there were new efforts by certain countries to form new trading blocks and to remove the US Petro Dollar as the basis for trade and use as the world reserve currency.
Those who want to learn more about the origins of the  International Crime Syndicate (ICS) can study the "Hanseatic League", the "Teutonic Knights" and "Teutonic Zionism" (which is technically German as in Nazi and which is not a religion but an esoteric, occult movement to capture and control the whole world via certain interlocked international secret societies).
THE BEAST'S MOST VALUABLE PLAYER IN THEIR "HALL OF SHAME" ?
The man who is rumored to have done much to aid this hijacking of the USG and American Intel on behalf of the Beast (aka The International Crime Syndicate, ICS) was James Jesus Angleton of the CIA, long suspected of being a Soviet mole who aided the ICS in many Treasonous ways.  His expertise is rumored to have been the fine art of human compromise operations, including honey pots and pedophile take down ops, all of which are alleged to have captured the Vatican's high command structure on behalf of these certain interlocked secret societies.
Angelton was also rumored to have been a main player in the assassination of JFK and the individual who cleaned out J. Edgar Mary's home after the "shellfish/toothpaste incident" and loaded all the secret files he kept at his home into his white station wagon he drove over to J. Edgar Mary's house upon his death. Naturally the Beast was very grateful for Angelton's work on their behalf over many years and this is indicated on his gravestone.
Once again the Shadow Govt planners decided they need to feed the monster even more.  So another war with Iraq entered the planning stage and Saddam was accused of having weapons of mass destruction.  And of course the US DOD neglected to reveal that they had approved the sale of biological products to Saddam which could be cloned into biowarfare agents.
But it was decided that before the Sheeple would accept another new Middle East war another even more strategic move was necessary. It was decided that the Shadow Govt would plan, institute and cover up a significant Terror Event inside America  which were serve as a rallying support to for entering a new war in Afghanistan and then a second War in Iraq.  The rest is history and the Shadow Govt's false flag/stand down attacks on 9-11-2001  murdered 3,000 innocent people in a publicly televised spectacle.  Of course this was all televised in order to invoke a maximum terror response with the public.
And the 911 attacks were wrongly blamed on Osama bin Laden (AKA "Tim Osman", long term CIA asset who helped arm the Mujahedeen to defeat the Russians and who died in Afghanistan in 2001 of Marfan's disorder).  Afghanistan was attacked and invaded by the US military in early October of 2001, after blaming Afghanistan for harboring "Tim Osman" when neither Tim or Afghanistan anything to do with the 911 attacks.   And allegedly the real but hidden reason for this Afghanistan war effort was to garner the 100+ billion dollar a year opium crop which has not been successfully accomplished with American Soldiers guarding the opium fields in Afghanistan.
THE PHONEY WAR ON TERROR HAS REALLY BEEN RUN BY THE SHADOW GOVT ON BEHALF OF THE BEAST
Some Taliban factions were attacked, some were impersonated by cutouts, some were hirelings labeled as Al Qaeda (translated as "the list"), and many referred to them as "Al Cia Duh" because they were considered private mercenaries of the CIA, set up to institute numerous false flags like the British MI-6 special ops captured after impersonating Iraqi rebels and trying to blow up buildings in Iraq.
This additional war like the second Iraq war was wearing thin and the American Taxpayers were pretty much fed up.  That is the main reason they flocked to vote for Presidential candidate Obama and rejected McCain.  But alas as so many before him, Obama appeared to be trapped by the same forces controlling every president since JFK, by the Shadow Govt and its stepchild the huge multi trillion dollar private defense industry.
President Obama did however decrease major combat roles of the US Military in Iraq in December of 2011, but transferred more troops into Afghanistan and increased the role of anonymous killing from the sky by Drones, which actually has murdered a significant number or innocent civilians along with some intended Afghan rebels.  These rebels actually comprise a somewhat heterogeneous collection of separate but pugilistic tribes, most of whom are fighting off the foreign invaders once again (this time American Soldiers and Mercenaries hired by the USG), but who have long histories on NOT getting along with each other due to fierce regional and tribal differences.
THE PEOPLE NOW APPEAR TO BE "WAKING UP" AND MANY NOW REALIZE THAT THE WAR ON TERROR IS A BIG LIE WITH DANGEROUS CONSEQUENCES FOR EVERY SECTOR OF AMERICAN SOCIETY IF NOT STOPPED
It is now becoming clearly apparent to many of the people who are waking up that the USA can no longer afford to fight these Mideast wars which were actually unprovoked and have been illegal and unConstitutional from the very start. It is also becoming clear that the use of Depleted Uranium is a war crime  which have harmed many American Soldiers and civilians too. And it is also becoming clear to many that those sadists at the top of the Shadow Govt that ordered torture committed a crime against humanity.
NOW TELL ME, WHO ARE THE REAL TERRORISTS?–SURE LOOKS LIKE IT'S THE TOP LEADERS OF THE SHADOW GOVT AND THE LEADERS OF THE BEAST
The new strategy which the Shadow Govt planners have come up with is to continue to promote an international war on Terror and use it as an excuse to pass draconian (as in "the City" of London ie "Draco") new laws which set the basis for a new War on Terror inside the continental USA fought a new civil war between the USG and the people who have woken up and refuse to be disarmed and enslaved.  In order to start this needed civil war, the Shadow Govt appears to be planning on using these new Draconian (unConstitutional) laws to provoke the American People to fight. These resisters will then be labeled "domestic terrorists" , "suspected domestic terrorists" or "potential domestic terrorists".
Drones, MJTF and foreign troops under Nato will probably be deployed against them.  Notice that Israel is attempting to enter a prominent role in Nato.  Can you see a connection here to the Dracos inside the City of London, the world financial cutouts for the real power which lies inside Germany, the Vatican, and the Shadow Govt?  "The City" of London (i.e. the Beast or the Dragon Draco) is the Nexus for it all of this and the Shadow Govt is now its main business agent. It is now obvious that the real terrorists are those who run the "Shadow Govt" and "the City". And it is also obvious that the Beast is not racial, ethnic or tied to any single country but rather is an international occult based entity alleged to based in "the City" and that it uses individual nation states as its cutouts to do its dirty work. The Beast is very crafty and uses many counter-intuitive strategies to empower its cutouts and prevent serious opposition such as the "holocaust" which is actually from the old English signifying "fiery sacrifice".
THE CURRENT BATTLE NOW BETWEEN THE BEAST AND THE PEOPLE VIA THE SHADOW GOVT IS BASICALLY AN INFORMATION WAR, AND THANKS TO THE INTERNET THE TIDE IS TURNING AGAINST THE BEAST & THE SHADOW GOVT
http://www.youtube.com/watch?v=m1p-E2xmpjA
[youtube m1p-E2xmpjA]
THE BEAST IS OBSESSED WITH DISARMING THE PEOPLE BY REMOVING OR DESTROYING THE US CONSTITUTION IN ORDER TO REMOVE THE SECOND AMENDMENT–IT BELIEVES THIS IS NECESSARY FOR ITS OWN PROTECTION AND SURVIVAL
This will likely be attempted by stacking the Supreme Court with Globalist minions (they already have four so far, so only one more is needed).  It can also be attempted by the President signing and the Congress approving an international or UN Treaty to restrict small arms ownership which is what President Obama has allegedly promised his advisors, even though such a measure is completely unConstitutional.  Why would the Beast be so motivated to disarm the American People?  It's very simple.
The pitchforks and guillotines of the French peasants are to the ruling super-elites that control the Shadow Govt what the crack of the rifles in Dealey Plaza are to the American politicians who feel tempted to fight the Beast. Both produce terror and are used to maintain the imposition of Terror on all the people in order to dominate them and intimidate them into giving up all their rights and liberties (i.e. to become good serfs on the Global Plantation).
ANOTHER CURVE-BALL BESIDES THE NEWLY EMERGENT POPULISM ELICITED BY THE INTERNET HAS ARISEN–IT IS NOW STARTING TO BE REALIZED THAT THE DRACONIAN LEGISLATION OF THE PATRIOT ACTS AND THE NDAA 2012 CAN BE TURNED AGAINST THOSE WHO RUN THE SHADOW GOVT AND ARE THE REAL TERRORISTS BECAUSE THEY PLANNED, INSTITUTED AND COVERED UP THE 911 ATTACKS ON AMERICA.
These master criminals can potentially then be charged, arrested, and convicted and punished under their own Draconian Laws. This could occur with the numerous setting up of State based Grand Juries to charge any members of the Shadow Govt who have committed Treason and Sedition (there would likely be quite a few no doubt) and these folks would be charged for trying to destroy the USA Republic and its sovereignty in order to fold its remains into a NWO Globalist One World System (the Tenth Amendment could be used as the basis to do this).
This means that before the people remove these unConstitutional laws they can use them to capture, bag, tag, imprison in an offshore black site and torture these master criminals into confessing everything, all without any legal representation (this was their idea in the first place).  What's good for the goose may be even better for the gander if the masses follow the Beast's draconian rulebook.
Actually, any Congress person who voted for the Patriot Acts or the National Defense Authorization Act of 2012 has likely committed gross dereliction of duty at a minimum and most likely Treason and Sedition, whether they realize it or not.  Gross dereliction of duty requiring impeachment because most of these Congress critters who signed the Patriot Acts do not even know what they signed because they were not allowed to see the Secret provisions which were only been read by a few with high national security credentials, and only a few of these folks leaked what's in there to a trusted aides only.  http://www.wired.com/dangerroom/2011/05/secret-patriot-act/
CONGRESS ISN'T ALLOWED TO KNOW WHAT THE SECRET PROVISIONS OF THE PATRIOT ACTS CONTAIN (EXCEPT FOR A FEW WITH VERY HIGH NATIONAL SECURITY CLEARANCES AND THEY AREN'T TALKING)
It has been rumored that these secret provisions entail deployment of foreign troops inside America on behalf of the US Military, special targeted assassinations by Homeland Security sniper squads against those labeled "domestic terrorists" or "suspected or potential domestic terrorists", use of Internment camps with forced vaccinations and with isolation for those who are "red Listed" i.e. judged unable to be "re-educated" and provisions for their removal to offshore black prisons sites for torture and termination.
We can't find out if these rumors are true since the public does not have access to these secret clauses in the Patriot Act. How tragic it is that most of our Congress persons have been so mindkontrolled that they would pass any law without knowing what specifically it contains line for line, especially a law that directly threatens the American Republic and the lives of millions of innocent American Citizens who want the US Constitution and Rule of Law followed.
JUDGEMENT AGAINST THE SHADOW GOVT MAY BE COMING AND THERE COULD EVEN BE REBELLION IN THEIR RANKS WHICH MAY HAVE ALREADY STARTED IN SECRET
The War on Terror is the world's biggest new business and has devastated the American and world economy by using the large Wall Street Banks and various sophisticated intel operations and Defense schemes to strip almost all American assets.  The Shadow Govt is now reaching exhaustion of any further available financial assets to strip (thus reaching environmental limits) and certainly the People have about had enough of this RICO crime and Terror inflicted on them.
The real Terrorists are the few at the top of the Shadow Govt Hierarchy and "the City" and as these folks are becoming exposed the anger of the peasants appears to now being directed their way and the first stage of this has been the massive peaceful street protests against the Wall Street Banksters, labeled as the 1% .   The massive popularity of Rep. Ron Paul's ideas on restricted and small Federal Govt, States' Tenth Amendment Rights and individual freedom and liberty is further evidence many of the people have about had enough of the Shadow Govt's Terror and Tyranny.
Preston James is the pseudonym of a Ph.D. in social psychology, who has become an expert on psy-ops, "false flag" and covert operations by the US government
Social Psychologist with Doctorate from Major Midwest Big Ten University. Retired after serving the community for over 36 years during which time there were numerous contacts with those associated with Intel and Law Enforcement.
ATTENTION READERS
We See The World From All Sides and Want YOU To Be Fully Informed
In fact, intentional disinformation is a disgraceful scourge in media today. So to assuage any possible errant incorrect information posted herein, we strongly encourage you to seek corroboration from other non-VT sources before forming educated opinion. In addition, to get a clear comprehension of VT's independent non-censored media, please read our
Policies and Disclosures
.
Due to the nature of uncensored content posted by VT's fully independent international writers, VT cannot guarantee absolute validity. All content is owned by the author exclusively. Expressed opinions are NOT necessarily the views of VT, other authors, affiliates, advertisers, sponsors, partners, or technicians. Some content may be satirical in nature. All images are the full responsibility of the article author and NOT VT.
About VT
-
Comment Policy