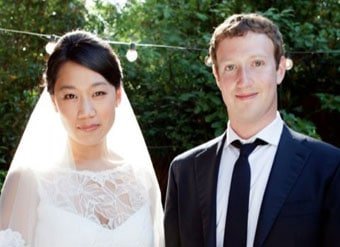 Virulent Anti-Goyim Racism Still Flourishing in the Jewish Community
As we often like so say in our VT editorial discussions, 'You just can't make this stuff up.'
Here we have poor Mark Zuckerberg getting through his long delayed marriage with all the adjustment surprises that await all who have been there know.
His Facebook public offering has gone South on him and the lawsuits are starting to roll in from disgruntled shareholders. That would be enough to fill most people's cups of tea.
But not for Mr. Benzi Gopstein, head of the Lehava Organization for the Prevention of Assimilation, in Jerusalem. He feels that Mr. Zuckerberg's marriage to a non Jewish Chinese woman is mongrelizing the Race because pure blood Jews will not be among the offspring.
To your hard core racist Jews this has been pitched as a Neo-Holocaust. These folks are never shy about piggybacking any issue or event they can to keep the Jewish boys from grabbing onto the Goyim girls.
The last numbers I saw on intermarriage, they were running around 25%. Mr. Gopstein pulls no punches:
"I'm writing to you not for my sake, but on behalf of the Jewish people of every generation, being that you are part of this people, like it or not…I'm here, on behalf of the Jewish people, to spoil the party."
Good gosh Mr. Gopstein, What happened to the Orthodox concept of 'Go forth and be a light unto all nations.' Was that page torn out of your yeshiva book?
But brother Gopstein is no rookie with it comes to scaring Jews about intermarriage. This comes straight from the Talmud, the issue of mating with subhuman non Jews, or Goyim, the slang term for we lesser beings. This nasty little story has been around for a long long time, but politicians and mass media will not touch it with a ten foot pole.
As I often like to do with writing about sensitive Jewish topics Gopstein uses former Israeli Prime Minister Golda Meir to cover himself a bit.
"Golda Meir, who was Israel's Prime Minister, said that any Jew who assimilates is essentially a partner to the Nazis' work, since through assimilation you yourself are exterminating the continuation of the Jewish people. Assimilation is bringing the extermination of the Jews to the seventh million!"
So there you go folks, any of you who thought I was using an exploitive title to gin a few more reads, I too have used Golda as my cover. Actually, reading this quote is what triggered me to write this piece.
Most of the early political Zionists were atheist/communists Jews where disposing of unwanted minorities, or majorities for the matter, was just another day at the office.
The Zios were very tight with Stalin's Russia, and their anti-allied espionage which continues to this day was part of paying the freight for the military superiority the Soviets supplied, especially the protected bases in Czechoslovakia. Our own declassified Intel confirms this extensively.
Years later Jewish America spy Jonathan Pollard was tasked by his Israeli handlers to steal 'first strike' nuclear capability for the Soviets, which is why he has never been released.
Most of this remains classified as large numbers of America elites, in government and politics have worked with Israeli intelligence for decades. For some reason they don't think this would go down well with the public and foreign aid to Israel if it were widely known.
You see we have ongoing discussions here at VT over the treason of generally all elites on the planet against all the rest of us, including their own people.  What unites us all is understanding that we are all canon fodder to these SOBs.
But the Jewish elites have herding their people down to a science, as they keep them in a constant state of agitation so a Manchurian candidate number can be pulled on them at anytime they want.
And they can do this inexpensively, too. The terms anti-semite and holocaust denier are their double barrel shotgun. They are Neo-N words, but with a twist. Whereas all non-Jews are forced to wear the hair shirt for any such words attributed to their culture or people, in the Jewish world the abuse and overuse of such words brings no stigma or condemnation whatsoever.
On the contrary, there seems to be a license to abuse that is widely accepted by those who feel it is in their best interest to do so. They walk among us, as some of the biggest Jewish organizations in America base their fundraising programs on these two Ne0-N word terms.
The Simon Weisenthal Center, the ADL, and AIPAC are living proof of how much cash can be squeezed out of their human shield rank and file Jews with their elite mantra of, 'But for us you could all end up in the ovens by next year.' It is some of the most ruthless exploitation I have observed in my lifetime.
I get after my Jewish friends (in private) for taking this garbage from these low lifes so meekly. And yes they admit that they do. Their cover is that they are afraid of the 'self hating Jew' swat team lynch mobs that these groups have ready and waiting to deploy to make examples of them.
I counter that with 'when are you going to get your act together and pull a 180 on these creeps and deploy some swat teams on them? You have them massively outnumbered so the arithmetic makes the outcome a slam dunk.'
But there is good news. When I pitch them that the biggest threat against the Jewish people are the Jewish elites, just like the elites everywhere are the major threat to their own peoples…I often see a light go on.
The trick is to deprogram ourselves from the age old divide and conquer games that has been successfully played on us for generations. Only then for example can Jews and non-Jews, and Muslim for that matter, join hands to do some long overdue house cleaning. But the elites stick together and they will not go quietly.
Mr. Gopstein will be on the list, as will our Holocaust chair, Deborah Lipstadt at Emory University here in Atlanta, another one of those concerned about mongrelizing the race through intermarriage. Our sources tell us that she is discreet enough to only discuss this in front of Jewish audiences.
Gopstein, was just using the newly married Zeckerbergs to get some free publicity. That is a Jewish elite thing. He is neither the first or the last to do this.
And don't bother sending him your disapproval letters. I can assure you he could not care less about what you think about anything. Yes, that is another elite thing.
Brother Gopstein lays more of his Talmudic wisdon on us:
Mr. Gopstein, I think she has him and is not planning to let go. Would you?

"I believe that you won't pay any attention to this letter, but I'm writing anyway, not only to you, but through you to many more Jewish men and women who don't see anything wrong with assimilation, to those Jews and Israelis who gave a 'like' to the wedding, to the media who got all excited. I'm here, on behalf of the Jewish people, to spoil the party."

"True, you did well in the stock market, but just to remind you, money isn't everything in life. You chose to marry a non-Jewish woman and by doing so, you disconnected yourself from the Jewish people, and your children will not be Jewish, even though their last name will be Zuckerberg; even if they're cute and get a lot of 'likes', they will remain non-Jews in every respect."

"Unfortunately, you are not alone. The Jewish people are losing themselves in the Exile through assimilation. At the current rate, in the not-so-distant future there will be no more Jews remaining in the Exile."

"In Israel, too, assimilation is hitting us quite a bit because of your Facebook, where every Mohammed is 'CitySlicker' and every Yusuf calls himself 'Prince Charming…"

"…as long as the candle burns, you can correct yourself. Separate from the non-Jewish woman and find a good Jewish one, and to make up for your mistake, go on a major campaign on Facebook against assimilation."
Excuse me brother Gopstein, but I can't feel the love. How about you readers? Am I just missing it? And I don't think the future Zuckerberg kids are going to put much of a dent in the world pure blood Jewish population. After they read your silly missive when they grow up they might even want to become non-practicing Jews.
And I don't think you have guilt tripped them out of any cash either. Word is that people are getting onto the scam, everybody but the Christian Zionists who are convinced you are exclusively selling the space ship tickets.
So, what do you think out there, all of you righteous Jews, Muslims and non-Koolaid drinking Christians? When are we going to go after our aberrant elites and take them all down?
Are we going to leave it to the grandkids to do, with all the brainwashing the elites now have in place to neutralize them? Are we just going to leave them defenseless with a few fairy tales to cheer them up during the hard times ahead?
Maybe Gordon Duff is right about this Neo-slavery term that he is using more often. We are regressing. We know who is doing it to us, yet we do nothing really. Whose fault is that?
The elites think it is their primal right to rule the sheepeople. Maybe they are right. Mr. Gopstein certainly wants to keep his folks down on the desert plantation. Who knows, maybe even Zuckerberg might get into the fight one day, maybe even as a leader…or a husband and wife team.
But we older folks have to get some roll back momentum going to make their job a bit easier. That is what we do here at VT where it is 'game on' every day. How about you?
Author Details
Jim W. Dean is Managing Editor of Veterans Today involved in operations, development, and writing, plus an active schedule of TV and radio interviews. He broke into television work doing Atlanta Public TV programs for variety of American heritage, historical,military, veterans and Intel topics and organizations since 2000. Jim's only film appearance was in the PBS Looking for Lincoln documentary with Prof. Henry Lewis Gates, and he has guest lectured at the Army Command and General Staff School at Fort Gordon, GA.
He is working to find time now to database his extensive video archive of Americana and interviews filmed during his public TV days so individual topic segments can be key word searched to quickly use in future multi-media projects.
Read Full Complete Bio >>>
Jim's Latest Posts
ATTENTION READERS
Due to the nature of independent content, VT cannot guarantee content validity.
We ask you to
Read Our Content Policy
so a clear comprehension of VT's independent non-censored media is understood and given its proper place in the world of news, opinion and media.
All content is owned by author exclusively. Expressed opinions are NOT necessarily the views of VT, other authors, affiliates, advertisers, sponsors, partners or technicians. Some content may be satirical in nature. All images within are full responsibility of author and NOT VT.
About VT
-
Read Full Policy Notice
-
Comment Policy