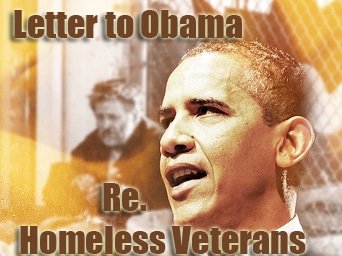 A Challenge to President Obama
Mr. President: "Open These Gates and Bring Our Homeless Veterans HOME!"
(Sunday, June 3, 2012 – 2:30 PM) – 220th Consecutive Sunday Rally of the "Veterans Revolution"
to "Save Our Veterans Land" and "Bring Our Homeless Veterans HOME."

Northeast Corner of Wilshire and San Vicente Boulevards – West Los Angeles  (Outside the Los Angeles National Veterans Home, VA Greater West L.A. Healthcare System)
With California's Primary Election being held on Tuesday, June 5, fellow Veterans want answers as to what the candidates will do for our disabled and homeless Veterans, particularly President Obama and Congressman Henry Waxman, whose 33rd District maintains the stewardship of the largest VA Veterans Home in the nation, yet Los Angeles is our nation's capital for homeless Veterans.
Fellow Veterans are uniting to declare opposition against the chained and padlocked front gates at the entry of the Los Angeles National Veterans Home while tens-of-thousands of their fellow Veterans remain homeless on the dangerous streets of Los Angeles.
How can a nation honor its Veterans when so many are homeless and their land is being given away by the VA — rent free — to a wealthy homeowner group for a public park while exiled Veterans sleep outside these locked gates?
"Down and Out" homeless Veterans at the locked front gates to the largest VA Veterans Home in the Nation
©All Rights Reserved
Is this the way America honors those who have defended the freedom and safety of all others? This is absolutely disgraceful!
For years, the Old Veterans Guard has called for an emergency tented-shelter camp on the sacred ground where the public park is scheduled to be built and where an annual Disney carnival fundraiser is held (this Sunday), but these respectful requests have repeatedly been denied from the VA, all the way to Department Secretary, General Eric K. Shinseki.
Fellow Veterans from World War II, Korea and Vietnam Wars will continue to challenge President Barack Obama, Secretary Shinseki and Congressman Henry Waxman to unlock the chained gates and open the National Veterans Home to all disabled and homeless Veterans as promised in the Congressional Act of 1887 and the Land Grant Deed of 1888.
The ACLU has filed a lawsuit against VA Secretary Shinseki and Los Angeles VA executive director Donna Beiter for misusing Veterans property and mistreating disabled Veterans.
Incredulously, the Obama Administration and his Department of Justice's U.S. Attorney attack-dogs are vigorously challenging this lawsuit that seeks to finally bring justice to disabled and homeless Veterans.
So how can anyone believe Secretary Shinseki when he declares: "President Obama and I are personally committed to ending homelessness among Veterans by 2015. Those who have served this nation as Veterans should never find themselves on the streets, living without care and without hope."
Secretary Shinseki has also declared: "The VA will spend $3.2 billion to prevent and reduce homelessness among Veterans."
Yet, there are 20,000 disabled and disadvantaged Veteran who have been exiled from their rightful VA Veterans Home and now live homeless and hungry in back-alley squalor.
The Old Veterans Guard want a large portion of that money invested in rebuilding "The Home" as it is both affectionately and reverently called, since this is the largest VA in the nation and Los Angeles has a homeless Veteran population larger than many cities.
Old Veterans Guard at last year's Disney-sponsored celebrity carnival fundraiser on Veterans property in the background
The celebrity carnival event is being held again on Sunday, June 3, 2012 – 12:00 – 5:00 PM
Join the 220th Consecutive Sunday Rally to "Save Our Veterans Land" and to"Bring Our Homeless Veterans HOME."
The Historic Veterans Revolution – every Sunday since March 9, 2008
Public e-mail blast sent on May 16, 2012

From: [email protected]

Date: 5/16/2012 1:10:01 P.M. Pacific Daylight Time

Subject: Obama Administration Fights Against Veterans

On March 19, 2009, President Obama vowed: "We have a sacred trust with those who wear the uniform of the United States of America."

So why does his Administration continue to fight against the ACLU lawsuit and Veterans For Common Sense lawsuits that seek to secure proper healthcare and shelter for our disabled and disadvantaged Veterans, just as Obama promised?

With friends like this for our Veterans …. who needs enemies?

"For their service and sacrifice, warm words of thanks from a grateful nation are more than warranted, but they aren't nearly enough. We also owe our veterans the care they were promised and the benefits that they have earned. We have a sacred trust with those who wear the uniform of the United States of America. It's a commitment that begins at enlistment, and it must never end. But we know that for too long, we've fallen short of meeting that commitment. Too many wounded warriors go without the care that they need. Too many veterans don't receive the support that they've earned. Too many who once wore our nation's uniform now sleep in our nation's streets."

-President Obama, March 19, 2009
Mr. President, you made a promise to our Veterans, NOW KEEP IT, and drop your Administration's defense against both lawsuits!
© copyright – O.V.G. Robert L. Rosebrock – All Rights Reserved
GOD BLESS AMERICA AND THE VETERANS REVOLUTION!
www.VeteransRevolution.com
ATTENTION READERS
Due to the nature of independent content, VT cannot guarantee content validity.
We ask you to
Read Our Content Policy
so a clear comprehension of VT's independent non-censored media is understood and given its proper place in the world of news, opinion and media.
All content is owned by author exclusively. Expressed opinions are NOT necessarily the views of VT, other authors, affiliates, advertisers, sponsors, partners or technicians. Some content may be satirical in nature. All images within are full responsibility of author and NOT VT.
About VT
-
Read Full Policy Notice
-
Comment Policy