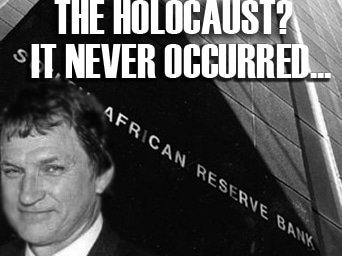 Stephen Goodson has been on the South African Reserve Bank's board from 2003. He holds extremist views on Hitler's Germany and Gaddafi's Libya.
Legislation passed in 2010 will mean that, in future, activist shareholders of the Reserve Bank will no longer be able to elect directors to its board.
The last of these directors is Stephen Goodson, who was elected a non-executive director in 2003. It was a mini coup, which resulted in business heavyweight Brian Gilbertson being ousted from the board in favour of the little-known investment consultant.
Goodson's term ends in July. The Reserve Bank said in a statement that Goodson, who has served as a director for nine years, was not eligible for re-election in terms of the King III code on corporate governance because of his length of service.
"Even though members are eligible for re-election, the central bank board has adopted as a guideline the King III principle that non-executive directors should not serve for a period longer than nine years," the statement said.
Admiration for Hitler's policies Goodson, who earned R360 000 last year for his services to the bank, more than R70 000 for each of the five meetings he attended, holds contentious views that include admiring the economic policies pursued by Hitler in Nazi Germany, a belief that international bankers financed and manipulated the war against Hitler because they saw his model of state capitalism as a threat to their usurious ways, and that the Holocaust was a fiction invented to extract vast amounts of compensation from the defeated Germans.
He has argued that similar reasons underpinned the support of the United Nations for the uprising in Libya. Muammar Gaddafi's usury-free banking system was a threat to global capitalism and had to be destroyed, according to Goodson.
The South African Reserve Bank is one of about eight worldwide that has private shareholders, even though the institutions perform public functions such as the management of monetary policy and the regulation of the banking system.
Over recent decades, activist shareholders began building up a significant shareholding in the bank and started to have run-ins with the previous bank governor, Tito Mboweni.
The activists demanded that the nominal dividend paid annually be increased and called for an emergency general meeting where their concerns could be raised.
The result was that the Reserve Bank Act was amended in 2010 to tighten the regulations governing the rights of shareholders.
Goodson has been the only activist shareholder to sit on the board. It is unclear what exactly his role has been, but one activist, who did not want to be named, said Goodson had not provided them with feedback, which they had expected him to do when he was elected.
He is best known as a founder of the Abolition of Income Tax and Usury Party, which stood in at least one national election. The party maintains a website but it seems to be dormant.
But Goodson appears to be pushing pro-Nazi and anti-Semitic views on the internet. In a radio interview last year with American talk show host Deanna Spingola, author of The Ruling Elite: A Study in Imperialism, Genocide and Emancipation, Goodson expressed his admiration for the social achievements during the Third Reich.
The interview was broadcast on the Republic Broadcasting Network, which was described by the Christian Science Monitor in 2010 as a network "well known to those who study extremism, as well as to the FBI".
Denying the Holocaust Goodson said the Holocaust was "a huge lie" that served several purposes. "Of course, the principle is to extract enormous sums of money from the Germans as compensation — They [international bankers] tarnished that whole period as being one of great evil in order to keep you blind to what is possible."
Holocaust denial is a crime in several, mainly European, countries.
Spingola's website states that she "investigates government and corporate corruption as it relates to the faltering liberties of American citizens and the war-targeted population of other countries. She is not afraid to address controversial issues".
Her radio interviews have centred on topics such as Zionism and Nazi Germany several times.
In the interview, Goodson, who said he served on the board of a central bank in South Africa, said: "Adolf Hitler came to power in 1933 and in six short years he transformed Germany and reduced unemployment for 30% to zero.
"He provided everyone with debt-free and decent housing, excellent labour relations and restored respect and honour to all Germans.
"In these six years, a worker's paradise was created. There was zero inflation and Germany became the most prosperous and powerful country in the history of Europe."
Goodson also said the real reason for World War II was Germany's progressive economic system.
"That was the whole basis of World War II. It had nothing to do with human rights or protecting Poland or any of the other reasons that they advance in the history books.
"Germany — could only be admitted to the family of nations if they abided by the rules of the international bankers."
Spingola added: "What country is going to deport the Jews [after the Holocaust]? America? Not hardly. Britain? Not hardly. And that Holocaust myth will prevent any country from evaluating and saying: 'Oh, we've got to get rid of these people.' Right?"
Goodson appeared to agree: "Yes, well, they've [Jews] been expelled from over 70 countries, some of them several times. But unfortunately they have such a tight control of the media. Well, there is a small window of hope in that the internet can provide alternative views, but even there they are trying to exercise supervision."
Goodson's articles appear on a number of extreme right-wing websites. One, Incog Man, says it was expelled by hosting site WordPress after complaints by "Jewish agents". The site says it is there to "get the real deal out there and awaken the whites". It includes images of a rat alongside the Star of David.
Incog Man's targets include "nation-wrecking Khazar Jews and Israel-Firster HasbaRATs, braindead White Multicults and Marxists, sicko Sodomites and Lezbos, perverted Paedophile Molesters, freaky Gender-benders, greasy Illegal Mestizos, cocaine-crazed and criminal Negroes".
Goodson is given as the source for claims that international finance was behind both the overthrow of Imperial Russia and provoking war with Japan in the 1940s.
"It can thus be seen that the US Federal Reserve Bank was intimately involved in plotting and financing the overthrow of the Russian Empire. With its stranglehold on the media and its placemen [sic] occupying most of the key positions in government in 1941, the bank was in a favourable position from which to manipulate and provoke war with Japan.
"Both the Bank of Japan and the German Reichsbank with their systems of state creation of the money supply at zero interest—and the inevitability that those systems of finance would be replicated by other countries, in particular those of the proposed Greater East Asian Co-prosperity Sphere—posed such a serious threat to the private investors of the US Federal Reserve Bank that a world war was deemed to be the only means of countering it."
Right-wing website praises Goodson Incog Man credits Goodson as a politician and noted banker. It also says he is a director of a central bank in South Africa.
Approached for an interview this week, Goodson said Reserve Bank rules prevented it, although he would agree to it when his term ended in July. The Mail & Guardian subsequently obtained permission from the Reserve Bank for Goodson to discuss non-bank issues.
Although he did answer some questions, he threatened to take legal action if the M&G published the story. He said he could not control where his articles ended up, but he did not distance himself from any of the sites.
Goodson insisted that he was a director of a South African central bank, but was careful to not mention the South African Reserve Bank. "This is a subtle but important difference," he said.
Goodson said that there were at least 105 Stephen Goodsons in the United States alone and the M&G would have to check carefully before assuming that any article had been written by him.
He appears to have aristocratic British connections. In 2003 when Goodson, whose full name is Stephen Mitford Goodson, was elected a director of the South African Reserve Bank, Moneyweb reported that he was related to Diana Mitford Mosley, a controversial figure.
The article said he had just bid farewell to Mitford Mosley, a family member, although it is not clear what the exact relation is. The Mitford sisters were known in the United Kingdom for being active communists, socialists and fascists—"an interest spurred in them through their father, David Mitford — himself an ardent fascist", Moneyweb reported.
Stephen Goodson, a non-executive director on the Reserve Bank board, is an admirer of the economic policies pursued by the Third Reich
The article described how the Russian imperial flag fluttered above the door of Goodson's modest home in Pringle Bay, where an old light-blue Chev was parked outside. A brass plaque on the front door, with the word Mitford on it, greeted visitors.
Diana Mitford left her husband, Bryan Guinness, for Sir Oswald Mosley, leader of the British Union of Fascists. They married in 1936 in the drawing room of Nazi propagandist Joseph Goebbels's home in Berlin and Hitler was a guest.
Mitford Mosley's friendship with Hitler developed through her sister, Unity, who, The New Statesmen reported in 2007, was believed to have had an affair with the leader of the Nazis. The two are even rumoured to have had a love child before Unity returned to England and gave the child up for adoption.
An obituary written by the Guardian said Mitford Mosley claimed that her husband had never been anti-Semitic, but she was inclined to make statements about Jewish people such as 'maybe they could have gone somewhere like Uganda—very empty and lovely climate".
A report in the Guardian archives tells of a speech her husband gave at the Albert Hall in 1934 in which he said that Jews would be expected to put Britain before their faith.
Mitford Mosley, a cousin to Winston Churchill, and her husband were imprisoned during World War II although, because of their aristocratic connections, they were allowed to live in a house in the prison and hire prisoners to do their menial work.
Goodson has written many articles that are readily found on the internet. They are often critical of debt finance and 'the exploitative fractional reserve banking system of the West", in which private banks are licensed to create money out of nothing.
In one article, Goodson proposes a Cape Town municipal bank that could fund all infrastructure programmes at zero interest and ratepayers could enjoy a permanent reduction of at least 15% on annual property rates, a drop in the home-loan rate and nominal rates for student loans.
In two other articles, 'The truth about Syria" and 'The truth about Libya", he praises the economies of both countries, which employed state banks.
Termination in line with King III In regard to Stephen Goodson's personal views, the Reserve Bank said it did not comment in public about its directors.
"However, the bank does not in any way wish to be associated with any ill-considered comments of this nature."
As far as the end of Goodson's term is concerned, the bank said the board had adopted as a guideline a maximum period of service of three terms in respect of its non-executive directors, based in principle on guidelines in King III that determine that any independent non-executive director serving more than nine years should be subjected to a rigorous review of their independence and performance.
"Mindful of these guidelines, the board adopted as a principle that non-executive directors should not, in the normal course of business, serve for a period longer than three terms, which equates to more or less nine years."
The bank said this applied to all independent non-executive directors. "This process was last followed both in 2010 and 2011 when four non-executive directors, who had served terms in excess of nine years, did not avail themselves for election and stepped down from the board."
Asked whether the bank chose when to adhere to King III, it responded: "The bank does adhere where applicable and appropriate to King III as guiding principles."
It denied that the aim of the amendment of the South African Reserve Bank Act was to limit shareholder activism.
"The amendment seeks to widen and deepen the spread of shareholding in the South African Reserve Bank by, among others, prohibiting the undue concentration of voting powers in single persons and allowing for members of the general public, in addition to shareholders and serving directors, to nominate candidates for potential appointment as directors to serve on the board of the bank."
The bank said shareholders could still nominate candidates for potential appointment to the board.
"Such persons, like all other nominated candidates, are subject to a fit and proper evaluation by a panel appointed in terms of the South African Reserve Bank Act."
The panel was established and appointed in terms of the amendment Act. It comprises five members of the public: a retired judge and one person nominated by the finance minister, plus three nominated by the National Economic Development and Labour Council. It is chaired by the bank's governor, Gill Marcus.
The bank said it did not respond to unsubstantiated statements such as the allegation that directors were now "hand-picked by the governor". "Potential candidates for appointment as directors to the board are nominated in accordance with a process as set out before, which does not allow for any candidates to be 'hand-picked' by the governor."—Lisa Steyn
The activist shareholders The Mail & Guardian canvassed the views of two activist shareholders of the Reserve Bank on its governance structure.
'It was an extraordinary blip on the horizon," said shareholder Mario Pretorius. 'In 2010 the South African Reserve Bank Act was amended to slam every possible door. [Now] there will never be another [Stephen] Goodson or anyone else it doesn't like."
He said he had never discussed Goodson's views with him and had met him only once or twice.
The amendments created a panel that nominates directors, but some shareholders claim only preferred people are put forward. 'Selection criteria are opaque," Pretorius said. 'It is draconian. Every piece of democracy is taken away."
The amendments also restrict the responsibilities of the board: 'It can approve the budget, sign the annual report, internal salary structure and it is supposed to look at corporate governance."
Michael Duerr, another activist shareholder, said it was only once he owned a shareholding in the bank that he realised how deeply flawed the system was 'through seeing mistakes, breaches of law and the gangsterism of the banks and the Reserve Bank".
Duerr said he did not share Goodson's personal views, but the director understood that the system needed real change. 'Goodson is an odd character. But he did good because he put a lot of pressure on the bank. It picks what it wants from King III and ignores what it doesn't."
Pretorius added: 'It's [the governance] a farce supposedly having directors and supposedly adhering to King [III]."—Lisa Steyn
ATTENTION READERS
We See The World From All Sides and Want YOU To Be Fully Informed
In fact, intentional disinformation is a disgraceful scourge in media today. So to assuage any possible errant incorrect information posted herein, we strongly encourage you to seek corroboration from other non-VT sources before forming an educated opinion.
About VT
-
Policies & Disclosures
-
Comment Policy
Due to the nature of uncensored content posted by VT's fully independent international writers, VT cannot guarantee absolute validity. All content is owned by the author exclusively. Expressed opinions are NOT necessarily the views of VT, other authors, affiliates, advertisers, sponsors, partners, or technicians. Some content may be satirical in nature. All images are the full responsibility of the article author and NOT VT.