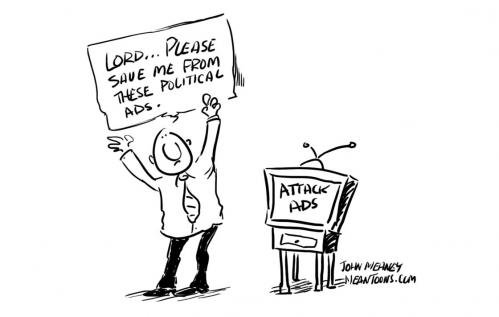 This week I was going to tackle the Aurora, Colorado tragedy, which angered me beyond comprehension. Such tragic events always seem to bring out the best in people and the worst at the same time as charlatans rise like oil on the surface of a lake. A chant for more gun control, more people control, there is no God, and on and on, but for the sake of my sanity I decided to write about the less insane presidential campaign ads.
Am I the only one who is fed up with the TV ads being aired by the presidential candidates and their political action committees?  Is there even a sliver of truth in what are, pure and simple, attack ads?
As I understand it there will be just three presidential debates this year, which can't get here fast enough. Going nose to nose and having the ability to confront one's accuser is what is needed to finally get to the facts. Until we get both men in the same room and on stage it might be more appropriate to turn everything over to the WWF. Maybe having the candidates decked out in colorful wrestling outfits…perhaps a mask and cape for Obama and a tutu and tights for Romney, and let them settle the score. Certainly the public would probably welcome the spectacle rather than listening to these crazy political ads which border on slander.
From FactCheck.org…"so many false and misleading claims have surfaced that FactCheck is permitting a rare bit of editorializing about the deplorable tone of this particular campaign. Besides being marked by a cavalier disregard for facts on both sides, the campaign also has become bitter and trivial". In short it is failing to engage the public in a real, fact-base discussion about what is driving the US economy over the cliff. What is needed is to air the hard choices that will very soon be forced on Washington which could collapse in economic malaise. Instead we see grown-up slugging it out over event more than a decade old, because political performance over the last 10 years has been so pathetic.
The issues facing the country are much bigger than either candidate will admit as they lose themselves in grade-school, playground rhetoric…kind of like "my dad can beat-up your dad" braggadocio.  The nation is in real trouble with a lagging recovery from the worst recession since the 1930s, a string of $1-trillion-plus deficits building at the rate of $4 billion in new debt every day, and rising medical costs that burden both state and federal taxpayers.
We have a Social Security system unable to pay full benefits to its current recipients for another 20 years or so. We have reported unemployment at 8.3% with new claims rising every month, when in fact the real rate is 14.8%, and the only answer we hear from the administration is to hire MORE government workers. The situation is grave as we cannot possibly meet the retirement commitment for the millions already working for the government. Government isn't the answer to the problem…it is the problem!
Mr. Obama and the Democrats have been consumed with Bain Capital event from more than 12 years ago. Romney is accused of destroying businesses by plundering companies that were headed for bankruptcy and sending jobs overseas, while Obama hides behind the most miserable record of job creation anyone can remember. The truth is that Romney used his own money and raised additional capital trying to rescue companies headed for the bone yard.
The Wall Street Journal analysis shows that in total, Bain produced about $2.5 billion in gains for its investors in the 77 deals, on about $1.1 billion invested. Overall, Bain recorded roughly 50% to 80% annual gains in this period, which experts said was among the best track records for buyout firms in that era. Some of the companies that ran into trouble did so after Bain was no longer involved and new owners had taken charge.
Compared with other firms that were in the same business of pumping money into struggling companies, Bain's record was neither better nor worse with about 10% ending up not being able to make it. Businesses like Staples, the Sports Authority, Dominos, and the hugely successful, Steel Dynamics, a state-of-art steel company that employs thousands of workers in an industry of failed giants, are testimony to American entrepreneurship.  Where most steel production has headed overseas, from its founding in 1994, Steel Dynamics (SDI) has grown to be America's fifth-largest producer of carbon-steel products… one of just six major U.S.-owned steel companies left in the US
The point to make here is that whatever one's feelings, Romney and Bain used their own money and still lost millions on some ventures that just didn't make it.
Mr. Obama on the other hand, risked hundreds of millions of dollars of taxpayer money on such foolish investments as Solyndra.  Solyndra, the solar panel company whose highly publicized failure and consequent investigation by federal authorities over a quid pro quo for campaign funding donations, has flashed across headlines recently. It isn't the only business to go belly up after benefiting from a piece of the $800 billion economic stimulus package passed in 2009.
Evergreen Solar Inc., reportedly received $5.3 million of stimulus cash and filed for bankruptcy protection last month, saying it couldn't compete with Chinese rivals without reorganizing. The company intends to focus on building up its manufacturing facility in China. So much for not shipping jobs off to China!
SpectraWatt, based in Hopewell Junction, N.Y., received a $500,000 grant from the National Renewable Energy Laboratory as part of the stimulus package. SpectraWatt was one of 13 companies to receive the money to help develop ways to improve solar cells without changing current manufacturing processes. It too filed bankruptcy.
Mountain Plaza had filed for bankruptcy protection in June 2010 after receiving a $2 million stimulus grant from the Environmental Protection Agency and Olsen's Crop Service and Olsen's Mills Acquisition Co. also failed. Olsen's Mills receiving $10 million to increase employment, add equipment and machinery, working capital for operations and acquire land, and refinance debt. The payout was part of a $64 million package to nine rural businesses in Wisconsin for economic development loan assistance. Olsen's Mills filed for bankruptcy protection for defaulting on its $60 million.
So while the playground bantering will continue until we get to the real debates, let's not take all these political ads seriously. If you like such folly, go down to your local elementary school, and listen to the chiding on the playground. If you are not in a position or don't want to take the time to check the facts, then just believe what you hear is hyperbole, half truth, and in most cases outright exaggeration or lies.
Following his service in the Marine Corps Ed Mattson built a diverse career in business in both sales/marketing and management. He is a medical research specialist and published author. His latest book is Down on Main Street: Searching for American Exceptionalism
Ed is currently Development Director of the National Guard Bureau of International Affairs-State Partnership Program, Fundraising Coordinator for the Warrior2Citizen Project, and Managing Partner of Center-Point Consultants in North Carolina.
Mr. Mattson is a noted speaker and has addressed more than 3000 audiences in 42 states and 5 foreign countries. He has been awarded the Order of the Sword by American Cancer Society, is a Rotarian Paul Harris Fellow and appeared on more than 15 radio and television talk-shows.
ATTENTION READERS
We See The World From All Sides and Want YOU To Be Fully Informed
In fact, intentional disinformation is a disgraceful scourge in media today. So to assuage any possible errant incorrect information posted herein, we strongly encourage you to seek corroboration from other non-VT sources before forming an educated opinion.
About VT
-
Policies & Disclosures
-
Comment Policy
Due to the nature of uncensored content posted by VT's fully independent international writers, VT cannot guarantee absolute validity. All content is owned by the author exclusively. Expressed opinions are NOT necessarily the views of VT, other authors, affiliates, advertisers, sponsors, partners, or technicians. Some content may be satirical in nature. All images are the full responsibility of the article author and NOT VT.