"Liberal" Publication Tied to AIPAC, ADL, SPLC and Pro-War Islamophobe Lobby
I was surprised today.  I have always followed Rob Kall's "Op-Ed News," an email newsletter than publishes many of our writers, all of whom are strong supporters of Palestinian rights, very opposed to war with Iran and deeply concerned about the fate of humanity. 
Rob Kall is, in general, a very respected guy. However, something happened today that has made me more than suspicious, am I paranoid, or have I stumbled on something?
How does a "liberal/progressive" publication end up in bed with the Koch Brothers, Sheldon Adelman and their own political enemies, the specific group they attack on a daily basis, and rightly so?
The ties seem to be related to the SPLC, an obscure "anti-hate" organization that targets anyone who exposes Israel's war crimes or exposes AIPAC spying and the flood of drug and prostitution money coming into the Romney campaign.
I can't help it, either I am confused, which is probably not the case, or not everyone is who they seem to be.
Here is what caught my attention:
Unless Rob Kall has made an error, this ties him to the SPLC, an organization true progressives find reprehensible, and, in fact, an Islamophobic hate group that we have very substantive reason to believe fronts for intelligence groups that mean the United States ill.
VT is on the SPLC "hate" list for our stand against an attack on Iran, our stand against US military involvement in Syria and our support of the human rights of Palestinians.
I look at activist Stephen Lendman and his article in VT today accusing Israel of "Crimes Against Humanity" and find him published in Op-Ed by Kall, someone who is, if we are to assume what our eyes show us, allied with the anti-Palestinian SPLC.
The SPLC is blind to the genocide that Israel has perpetrated against the Palestinians for over 60 years and Kall seems with them though most of his writers are very strong Palestinian supporters and, as with VT, highly critical of extremist/Likudist policies of Israel.
As a publication that represents what was once considered the "left" among military and intelligence personnel, VT is now basking in its new "mainstream" politics.
We have stayed the same and the military and intelligence communities have come with us.  Frankly, I am impressed but also surprised.
I had begun thinking that those tasked with defending America had been too infiltrated with dupes, clowns and "Israeli Firsters," a combination of weaklings and religious extremists.
At VT, hated by the SPLC, about 30% of us are Jews, some Israeli citizens, all activists and with strong stands against the Israeli government.
The SPLC and, perhaps Kall also, don't seem to recognize how we can be Jews and not support the apartheid/genocidal crimes of Netanyahu and his advocacy of the Iraq and Afghanistan wars, disasters for the US and his demand that the US invade Iran, a war the United States would actually lose.
Speaking honestly, as a military analyst and defense contractor, I place both the Iraq and Afghanistan wars in the "lose" column along with Vietnam where I served as a Marine combat infantryman.
What I see is this;  how can someone be "progressive" and align oneself with groups that support, as Stephen Lendman phrases it, "war crimes" and, as with Iran and Syria, pressure to attack nations without legal basis.
That also is a "war crime."  Does "progressivism" and "war crime" now suddenly mean the same?  Have we all gone nuts and joined the Tea Party "tin foil hat" brigade?
ESPIONAGE and AIPAC
In the process, we have had bouts with AIPAC, the Israel lobby accused of espionage by the FBI for decades, the ADL, their public relations arm and the SLPC, the "Southern Poverty Law Center," an organization we deem as an AIPAC front group.
We know much about them and their leader, the press has long followed their exploits and legal troubles and gaffs.
But our only interest is to watch and laugh at their idiotic attacks on a veterans group and make sure the right people are aware of where their real ties are.
We consider them a danger to America but it isn't our job to act like a tabloid, that is for hate groups.  We put the SPLC in that category, as a hate group running interference for AIPAC.
We see AIPAC as an illegal foreign lobby that runs the world's largest espionage ring which is supported by FBI records, some arrests but too few convictions.

There is a mountain of data, legal wire taps, testimony from government insiders, many of whom are Jewish, that AIPAC has been at war with the United States for decades.
AIPAC and Jonathan Pollard, the Soviet/Israeli spy nearly brought about a nuclear attack on America and cost the lives of 1100 CIA agents and assets.  This is why Pollard, the "golden boy" of the SPLC has spent nearly three decades in federal prison.
He will die in federal prison, the leaders of America's military and intelligence organizations have repeated this dozens of times.
HIJACKING PROGRESSIVES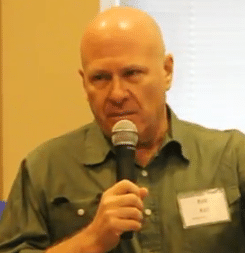 Simply put, you can't be progressive and support war, support genocide, support summary executions like the Israeli attack on the USS Liberty or the Mavi Marmara or turn a blind eye to Israeli crimes simply by screaming "holocaust" whenever you are caught with blood on your hands.
Kall's alignment with a group that makes a very generous living out of silencing critics of genocide is a surprise.
You see, politically, 95% of the time we are identical.  His writings and views are the same as mine, his politics are identical to mine and the threats he recognizes and represents are the same ones I see.
I should be his biggest fan.
Is this just a small mistake or has his organization, all along, been on the wrong side, not just of progressives or those that oppose war but of those whose writings he publishes and continually raises money to do so.
We don't see the SPLC as a threat, more of a joke.  They sour the internet for the disgruntled, try to turn them into threats yet, of course, are totally blind to the suffering of millions.
I understand them entirely, they are a business and they buy and sell hate.
Now I have to ask myself about those aligned with Op Ed, some impressive writers, who carelessly seemed to have missed that they are working with publication whose values are confused, mistaken or worse?
Are the real progressives being used in order to insert pro-war, pro-hate genocidal propaganda? Well, this seems to be what we see, a common practice, disinformation, deceit, "war through deception," and the ties to AIPAC and the Mossad make this a very dangerous and very fatal game.
It isn't just "big brother" that is watching.  We aren't all careless.  Some of us watch very closely and what we find makes us ask questions.
Think of this as more a question than an accusation.  "When did you get in bed with monsters?"
Editing:  Jim W. Dean
Gordon Duff posted articles on VT from 2008 to 2022. He is a Marine combat veteran of the Vietnam War. A disabled veteran, he worked on veterans and POW issues for decades.
Gordon is an accredited diplomat and is generally accepted as one of the top global intelligence specialists. He manages the world's largest private intelligence organization and regularly consults with governments challenged by security issues.
Duff has traveled extensively, is published around the world, and is a regular guest on TV and radio in more than "several" countries. He is also a trained chef, wine enthusiast, avid motorcyclist, and gunsmith specializing in historical weapons and restoration. Business experience and interests are in energy and defense technology.
ATTENTION READERS
We See The World From All Sides and Want YOU To Be Fully Informed
In fact, intentional disinformation is a disgraceful scourge in media today. So to assuage any possible errant incorrect information posted herein, we strongly encourage you to seek corroboration from other non-VT sources before forming an educated opinion.
About VT
-
Policies & Disclosures
-
Comment Policy
Due to the nature of uncensored content posted by VT's fully independent international writers, VT cannot guarantee absolute validity. All content is owned by the author exclusively. Expressed opinions are NOT necessarily the views of VT, other authors, affiliates, advertisers, sponsors, partners, or technicians. Some content may be satirical in nature. All images are the full responsibility of the article author and NOT VT.