Bible Tearing all looks like Hollywood Theatrics to Me
"My response was timely and appropriate…All the Knesset members should have thrown it in their trash bins." …MK Michael Ben-Ari
The Knesset had a dust up last month. Some 'full of themselves' Christian missionaries decided to stuff Knesste MK member mail boxes with copies of the New Testament, despite knowing that that would be seen as a provocative act by the radical Ultra Orthodox MP's.
Their head cheerleader, National Union MK Michael Ben-Ari, knowing the missionaries were pulling a publicity stunt to keep their donations flowing, decided to piggyback his own publicity stunt to keep his donations flowing, also.
He tore up his New Testament copy in front of cameras knowing that the media to make a big stink over it, and they did.
Enter stage left, the American Anti-Defamation League which should be renamed THE Defamation League as that is their primary function for the Israeli/Jewish Lobby here.
The ADL called on Ben-Ari to apologize. Sure!! If only they could have held their breath and waited for this to happen, we would be rid of the ADL, one of America's premier hate groups, along with AIPAC and the SPLC.
From The Times of Israel:
[Knesset Speaker Reuven] Rivlin decried Ben-Ari's act, saying all religious books had to be respected. "Holy scriptures are important to their believers," he said.

What would the Jewish reaction be if a parliament member from another country burned the Torah, Rivlin inquired. Democracy includes the freedom of expression, "but not the freedom of offending believers of other faiths," he said. "Freedom of religion is a cornerstone of this country."
All this make believe is a sad charade. The Israelis have desecrated Christian and Muslim symbols and places of worship for decades, all part of their ethnic cleansing program, making life unbearable for them. Some of the worst individuals are punished now and then, but the political Ultra Orthodox have nothing to fear from their government.
Most Israels hate them, not for what they do to the Palestinians, but because they will not work and put their huge families on forever welfare. Wherever they live they insist that working Jews should fund all community services because (try to guess this)…they are working and therefore should pay taxes.
Aren't we all just dying to have a bunch of neighbors like this, and spitters, too. Actually we already do have some. In New Jersey these welfare Orthodox demanded not only new housing, but big square footage and two kitchens. And yes, this housing is closed to all but you know who.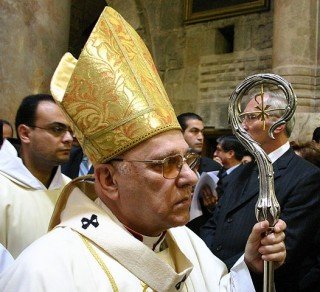 Holyland Christians used to be 20% of the population. They are down to 2% now. My source on this was Latin Patriarch Michel Sabbah of Jerusalem when I interviewed him here in Atlanta years ago.  And I must say he is one of the most impressive people I have met.
Some Israeli Ultra Orthodox Jews have a thing for spitting on Christian clerics they cross paths with, spitting on the large crosses they wear, which they find offensive. Some even rough up the priests, and spit in contempt when they pass a Christian cemetery.
No, you have never heard about any of this in the American press, and you never will. It might slowdown the cash pipeline from the Christian Zionist over here who are huge funders for the Israeli oppression of Muslim and Christian Palestinians alike.
Such reporting is not allowed here, very actively 'discouraged' as harmful to one's career. I call this 'spitting on your career', and they do from time to time to make an example.
Personally, I consider the Christian Zios not only a threat to Christianity, but a national security threat to America…a two for one deal that they don't even charge extra for.
____________________
I edited my first documentary TV show on the Siege of the Church of the Nativity some years ago. A Palestinian priest, Father Labib from California, had spent his personal savings to get the interview footage and obtain some of the actual combat footage, including the dramatic night shooting. If there is reader interest I will make another run of DVDs.
During one of the punishment sweeps of Bethlehem, some of the locals caught out on the streets, including policemen, ran for safety and refuge in the Church as they new from past experience that the IDF pumped up troops could shoot them on sight.
The church bell ringer, a deaf man, was oblivious to what was happening as he walked to work as usual. But as he took a step through the doorway he took a bullet in the back, the first to die during the siege.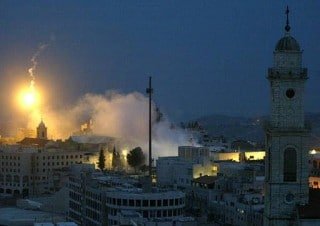 This one hour show had incredible footage of the Israelis shooting up the church at night to keep those inside from sleeping.
The also wanted to have those with guns on the inside, policeman and a handful of wanted local militia men to shoot back and use up their ammo prior to the IDF raiding the complex.
The Pals were too smart for that as they were saving their ammo for when the commandos came.
As part of the raid preparation the IDF tried to kill as many of those inside as they could. Snipers picked off kids trying to pick leaves off the lemon trees and grass in the courtyards.
Father Faltas told how a sniper just missed shooting him in his room through an open window where he would have been clearly visible through the scope as a priest. The Israelis waited almost a week before they would allow the dead to be taken out, wanting those inside to enjoy the stink as long as possible.
At night crane mounted machine guns fired down through the old wooden roof, bouncing bullets around on the inside trying to get some lucky hits. And they fired continuous flares night after night hoping to get some on the roof and set it ablaze, accidentally of course.
The commando raid did finally come one night. But the Palestinians inside had anticipated where their weak spot was and had been waiting in ambush each night. They caught the commandos my surprise and wounded several, forcing the others back.
But they had the presence of mind not to finish them off. They knew the Israelis would be coming back to get them so they retreated a few rooms back. When the rescue mission did come, the first thing they did is set fire to one of the rooms as a screen for pulling their wounded back.
I included an audio interview  with the top Vatican diplomat who was involved in the negotiations at the time who described it all in detail. As always, none of this was covered by American media…nor probably will this New Testament tearing up. The skinny dipping Dead Sea Congressman will have to last us for a while.
Let's go back to the Times for some more theater:
Abe Foxman – of the Defamation League

"As Jews, we expect others to treat our holy books with respect and understanding," said Abraham H. Foxman, the ADL's national director. "We should likewise show respect for the holy books of other faiths."

Foxman said that "a member of parliament and a representative of the State of Israel " was even more obligated than the average person to act with respect. "His actions run counter to Jewish values and the standards of Israel's democratic society," Foxman said.

Ben-Ari told the Hebrew news site NRG that he had been compelled to take action because Rivlin was silent on the matter.

Those who sent the books wanted "to trample the bodies of millions of people killed for being Jewish," Ben-Ari said. Rivlin needs to stop trying to appease missionaries, he added.

"My response was timely and appropriate," the right-wing legislator said. "All the Knesset members should have thrown it in their trash bins."

A response sent from Ben-Ari's office to the Hebrew news website NRG called the ADL a hypocritical body. "We didn't hear the organization speak out against the burning of synagogues and desecration of Jewish graves," it said.

"Ben-Ari will continue to safeguard Israel's honor, along with the honor of all those who were murdered for being Jewish," the statement said.

Government spokesman Mark Regev told AP, "We totally deplore this behavior and condemn it outright. This action stands in complete contrast to our values and our traditions. Israel is a tolerant society, but we have zero tolerance for this despicable and hateful act."
___________________
Can we all give up our survival activism now that good old Abe Foxman is defending the New Testament? If we look into the ADL press releases on the attack on the Church of the Nativity do you think we will find outrage?
We know of a book coming out soon which might spread some light why the ADL and the Israelis are putting on this religious tolerance charade in the land for Jews only.
We will be writing about it very quickly when it comes out as it will be making earth shattering revelations.
Does Wikipedia claim all the church people and civilians were hostages of the 'gun men', when all of those people were on record in denying that they were? Was the Knesset at the time outraged? Were they during the Gaza and last Lebanon incursions?
No, they weren't. And neither was the ADL  This is all for show, a cheap publicity stunt, a chance for Abe Foxman to justify the hall million salary he is milking out of the ADL, which many members by the ways do not approve of the huge salaries paid.
No government can be formed in Israel's fractured political stew without the radical Ultra Orthodox Israelis getting their free ride…no work, no taxes, and the moral judges of all.
When trying to get control of the government, the new bunch of thieves replacing those leaving would let the Orthos burn a mountain of New Testaments. Sheldon Adelson would even pay for them.
Jim W. Dean was an active editor on VT from 2010-2022.  He was involved in operations, development, and writing, plus an active schedule of TV and radio interviews.
ATTENTION READERS
We See The World From All Sides and Want YOU To Be Fully Informed
In fact, intentional disinformation is a disgraceful scourge in media today. So to assuage any possible errant incorrect information posted herein, we strongly encourage you to seek corroboration from other non-VT sources before forming an educated opinion.
About VT
-
Policies & Disclosures
-
Comment Policy
Due to the nature of uncensored content posted by VT's fully independent international writers, VT cannot guarantee absolute validity. All content is owned by the author exclusively. Expressed opinions are NOT necessarily the views of VT, other authors, affiliates, advertisers, sponsors, partners, or technicians. Some content may be satirical in nature. All images are the full responsibility of the article author and NOT VT.