The US Navy AEGIS Destroyer, Nicknamed the USS Rachel Corrie, Warned of Attack
It was 1967 when Israeli planes bombed and strafed the USS Liberty for hours, machine-gunning life rafts, peppering the 20 foot "stars and stripes" with machine gun holes, napalming, torpedoes, one of most dastardly sneak attacks on a virtually unarmed ship since Pearl Harbor in 1941.
The US had scheduled a major exercise with multiple AEGIS surface to air "killer ships" many months ago but decided to put off the exercise because of Israeli interference in the US election and the deteriorating relationship with Israel over Iran.
Now we are told only one ship will be used and very few troops.  This news came in before the President ordered language removed from the Democratic Party platform supporting Israel's claim to Jerusalem as a capitol of a Jewish only state.
The fight over this issue has raged on the floor of the Democratic Convention held, this year, in Charlotte, North Carolina.
Now, VT has learned that naval personnel in the upcoming exercise have "shoot to kill" orders if approached by unknown aircraft, even if clearly marked as "Israeli."
Sources near the president are quoted:
"Netanyahu's gang bought Romney with 30 pieces of silver, getting him to agree to invade Iran if elected.  This, in light of the Israeli court finding of "not guilty" for the murderers of Rachel Corrie, the young American woman mutilated by an IDF driven Caterpillar bulldozer sent us a message.  We heard it loud and clear, as loud as the screaming insults Netanyahu tried to leash upon General Martin Dempsey last week until the general made a few issues clear. 

Whatever America's loyalty to Israel may be or may have been, abuse of the highest military officer of the world's greatest military power by an angry little "pissant potentate" from a "seaside sand heap" nation, the difference between "tail" and "dog," one forgotten by President Bush is not going to be forgotten by this president."
Naval sources said they were surprised at the order:
"We knew the region was 'hot' after two Turkish jets were downed by Syria but a warning about an Israeli attack during a joint exercise is almost bizarre if not unreal.  There are few if almost none in service who still feel there is a grudge to settle over the USS Liberty incident. 

The "Liberty," of course, was unarmed.  An AEGIS could down the entire Israeli air force and would have even less trouble with their missiles or torpedo boats.  Few in the military know the history or have much understanding of the current dispute with Israel but anything entering attack range get's 'splashed.'" 
There appears to be little risk as American and Israel commanders have a long history of cooperation and many warm personal relations.  The issue, however, is that current Israeli Prime Minister Netanyahu, leader of the militant Likudist group advocating war on Iran and a possible attack on American forces in the region, is no longer communicating with his commanders.
Are there rogue units, as some fear, willing to fly against a Class A American warship, Israeli planes with Syria or Iranian markings, perhaps even Egyptian?
The experience of 1967, one kept alive, not just by Naval historians but a crew properly briefed for a dangerous assignment, may well prevent an impending disaster, a "stew long boiling over" in Netanyahu's cook pot.
Editing:  Jim W. Dean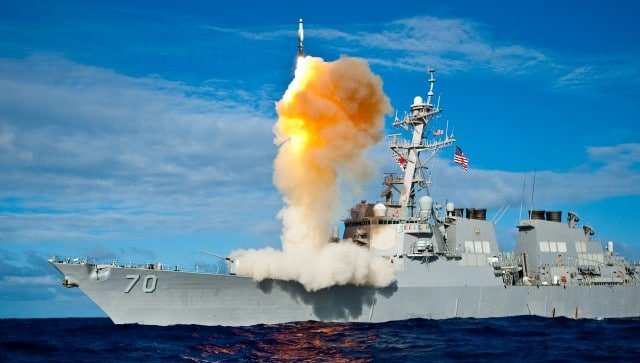 Gordon Duff posted articles on VT from 2008 to 2022. He is a Marine combat veteran of the Vietnam War. A disabled veteran, he worked on veterans and POW issues for decades.
Gordon is an accredited diplomat and is generally accepted as one of the top global intelligence specialists. He manages the world's largest private intelligence organization and regularly consults with governments challenged by security issues.
Duff has traveled extensively, is published around the world, and is a regular guest on TV and radio in more than "several" countries. He is also a trained chef, wine enthusiast, avid motorcyclist, and gunsmith specializing in historical weapons and restoration. Business experience and interests are in energy and defense technology.
ATTENTION READERS
We See The World From All Sides and Want YOU To Be Fully Informed
In fact, intentional disinformation is a disgraceful scourge in media today. So to assuage any possible errant incorrect information posted herein, we strongly encourage you to seek corroboration from other non-VT sources before forming an educated opinion.
About VT
-
Policies & Disclosures
-
Comment Policy
Due to the nature of uncensored content posted by VT's fully independent international writers, VT cannot guarantee absolute validity. All content is owned by the author exclusively. Expressed opinions are NOT necessarily the views of VT, other authors, affiliates, advertisers, sponsors, partners, or technicians. Some content may be satirical in nature. All images are the full responsibility of the article author and NOT VT.