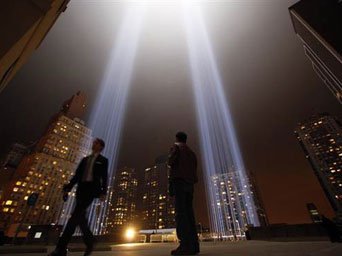 by E. Paul Newell
"Sometimes You Have To Stand Up When Standing Isn't Easy"
Yes indeed why "not to" remember 9/11? This is a good question that needs to be asked of the world. We can always ask why we should remember 9/11. But is anyone asking why we should not remember 9/11? Well everyone can just make up their own reasons as to why they or others should remember 9/11.
We should all remember the victims, we should all remember the thousands of rescue efforts, we should all remember the after shock, and the effect on everyones lives. Let us remember the folks who are still here dealing with the aftermath of this great "Horrific Event" that captured the attention of the entire world on this very coincidental date. These are all very good reasons to remember. However it appears that we will never see the real reasons why we should "NOT" remember this "Horrific" date and event. Remembrance is not about seeking revenge against an unproven culprit, it is not seeking out fictitious enemies for the whim of a few "Blood Sucking Leaches" on the global society, remembrance is not about the exploitation, or the arming of groups of a few radicals to do the unjust dirty works of the same "Blood Sucking Leaches".
Remembrance is not about taking advantage of the mass hysteria of those who "Succumb" .. Remembrance is not about an open pocket book to just write checks for death and destruction on a global scale. Remembrance is not about the "Fat Cats" getting fatter on this death and destruction.
When you remember 9/11 this time round you will be asked by the media and the "Succumbed " to remember the so called perpetrators of this "Horrific Event". This is a renewed attempt at seeking your approval to carry on this "Death and Destruction" at will, this is the very reason "Why Not to" remember this "Horrific Event". If allowed this "Horrific Event" will, and has really already become your New "Holocaust " with the old "Holocaust" all but forgotten and ignored the new has been brilliantly created for the very purposes of furthering the "Bloodsucking Leaching " of the planets human resources, without resistance .Actually quite brilliant except for the fact this is not 1939 and this world is not the same world of uninformed people that existed in that era. This is now a world of connectivity something that the "Few" really don't have. And the connected have already routed out the real perpetrator's of this "Horrific Event". As we watch this world plummet into a real live global crisis the real perpetrators are counting on the masses to not have the will or the ability to question or search out the truth in this matter, but rather will have nothing to do but try and save their own lives and or livelihood.This time around try and remember all those masses affected in a very negative way, and then think of those few that have made a literal "Killing" from this "Horrific Event" Remember the thousands who have blindly walked into "The Shadow of The Valley of Death" seeking to destroy a falsely accused, accused with proven false evidence,and Intel not even close to real. Intel, not investigated, an accused not given trial let alone fair trial. So when you remember try and remember what do you really stand for -is it Truth and Justice or is it just for the sake of some kind of misdirected "Revenge"?
Why "Not" to remember 9/11. Go for truth and justice, don't be duped again.
ATTENTION READERS
We See The World From All Sides and Want YOU To Be Fully Informed
In fact, intentional disinformation is a disgraceful scourge in media today. So to assuage any possible errant incorrect information posted herein, we strongly encourage you to seek corroboration from other non-VT sources before forming an educated opinion.
About VT
-
Policies & Disclosures
-
Comment Policy
Due to the nature of uncensored content posted by VT's fully independent international writers, VT cannot guarantee absolute validity. All content is owned by the author exclusively. Expressed opinions are NOT necessarily the views of VT, other authors, affiliates, advertisers, sponsors, partners, or technicians. Some content may be satirical in nature. All images are the full responsibility of the article author and NOT VT.