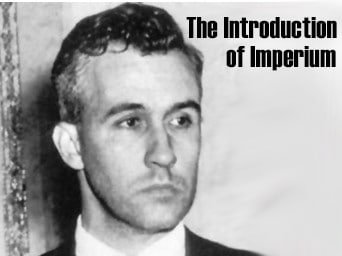 The words below were written in 1948 by a young man known to the dissident world as Francis Parker Yockey. A very brief bio sketch here from the Introduction of Imperium, written by Willis Carto of the American Free Press:
From earliest childhood, Yockey was recognized for his prodigious abilities, and resented for them by many. History may reveal that the combination of originality and high intelligence in rare individuals is essential for human progress, but we mortals find these qualities more admired in biographies than in classmates, friends, and underlings.

Yockey was a concert-level pianist; he was a gifted writer. He studied languages and became a linguist. As a lawyer, he never lost a case. He had an extraordinary grasp of the world of finance – and this is surprising, for we learn that in his philosophy, economics is relegated to a relatively unimportant position. And it is as a philosopher that Yockey reached the summit; it is this for which he will be remembered; he was a man of incredible vision. (…)

Like the great majority of Americans, Yockey opposed American intervention in the Second World War. Nevertheless, he joined the army and served until 1942 when he received a medical discharge (honorable).

The next few years were spent in the practice of law, first in Illinois and subsequently in Detroit, where he was appointed Assistant County Attorney for Wayne County, Michigan.

In 1946, Yockey was offered a job with the war crimes tribunal and went to Europe. He was assigned to Wiesbaden, where the "second string" Nazis were lined up for trial and punishment.

The Europe of 1946 was a war-ravaged continent, not the prosperous land we know today. Viewing the carnage, and seeing with his own eyes the visible effects of the unspeakable Morgenthau Plan which had at its purpose the starvation of 30 million Germans, and which was being put into effect at that time, he no doubt found ample reinforcement for his conviction that American involvement in the war had been a ghastly mistake. And feeling the might of the sinister power in the East, he might well have wondered whose interests were being served by such a victory."
Does this sound familiar to what we see today? To make a tragic story short, let's just repeat what hostle media reported: that Yockey committed suicide while still a young man in a San Franciso jail. In the opinion of many who knew him, it is far more likely that he was suicided by those who feared exposure.
Many view Yockey today as a political genius; not a few call him a seer. Imperium is his masterpiece.
Although more than six decades have passed, what Yockey wrote in 1948 – that fateful time when Europe lay in ruins and Israel ascended like an evil spirit from its ashes – fits even more today.
Here's what Yockey tells us in his Epilog:
"Millions are starving in Europe as I write this, and no one in the outer world concerns itself with it. Other millions are living in a sub-human condition in gaols, those who have not yet been hanged. The power in Europe today is held by two kinds of men: Cultural aliens, and traitors.

Can a Civilization die thus? Will two formless powers be able to strangle a Culture, starve and dispense its population?

[Imperium] is an expression of my belief that they cannot, that the inscrutable force of Destiny will prevail over outer forces as well as against the inner obstacle of the past. Precisely at the moment when their victory seems full-blown and permanently secured, Europe begins to stir.

Widened and chastened by tragedy, defeat, and catastrophe, the Western soul is emerging from the ruins, unbroken in its will, and purer in its spiritual unity than ever before. The great dream and aim of Leibnitz, the uniting of all the States of Europe, is closer by virtue of Europe's defeat, for in that defeat, it perceives its unity."
I was a starving twelve-year-old in Germany when Yockey had these thoughts and, I believe, wrote part of Imperium already. In years past, when I was making a living as a convention keynoter, telling of the early post-war years when I was barefoot, hungry, ignorant, and largely illiterate, I always closed my speech by telling audiences: "America has been good to me. I am going to give something back."
This is still America, and I am an American by choice. I, too, give thanks at Thanksgiving.  Here's what I have done this past year. I have culled whatever I could from the voices of the past, here and there, friend and foe alike, and put those voices on the shelves of a small, private library, open only by request or invitation. I want you all to take a look – just so you know that such a place exists, that it is classy and inviting – and waiting just for those historical slowpokes who still think that World War II was the "good war" that needed to be fought to save the Jews from Auschwitz.
Yockey continues – and we ought to take his words and their meaning to heart:
The mission of this generation is the most difficult that has ever faced a generation. It must break the terror by which it is held in silence, it must look ahead, it must believe when there is apparently no hope, it must obey even if it means death, it must fight to the end rather than submit.

Fortifying it is the knowledge that against the spirit of Heroism no materialistic force can prevail. Like the men of Aragon and Castile who fought the Moor, like the Teutonic knights and Prussians who fought the Slav, the men of this generation must fight for the continued existence of the West. Ultimately nothing can defeat them except inner decadence. (Emphasis added)

The West has something to devote to the contest that neither the barbarian nor the parasite has: the force of the mightiest superpersonal Destiny that has ever appeared on this earthball. This superpersonal Idea has such tremendous force that no number of scaffold-trials or massacres, no heaps of starved or pyramids of skulls can touch it.

The West has two centuries and tens of millions of lives of the coming generations to give to the war against the barbarian and the distorter. It has a will which has not only emerged unbroken from the Second World War, but is now more articulate all over Europe, and is gaining in strength with every year, every decade. Merely material superiority will do them little good in a war whose duration will be measured, if necessary, in centuries. Napoleon knew, and the West still knows, the primacy of the spiritual in warfare.

The soil of Europe, rendered sacred by the streams of blood which have made it spiritually fertile for a millennium, will once again stream with blood until the barbarians and the distorters have been driven out and the Western banner waves on its home soil from Gibraltar to North Cape, and from the rocky promontories of Galway to the Urals.

This is promised, not by human resolves merely, but by a higher Destiny, which cares little whether it is 1950, 2000, or 2050. This Destiny does not tire, nor can it be broken, and its mantle of strength descends upon those in its service.
Ingrid Rimland is an award-winning ethnic novelist and documentary producer. Currently she works on a wide-screen feature movie (Category: Contemporary Political Drama) called THE EXPATS.
Born to Russian-German Mennonites in the Ukraine, she experienced World War II as a small child. Multilingual and gifted linguistically, she brings a unique perspective to the Patriot struggle, having lived under four dictators in her young years – Stalin, Hitler, Peron of Argentina, and Stroessner of Paraguay.
Ingrid is proudly married to one of the world's most politically incorrect human rights activist, Ernst Zundel, kidnapped by America's Zionist-beholden government goons on American soil in 2003 for having spoken Truth to Power about the so-called "Holocaust". She has earned a doctorate in Education from the University of the Pacific and been a U.S. citizen since 1973.
ATTENTION READERS
We See The World From All Sides and Want YOU To Be Fully Informed
In fact, intentional disinformation is a disgraceful scourge in media today. So to assuage any possible errant incorrect information posted herein, we strongly encourage you to seek corroboration from other non-VT sources before forming educated opinion. In addition, to get a clear comprehension of VT's independent non-censored media, please read our
Policies and Disclosures
.
Due to the nature of uncensored content posted by VT's fully independent international writers, VT cannot guarantee absolute validity. All content is owned by the author exclusively. Expressed opinions are NOT necessarily the views of VT, other authors, affiliates, advertisers, sponsors, partners, or technicians. Some content may be satirical in nature. All images are the full responsibility of the article author and NOT VT.
About VT
-
Comment Policy