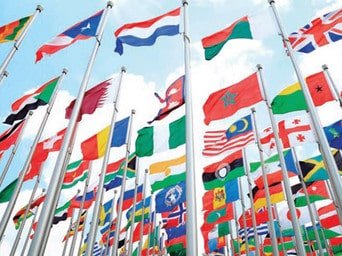 Our Thanks to VT Commenter Blake – and No Thanks to the UN and Mass Media for Hiding the List
Note: Read a most interesting comment section later where this appeared in Jewish Lobby Bullying Exposed in Australia. The Aussies even showed up to contribute !!
Dear Folks,  Here it is, a piece on United Nations history, a bookend of sorts to the desperately for post war loans one where votes for bought and extorted for the creation of Israel.
I have to hand it to the early Israeli Intel people for pulling one over on Truman. They bribed him at a key moment in his Presidential campaign.
We saw a repeat of that, of sorts, with Netanyahu's crude attempt to match what is expected Israelis leaders during an election year…sell the Jewish vote whether they really control it or not.
Their real backer was the Soviet Union, who wanted them right near the Suez Canal to create mayhem while the Soviets were figuring a way to take over Europe.
The boat loads of post war Jews were filled with Soviet Jewish partisan fighters. Some of the captured ones even came from the concentration camps where they helped the Germans knock of their Orthodox Jewish opponents on orders from Moscow.
Those Jews who helped kill off their own and then went to Israel as atheist, communist Jews to lay claim that to the 'Land that God Gave Us' is one of the Intel coups of history despite it's sad toll.
Years later a major Zionist, who happened to have been a block commander in the Warsaw ghetto and helped organize the deportations, was spotted on the streets of Tel Aviv by one Jew who survived his work, and took the opportunity dispatch his former tormentor to the lower regions.
There was a big trial of course, where all kinds of nasty things came out about how some of the best Jew killers were welcomed with open arms by the early Zionists, as long as they had helped kill Orth0dox Jews who opposed them. All this is virtually unknown in the U.S. then, and know.
Why did I share all that with you? Well, it's because I am still pissed off how all the world's mass media all seemed to lose their UN country vote tabulations last night. All of them. I find that strange, don't you.
File this away where no one can steal it from you. They may pass a law someday to confiscate these, claiming they are only in the possession of haters.
__________________________________
Voted for the resolution:
Note: I have bolded the more major countries for quicker scanning. Notice how all the Caucuses countries where Israelis have been very active in oil pipeline deals were a clean sweep for the yes column.  Now you see why publishing the list was 'delayed'.
Afghanistan, Algeria, Angola, Antigua and Barbuda, Argentina, Armenia, Austria, Azerbaijan, Bahrain, Bangladesh, Belarus, Belgium, Belize, Benin, Bhutan, Bolivia, Botswana, Brazil, Brunei, Burkina Faso, Burundi, Cambodia, Cape Verde, Central African Republic, Chad, Chile, China, Comoros, Costa Rica, Cuba, Cyprus, Denmark, Djibouti, Dominica, East Timor, Ecuador, Egypt, El Salvador, Equatorial Guinea, Eritrea, Ethiopia, Finland, France, Gabon, Gambia, Georgia, Ghana, Greece, Grenada, Guinea, Guinea-Bissau, Guyana, Honduras, Iceland, India, Indonesia, Iran, Iraq, Ireland, Italy, Ivory Coast, Jamaica, Japan, Jordan, Kazakhstan, Kenya, Kirghistan, Kiribati, Kuwait, Laos, Lebanon, Lesotho, Liberia, Libya, Liechtenstein, Luxembourg, Madagascar, Malaysia, Maldives, Mali, Malta, Mauritania, Mauritius, Mexico, Morocco, Mozambique, Myanmar, Namibia, Nepal, New Zealand, Nicaragua, Niger, Nigeria, North Korea, Norway, Oman, Pakistan, Peru, Philippines, Portugal, Qatar, Russia, Sao Tome and Principe, Saudi Arabia, Senegal, Serbia, Seychelles, Sierra Leone, Solomon Islands, Somalia, South Africa, South Sudan, Spain, Sri Lanka, St. Kitts and Nevis St. Lucia, St. Vincent and the Grenadines, Sudan, Suriname, Swaziland, Sweden, Switzerland, Syria, Tajikistan, Tanzania, Thailand, Trinidad and Tobago, Tunisia, Turkey, Turkmenistan, Tuvalu, UAE, Uganda, Ukraine, Uruguay, Uzbekistan, Venezuela, Vietnam, Yemen, Zambia, and Zimbabwe.
Abstained:
Albania, Andorra, Australia, Bahamas, Barbados, Bosnia/Herzegovina, Bulgaria, Cameroon, Colombia, Croatia, Dem. Rep. of Congo, Estonia, Fiji, Germany, Guatemala, Haiti, Hungary, Latvia, Lithuania, Malawi, Monaco, Mongolia, Montenegro, Netherlands, Papua New Guinea, Paraguay, Poland, Korea, Moldova, Romania, Rwanda, Samoa, San Marino, Singapore, Slovakia, Slovenia, Macedonia, Togo, Tonga, United Kingdom, and Vanuatu.
Voted against the resolution:
Canada, Czech Republic, Israel, Marshall Islands, Micronesia, Nauru, Palau, Panama, and the United States.
Meet the new Hockey Puck and Coconut Brigade, who just happens to have the largest military budget, by far.
__________________________________
Author Details
Jim W. Dean is Managing Editor of Veterans Today involved in operations, development, and writing, plus an active schedule of TV and radio interviews. He broke into television work doing Atlanta Public TV programs for variety of American heritage, historical,military, veterans and Intel topics and organizations since 2000. Jim's only film appearance was in the PBS Looking for Lincoln documentary with Prof. Henry Lewis Gates, and he has guest lectured at the Army Command and General Staff School at Fort Gordon, GA.
He is working to find time now to database his extensive video archive of Americana and interviews filmed during his public TV days so individual topic segments can be key word searched to quickly use in future multi-media projects.
Read Full Complete Bio >>>
Jim's Latest Posts
ATTENTION READERS
Due to the nature of independent content, VT cannot guarantee content validity.
We ask you to
Read Our Content Policy
so a clear comprehension of VT's independent non-censored media is understood and given its proper place in the world of news, opinion and media.
All content is owned by author exclusively. Expressed opinions are NOT necessarily the views of VT, other authors, affiliates, advertisers, sponsors, partners or technicians. Some content may be satirical in nature. All images within are full responsibility of author and NOT VT.
About VT
-
Read Full Policy Notice
-
Comment Policy