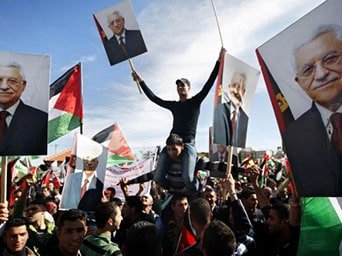 It is time for every one to sober up and come down from their highs. I do not want to throw cold water on the UN vote last week, nor do I want to dismiss the good will of the majority of the world that voted for "Palestine" as an observer state.
Palestinians under Jewish Occupation and in the Diaspora have to take a second look at 45 years of a failing national project and a failing leadership and make a difference for the future.
Every Palestinian should remember, Mahmoud Abbas who returned to Ramallah to a hero's welcome after the UN vote is the same man who with Yasser Arafat and Ahmed Qurai negotiated and signed the Oslo Accord, which legally and permanently perpetuate the Jewish Occupation and created a management company (Palestinian National Authority) to manage the Jewish Occupation.
Arafat and the PA corruption and incompetence and the security cooperation with Israel were the main cause for factional divisions between Fatah and Hamas with the PLO/Fatah aborting the first transparent and democratic election under Jewish Occupation.

Oslo Accord gave Israel a "veto" power over "Final Status" made it impossible to ends the Jewish Occupation, return the Palestinian refugees, leaving Jerusalem beyond the reach of hundreds of thousands of native Palestinians subject to continued ethnic cleansings.
Before Palestinians go out and celebrate it would  do them good to go back and revisit the performance of the PLO, its PNC and leadership during the last 45 years. Revisit Oslo Accord and all subsequent agreements like Taba, Waye River and the Hebron Accord to see the criminal failings of the PLO and leadership.
While Oslo Accord placed 1.5 millions in Gaza and 2.5 millions in the West Bank under a virtual prison, the Hebron Accord placed over 100,000 in permanent house arrest in favor of 5,000 armed Jewish settlers and terrorists.
Over the last few days I had a good chance to read much about the UN vote and what it means written by many legal scholars, many politicians and intellectuals, Israelis and Palestinians.
Bibi Netanyahu reduced the vote to "nothing changes" and ordered the immediate building of 3,000 unites splitting the West Bank between North and South. Israel continues to occupy, shoot and kill, steal and confiscate land, demolish homes at will.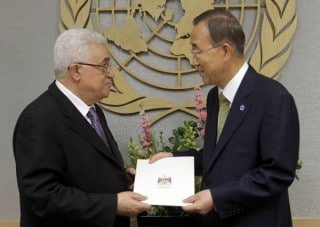 Mahmoud Abbas, (worried about the next pay check), promised he will not go to the International Criminal Court unless there is a new Israeli "aggression".

As if the War on Gaza I and II, the Apartheid Wall, the ever-expanding settlements, land theft, house demolitions, targeted killings and arbitrary arrests are not violations of international laws and not aggressions.
It is helpful for Palestinians to remember this new state was declared way back in November 15, 1988 when the PLO's Palestine National Congress declared the state of "Palestine" in exile.
Now 24 years later Mahmoud Abbas stand before the UN and declare the same state "under occupation". What a waste of time? Much much of the land since 88 disappeared in favor of Jewish settlements.
The people should remember that Arafat in 1977 as sole decision maker and dictator shifted the Fatah national project from a liberation and "One democratic state" to a negotiated settlement on any "liberated land". Hence Jericho First.
Hundreds of thousands of people died during those years as a result of an 'armed liberation" that never was and massacres in Lebanon that went unchallenged and never investigated.

Arafat and the PLO leadership were setting up the Palestinian people to scale back their hopes of ever returning home and a One Democratic State. Those under Occupation had to scale down their ambition to a "Palestinian Provisional" state under continued Jewish Occupation.
Arafat and Abu-Jihad aborted the First Intifada, which was perhaps the first and perhaps the only credible uprising in the history of Palestine. The First Intifada produced a partnership among all people, among all factions, rich and poor, street activists, intellectuals, famers; shopkeepers all joined together resisting the armed Jewish occupation with stones and slingshots.
Arafat, afraid of the challenge to his leadership was bent on aborting such challenge, pumped millions of dollars to Fatah operative to abort the uprising. After Madrid he went into secret negotiations with Israel ending the First Intifada and concluded Oslo Accord as manager of this Jewish Occupation.
Other than offering lucrative jobs and assignments with international organizations to many of the PLO and Fatah incompetent corrupt operative, the UN vote means nothing on the ground.
Israel will continue to and expand settlements and Mahmoud Abbas will continue to ask for a permit to go back and forth between office and his house.
The question that should be on the minds of All Palestinians under Occupation and in the Diaspora what is next and how can the Palestinians continue to trust this leadership sitting in Ramallah to make a difference.
It is time for the Palestinians to take matters into their hands. Those under Jewish Occupation organize a national civil and legal uprising that will end both the monopoly of failing incompetent unfit unqualified leadership, demand immediate revocations of Oslo Accord and disbanding of the PA as manager of the Jewish Occupation.
A good start will be to burn and destroy All Israeli issued security and ID cards. The leadership should have the decency to return or burn all its Israeli issued VIP passes and cancel and revoke any and all security arrangements and cooperation with Israel.
To those in exiles it is time to line up behind a One State Solution, organize a new representative body to replace the much discredited and illegitimate PLO and give the necessary support to those challenging the leadership and the Jewish Occupation.
Editing:  Jim W. Dean
____________________________________
Sami, a Palestinian-American and a US Army Veteran (66-68), recipient of the "soldier of the month award and leadership award from the 6th Army NCO Academy, is an international legal and business consultant with over 40 years of international experience, in construction, hospitality services, conservation, and defense, in the Middle East, Europe, and North Africa. Sami is a holder of BA, MPA in Public and Environmental Affairs, Jurist Doctor from Indiana University. While at IU he was elected class president, student government president and chairman of the Indiana Students Association,
Active in peace movement as a co-author of the pre-amble for the One State for All of its people and voluntary service program SalamNation. A frequent contributor on national and international affairs. He resides in the United States.
ATTENTION READERS
Due to the nature of independent content, VT cannot guarantee content validity.
We ask you to
Read Our Content Policy
so a clear comprehension of VT's independent non-censored media is understood and given its proper place in the world of news, opinion and media.
All content is owned by author exclusively. Expressed opinions are NOT necessarily the views of VT, other authors, affiliates, advertisers, sponsors, partners or technicians. Some content may be satirical in nature. All images within are full responsibility of author and NOT VT.
About VT
-
Read Full Policy Notice
-
Comment Policy