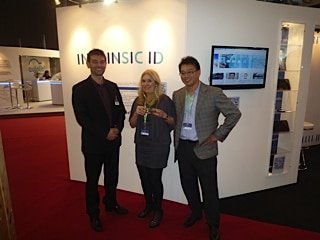 Cartes – 2012   Paris, France
This year Cartes 2012 , Smart Solutions for Security , Payment, Identification and Mobility,  was  held from November 5-8 in Paris, France at the Paris Nord Exhibition Center in Villepinte, was a very informative and interesting event. It started with the Sesames Awards followed by a cocktail reception. I found several interesting booths that I could visit that had products the general public could relate to. nIndia was the guest of honor and hosted a reception.
Didier Lambert and I went to the Sesame Awards on November 4 and shared the excitement of the recipients The awards are for innovation for smart cards, digital security, identification, secure transactions and contactless technologies; There were 475 candidates, 35 finalists and 11 winners. We felt the excitement as the winners did not know in advance if they were going to win prizes. Each winner thanked their team and others who worked with them. The MC was great and very enthusiastic. After the awards Comexposium organizer of Cartes hosted a great cocktail party with delicious food, wine, champagne and other beverages. It gave us an opportunity to meet some of the winners and other attendees.  All were very happy to be there to learn of new developments and have opportunities for networking.
Saturnus  from Intrinsic  IDwon an award at SESAMES.  Tony Picard and Luis Ancajas were very happy and  invited me  to I visit  the  Intrinsic booth and learned more about their application and why it is unique; First they told me that the SESAMES awards are like the Oscars of the security industry  It is the most prestigious award in the industry and  has been in existence for  17 years.
This was the first time that  Intrinsic  participated in the contest with  their  secure cloud application called Saturnus. They were very pleased to be selected in 2 categories as finalist (this was the first time ever in the history of SESAMES that one application got selected as finalist in 2categories) namely in the 'Mobility' and the 'Software' category.They won the latter one (Software) with their  newly launched secure cloud application Saturnus.
Saturnus offers a total protection of your data in the cloud based on the unique combination of a 2-factor protection; something you know (your user name and password, as we type in  and something you have – your phone or tablet, and a state of the art encryption of data using our patented Hardware Intrinsic Security technology, or HIS.
In HIS secret codes are not stored in the system where they can be tampered with or cloned. In HIS  they extract the physical properties of the chips inside your phone or tablet – like an electronic fingerprint – to offer a total protection of your data in the cloud.
HIS can be integrated inside the phone or tablet or onto smartcards that can be plugged in as a USB stick, microSD or SIMcard. At Cartes they showed a wide range of tablets from all kinds of manufacturers and the use of smartcards of 2 partner companies (that have integrated HIS technology on those smartcards) namely Oberthur Technologies and Inside Secure.
Some more on Saturnus: the user interface is very easy and intuitive. You see your files in the cloud in a list view or a grid view and 2 buttons: one is to lock your files by protecting them with the electronic fingerprint of your device before safely  storing them in the cloud, the other button is to unlock meaning to download from the cloud and decrypt your data on your device so you can use it. So very easy to use security,the user is completely shielded from all the underlying complexity.
Saturnus® enables exchange of sensitive data like medical records between doctorsand hospitals with their patients, it offers total protection for your credit card data, your login passwords for website services, it secures your private pictures and mails,and sms and it allows a secure sharing of data between co-workers.
India, the country with the world's second largest population, was the guest of honor, because each year Cartes honors an emerging county which offers development opportunities in products, solutions and services for the security industry. For example very few of the 600 million regular banking cards in India  (credit, debit or ATM) are smart cards; The Reserve Bank of India is in the process of EMV  (Europay, MasterCard Visa) migration. With EMV symbol on our cards in Europe, we have added security.  India's population needed ID cards for those who benefited from government welfare programs such as food, education and work;  Now India started  government projects known as UID (Unique Identification) and NPR ( National Population Register) to give every Indian citizen a number;  India is planning the creation of a biometric database so that the identity of Indian citizens online will be possible. The Indian Report, a publication  distributed at Cartes described the major projects of three companies : Gemalto, Giesecke & Devrient; ST Microelectronics, in smart cards, secure documents and trusted services. Each of these companies had workshops.   There were  three conferences about India; One  was entitled Indian UID: Enriching Services for Common People and another was India Experience: Social Inclusion with SCOTSA Smart Cards and the third was Smart Governance- Role of Governments in success;
The Indian delegation, guest of honor, invited all attendees to its "India, Guest Country" networking cocktail on November 7. The food was typically Indian including  delicious curries of shrimp and lamb and other Indian specialities and an open bar.  People told me that they came to Cartes to learn the newest developments in the industry.  Isabelle Alfano, exhibition director,  spoke to me at the Indian reception and suggested some booths that I could visit that would have appeal to me as a non technical person.
Harold Herbst and Peter Weinzierl welcomed me to the ALTOS booth.  They told me that they provided solutions for identification. Altos was originally Siemens. The offered me delicious non alcoholic drinks like  a mocktail ( no cocktail) and Kick up Breeze. These drinks were made with grapefruit and cranberr.
Then I visited Plug Up.  They gave me their smart card which connects easily to the internet by a USB port. Then you are directed to a web page without having to type in the address. This is very user friendly; The Plug Up cards are interactive and can be modified remotely. This eliminates the need for paper It is good for advertising  and many other uses.
I learned about Eurosmart from visiting their booth. They are an international non-profit association in Brussels and represent the Smart Card Security industry; Since 1995 they promote the use of Smart Security Devices and smart security solutions for better use of digital services at the same time protecting privacy and combating fraud. Their memembers include payment systems like GIE Cartes Bancaires and Mastcard, Oberthur Technologies; Smart Payment Association, Danish Biometrics, Samsung, Toshiba and many others;  Eurosmart, advertises their association as "The Voice of the Smart Security Industry."  They forecast the shipment of more than 7  billion units in 2012 which means that almost 20 million people  worldwide receive a secure and personalized device. They predict that nearly 7.7 billion units will be shipped in 2013. The major fields for growth are in telecom, banking  and retail industries  government ID healthcare with national e identification programs, new health care programs and new countries using eDrivers licenses. Also there is growth predicted for NFC  devices.
Autolib , the largest public electric car-sharing service in the world, had a booth with representatives explaining  an interesting concept for Parisians and those living in the suburbs;  They manufacture the bluecar. It is called the smart urban utility. People in Paris need cars for a short time as they use public  transportation but may need a car to transport for some special purpose like buying lots of food that can not be delivered.  Autolib is less expensive than a taxi costing 12 Euros a month for a year to join; Then it costs only 5 Euros for each 30 minutes. The cars are all totally electric and designed for short trips. Autolib  improves battery-based storage technologies;  Batteries are recharged at night. According to an auto- lib publication , The Grenelle  2 French law states that new charging points will be put in individual houses, private buildings ,shopping mall car parks and petrol stations. Eventually each house or building that has active energy management solutions will be be joined together in  the intelligent network and will provide optimized vehicle recharging;
Terry Burges from Ask told me about Smart Ticketing and the C-ticket.  We can relate to this as these C tickets are used for transportation such as the breeze card for MARTA in  Atlanta, GA. Now instead of a paper ticket there is a smart card where you can add pre payments for tickets. When I visited Atlanta, I bought a breeze card and added the tickets I needed for my visit. C-ticket uses the ASK field proven technology.
Cartes was very interesting for me as a non-tech person. I learned about several new developments. The people I met thought that Cartes provided them an opportunity to learn the latest developments. They could understand better than I could  about all the technical specifications.
Jane Rosenstein is a U.S. citizen living in Paris, France. She is a professional translator/interpreter. She is the owner of The International Connection which does international marketing consultation including sales of wine, interpretation, and translation.
She enjoys the cultural life that living in Paris offers and has talents in organizing events. She speaks English, French, and Spanish. She has a B.S. degree in mathematics from the University of Pittsburgh and an M.B.A. degree from Georgia State University in Atlanta, GA.
ATTENTION READERS
Due to the nature of independent content, VT cannot guarantee content validity.
We ask you to
Read Our Content Policy
so a clear comprehension of VT's independent non-censored media is understood and given its proper place in the world of news, opinion and media.
All content is owned by author exclusively. Expressed opinions are NOT necessarily the views of VT, other authors, affiliates, advertisers, sponsors, partners or technicians. Some content may be satirical in nature. All images within are full responsibility of author and NOT VT.
About VT
-
Read Full Policy Notice
-
Comment Policy