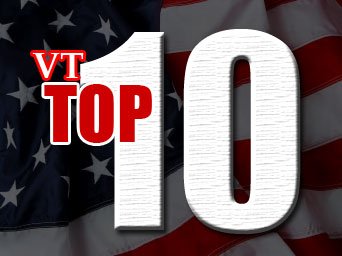 Veterans! Here's your Top 10 News stories of the day compiled from the latest sources
We encourage you to browse our list so that you can take what you want and keep what you need
1.   Air Force expanding smoking restrictions.  Stepping outside for a quick smoke is taking on new meaning at Air Force bases around the world. According to Air Force regulations to take effect next year, those jonesing for a cigarette will need to find a "designated tobacco area" before lighting up.
 
2.   Battle of the Bulge veteran remembers WWII.  On Dec. 16, 1944, Melvin Diemer was stationed in Bastogne, Belgium. In 2012, this date may not jog a memory in most people, but it was the beginning of the Battle of the Bulge during World War II.
 
3.   Navy says working uniforms are extremely flammable.  Navy working uniforms are extremely flammable and will melt in a fire, putting sailors at risk, the Navy announced Wednesday.
 
4.   As war winds down, boots must shine. With the wars in Iraq and Afghanistan winding down, troops can look forward to what peace is bringing: Breathalyzer tests, cigarette price hikes, tighter rules on conduct and appearance, a heavy emphasis on safety and a slower promotion track.
 
5.   Sanders Setting Priorities As Head Of Veterans Committee. Barre Montpelier (VT) Times Argus
 
6.   Wreath Laying Strikes A Chord On Solemn Day.  Portland (ME) Press Herald Wreaths Across America ceremony at Arlington National Cemetery in Virginia, a normally solemn place that was more so on Saturday "as thousands of volunteers from across the country – including large groups from Maine – converged on these hallowed grounds" to place about 110,000 wreaths on veterans' graves. Moreover, "hundreds of thousands more wreaths were laid at graves in 800 cemeteries across the country." The Press Herald says Saturday's "ceremony also became part of the national mourning for 20 children killed just a day earlier at a Connecticut elementary school" by beginning "with a moment of silence for the children." Karen Worcester, a co-organizer of the Wreaths event from Maine, where the tradition started with donations from the Worcester Wreath Company, said that "we need to teach our kids about the character of an American, which is to take care of each other."

7.   Badly Wounded Veterans Seek VA's Help For Fertility Treatments.  Los Angeles Times  Army Staff Sgt. Matt Kiel as part of "a growing population of veterans whose war wounds make it difficult for them to have children," noting that Kiel started a lobbying effort to get the Department of Veterans Affairs to cover vitro fertilization. Sen. Patty Murray, chairwoman of the Veterans' Affairs Committee, introduced legislation that "passed the Senate by unanimous consent Thursday directing the VA to make advanced fertility techniques like IVF available to disabled veterans, their spouses or surrogates." The prospects of similar legislation in the House remains uncertain, and the VA has not taken a position on the Senate bill. Department spokesman Mark Ballesteros said officials "are 'carefully considering' the needs of a new generation of patients with new traumas."

8.   Veterans To Get Free Bus Transfer To Brooklyn VA Hospital. Staten Island (NY) Advance  MTA "has listened to multiple calls for it to ease the financial burden on Staten Island veterans commuting to the Brooklyn VA Hospital. The authority announced that beginning Monday Staten Islanders will be given a free transfer from the S53 to the B70 bus, temporarily eliminating the two-fare charge that many veterans incurred while seeking vital health care. With the Manhattan VA Hospital's indefinite closure due to the severe damage it sustained from Hurricane Sandy, 2,100 Island vets who used that facility are now receiving care in Brooklyn joining the other 3,898 local veterans who make that trek."
 
9.   Disabled Veteran Humiliated To Tears On Delta Airlines Flight.  Huffington Post Marine Lance Cpl. Christian Brown, a disabled veteran, "was wheeled down to the last row of the airplane and bumped up against aisle seats after he had assumed he would board toward the front. He was embarrassed to tears, the Washington Post reports. What's more, when two first-class passengers on a Delta airlines flight saw Brown, who lost both his legs after stepping on an explosive device in Afghanistan, suffer a humiliating boarding process, they offered to switch seats with him – a gesture that was refused by the flight attendant, retired Army Lt. Col. Keith Gafford told the Washington Post."  Washington Times Brown "was squeezed into a narrow aviation wheelchair that clumsily hit seats as he was being wheeled to the back of the plane." When other veterans in first class offered to swap seats with Brown, they "were rebuffed by airline crew and told the plane had to leave, according to retired Army Col. Nickey Knighton, who was on the flight and filed a complaint." In response, Delta issued an apology.

10.  From Walla Walla To The Nation's Capitol, Sculptures Honoring Our Wounded Warriors.  Seattle Times "Whatever the desired effect, perfection or deliberate flaws, the world-renowned Walla Walla Foundry is the place to get it done in metal. That's why [Larry] Kirkland, whose public art can be found around the globe, came to this corner of the United States for fabrication of his latest project: bronze sculptures that will be part of the American Veterans Disabled for Life Memorial, to be dedicated in 2014 just off the National Mall in the nation's capital. Creation of the memorial is a complicated tale of world-class artists and world-class bureaucrats, all emotionally wound up in issues of injury and healing, honor and aesthetics, in an era of politicized D.C. 'monument wars' when getting anything built is a battle."
Have You Heard?

Women Veterans Committee Convene with VA Chief of Staff

The Advisory Committee on Women Veterans recently met with VA Chief of Staff John R. Gingrich and VA administration and staff office members to discuss recommendations and updates made on a report issued earlier this year.


ATTENTION READERS
We See The World From All Sides and Want YOU To Be Fully Informed
In fact, intentional disinformation is a disgraceful scourge in media today. So to assuage any possible errant incorrect information posted herein, we strongly encourage you to seek corroboration from other non-VT sources before forming an educated opinion.
About VT
-
Policies & Disclosures
-
Comment Policy
Due to the nature of uncensored content posted by VT's fully independent international writers, VT cannot guarantee absolute validity. All content is owned by the author exclusively. Expressed opinions are NOT necessarily the views of VT, other authors, affiliates, advertisers, sponsors, partners, or technicians. Some content may be satirical in nature. All images are the full responsibility of the article author and NOT VT.