Let us Put a Human Face on the Global War for Truth in History
                   …by 
Dr. Ingrid Rimland
Herewith I announce that I have set myself the worthy goal of shedding light on who we really are and what we really say. I'll try to do this weekly.
Who's "we", you ask? We, whom our numerous detractors like to call all kinds of nasty names – among them, "Holocaust Deniers."
It's got to stop – and it won't stop by our salutary efforts of heaping facts on top of facts and reason upon reason. For thirty-plus years, that's what Revisionists have done.
We counted on people with brains, on people who understand fairness, people who would not close their eyes to overwhelming evidence that "Germans" didn't do what "Jews" proclaim they did.
We need to rethink our strategies. Facts are too dry – too unappealing and too boring. Facts by themselves will never win the battle. Spielberg understood that perfectly with his defamatory feature, Schindler's List. Logic takes brains, and brains take a hike when strong emotions are triggered. Name-calling costs nothing and works like a charm.
"It's just a novel," we pleaded. "Look at forensic evidence. Science does not lie, not even for a 'Nazi.'"
Fat chance that argument would make the tiniest difference.
Put Schindler's List and the Leuchter Report side by side, and not another word need to be said. You know the "truth." You saw it in the movies and read it in the papers. Period.
I had a telling experience once when I was more politically naïve than I am now. The year was 1995. I had just launched a website and had christened it the Zundelsite – and did I ever cause a global cyber-storm! This was a time, remember, when html coding was still done by hand? I had the feeling I was flying a jumbo-jet solo – with no idea about what kept it in the air.
Down came a huge, huge censorship attack. I felt like a mosquito being shot at with a cannon – what had I done that was so scandalous?
I soon found out. I had just met an interesting Swabian with the world's thickest accent and thought that he needed some help, publicity-wise – a task at which I excelled.
Smack on the Zundelsite, I posted a fat trial transcript titled "Did Six Million Really Die?" and half a dozen essays from The Institute for Historical Review. Long story. I lived in San Diego at the time.
My introduction into Revisionist Purgatory went thusly:
I got a friendly call from a producer of a television series called "The Learning Channel", broadcasting out of San Francisco. Did I mind doing a program on my … ah… controversial views?
I didn't know I had any.
He insisted gently I did. He would pay my airline. He would send a cab. He would make sure I had protective escort. No need for me to be nervous. Me, nervous? Whatever for?
I was a novelist of some acclaim, doing media all the time. By then, I was a pro at doing interviews. I didn't come unglued in front of a camera. I thought he was a bit too squirming and solicitous, but did not give the matter further thought.
I would be glad to do a show with him, I told him.
I wasn't really all that knowledgeable about what he referred to as "… the hoary issues between the Germans and the Jews," but what was there to fear? This was America.
It's hard to believe, but in the mid-'90s I was a grass-green novice.
So far, so good. I flew to San Francisco. I was picked up by a young Jew, as friendly and engaging as they come.
It was an impressive studio, with all kinds of people smiling and smiling at me. Wall-to-wall smiles. Ear-to-ear smiles. The anchor, a young, very blond female, a Jane Pauley type – with a smile as radiant as the sun – simply outdid herself by making me feel welcome. She could not have been nicer – as smooth, polite, and polished as can be.
An assistant pinned the mike on me. My stunningly beautiful anchor leaned forward, pulled her face into the ugliest visage of hatred I have ever had the displeasure to see, and literally hissed at me:
"Are you a Nazi?"

I leaned forward, too. I said as calmly and as sweetly as I could: "Are you a Kike?"

I might as well have punched her in the nose. She reeled back. She was speechless.

I caught my breath and added:

"I just called you a name. You didn't like it, did you? You just called me a name. I didn't like it either."
After that, as I remember this episode, we just stared at each other for a minute or so. There was the Great Divide. I stood right at the precipice. I know I didn't flinch. To my knowledge, that interview was never broadcast.
I have sometimes told this story to others, and I can always sense that, while people might agree with me and even sympathize, they think that wasn't very ladylike of me.
That in itself is telling. It's perfectly okay to insult a German morning, noon, and night, right? It's not okay to answer tit for tat?
I want to spend this coming year to do my part in diminishing the virulent, utterly unjustified hatred against Germans in general and my own love specifically.
Ernst is a kind and thoughtful activist who is not what his detractors shriek from the roof tops. Ernst Zundel doesn't hate. Ernst Zundel is an activist of rock-hard principles, however. What's fair is fair, he says.
Well, isn't he a "racist" and "White Supremacist" – and isn't racial hatred a byproduct of being biased and intolerant against non-Whites?
That argument is hardly ever made by all the numerous minorities his opponents like to recruit into their camp. Most minorities sense Ernst's good will and his abundant tolerance for others.
It's not minorities of different skin hues who are the ones who will resort to innuendo.
_________________________________________
Here is one such example, drawn straight from experience itself:
The year is 1984. Ernst has just been convicted in Canada for "spreading false news." For the first time in his life, he finds himself in a cell awaiting sentencing. What now?
His feeding slot clicks. A female guard is on the other side of the heavy metal door.
He gets on his knees to peer out. On the other side is a pair of the most beautiful, expressive black eyes that he has ever seen.
"Mr. Zündel? Mr. Zündel? Can I do something for you? Can I get you something?"

He speaks with gallows' humor: "A saw?"

Her large eyes fill with tears.

He is taken aback. "What did I say? How did I hurt you?"

She whispers, barely audible: "I am a Palestinian."
_________________________________________
Or picture this scenario: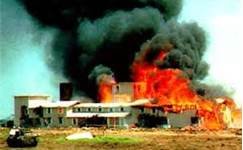 America has just been treated to a mini-Holocaust called Waco. More than a dozen small children have been fried to a crisp on government orders for reasons never fully proven or explained.
Survivors are arrested by the U.S. government. Among them is a jet-black woman named Anita, David Koresh's nurse, who was by his side when he drew his last breath.
She is what the government calls a "material witness" – and her testimony, logic tells you, might well be feared by some who would like nothing better than to sweep the details of the U.S. mini-holocaust right under a convenient rug.
Anita is contacted by a dissident Southern attorney, Kirk Lyons, well-known in alternative political circles. Anita rightfully fears for her life. Kirk manages to get her released and asks Ernst to give Anita shelter at the Toronto Zündel-Haus.
He did. She stayed. She lived there for seven months, washing Ernst's dishes and making herself otherwise useful until the danger passed.
When Ernst told me this story of Anita living at the Zündel-Haus, I said: "For heaven's sakes! Why you?" and Ernst said dryly: "Well, isn't that the last place they would have looked for her?"
When Ernst was arrested in 2003 and deported back to Canada, Anita – who now lives quietly in the vicinity of Buffalo – offered to be a character witness for him.

As you will recall, Canadian officials did not allow exonerating character witnesses – or any other evidence – to prove that Ernst was not the "security risk" they had gone to great pains to capture in America and import back to Canada … so as to kick him out!
_____________________________________
There is a third vignette it is my pleasure sharing with my readers to make my point that Ernst does not deserve the "racist" slur his political enemies routinely hurl in his face.
This is the story of "His Excellency", as we would call him fondly.
I don't even remember his real name, but I do remember that this little, dainty Black was – perhaps still is! – the representative of the Asheville branch of the national NAACP.
His Excellency was as delicately graceful as can be – impeccably dressed, perfectly groomed, proudly sporting a political attitude you would never have expected, if you are sold on stereotypes, from a spokesperson of the NAACP.
Politically, His Excellency was stoutly on the side of various Southern Confederacy organizations and had carved himself a niche as a much-sought-after speaker at their political events and even demonstrations.
It was only natural that he and Southern Activist Attorney Kirk Lyons would strike up a friendship. On occasion His Excellency would double up as Kirk's driver because Kirk has a vision problem and does not like to drive, especially at night.
That's how we met His Excellency sometime in 2002, prior to Ernst's arrest and kidnapping.
One sunny morning an FBI Special Agent named Scott Nowinski showed up at our door and said to Ernst, who was puttering around with some flower beds in front of our home: "Your friends in Canada sent us your file."

(Scott, who was tasked to sniff out yet another "White Supremacist", as we found out via FOIA, later denied that he said that, but that statement is in our notes…")
Would Ernst agree to a friendly little chat?
Ernst said he would be glad to, but not without a lawyer present. He added he would call Kirk Lyons and meet with Nowinski at FBI quarters in Knoxville.
And thus it came to pass that one late afternoon Kirk and His Excellency appeared at our door to spend the night with the Zündels. And since the Zundel couple was short on beds but long on hospitality, His Excellency slept on my couch.
When the next morning the threesome arrived at FBI quarters, special Agent Scott Nowinski threw up his hands in surprise behind His Excellency's back and asked with raised eybrows: "Ernst…? " Ernst isn't sure if he added, "… what gives?" or if a big fat question mark just stood by itself in the air.
Both Ernst and I remember His Excellency with real affection. He is the one who rose, his dignity intact, from our couch to settle down for breakfast, unfolded his napkin, put it on his lap, and spoke with understated elegance: "I like my toast with honey."
This article shall be my launching pad. I want you to get to know the flesh-and-blood people behind the nasty stories – the "Holocaust Deniers" and other sundry activists who have spearheaded science and scientific scholarship at great costs to themselves. Above all else, I want you to draw a mental picture in your head about the man who kick-started it all by sending Fred Leuchter to Auschwitz.
Below, I introduce a clip that shows yet one more side of Ernst that might solicit some respect and perhaps even a lump in the throat. It describes what happened right after he was arrested in Tennessee – almost ten years ago to the day. We are still waiting that he be allowed to return:
[youtube 67vJM_vXV6U] – Ernst Art
Ingrid's brand new on-line store can be visited here at Soaring Eagles Studios and Gallery.

It offers DVDs in English and German, as well as many books. Zundel Prison Art items will be raffled off later to help support sound scholarship for Truth in History.
Editing:  Jim W. Dean
_____________________________________
Ingrid Rimland is an award-winning ethnic novelist and documentary producer. Currently she works on a wide-screen feature movie (Category: Contemporary Political Drama) called THE EXPATS.
Born to Russian-German Mennonites in the Ukraine, she experienced World War II as a small child. Multilingual and gifted linguistically, she brings a unique perspective to the Patriot struggle, having lived under four dictators in her young years – Stalin, Hitler, Peron of Argentina, and Stroessner of Paraguay.
Ingrid is proudly married to one of the world's most politically incorrect human rights activist, Ernst Zundel, kidnapped by America's Zionist-beholden government goons on American soil in 2003 for having spoken Truth to Power about the so-called "Holocaust". She has earned a doctorate in Education from the University of the Pacific and been a U.S. citizen since 1973.
ATTENTION READERS
We See The World From All Sides and Want YOU To Be Fully Informed
In fact, intentional disinformation is a disgraceful scourge in media today. So to assuage any possible errant incorrect information posted herein, we strongly encourage you to seek corroboration from other non-VT sources before forming an educated opinion.
About VT
-
Policies & Disclosures
-
Comment Policy
Due to the nature of uncensored content posted by VT's fully independent international writers, VT cannot guarantee absolute validity. All content is owned by the author exclusively. Expressed opinions are NOT necessarily the views of VT, other authors, affiliates, advertisers, sponsors, partners, or technicians. Some content may be satirical in nature. All images are the full responsibility of the article author and NOT VT.