DISCLOSURE: VT condemns the horrific tragedy committed by the NAZI Party against Jewish Citizens of Europe during Word War II known as the "Holocaust". VT condemns all racism, bigotry, hate speech, and violence. However, we are an open source uncensored journal and support the right of independent writers and commentors to express their voices; even if those voices are not mainstream as long as they do NOT openly call for violence. Please report any violations of comment policy to us immediately. Strong reader discretion is advised.
---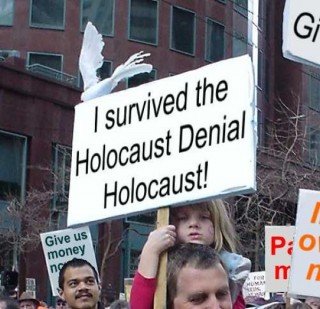 "WANTED – A psychiatric diagnosis of Nazi holocaust denial."
That was the title of a recent article by Alan Hart, author of the brilliant Zionism trilogy.  With that piece, Alan started a controversy by wondering whether "holocaust deniers" are mentally ill.  Listen to my discussion of this topic with Alan Hart at http://www.americanfreedomradio.com/archive/Truth-Jihad-32k-021513.mp3 .
Obviously, some holocaust revisionists do harbor anti-Jewish prejudice. But just as obviously, many don't.
Can a sane, unprejudiced person "deny the Holocaust"?
As much as I admire Alan Hart, I think he used a fallacious ad-hominem argument in lumping "holocaust deniers" together and suggesting they all need psychiatric diagnosis. That's the kind of argument Fox News hosts use against people questioning 9/11.
I understand why Alan lashed out. A few of the comments here at VT (which has by far the best comment section, overall, of any news outlet anywhere) drip with visceral hatred of Jewish people. Alan was offended, got into a couple of typical internet flame wars, and unloaded.
Michael Korn, a Jewish Christian and an old friend from the Muslim-Jewish-Christian Alliance, answered Alan by explaining why some of his German friends question the Holocaust. Like David Cole, who recently re-emerged into public view, Michael is obviously of sound mind, highly intelligent, and a critic of some aspects of current "tribal Jewish policy" – which does NOT make him a "self-hating Jew." On the contrary, Korn and Cole seem to be sufficiently at ease with themselves to contemplate issues that make insecure people nervous.
Here is Michael Korn's open letter to Alan Hart.
by Michael Korn
Mr Hart,

I am a Jewish believer in Jesus. I was raised in the USA and moved to Israel after college where I lived as an ultra-Orthodox Jew for 18 years. I was baptized by South African missionaries on 20 June 2000 in Israel.

Recently I have had some correspondence with Germans who have shared their perspective on the Holocaust and WWII. I think I might be able to provide you with some answers.

First, these Germans believe that Hitler was a genuine patriot who wrought miracles for a German society that had been devastated by the punitive financial terms of the Versailles Treaty.

Second, they are incensed that Jews, who comprised less than 1% of the German population in those days, virtually controlled the entire German economy.

Third, they consider that Germany herself suffered a Holocaust of intensive Allied firebombings of German civilian cities from the very outset of the war. The book Human Smoke documents Churchill's murderous crusade against German civilians in nighttime bombings that lasted for six months before Germany finally retaliated with the battle of Britain. The Jewish Holocaust narrative does not make room to even acknowledge this holocaust or those inflicted on Imperial Japan by American bombers. Jews act as though their 6 million suffered more than the global community's 60 million and are the only casualties worth acknowledging.

Fourth, they considered the well publicized efforts of Jewish groups to boycott Germany throughout the 1930s to be an act of economic warfare and thus deemed all Jewish civilians in occupied Europe to be potential enemies of the state who should be imprisoned just as the Americans incarcerated ethnic Japanese.

Fifth, they know of the transfer agreement between Hitler and Zionist groups. Hitler tried to facilitate Jewish immigration to Palestine which was in fact impeded by the British throughout the 1930s.

Sixth, they believe that the bulk of the suffering of Jewish concentration camp prisoners was due to Allied bombing that destroyed German infrastructure and made food medicine and other essentials for life unavailable.

Seventh, they believe that Hitler heroically tried to stop the USSR from invading and conquering all of Europe at tremendous personal loss and suffering to German forces, an act of sacrifice that the Holocaust enforcers totally ignore.

Eighth, they do not believe there were homicidal gas chambers, claims about which have been used to unfairly demonize and degrade German culture and civilization that they proudly believe to be the most advanced in the world. Books such as The Chamber by John Grisham lend weight to this claim by exposing the extremely hazardous process of executing just one prisoner by poison gas in an American gas chamber.

Sincerely,
Michael Korn
Believer in Jesus the Jewish Messiah and Savior of the World.
PS Please examine the information from Mr. Grisham's book, posted in the second comment on this article (see comments section below.)
This account in Grisham's novel The Chamber pretty much puts the nail in the coffin of the claim about homicidal gas chambers.
But before you read it, let me state clearly to you that even if the conventional account about the Holocaust is true, I really don't care about it. This is because compared to the threats that we all face on planet earth, the Holocaust is a minor tragedy.
Also Jewish groups have blown the Holocaust out of proportion by exaggerating the significance of their own suffering and denigrating that of others, who in fact suffered much more.
Also Hitler was God's instrument to vacate the Jews from Europe and to create a Jewish State, something you have told me you support. Israel should erect a statue of Hitler and put it in their Kenesseth building or next to the Western Wall.
Also Jews have tried to substitute their suffering for that of Jesus Christ, the only Jew worth venerating and adoring. Jesus loves us but Jews hate those who pay tribute to them thus exacting ever increasing amounts of reparations and war guilt booty.
Also Jews deny the other very real Holocausts that occurred during WWII, in the fire bombings of German and Japanese cities that caused millions of deaths.
Finally, as a Christian believer, surely you recognize that Jewish people have an account to settle with their Creator for continuing to denigrate His Son Jesus. If Hitler was God's instrument of wrath, who are we to soften the blow?
Now kindly read on the excerpt from Mr. Grisham:
This is a really interesting exchange about a John Grisham book that inadvertently puts some of the claims of Holocaust Revisionists in a more favorable light.
Leonard Vincent is the chief attorney for the Mississippi Dept. of Corrections, whom Grisham thanks in his acknowledgements as being of great assistance in helping him prepare the background for the book.
Vincent substantiates the passage from the novel I have excerpted below as truthfully describing the incredible precautions necessary when executing a prisoner in an American gas chamber.
Given these precautions, how do you explain the claims of Jewish groups that the Germans would gas 100-200 inmates at a time and then other inmates were forced to immediately evacuate the gas chambers and cart off the bodies to ovens without any protective measures. Is this even possible?
Or is it the case that the prison officials simply erred on the side of caution and there is no real danger to come into direct contact with corpses gassed to death with cyanide?
Dr. Kevin Barrett, a Ph.D. Arabist-Islamologist is one of America's best-known critics of the War on Terror.
He is the host of TRUTH JIHAD RADIO; a hard driving weekly radio show funded by listener donations at Patreon.com and FALSE FLAG WEEKLY NEWS (FFWN); an audio-video show produced by Tony Hall, Allan Reese, and Kevin himself. FFWN is funded through FundRazr.
He also has appeared many times on Fox, CNN, PBS, and other broadcast outlets, and has inspired feature stories and op-eds in the New York Times, the Christian Science Monitor, the Chicago Tribune, and other leading publications.
Dr. Barrett has taught at colleges and universities in San Francisco, Paris, and Wisconsin; where he ran for Congress in 2008. He currently works as a nonprofit organizer, author, and talk radio host.
ATTENTION READERS
We See The World From All Sides and Want YOU To Be Fully Informed
In fact, intentional disinformation is a disgraceful scourge in media today. So to assuage any possible errant incorrect information posted herein, we strongly encourage you to seek corroboration from other non-VT sources before forming an educated opinion.
About VT
-
Policies & Disclosures
-
Comment Policy
Due to the nature of uncensored content posted by VT's fully independent international writers, VT cannot guarantee absolute validity. All content is owned by the author exclusively. Expressed opinions are NOT necessarily the views of VT, other authors, affiliates, advertisers, sponsors, partners, or technicians. Some content may be satirical in nature. All images are the full responsibility of the article author and NOT VT.