Seize Saudi  and Qatari assets for supporting terrorism?
–  First published in Press TV – June 21, 2013  –
     …by  Jim W. Dean, VT Editor      …with Press TV

The West and their Persian Gulf state proxies have made a big mistake thinking that using terrorist proxies as cheap offensive troops was a smart play.

It wasn't. They have hung targets on all their backs not only for similar retribution like future drone attacks, but also legal prosecution for supporting and engaging in terrorism.
Those in government positions have no immunity for war crimes and crimes against humanity. And where it is not possible to apprehend them and bring them to trial, the American drone attack precedent has established they can be killed wherever they are found, and whoever they are with, by any means possible.
That was not a good thing to bring to international relations. I am not the only one who thinks so.
Less messy and a boon to the lawyers is asset seizure, to which the Saudi Royals are very vulnerable because they have extensive personal holdings all over the world, particularly in public companies. As for the evidence, there is an endless supply of retired Intel people who can supply it, plus modern data-mining can update older information in a jiffy.
I have been watching carefully how the Saudi hand in the Syrian turmoil has been so lightly covered in the mass media, the type of issue suppression one is used to seeing when the Israel Lobby presses a button.
Recent days and multiple sources have now put the numbers of Saudis fighting with the terror rebels at 8,000. That folks is basically a division. It is not a loose mix of religious extremists all wandering through the border areas to magically show up on the front lines as coordinated fighting units.
What we now see is Saudi Arabia at war not only with Syria, but also Iraq, putting the US in a difficult position regardless of its approval or not. Because we have armed the Saudis to a great extent the blood they spill via al-Nusra will be splashed on us.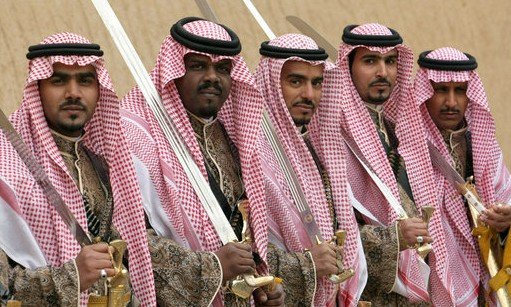 Even during the Iraq war we had problems with the Saudis as they were funding and arming the Sunni insurgents. This was understandable during the horrible ethnic cleansing days, especially in Baghdad. But Saudi Intelligence had kept a finger in the Iraqi pie ever since to have a counter to the Shia government's friendliness to Iran and the Russians.
The Saudis close relations with Israel has gotten them a free pass on supporting the car bombing campaigns, which seem to be an endless problem in Iraq. It is a classic destabilization campaign with Israeli fingerprints all over it, in conjunction with the usual suspects. That the Iraqi bombing upsurge paralleled the Syrian car bombing in tactics was not missed on those of us who are still awake.
Our Intel sources have confirmed the current bombing campaign in Iraq's cities was a feint to draw the army away from the Syrian border area to make it easier to move extremist fighters and now heavier weapons through the border. After several shootouts with these insurgents and losing police and troops the Iraqi army moved in.
They started with a sweep to clear out the training bases, safe havens and recruiting infrastructure that had been set up inside Iraq. Their troops are going back to the border as terrorists will be using save haven areas in Syria under al-Nusra control to stage continual bombings, especially with the Iraqi election coming up.
This effectively put Saudi Arabia at war with Iraq also… even if it is irregular warfare. But therein lies the catch.


These acts, their purpose… is an ongoing terror campaign. It could not be going on without the approval of the Royal family, which puts them in violation of all the anti-terrorism laws.
While I don't expect them to be arrested any time soon, I am waiting for the victim countries to begin legal action… seizure of assets for running an ongoing terrorism enterprise.
Contrary to popular belief and governments wishing that it were true, officials have no diplomatic immunity from such acts.
The EU and their separate countries have used and abused this differently with Iran. They have illegally sanctioned Iran for a presumed violation of nuclear weapons protocols, without bothering to show the rest of us their evidence.
We all know if they had some they would have shown it long ago. And the Israelis using a nuclear bunker buster in Damascus confirmed their longstanding position that their nuclear arsenal was there for its aggressive threat power, not for defense.
Iran's Bank Mellat just had their banking sanctions overturned by Britain's Supreme Court in a devastating decision, which claimed the secret testimony used to justify them were bogus. The British taxpayers are looking at half a billion in damages being paid out for this illegal act. And I suspect that similar lawsuits will result in similar damages over the satellite companies taking Press TV off the airwaves in countries where the Israel Lobby pulled the strings.
If such damage awards can be collected for business losses, they should certainly be payable for mass murder and crimes against humanity. And these assets are easily identifiable as the Royal family crowd has helped itself to their countries treasury for many decades now.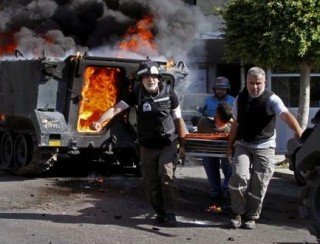 As Franklin Lamb reported this week from Beirut, Saudi Arabia and Qatar are using their vast wealth to recruit large numbers of unemployed Arab youth in the area for whom an AK-47, free cigarettes, and $200 a month is step up in status.
The paymasters are also free of any GI bill educational, health care or pension costs.
The Israelis also think this war on the cheap, using young Arab cannon fodder troops and Arab money to crush the major state that supports the Palestinians, as a gift almost from heaven. Most Israelis are not religious, which makes it easier for them to play religious Muslims off against secular or different sect ones.
The US is caught in a quandary here – really a lose-lose situation. They allowed themselves to stupidly hide behind the 'Free Syrian Army' and Syrian National Council's refusal of Assad's early offer to negotiate with no pre-conditions. I can only suspect that someone sold the White House some rosy prediction that Assad could not last another six months of a year.
And whoever thought bringing the Jihadi extremists in as a second flank, they also shot the remove Assad plan in the head. Their terror campaign of high level and civilian assassinations and bombings did not spur more defections. It did just the opposite. And whereas victory has a thousand fathers, failure has none.
The West's threats to ship more arms in to the rebels were mainly pre-staging to leverage the Syrian opposition to attend the political settlement conference. While weapons have of course been flowing in with CIA logistics coordination, they were not coming directly from US, British, or French armories. But the Saudis are going ahead now, initially with anti-armor weapons and I suspect shoulder fired aircraft weapons soon to follow.


The al-Nusra terrorists are already compromising the 'Free Syrian Army' by killing their officers and threatening the families of others.
That civil war has already started. Known major al-Nusra headquarters in Aleppo have not been shelled or bombed by the Syrian army, only a mile away. So something strange is going on there.
The Saudis are vulnerable now to counterattack. And if they mess with the Russians, they might find their safe play in Syria was not a safe one at all. Iraq knows it is under attack by the Saudis. Will the Russians help them with signals and satellite? I suspect so.
The US is limited in the cards it can play now. The main one seems to be Jordan, which appears to being used as a pivot to make the Israelis feel a bit more comfortable, and to help the Iraqis with drone patrols along their wide open border with Syria. This would have US assisting the Iraqis fighting the Saudis.
If this is hard to follow, please don't blame me. It is hurting my head, too. And on top of this we have possible media espionage going on inside Bloomberg with some of the silliness they have published about high US officials pushing for a quick bombing campaign. None of our military sources know anything about this, and everyone universally considers that a lose-lose proposition.
When deep cover media Intel assets are deployed, you know that their handler is in a near panic stage. I suspect that has something to do with Israel losing its air superiority abuse over its neighbors. We are still working hard on a major Bloomberg News story.
________________________________
Jim W. Dean was an active editor on VT from 2010-2022.  He was involved in operations, development, and writing, plus an active schedule of TV and radio interviews.
ATTENTION READERS
We See The World From All Sides and Want YOU To Be Fully Informed
In fact, intentional disinformation is a disgraceful scourge in media today. So to assuage any possible errant incorrect information posted herein, we strongly encourage you to seek corroboration from other non-VT sources before forming an educated opinion.
About VT
-
Policies & Disclosures
-
Comment Policy
Due to the nature of uncensored content posted by VT's fully independent international writers, VT cannot guarantee absolute validity. All content is owned by the author exclusively. Expressed opinions are NOT necessarily the views of VT, other authors, affiliates, advertisers, sponsors, partners, or technicians. Some content may be satirical in nature. All images are the full responsibility of the article author and NOT VT.