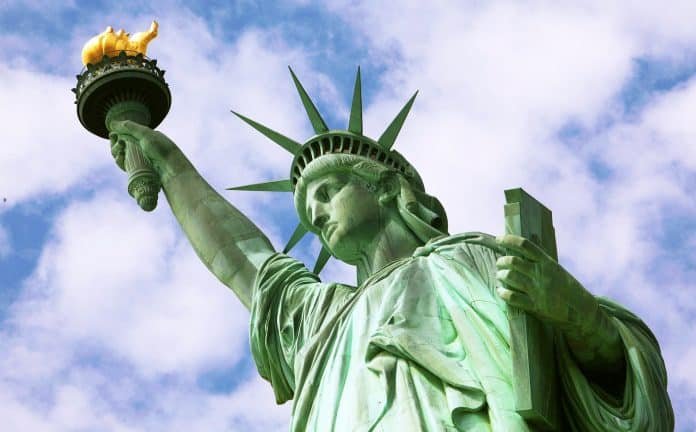 Miss Liberty has Passed. Mourners Around the World Cry for her Loss
This July 4, 2013, while some will be blissfully and blindly eating BBQ chicken on their spied-on grills celebrating something resembling independence day from tyranny, instead I will be attending the funeral for a lady that was a beacon of hope, liberty, freedom, and justice; a lady that was quietly murdered.
Once an exceptional world leader who inspired and transformed not only Americans but people around the world who dreamed of being like her, she has succumbed to an unforeseen ugly and dark globalist takeover cancer that has rotted her away from the inside. When she passed, she was just 237 years old.
Granted, she was nowhere near as old as some of her ancient siblings but her time with us was very special indeed. In lieu, while we, the citizens of the world, are truly saddened, disappointed, hurt, angry, and frustrated by her passing, personally, for me, I choose to celebrate her life for now. Tomorrow, who knows…maybe I will get all worked up and throw a chair or personally drag those usurper cancer cells that slowly murdered her; those cells known as short-sighted greedy politicians and determined globalists, off to jail. I don't know just yet…for gosh sakes I am grieving!
Anyways, she was an amazing lady. She wore liberty and justice for all on her sleeve. She loved the due process and her lovely document given to her by her parents that we commonly refer to as the U.S. Constitution and oh, that little thing known as the Bill of Rights; wow she loved that thing!
I may be sliding down the old hill but I do remember a time when people around the world were being oppressed by powerful governments led by evil dictators and she gave them hope for a better day. In my own experience, my own mother who lived in refugee camps dreamed of the day that she step into the land of opportunity and freedom. It was a dream that came true and it forever changed the course of our family.
"If you give up your liberty for security you will eventually lose both your security and your liberty"  Benjamin Franklin
Now, from within, while it was not always easy, the people always found ways to rally behind her principles, her values of good, and the basic humane inspiration that drove us all to stand with her and beside her when she was challenged by the dark siders.
So this week, I choose to remember her for all the good she brought us and not to remember her last days dying in the pool of darkened filth as the forces of evil stabbed her with final daggers that corrupted her innards decaying them organ by organ until the disease reached her common sense and turned it into a new world odor of mush that only a brainwashed brain dead corporate infused mentally disabled wage slave for the system could worship.
Her parents, our founding fathers, and men like George Washington, Thomas Jefferson, and Benjamin Franklin, while they have passed, their spirits I know are saddened this Fourth of July. For them, I grieve as well. Every parent loathes the day their child passes. It must be horrible for them.
I mean I am very sure that it was their intention that the child they created would live forever but alas, that was not the case. All things come to an end and nothing lasts forever. And so, this 4th of July, I will be celebrating the life of Miss Liberty. She was one of the great souls that changed the world.
But as her rulers now secretly spy on the very people she once stood for and while her new rulers continue to pursue the modern-day Paul Revere known as Edward Snowden and brand him a spy when he only informed us that the lady was dead, well what else are we, the spied upon, suppose to think, supposed to do? What? Revolt? Try to resuscitate a dead corpse? Look for another lady to support you. What did those Romans do when their republic was on its death bed looking up at Mister Tyranny as he ate them whole?
I don't know what is to become of us in the coming years. what I do know is that tomorrow, I will be attending a funeral.
Once I get over the pain of the loss and grieve, I hope the sun will also rise somewhere, someplace so that I can take the time and experience that I shared with Miss Liberty and use it for good once again; somewhere someplace on a new shining hill that will once again become the hope of our humane tribes. She was a great lady. Please allow me to mourn in peace. I am truly hurting right now!
Johnny Punish is the founder and owner of VT.  He is also a writer, global citizen eco-activist, visionary, musician, artist, entertainer, businessman, investor, life coach, and syndicated columnist.  Punish was educated at the University of Nevada Las Vegas (1980-81) and California State University Fullerton (1981-1984) with studies in accounting and business. Before the "internets" had been invented, he owned and ran (5) national newspapers in the United States of America from 1987-1998
Punish has over 100 original songs written. He records and produces music. A member of ASCAP, Punish has several songs placed in feature films. His music is promoted worldwide and played on all digital networks and net radio.
He is also the founder and owner of  Global Thinkers, a freedom media that helps free thinkers create real wealth.
Resources:  YouTube – Apple Music – SoundCloud – Spotify – Instagram – Twitter
Read Johnny's Full Bio at JohnnyPunish.com >>>
ATTENTION READERS
We See The World From All Sides and Want YOU To Be Fully Informed
In fact, intentional disinformation is a disgraceful scourge in media today. So to assuage any possible errant incorrect information posted herein, we strongly encourage you to seek corroboration from other non-VT sources before forming an educated opinion.
About VT
-
Policies & Disclosures
-
Comment Policy
Due to the nature of uncensored content posted by VT's fully independent international writers, VT cannot guarantee absolute validity. All content is owned by the author exclusively. Expressed opinions are NOT necessarily the views of VT, other authors, affiliates, advertisers, sponsors, partners, or technicians. Some content may be satirical in nature. All images are the full responsibility of the article author and NOT VT.