Asiana Flight 214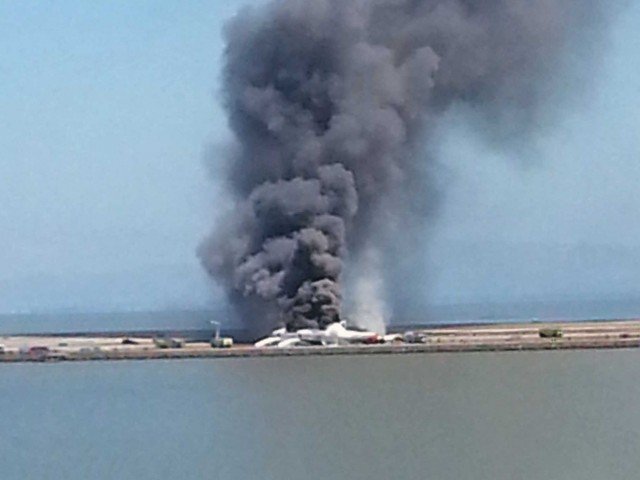 —
By Michael Shrimpton
—
Firstly good luck to Sgt Danny Nightingale, late of the SAS.  In a with respect stupefying decision he has been found guilty on his retrial.  He can't be jailed, as the Court of Appeal rightly with respect imposed limitations on immediate custody at the retrial, having allowed an appeal against sentence.  He should never have been retried.
I hope he appeals.  He is clearly not guilty and even if he weren't the public interest is not served by hammering a brave soldier, who has served his country with distinction, on such a trivial matter.  They'll be prosecuting soldiers for not laying out their kit straight next.   When Cameron finally goes, and we in the Tory Party are desperate to see the back of him, he should be granted a Royal Pardon.  I mean Danny of course – Cameron will not so lightly be forgiven!  When a Royal Pardon is granted defendants' costs should be repaid as a matter of course, along with any fine.  This was one of the silliest prosecutions in England since the last case under the Witchcraft Act.
Asiana Flight 214
That should never have happened.  There are no grounds whatsoever for criticizing the plane maker, Boeing.  The 777 is a big, safe ship, as solid as any Boeing product.  I have never heard a pilot complain about them.
The UK media initially tried to pretend that the fin had snapped off, like it was some sort of Airbus.   The first photos showed the fin from such an angle that it was difficult to see the bit of fuselage to which it was attached.  Clearly not structural failure, then!
Admittedly with the benefit of hindsight, the pilot in command's decision to hit the sea-wall and not land the plane on the runway was the wrong one.  The runway would have been a far better choice, frankly.  That is partly because Boeing designed the plane to land on runways, not walls.  The undercart on a 777 is not stressed for high-speed impacts with solid structures.  If it were there would be no weight left for the passengers' carry-ons.
Speaking of carry-ons it would be helpful in future if passengers did not obstruct the aisles during an emergency evacuation by collecting their luggage from the overhead lockers.  If the clown seen walking away from the crash towing his carry-on were refused carriage in future by reputable airlines he could not be heard to complain.  It might also be an idea if passengers refrained from congregating under the wings of burning airplanes.  That is because they are liable to get blown up, with or without their carry-ons.
It is perfectly clear what happened.  The ILS was out and a pilot with limited experience on type undershot the runway.   He applied take-off and go around power too late, with the result that the engines did not have enough time to spool up.  Judging when the approach is missed is one of the more difficult tasks a pilot has on a visual approach in a heavy jet.
My own view, for what it is worth (I only have a few hours in my logbook and have only ever 'flown' a heavy jet in a simulator) is that a visual approach in a heavy jet should be flown in much the same way as an instrument approach in conditions of limited visibility.  That is to say you need to establish a clear decision height, below which you know you do not have sufficient time to spool up to TOGA power.  If you are not stabilized by your decision height you go around.  Visibility and height are two different things.
I would not criticize any airline pilot who rejected a visual approach in a heavy jet, even to the point of diverting to his or her alternate.  Very frankly if SFI cannot get their ILS fixed they need to consider closing the airport and diverting traffic to Metropolitan Oakland International.  Runway 11/29 at Oakland is a shade over 10,000 feet long and can handle 777s.   I am sure the boys at Kaiser Air would have given Asiana a good price for some Jet A.
The big question is why the ILS was out for such an extended duration.  We in the Intelligence Community (INTELCOM) are getting used to the idea of the DVD running interference on civil aviation operations, going right the way back to the sabotage of DH Comets Yoke Peter and Yoke Yoke in 1954, on which by the way I presented a paper at the excellent biannual Intelligence Conference in Gregynog Wales (a delightful manor house venue near Newtown in Montgomeryshire) in May.  Pat answers are no longer acceptable, even from blokes called Pat.  There needs to be a serious inquiry, and it needs to focus on why the runway approach aids were so inadequate that they presented a major hazard to the safety of air navigation.    We should not just be focusing on Asiana's flight training.  That may not be as bad as the media are making out anyway, as we do not know what the pilot on command's simulator time was on the 777.
Wimbledon
So the nice German girl lost.   Her opponent, said to have an IQ of 175 (that's almost into VT commentator territory!) played a smarter game on the day.   I think Sabine has a good game however and we'll be seeing a lot more of her in years to come, and a lot less of the Williams sisters. The young German lady will be very welcome.
Well done to Andy Murray.  Less well done to his minders, who let someone 'hit his eye accidentally.'  It might have been an accident but there have been too many intentional injuries to international sportsman to take any incident at face value.  Happily no damage was done, but minders need to know that they are not just protecting the lives of their sportsmen and sportswomen charges but their eyes and limbs as well.  There are one-day wonders in tennis but no one-eyed wonders.
Attention has now turned in my country of course to the First Test against Australia, already replete with dodgy umpiring decisions.   Well done to Ashley Agar, the 19 year old unknown who played a blinder of an innings yesterday (98), the highest score ever for a Number 11 in Test history.  For baseball fans that's a lot of runs to get at the bottom of the batting order.  If we retain the Ashes, having won Wimbledon and the rugby, we'll be up for a new government and EU withdrawal in the fall.
Michael Shrimpton was a barrister from his call to the Bar in London in 1983 until being disbarred in 2019 over a fraudulently obtained conviction. He is a specialist in National Security and Constitutional Law, Strategic Intelligence and Counter-terrorism. He is a former Adjunct Professor of Intelligence Studies at the American Military University.
Read Articles from Michael Shrimpton;
ATTENTION READERS
We See The World From All Sides and Want YOU To Be Fully Informed
In fact, intentional disinformation is a disgraceful scourge in media today. So to assuage any possible errant incorrect information posted herein, we strongly encourage you to seek corroboration from other non-VT sources before forming an educated opinion.
About VT
-
Policies & Disclosures
-
Comment Policy
Due to the nature of uncensored content posted by VT's fully independent international writers, VT cannot guarantee absolute validity. All content is owned by the author exclusively. Expressed opinions are NOT necessarily the views of VT, other authors, affiliates, advertisers, sponsors, partners, or technicians. Some content may be satirical in nature. All images are the full responsibility of the article author and NOT VT.