"The best move for the EU now, as it tries to recover from the current self-inflicted debacle is to do nothing to inflame the situation by cooking up some dubious terrorist lists."…Franklin Lamb
[Editors Note:  Once again, the US is working to maintain Israel's offensive military dominance over its neighbors, to the eternal detriment to our long term interests in the region. All of our problems have been caused by a special friendship which was nothing more than political espionage on the Israeli's and the American Jewish Lobby's part. If it were not for this subversion America would be loved by everybody in the region. But that future, and the national security that would have come with it was all sacrificed for political and financial greed…Jim W. Dean]
      … by  Franklin Lamb, Damascus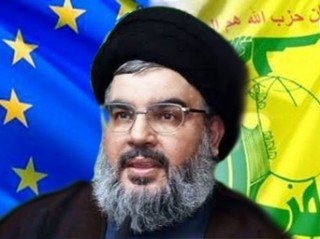 It may well have seemed like a fine idea at the European Union's Foreign Ministers cocktail reception in Brussels, where ample alcohol freely flowed the night before last week's vote to blacklist the "military wing" of Hezbollah. 
But shortly after the vote the EU appeared to be experiencing a severe hangover as the stark reality of its impetuous decision began to soak in.
After periodical discussion of the US-Israel demand for blacklisting Hezbollah for more than a year, and adding its name to the EU list of 26 organizations and 11 individuals currently being designated as 'terrorists' is in becoming clearer by the day the EU actions may not have been in anyone's interest except possibly Israel's.
It is true there was never much enthusiasm at EU HQ for taking the blacklisting step given some fundamental uncertainties  of what it would mean in reality.  But American and British pressure, and headlines from Israel screaming:  "We told you  about rising anti-Semitism from Europe" following the EU decision to  blacklist illegal  Zionist colonies implanted on the West Bank portion of occupied Palestine, weeks earlier.
To round up EU votes, the US State Department staff designated to lobby the 28 EU foreign ministries also focused on the unproven Bulgaria bus attack, and Hezbollah's involvement in Syria as reasons to go along with the blacklisting decision which required a unanimous vote for the 28 EU countries foreign ministers.
Minutes after the EU vote, problems began to appear and it became obvious that buying into the US-UK Hezbollah "military wing" blacklisting project was not an attractive product after all.
Some of the reportedly emphasized 'talking points' to the EU Foreign Ministries from Washington and London included the following:
Israeli kids getting 'love thy neighbor' training

·         The EU blacklisting Hezbollah's military wing would "compensate" Israel, as it has been demanding, for the EU vote early this month that essentially boycotted Zionist colonial projects throughout the illegally occupied West Bank

·         The action would not affect UNIFIL or UNSCR 1701 because Hezbollah  has good relations with UNIFIL and they would likely continue to work with the 15 European countries nations making up UNIFIL including the five EU members ,France, Spain, Italy, Poland and Ireland who have troops patrolling the Lebanon-Palestine border;

·         Israel would be assuaged and can claim a victory in its war with Hezbollah;

·         The Lebanese political parties backed by certain EU member states and the Gulf Countries such as Saudi Arabia would benefit in terms of establishing a new pro-March 14th   dominated government, significantly pressuring Hezbollah's delegation in Parliament and  at the ballot box by the blacklisting—although it was not spelled out precisely how it would work;

·         US-led western aid to the Lebanese army would likely increase and Hezbollah's international reputation would suffer;

·       There would be no damage to EU-Lebanese relations and any negative reactions would soon die down.
_____________________________________
However great all this may have sounded in some capitols before the ill-considered vote, a rude awakening began to dawn almost immediately after the votes were counted.
Criticisms, complications and doubts from the EU action are continuing to be voiced and second thoughts are spreading despite efforts of the EU Ambassador to Lebanon, Ms. Angeline Eichhorst at damage control.
Even before the EU's decision to blacklist Hezbollah's "military wing" was publicly released, Ms. Eichhorst sought and was granted appointments with Hezbollah's Ammar al-Musawi, Liaison for International Relations, and Minister of State Mohammad Fneish,  at which she repeatedly offered assurances that the EU vote will have zero effect on relations with the group's "civilian wing."
She assured the gentlemen that the EU votes do not reflect on the Lebanese government in any way, explaining that the EU "has no problem with Hezbollah participating in any future government."
Ambassador Eichhorst declared that "this decision is a political message to Hezbollah for the attack in Burgas, Bulgaria, which is a terrorist attack on European soil."
[Editors Note:  This is a completely bogus ploy by the EU as the Bulgarian government has clearly stated that they have no evidence that Hezbollah was involved in any way. American Intel tells us that there was zero motivation for Hezbollah to do this as there was nothing to gain from it. Only the Israelis had anything to gain, and they were blaming Hezbollah within an hour of the event. Everyone we know thinks the Zionists did it, not the first time they have killed their own to use as pawns…Jim W. Dean]
She added, however, that this does not reflect on the Lebanese government in any way, explaining that the EU "has no problem with Hezbollah participating in any future government."
After her meeting with Hezbollah's minister in the current caretaker government, she stated, "Financial assistance will continue, of which Minister Fneish's ministry gets a sizable share, and we want for this cooperation to continue."
For his part, and ever gracious towards the EU's well-meaning Ambassador , who appeared to understand some of the diplomatic complications the EU action unleashed, Hezbollah MP Fneish reminded the ambassador that,
"Israel occupied our land for many years, and we did not hear a single objection  (from the EU) "we were careful to maintain good relations with Europe, despite the terrible legacy Europe left behind among our people – from the Palestinian cause to colonialism – and despite this, you choose to remind us again of this painful history."
Minister Fneish reiterated Hezbollah Secretary General Hassan Nasrallah's statement that the European decision will provide Israel with political cover for any future attack on Lebanon, in which case Hezbollah would consider the EU a partner in such a crime.
Eichhorst replied that the EU decision has nothing to do with Resistance to Israel or Lebanese sovereignty."
Both Musawi and Fneish stood their ground in their discussions with EU ambassador Eichhorst, insisting that the decision was an insult to the Resistance.
They dismissed the decision as politically motivated, particularly given that the outcome of the Burgas investigation is rooted in allegations and conjecture, even by the admission of the ambassador herself who conceded that there are no firm results regarding responsibility for the Burgas incident that cost innocent lives.
Ms. Eichhorst's hosts were reportedly far too polite to ask the EU ambassador just how the EU planned to somehow go about distinguishing a "civil wing" and a "military wing". And they are not alone in appearing a bit puzzled.
According to a lawyer at the American Society of International Law in Washington DC, the EU decision was a big mistake from an international law standpoint and could be an international lawyer's worst nightmare or a dream come true.
Which would depend if the lawyer was representing the EU in trying to unravel the civil-military conundrum or advising thousands of EU member states businesses and agencies wanting to continue any business with the Lebanese government, UNIFIL, or countless NGO's who regularly interact with Hezbollah.
"It's a real legal mess!" the ASIL source explained, as he described the legal confusion the EU action caused.  "The best thing for EU credibility and international relations right now on this subject would be for the EU to forget what it did and to desist from any implementation whatsoever.  And then let the designation be removed after the six months trial period as provided by EU regulations.  Otherwise, their decision will swamp courtrooms and complicate Middle East-European political and economic relations with challenges from all points on the compass with uncertain outcomes to say the least."
It is not only Hezbollah, the leader of the National Lebanese Resistance and American international lawyers who have expressed concerns about the EU action last week.  It seems that nearly everyone else does too and this reaction is adding to the EU's 'morning after' queasiness.
Many citizens of Lebanon are expressing concern that the EU brush stroke aimed at Hezbollah's "military wing" may tar them as well due to the 'terrorism' label toxicity these days. A Sunni taxi driver wondered if his children could now get visas to Europe because of the ruling.
Lebanon is very sensitive to the issue of Visas as they see fellow citizens are being forced out of Gulf countries due to fabricated claims of association with Hezbollah.
In these countries hundreds of thousands of Lebanese have had visas for decades. It is the uncertainly among many-understandably paranoid Lebanese living and working abroad than is causing near panic among some in Lebanon.
It's hard to find in Lebanon, even among Hezbollah detractors, a political party that is publicly endorsing the EU decision because they basically see no advantage for Lebanon of their own tightly controlled sects, whether Christian, Muslim, or Druze.
On 7/27/13 Former premier Fouad Saniora, head of al-Mustaqbal parliamentary bloc, no friend of Hezbollah,   voiced "concern and regret over the reasons that led the European Union to take the decision of putting Hezbollah's so-called military wing on its terror list."   Saniora added in a statement released from his party's media office:
"We had commented on this issue in the bloc's statement and voiced our regret and also our concern over the reasons that led the EU to take such a decision, especially that we in Lebanon have ties of solid friendship with 28 European countries, and thus none of us would have liked to see this happening."
Saniora's friend and colleague, Phalange Party leader Amin Gemayel argued over the week-end that the European Union's decision to blacklist Hezbollah's military wing is "ambiguous," pointing out that it will have a negative impact on the country.
In an interview with Voice of Lebanon radio (100.5) he argued that "The decision confused the Lebanese situation and will constitute negative repercussions on all matter especially the cabinet formation process," Gemayel said. He pointed out that the decision targets Hezbollah members who his party considered "ghosts," saying: "The members that are responsible for Hezbollah's military action are unknown."
Even Israeli officials have problems with the EU's decision. Yisrael Beiteinu Chairman and MK Avigdor Lieberman slammed the EU's decision to put military wing of Hezbollah on terrorist list, saying that not only military wing, but the entire organization should be blacklisted. "
As usual, Lieberman found some antisemitism lurking among the Europeans, claiming that they were satisfied with going only halfway, and like the West Bank Settlements EU decision, the EU wants to punish not the terrorists but those (like-Israel!) who reject terrorism and fight it.
Half a dozen other Israeli officials including the ever garrulous Shimon Peres chimed in to form a chorus condemning the EU.
Far be it for this observer to advise the European Union's Foreign Ministry or to promote an American association's legal analysis and advice.  However, the American Society of International Law lawyer, quoted above, makes a valid point.
The best move for the EU now, as it tries to recover from the current self-inflicted debacle is to do nothing to inflame the situation by cooking up some dubious terrorist lists.
Rather, in six months the European Union should assure that this month's blacklisting decision acquiesced in under US-Israel pressure, lapses.
Editing:  Jim W. Dean
___________________________________
Jim W. Dean was an active editor on VT from 2010-2022.  He was involved in operations, development, and writing, plus an active schedule of TV and radio interviews.
ATTENTION READERS
We See The World From All Sides and Want YOU To Be Fully Informed
In fact, intentional disinformation is a disgraceful scourge in media today. So to assuage any possible errant incorrect information posted herein, we strongly encourage you to seek corroboration from other non-VT sources before forming an educated opinion.
About VT
-
Policies & Disclosures
-
Comment Policy
Due to the nature of uncensored content posted by VT's fully independent international writers, VT cannot guarantee absolute validity. All content is owned by the author exclusively. Expressed opinions are NOT necessarily the views of VT, other authors, affiliates, advertisers, sponsors, partners, or technicians. Some content may be satirical in nature. All images are the full responsibility of the article author and NOT VT.