HK Edgerton hows us how he deprograms Black Southerners
"What they have done, is person of colorize the South"…Cornel West
…by  Jim W. Dean,  VT Editor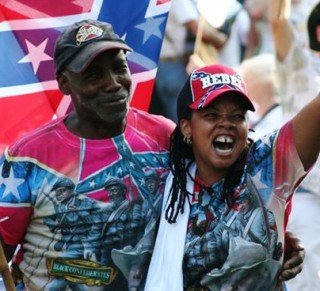 HK Edgerton is known as a Black Confederate because he is a fervent opponent of anti-Southern discrimination, which with the onset of the scourge of political correctness it was open season on Southerners. And of course everybody knew that meant WHITE Southerners.
Virtually any form of opportunistic hatred could be piled on the South under not only the lynch mob banner of collective guilt, but then Ne0-PC transgenerational guilt.
Abe Foxman paved the way for the latter through a famous interview he gave with young Germans years ago.
Eager to question the ADL honcho who had lynched more Germans (figuratively) than any man alive, they asked they why they, who had not even been born during WWII, should have to pay reparations for what the Nazis did, and for how long.
It was recorded that the 'Fox' paused before his answer, and skipped part one, the answer for which was of course, "Because we want the money". For the second part he said with a delightful smirk, "Ehhhh…for just a few more generations".
I am just guessing here but I think the delay was due to Abe calculating out the maximum years he might live to collect his $500,000 a year ADL salary. He earns this by keeping track of vandalism statics for the Jewish community, including the 25% that are estimated to be fake hate crimes to gin media attention when business is slow.

Fast forward years later when I was in the media biz, I was shooting historical footage with a well know black personality which I shall not name. We had been discussing the aspects of anti-Southern bigotry during the day between filming sessions in what turned out to be a very frank discussion.
There was general agreement that stirring up animosities between blacks and whites in the 21rst century could be attributed to someone wanting to continue using the old divide and conquer game as they always had.
When we were wrapping up at the end of the day my guest made a statement that surprised me, and was the perfect period to put at the end of the interesting day.
He admitted that the South bashing race hustle was openly discussed amongst his inner circle of civil rights friends and as an example he shared a discussion he had that with the infamous black radical Cornel West, the Princeton professor locked into his Afro hairdo time warp (no…I am not a fan of the professor).
West had said, "What they have done is niggarize the South".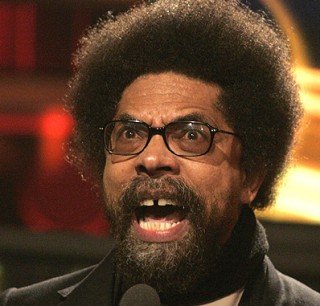 I just called HK to have him fill me in more on how he got these black folks focus groups together to have a heart to heart discussion with them  Southern heritage bashing that the NAACP seemed to keep doing as their only way pf publicizing themselves.
The case in point was in Memphis and the renaming of a city park name for General Bedford Forrest.
These local Memphis folks had actually approached HK and his younger brother to ask if they would come out to their houses to speak to a groups they would gather up.
They were mainly church folks, professionals, retired older people and some children. One meeting was at a Cracker Barrel restaurant.
They were intrigued with HK because of his having been a long time proponent of good relations between white and black folks in the South and opposing political correctness for the exploitation tool it was.
He told me that all of them felt the NAACP's name change campaign and wanting  Confederate monuments moved was only being done for their own selfish promotion and they did not like it.
As for the white politicians, they commented that they were disappointed that more of them would not publicly stand up for their own ancestors against what they knew to be a cheap race hustle scam. I will  let HK give you his surprising poll results with the letter below he sent out about his visit to Memphis.


And if anyone is wondering, the answer is yes, HK is a veteran. And he is also a honorary member of the Sons of Confederate Veteran.
He walked from Asheville, NC years ago, all the way to Dallas, Texas, engaging white and black folks all along the way to encourage them not to let outsider and race exploiters divide their communities. He changed a lot of people's attitudes.
I chose the title as I have some great video footage from the Asheville, NC,  SCV convention about how one lady was waiting for him out in front of her house one day and asked him to come inside to see something.
On her dining room table she had laid out her great grandfather's Confederate uniform and his reunion medals.
She had never publicly displayed them before and promised HK that that they would never be hidden from of sight again while she lived, thanks to his inspiration.
 ______________________________
The beloved HK – a good fox hole buddy


Dear Ms. Lunelle,
As you have been made aware, I have been of late spending speaking to a number of Black folks in their homes and various meeting places about the injustices perpetrated against individuals, monuments, and historical accountings that bear the symbol of the Southern Cross, and the deeds of those who carried it, or carry it today.
I have come to ask of them at them at the end of this discourse: ( 1 ) If the War for Southern Independence were to take place today, what side would you give your support to, or fight for?
From four of these meetings with approximately 186 people attending ( 1st meeting 87, 2nd meeting 32, third meeting 46, 4th meeting 61 ), one hundred eighty four said they would give their support and fight for the South. One was not sure, one who hailed from New Jersey said for the North he thought, but was not completely sure.
The second question that I would ask of them was; do you believe that life would have been better or worse for Black folks had the South won this war?
One hundred eighty five said better. The gentleman from New Jersey said worse.
The third question that I asked was; do you believe that life would be better for Black folks if the Confederate Flag was banned from society?


Mother with baby – 1930


One hundred eighty six said that it would have no bearing, and that the attack upon the Flag appeared to them to be a chance for the NAACP to increase its funding, and a chance for those White folks who are moving into the South to feel more comfortable about being here.
Bottom line, life has not been made better for Black folks, and may be even worse because the NAACP and the media has given the impression that all Black folks support their efforts to ban the Flag. Most felt that Blacks were being used to further an agenda that knew nothing of, and was not in their best interest..
Finally, I would ask of them, if they were given any choice to live in the North, or South, where would they choose?
One hundred eighty six would respond in the South. I asked the gentleman from New Jersey why he responded in the South ? He said because you'se have grass in your yards, and I can for the most part go to sleep peacefully at night, even though some parts of the South are slowly beginning to mirror the North.

God bless you. Your brother, HK
 _______________________________
[youtube AYzAqHD1gHc] – HK
_________________________________
Jim W. Dean was an active editor on VT from 2010-2022.  He was involved in operations, development, and writing, plus an active schedule of TV and radio interviews.
ATTENTION READERS
We See The World From All Sides and Want YOU To Be Fully Informed
In fact, intentional disinformation is a disgraceful scourge in media today. So to assuage any possible errant incorrect information posted herein, we strongly encourage you to seek corroboration from other non-VT sources before forming an educated opinion.
About VT
-
Policies & Disclosures
-
Comment Policy
Due to the nature of uncensored content posted by VT's fully independent international writers, VT cannot guarantee absolute validity. All content is owned by the author exclusively. Expressed opinions are NOT necessarily the views of VT, other authors, affiliates, advertisers, sponsors, partners, or technicians. Some content may be satirical in nature. All images are the full responsibility of the article author and NOT VT.