DISCLOSURE: VT condemns the horrific tragedy committed by the NAZI Party against Jewish Citizens of Europe during Word War II known as the "Holocaust". VT condemns all racism, bigotry, hate speech, and violence. However, we are an open source uncensored journal and support the right of independent writers and commentors to express their voices; even if those voices are not mainstream as long as they do NOT openly call for violence. Please report any violations of comment policy to us immediately. Strong reader discretion is advised.
---

Rise of America's Praetorian Guard
… by  Jim W. Dean, VT  Editor   …with  Press TV
–  First  published  on  08-06-13  –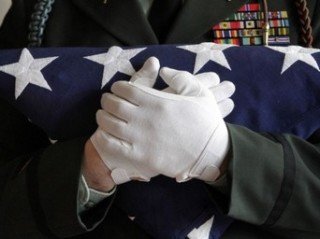 Military and Intelligence professionals, especially retired ones, are growing more concerned over the growing police state inside America.
Those who served and fought to prevent its being imposed by an outside force have been watching it imposed internally… by Americans, including sadly, even veterans themselves.
Growing numbers of them now agree that the Patriot Act was planned and designed for use primarily against Americans.The terrorism thing was just a cover as the archives show the legislation had been sitting up on the shelf for the 'right situation' to emerge where it could quickly be pushed through. And it was… with many Congressmen admitting later that they had never even read it.
Of the 5,000 suspects
quickly picked up after 911, all but a few were deported for visa violations, including the operational Israeli Intel people picked up. Those Israelis involved with 911 that were caught that day were quickly released on order of high political officials and left pronto.
New York City police were threatened with death if they ever publicly said a word about it. FBI agents who collected all the video camera footage of the Pentagon strike that day, including high definition footage, never leaked any of it.
None of those involved in spreading the small pieces of plane wreckage, flown in for the event, to spread around the lawn that night for the photos to be taken the next day, not a one ever went public… more Americans failing America.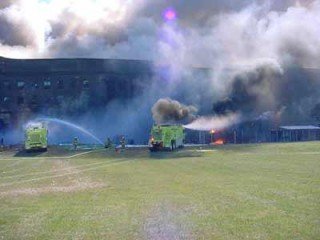 But the Pentagon terror hustlers made mistakes. They spread the wreckage around too evenly, and any investigator will tell you that never happens in a crash.
They also forgot to seed the wreckage with the most common things seen at plane crashes if you look for them… paper items and other lightweight debris.
There were no paper napkins or coffee cups… no clear plastic drink cups or pillows, the things that explosive forces spread up into the air and float down everywhere around a bad crash site.
We only found out through people who knew about the 'seeding wreckage' that was flown in from storage of a previous crash, items saved for a future event. They only brought small pieces that were easy to transport and spread around.
This wreckage staging was shockingly brazen. Photos existed of the clear lawn on 911 and then magically became covered with evenly distributed small wreckage in the morning. Those with the courage to face it knew a coup had taken place.
Then later came the emergency anti-terrorism funding. It was a Santa Claus come early event for states and cities around the country who all fought for their piece of the pie. All your usual military type gear was of course at the top of the list, and even medium size city police forces fought for getting those $500,000 emergency command vehicles. They became a law enforcement status symbol for the "I've got one and you don't" crowd.
Fear propaganda spread that local police could find themselves engaging highly trained and heavily armed Jihadis in their own towns so the scramble was on for all those who wanted Special Weapons and Tactics (SWAT) teams. Where only the larger size cities had them previously, we now saw medium size cities proudly sporting their local commando teams.


But then a funny thing happened on the way to the forum. None of these kinds of attacks materialized as there were no terror networks here, a strange missing item for an Osama bin Laden who had supposedly declared war on America.
The scramble then began for all of the commando units to justify their financial expenditure. This was done in a few main ways.
It became evident that lone wolf attacks would probably be the main concern so large scale monitoring of the Muslim community went into action, especially in the mosques. Of course the internet communications were monitored to pick up overseas connections trying to recruit cannon fodder operatives here.
But the catching terrorists business was slow because their numbers were insignificant, so now they had to be invented to keep their toys and funding. The FBI began their aggressive sting operations with the tons of money they had and an army of criminals to go out looking for people to frame up for terror attacks where the FBI informants were the instigators.
To make it look more real pasties like the underwear bomber were groomed overseas to be sent here for the big busts that made the news.


At the end of the day black teens killed more people in a month in any major city than we lost in post 911 terror attacks.
The well funded law enforcement entities took all the credit for the low terror attack numbers, but seemed hopeless about catching any Israeli spies or addressing the epidemic of black on white crime every year, including about 35,000 rapes, versus less than a 100 white on black ones.
At the phony Fusion Centers business was so bad for them they adjusted their goals to monitoring American activist groups for being anti-American, defined however they wanted to have a threat to justify their continuing paychecks.
Political propaganda groups like the ADL and SPLC, the Southern Poverty Law Center, got into the game by feeding their ideological opponents into the Homeland Security threat lists, which even included returning combat veterans. They also were milking the War on Terror money tree.
The ADL had raised tens of millions for keeping track of neo-holocaust of vandalism and name calling. The Morris Dees SPLC gang were accomplished race hustlers, with Dees having represented the Ku Klux Klan earlier in his career.

Both had been manufacturing 'threats' in a kind of dirty dance deal with law enforcement who was not technically allowed to spy on American citizens.
The ADL had a history of trying to set their opponents up for FBI investigations to discredit them going back to the J. Edgar Hoover days.
His own archives describe the ADL leaders as scoundrels trying to besmirch the FBI's reputation, using them as a bullying harassment tool. He never accepted an invitation to speak at their events because of this.
I will wrap up now with what happened to all those SWAT commando units trained to battle it out with suicidal Jihadis rampaging through our towns and cities. When it turned out there were just a handful, all the cities and towns did not want to give up their SWAT status symbols.
Something had to be found for them to do, so they let them loose on their own citizens, sending commando teams out to conduct what pairs of police officers had done for a hundred years in America… make arrests.
Maybe they saw it as on the job training and the high visibility raids would advertise their city's hard working law enforcement. But the SWAT teams ended up killing more people that the post 911 terrorists did.
Wrong address mistakes found citizens who were armed thinking that a local gang was crashing into their house. They grabbed their guns to defend themselves and many went down in a hail of police bullets. One victim was an elderly veteran in a wheel chair.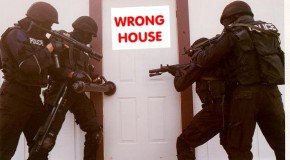 Most of these shootings and killings could have been avoided by using the old fashioned method of phoning suspects to come in to the station to process their arrests so it did not have to be done in front of traumatized families.
Those not cooperating could get a house call by the police, and then those acting in a threatening manner or having a history of violence could then get the SWAT team.
I wrote on this topic today because of the most pitiful law enforcement commando act I have seen to date, the perfect example of how far we have sunk.
Some good citizens found a new baby deer who had lost its mother and took it to Catholic Charity animal shelter known for not killing its animals. Someone reported this to Wisconsin's Dept. of Natural Resources (DNR) because keeping a wild animal is a code violation there.
To my utter astonishment I learned that the DNR had its own commando squad that was activated to safely apprehend the two-week-old deer. They conducted aerial surveillance to confirm the fawn was on the grounds. And this was followed up by an on-the-ground recon to take photos which were used to get a warrant to search the property. It seems no one thought of giving the shelter a call.
On the day of the Big Bambi Raid the workers at the shelter were set upon by 12 DNR commandos and four country sheriffs who corralled up all the employees while they hunted down the dangerous and possibly disease-carrying fawn. These brave heroes confronted the dangerous wild animal and carried it away after being sedated. The commandos suffered no killed or wounded.
But what they did next has shocked the world as the story is going all over the planet now. They killed Wiggle, the two-week-old deer. Their explanation was, "It's our policy." Baby Wiggle had been scheduled to be transferred to a state shelter the next day, but the commandos were not about to have a successful mission denied them.

These DNR pseudo-commandos might be the most hated people in America today, and that takes some doing. They disgraced themselves and their state… policy or no policy.
They disgraced the country, their fellow citizens and the law enforcement community. But from what we hear, they don't care. Imagine that!
We hope to generate as much bad publicity as we can for Wisconsin's DNR and all those responsible for this pitiful act.
We simply must protect ourselves from what they like to call 'homegrown threats', but don't realize they need to look in the mirror.
These deer commandos are part of America's new Praetorian Guard of Roman times whose allegiance was only to the Emperor. And they are joined by all those mentioned above who have betrayed their countrymen for money and position, dishonoring us all the way back to our Founding Fathers.
___________________________________
Jim W. Dean was an active editor on VT from 2010-2022.  He was involved in operations, development, and writing, plus an active schedule of TV and radio interviews.
ATTENTION READERS
We See The World From All Sides and Want YOU To Be Fully Informed
In fact, intentional disinformation is a disgraceful scourge in media today. So to assuage any possible errant incorrect information posted herein, we strongly encourage you to seek corroboration from other non-VT sources before forming an educated opinion.
About VT
-
Policies & Disclosures
-
Comment Policy
Due to the nature of uncensored content posted by VT's fully independent international writers, VT cannot guarantee absolute validity. All content is owned by the author exclusively. Expressed opinions are NOT necessarily the views of VT, other authors, affiliates, advertisers, sponsors, partners, or technicians. Some content may be satirical in nature. All images are the full responsibility of the article author and NOT VT.