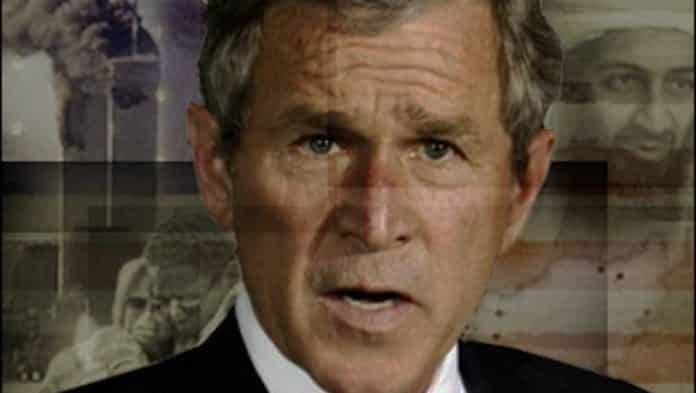 Today we ALL mourn and honor the loss of over 3000 plus of our fellow humans who passed on that fateful day 12 years ago. It's a sad and reflective day indeed.
Coming from over 90 countries, those lost represented the majority of the planet and demonstrated how close we are as a species; that we are not so disconnected, not so different from one another. In fact, it demonstrated that we are one. We're all human beings.
And the immediate response from around the world was absolutely amazing. Each country one by one came to America to offer its condolences, heartfelt love, and care for the great loss on that day. It really was a new world order.
And on September 12th, U.S. President George W. Bush had the whole world with them. We were going to find out who did this and punish them. Everyone was on board. There was no country in the world that was against going after the perpetrators of our human condition.
U.S. President George W. Bush had the greatest goodwill capital to spend that any one leader has ever had in their hand. It was the greatest opportunity to bring everyone together that the world has ever known. It was the opportunity not only of a lifetime but the greatest opportunity in world history.
And so what did the U.S. President do?
Well, one year after the event, the world's worst salesman managed to piss off almost every country and human around the world by following his Neo Con PNAC handlers and lying to everyone about launching wars in the name of 9/11 that had nothing to do with 9/11 whatsoever.
All he had to do was do a "thank you" tour around the world visiting each country and thanking them for their support and he would have gone down as the greatest leader in world history turning us vs. them into all of us.
Instead, With the whole world in his hand, he spits on them and turned the greatest opportunity into hell on earth whereby the U.S.A. is now the most mistrusted nation on the planet; a known liar, criminal, spy, and thief turning the good American people in pariahs around the world. Shame on this man and his handlers!  What a disgrace!
Yes, twelve years on, we all honor the loss on the day. But let us not forget how 9/11 was not only hi-jacked by the mentally ill who flew those planes into the World Trade Center, the Pentagon, and into the ground in Pennsylvania but that it was also hi-jacked by the mentally deranged who choose to dirty pitch the world into a decade of darkness for profits and power.
So today, we honor the lost and mourn the greatest missed opportunity in world history.  We suffer on…..
Johnny Punish founded VT in 2004.  After 20 years at the helm, he "retired" from the daily operations in late 2023 passing the ball over to the new owner of VT, Chief Justin Time.   He now writes for VT as "Writer Emeritus".  He is also a global citizen eco-activist, visionary, musician, artist, entertainer, businessman, investor, life coach, podcast host, and syndicated columnist.  
Punish is an ethnically cleansed Palestinian-American whose maternal family was evicted from their home in Haifa, Palestine in 1948 by Irgun; a Euro-Zionist Settler Terrorist Group.  The family became part of the over 1,000,000 Palestinians who are Al-Nakba refugees (The Catastrophe).  The family fled to Beirut Lebanon for 13 years eventually emigrating to the USA in 1961 via a Brasilian passport obtained by his Palestinian Brasilian-born grandmother (In the early 1900s, the family was sent to Sao Paolo Brasil as guest workers in the mining industry.  Punish's father is Italian-American from New York City.  Punish's paternal great-grandparents emigrated to the USA from Naples Italy and Marineo in Sicily in the 1890s.  Punish was born in the Bronx, New York in 1963.
Punish was educated at the University of Nevada Las Vegas (1980-81) and California State University Fullerton (1981-1984) with studies in accounting and business. Before the "internets" had been invented, he owned and ran (5) national newspapers in the United States of America from 1987-1998.  From 2004 to 2023, he owned and managed VT Foreign Policy retiring at the end of 2023.
Punish is also a recording artist.  He has over 100 original songs written. He records and produces music. A member of ASCAP, Punish has several songs placed in feature films. His music is promoted worldwide and played on all digital networks and net radio.
He is also the founder and owner of  Global Thinkers, a freedom media that helps free thinkers create real wealth.
Resources: Facebook –  YouTube – Apple Music – SoundCloud – Spotify –  X (Twitter)
Read Johnny's Full Bio at JohnnyPunish.com >>>
ATTENTION READERS
We See The World From All Sides and Want YOU To Be Fully Informed
In fact, intentional disinformation is a disgraceful scourge in media today. So to assuage any possible errant incorrect information posted herein, we strongly encourage you to seek corroboration from other non-VT sources before forming an educated opinion.
About VT
-
Policies & Disclosures
-
Comment Policy
Due to the nature of uncensored content posted by VT's fully independent international writers, VT cannot guarantee absolute validity. All content is owned by the author exclusively. Expressed opinions are NOT necessarily the views of VT, other authors, affiliates, advertisers, sponsors, partners, or technicians. Some content may be satirical in nature. All images are the full responsibility of the article author and NOT VT.