Some Bass Gems from Jim Dean's Music Box
2Cellos…Tal Wilkenfeld… Apocalyptica… and Metallica

[ Dear folks, I updated this tonight from the original airing. Video links die and have to be replaced and I find better images. What you will be watching is part of a concert series I created to entertain myself with best finds from digging deep into YouTube, looking the gems, a mix of old favorites and new stuff that I just bumped into. We all need a break from our weekly heavy fare of VT geopolitical material. And those of us from the Vietnam coming of age, music is tattooed on the inside of our skin. ]
–  First  published  and  aired  on  VT … March  16th,  2012  –
 ___________________________________

We have a soft spot for underdogs here at VT, be they unknown or forgotten vets, writers and other creative talents. In the politically correct world we live in we are only one step away from the cultural fascists stepping with their correctness theories.
Many of the movie and music pieces I find by luck, looking for one thing and bumping into something else, sometimes turns out to be fabulous.
Tonight is bass night…some known and unknown talents of the music world, and I think I have an eclectic assortment for you.
I look for HD video first as all computer monitors will display it even if you don't have an HD TV. Some of the 480p stuff is fine.
A lot of concert goers are shootingperformances now. But even if they have mastered holding a camera steady, the microphones on the I-phones and such pick up all the crowd noise which ruins the music audio.
I always look for the full production videos where they take the audio off the soundboard. On the old ones from the 60's and 70's, you take the best you can find and be happy.
First up we have 2Cellos, and Internet fairy tale as they were discovered after uploading a music video cover of Michael Jackson's Smooth Criminal to YouTube which got 3 million views in two weeks. Bang!!
Luka Šulić, from Slovenia and Stjepan Hauser, Croatia, had the Sony tooth fairy pick them up and off they went, touring with the likes of Elton John in 2011.
Their YouTube success has to be shared with their music video producer for the fabulous HD, shooting and editing talent. Plus…they're cute so I think more than half the viewers were girls. But that said, they were young, and this was their first real shot. Making it this quickly is rare…but the talent is there.
Smooth Criminal, was a low budget student film production. That concentrates the mind on using your talent to climb out of that hole. You are about to watch an amazing production, great filming, even a reflection shot, fabulous editing, and of course the performance is stellar.
I have to image when they first saw the finished production that thought, 'Hey…ya know, we might really go places with this." And oh…don't cheat yourself. Repeat after me,
"I promise to watch these performances with my speakers up high, the video at the highest resolution..and if I drink, I promise to go get something and drink a reasonable part of it BEFORE I begin the concert….So help me, yadabadabadoo."
_______________________________
Now take a couple of deep breaths – You may begin.
[youtube Mx0xCI1jaUM] – 2Cellos…Smooth Criminal
Actually, the first cut I found was their adaption of Sting's Fields of Gold. Here it is, live in Dubrovnik, Croatia (August 2011). Europeans have the wonderful luxury of all those fabulous old city architectural settings to stage concerts around, where the whole town shows up.
[youtube 2uohgSvKpG0] – 2Cellos…Fields of Gold
_________________________________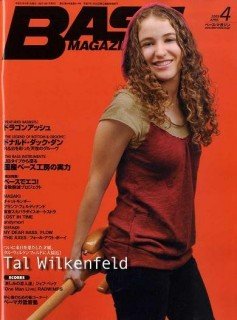 It's ladies next, and another young talent, Tal Wilkenfeld crashed onto the music seen as a teen bass prodigy and when most are still get their first big gig, she was playing with Jeff Beck and Eric Clapton.
Wilkenfeld, from Austrailia, began playing guitar when she was fourteen years old. She emigrated to the United States where she studied electric guitar.
Within a year she had switched to electric bass and graduated from Los Angeles Music Academy College of Music in 2004. At 18 she moved to New York City and began making a name for herself in New York's jazz clubs.
In 2006 Wilkenfeld performed as a guest with The Allman Brothers Band and recorded her entire debut album, Transformation in just two days when she was 20 years old.
Tal joined Jeff Beck, Vinnie Colaiuta and Jason Rebello for Jeff Beck's summer European tour. After returning from Europe the group completed their tour at Eric Clapton's 2007 Crossroads Guitar Festival in Chicago, performing to a sell-out crowd of approximately 40,000 people.
Jeff Beck has this great story of Tal during his induction into the Rock and Roll Hall of Fame:
"When I was inducted we were going to have Jimmy Page come on and play '(Beck's) Bolero'. But I didn't think it would be right for him to be playing rhythm guitar all the way through that one number. Then the phone rang and it was Tal Wilkenfeld, my then bass player. She was on the way down in the elevator and told me we should play "Immigrant Song". We were going on in ten minutes and had no time to rehearse.
She said 'Oh, when you stop in the middle of 'Bolero', when the rhythm changes, we'll kick in to "Immigrant Song"'. "That's what I like – right on the hoof. Nobody knew, the lighting and sound guys didn't know, the organizers didn't know. I just grabbed the microphone and shouted, 'Jimmy Paaaage' and went straight into the song. I loved that. That's what you call dangerous, that's living on your reflexes."
I picked this set with guitar King Jeff Beck doing Cause We've Ended As Lovers at Eric Clapton's Crossroads Guitar Festival, Chicago, 2007. Enjoy this young talent breaking onto the stage with the best of the best.
[youtube blp7hPFaIfU] – Tal and Beck…Crossroads Festival, 2007
___________________________________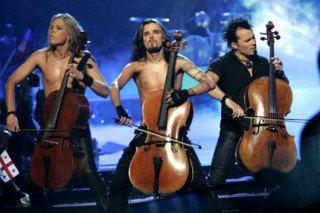 Continuing our world tour it's off to Finland time with a young Apocalyptica doing their famous cover of Metallica's Nothing Else Matters.
I had never seen the original video before a few days ago. And when I first heard the song some years ago, assumed that Metallica had added a big string section. Not! Live and learn.
The band is from Helsinki, Finland, formed in 1993, composed of classically trained cellists Eicca Toppinen, Paavo Lötjönen, and Perttu Kivilaakso (all three of whom are graduates of the Sibelius Academy in Helsinki)[1] and drummer Mikko Sirén.
Originally a Metallica tribute band, their music borrows elements from a wide variety of genres including classical music, neo-classical metal, speed metal, alternative metal, post-grunge, hard rock, progressive metal, thrash metal and symphonic metal. They also incorporate some influences from Middle Eastern music, world music and traditional folk melodies. They have sold over four million albums to date.
I included them here because they created a new genre of music with an old instrument. So far they have no copycats, and each new album in a venture into the unknown, a bit like we feel it is around here at VT sometimes. This Nothing Else Matters is 720p, top quality when it was made, good and with a great audio track.
[youtube LdQM9D-2Zpg] – Apocalyptica…Nothing Else Matters
______________________________
I was going to stop here but feel I would be cheating you out of the live Metallica version of Nothing Else Matters I found. It took some looking as a lot of the HD was audience shot, with the problems I mentioned above. This is full HD. To get a medium or full size screen, click on the YouTube screen icon to take you there for that size.
[youtube cbV190MjKiU] – Metallica
That's it. I like doing these as now I don't have to hunt them down when I want to watch them again. I just dig into the Jim W. Dean VT archive and pick out what I want to watch again. Pass the links around to your musically inclined friends. If you have suggestions let me know in the comments.
_________________________________
For those in the comment section seeming surprised that I have walked on the wild side a bit, although I have calmed down considerably, I use to be the life of the party!! Here is some proof 🙂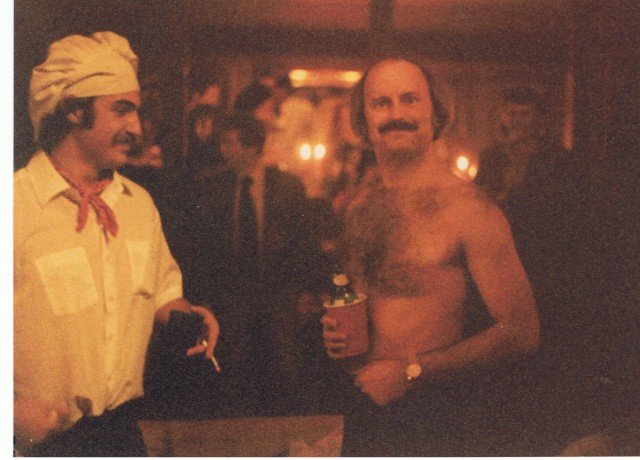 ___________________________________
Jim W. Dean was an active editor on VT from 2010-2022.  He was involved in operations, development, and writing, plus an active schedule of TV and radio interviews.
ATTENTION READERS
We See The World From All Sides and Want YOU To Be Fully Informed
In fact, intentional disinformation is a disgraceful scourge in media today. So to assuage any possible errant incorrect information posted herein, we strongly encourage you to seek corroboration from other non-VT sources before forming an educated opinion.
About VT
-
Policies & Disclosures
-
Comment Policy
Due to the nature of uncensored content posted by VT's fully independent international writers, VT cannot guarantee absolute validity. All content is owned by the author exclusively. Expressed opinions are NOT necessarily the views of VT, other authors, affiliates, advertisers, sponsors, partners, or technicians. Some content may be satirical in nature. All images are the full responsibility of the article author and NOT VT.