By Bruce Tyler Wick
"Whilst the last members were signing it, Dr. Franklin, looking towards the president's chair, at the back of which a rising sun happened to be painted, observed to a few members near him, that painters had found it difficult to distinguish in their art a rising from a setting sun. 'I have,' said he, 'often and often in the course of the session, and the vicissitudes of my hopes and fears as to its issue, looked at that behind the president without being able to tell, whether it was rising or setting. But now at length, I have the happiness to know that it is a rising and not a setting sun.'" [James Madison, quoting Benjamin Franklin, at the conclusion of "Debates in the Federal Convention of 1787, as reported by James Madison."]
"To execute this Constitution"
The verb, "to execute," can mean to perform, to implement. It also refers to carrying out the death penalty (i.e., killing someone, or metaphorically, destroying something). Now, which do you think the Framers (pictured above) had in mind, with respect to the US Constitution–to implement it or to destroy it?
Within reason, the more guidance provided folks, tasked to do something, the more likely the intended result.  What guidance did the Convention provide the Congress of the Confederation, the States, the new Congress and the President?
Well, after the Senators and Representatives shall have been elected,  and the President chosen, "the Congress, together the President, should, without delay, proceed to execute this Constitution."  [Resolution of the Federal Convention, submitting the Constitution to Congress, 17 September 1787].
There were no functioning courts on Day 1 of the new federal government–even the US Supreme Court, created by the Constitution.  Congress and the President would need to establish courts–while getting the Supreme Court, already established, up and running. But George Washington, the Senators and Representatives, had sworn to do exactly that, with respect to the federal courts–and much else besides.
Lincoln weighs in
How did George Washington and the First Congress fare in the performance of their duties?  Lincoln thought the Constitution "a great success"–so much so, that after 72 years of precedent under it, Lincoln found himself,
"under great and peculiar difficulty.  A disruption of the Federal Union, heretofore only menaced, is now formidably attempted."  [First Inaugural, 4 March 1861].
s
Photo of Lincoln's pre-Civil War inauguration, 4 March 1861, presumably as he spoke.
To Lincoln, the solution seemed obvious:
"Continue to execute all the express provisions of our national Constitution, and the Union will endure forever–it being impossible to destroy it, except by some action not provided for in the instrument itself."  [First Inaugural Address].
And indeed, the means are easy (i.e., executing all the express provision of the national constitution), so long as there was consensus, a  general agreement among people and States, about continuing the federal government.
What was this "formidable attempt" at "disruption of the Federal Union," which Lincoln had referred to?  As Lincoln told Congress by Message of 4 July 1861:
"At the beginning of the present Presidential Term, four months ago, the functions of the Federal Government were found to be generally suspended within the several States of South Carolina, Georgia, Alabama, Mississippi, Louisiana, and Florida, excepting only those of the Post Office Department.  [Message to Congress in Extraordinary Session, 4 July 1861, emphasis mine].
Suspension of federal government functions, within the six states just mentioned, may have been an accurate description of affairs on 4 March 1861; but conditions deteriorated rapidly.  Lincoln reports that, immediately after the bombardment and capture of Fort Sumter on 12 April 1861,
"[A]ll the roads and avenues to this city were obstructed, and the capital was put into the condition of a siege.  The mails in every direction were stopped, and the lines of telegraph cut off by the insurgents; and military and naval forces, which had been called out by the government for the defense of Washington, were prevented from reaching the city by organized and combined treasonable resistance in the State of Maryland."  [Message to Congress, 26 May 1862].
A contemplative Daniel Webster, shown in 1845 at age 63, five years before he warned the nation of civil war, in his most famous Senate address, 7 March 1850.  Within 11 years, Webster's counsel, of avoiding secession and therefore of war, was overwhelmingly rejected; and civil war ensued a month or so later. Chester Harding, Oil on Canvas, Dartmouth College collection.
Daniel Webster's forgotten warning about 'disrupting' government
In his 7th of March Speech to the US Senate , in favor of the Compromise of 1850, Daniel Webster warned the nation of the certainty of war, should States attempt to secede:
"Secession! Peaceable secession! Sir, your eyes and mine are never destined to see that miracle. The dismemberment of this vast country without convulsion!  The breaking up of the fountains of the great deep without ruffing the surface! Who is so foolish, I beg every body's pardon, as to expect to see any such thing?
Sir, he who sees these States, now revolving in harmony around a common centre, and expects to see them quit their places and fly off without convulsion, may look the next hour to see heavenly bodies rush from their spheres, and jostle against each other in the realms of space, without causing the wreck of the universe. There can be no such thing as peaceable secession. Peaceable secession is an utter impossibility.
Is the great Constitution under which we live, covering this whole country, is it to be thawed and melted away by secession, as the snows on the mountain melt under the influence of a vernal sun, disappear almost unobserved, and run off?
No, Sir! No, Sir! I will not state what might produce the disruption of the Union; but, Sir, I see as plainly as I see the sun in heaven what that disruption itself must produce; I see that it must produce war, and such a war as I will not describe, in its twofold character  [emphasis mine]."
In seeking to convey to Americans the magnitude of the disaster, Webster compares a civil war to "the wreck of the universe."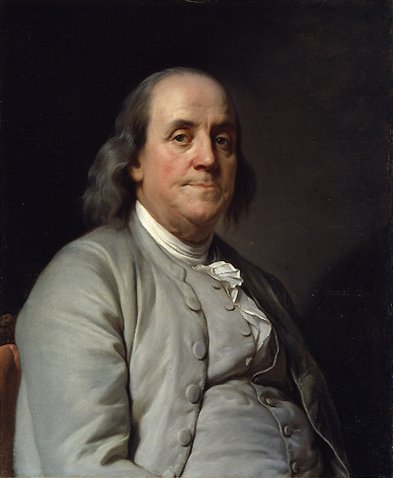 Benjamin Franklin, Governor of Pennsylvania, suitably attired for his valedictory, the Constitution of the United States.  Joseph Siffrein Duplessis, circa 1785, Oil on Canvas.
Why Benjamin Franklin voted 'yes'
In supporting the new Constitution, Franklin favored the Convention, and posterity, with his reasons, stated in writing:
"In these sentiments, Sir, I agree to this Constitution with all its faults, if they are such; because I think a general government necessary for us, and there is no form of government but what may be a blessing to the people if well administered, and believe farther that this is likely to be well administered for a course of years, and can only end in Despotism, as other forms have done before it, when the people shall become so corrupted as to need despotic government, being incapable of any other."  [Speech to the Convention's concluding session, 17 September 1787, emphasis mine].
Lincoln, a surprising champion of the "right of revolution," or at least of the "right to try," saw no need for the government's overthrow in 1861:
"All profess to be content in the Union, if all constitutional rights can be maintained.  Is it true, then, that any right, plainly written in the Constitution, has been denied?  I think not.  Happily the human mind is so constituted, that no party can reach to the audacity of doing this.
Think if you can, of a single instance in which a plainly written provision of the Constitution has ever been denied.  If by the mere force of numbers, a majority should deprive a minority of any clearly written constitutional right; it might, in a moral point of view, justify revolution–certainly would, if such right were a vital one.  But such is not our case.
All the vital rights of minorities, and of individuals, are so plainly assured to them, by affirmations and negations, guaranties and prohibitions, in the Constitution, that controversies never arise concerning them."  [First Inaugural Address, emphasis mine].
Fast-forwarding to today 
US Capitol on a placid, early fall afternoon, during the budget-debt-shutdown crisis.  A lone Capitol policeman in the background, balances the scene visually, but is otherwise scarcely noticeable.
Empires are usually corrupt; ours is reputed to be unusually so.  Discussing the "privatization" of the Royal Mail (UK) in an online article today (Columbus Day), Dr. Paul Craig Roberts condemns the Royal Mail deal, as yet another instance of "looting" public assets for private gain.  PC Roberts sees all of "Western Civilization," led by the US, as,
"confronted with a total collapse of economic and government morality. Looting and exploitation rule, and the presstitute [prostituted?] media does its best to hide the fact."
In Dr. Roberts' view Western Civilization, or what's left of it, is destined to "disappear into a bottomless pit of corruption."
Karen Hudes, a former Senior Counsel for the World Bank and a whistleblower, is rather more hopeful about the American people and their prospects.  In a Russia Today (RT) interview, posted 11 October 2013, Karen Hudes states,
"The problem is not with the American citizens, they are a wonderful group, their values are good. It's just that they are not given the tools that they need to have a just society. They are not given the basic information about what is really going on and who is benefiting from the economies….
…that they are being told… they are being told that they have no money, they have taken an entire city, Detroit, and declared it bankrupt. When what's actually happening is their tax dollars are not even staying in the society; their tax dollars are going by treaty to the United Kingdom, and then they are being transferred to the Vatican, to the bank of the Vatican. This is not a society that is going to be sustainable on any basis, for any reason."
On the issue of economic collapse, Karen Hudes sees the world, as just in time to avoid disaster and widespread conflict:
"First of all, I think that we're going to manage to get our act together; I'm not expecting a collapse. Very accurate game-theory model is showing that we're going to manage to make a transition in a very smooth way; maybe there'll be a few fits and starts, but I think most of the countries in the world are in favor of working together and not to have a collapse. The only thing that you're saying is that some of these crooks haven't figured out, they haven't seen the writing on the wall, they haven't seen that we understand that there is a way to work together and avoid these problems, which are definitely avoidable."  [emphasis mine].
No one to my knowledge has yet mentioned the fall of Soviet Communism, as a hopeful precedent.  There, the rubber-stamp legislatures of the old Soviet bloc, suddenly sprang to life, when invigorated or re-invigorated by their newly freed peoples.
It can happen again, and it can happen here.
BRUCE TYLER WICK is a lawyer and registered parliamentarian, who practices mainly in northeast Ohio.
Attorney Wick's work with serving the military and with veterans has involved principally criminal defense and appeals; clemency, parole and administrative matters; and VA claims.
A student of legal history in the tradition of his teacher, Samuel Sonnenfield, Attorney Wick claims first and exclusive authority for discovering that Ohio's Constitutional Convention of 1802 granted the right to vote to black men over 21. That advance, though epochal, was quickly taken away by fraud.
ATTENTION READERS
We See The World From All Sides and Want YOU To Be Fully Informed
In fact, intentional disinformation is a disgraceful scourge in media today. So to assuage any possible errant incorrect information posted herein, we strongly encourage you to seek corroboration from other non-VT sources before forming an educated opinion.
About VT
-
Policies & Disclosures
-
Comment Policy
Due to the nature of uncensored content posted by VT's fully independent international writers, VT cannot guarantee absolute validity. All content is owned by the author exclusively. Expressed opinions are NOT necessarily the views of VT, other authors, affiliates, advertisers, sponsors, partners, or technicians. Some content may be satirical in nature. All images are the full responsibility of the article author and NOT VT.