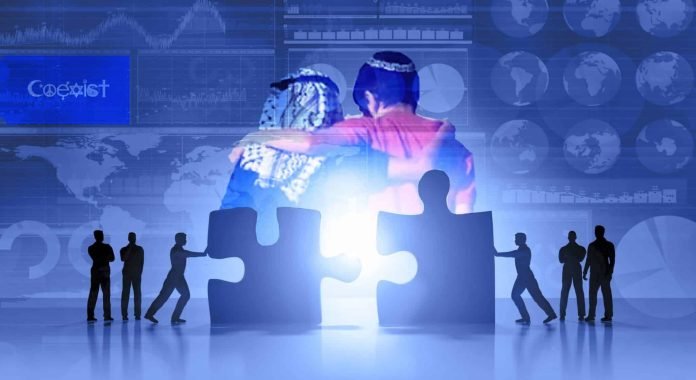 100-year Zionist Vision Eclipsed by 21st Century Global Reality
Today, the USA brokered a peace deal with Iran on the "Nuke" question royally pissing off the Israelis and their AIPAC-sponsored assigns in the U.S. Congress.
The vitriolic opposition by Israel has its opposition rooted in the old antiquated ideology of Zionism created in a pre-connected world of the 20th century buttressed by the mythical dogmatic fable of the Promise Land in the 5000-year-old writings of anonymous storytellers who believed the world ended at the tail of the Nile river!  Come on!
Sadly, while Israel continues to push antiquated nonrelevant policy for today's new world, the USA and Iran are moving forward quickly into the new world where diplomacy trumps war and business deals that build bridges drown the old crusted failed voices of hatred and oppression.
Israeli Prime Minister Netanyahu calls this deal a "huge mistake" aligning himself clearly against his arch enemy; U.S. President Barack Obama and the American people who are sick and tired of his war-mongering mentally ill state.
While our Secretary of State Kerry says Israel is much safer today than yesterday, Netanyahu goes on rambling that Israel is under threat and the world is much more dangerous now.
With check in hand, Netanyahu has been on the lobbyist phones with his AIPAC paid for allies in the U.S. Congress to do whatever he can to defend what he calls "the one and only Jewish state".
So get ready for the full court press on the American public.  They will rally to get the Americans to side with them while they rip us off paying for their globalist adventures.  Expect it!
I mean, the Congressmen who put their Zionist donations before the interests of the American people will oblige reaching to find ways to condemn historic diplomacy without appearing to the American public that they are really war hawking for their Zionist paymasters.  They will aim to assassinate the characters of the peacemakers; Obama, Kerry, and Iranian President Rouhani. It will be ugly indeed and ugly is their specialty.
Semantics notwithstanding, what we really have here is a genuine clash!
It's the 20th-century Zionist antiquated vision slamming into the reality wave that is the new world order naturally evolving without their extremist consideration.
The Zionist dream is melting away in the face of a connected new world where only 15% of those that practice Judaism choose to live in the "Jewish" state. That means, that 85% of Jews choose NOT to live there. And within Israel, non-Jews are expected to comprise 50% of the population by the year 2050.
So where is this "Jewish" state?
What is the point of this exercise?
And why should we, the U.S. Taxpayers, be expected to continue to fund this go-nowhere investment with our hard-earned tax dollars?
Opponents in the ever-shrinking minority of polyester-suited Christian Zionists in America will tell you that Jesus is coming and that's the reason we need to "save" Israel. But really, the world is sick of real policy based on this delusion. It has no relevance in the reality that we are dealing with human beings that live now.
In fact, right now, we have 7% of all humans that have ever lived on this planet; that's 7 billion people right now! We need to live in the real world and NOT the mythical dream world where a small minority of humans choose to invest their hopes.
So we are left asking ourselves…..
What is the real vision of Israel?
What will Israel look like in 50 years? 100 years?
And shouldn't we be making policies to help us get there; not only for Americans who care about Israel but for Israelis who care about Israel?
The reality on the ground is that we're all human beings; not just some of us and we need to pledge allegiance, not to Israel and the promised land, but to the earth and all humans who live on it.  That is the only way forward, period!
It's time to evolve forward and drop the failed vision of Zionism.  We need to replace it with a new vision that says the Promised Land is our earth and that it's for all of us.
So let's dump the stupid wall, include all people in the democracy of Israel, and dump the JIM CROW-Esque laws of Apartheid in Israel.  And let's replace it with equality, freedom, and justice for all.  Is there any other choice?
In fact, the real new world evolving forward is ending the nation-states based on religion, race, or creed. We are witnessing the end of such things and within 100 years, the connected globalization of the world will see faith as a matter of personal choice and not a state-sponsored entity.   This goes not only for Israel but for all countries.  So why bother investing is such things? It makes no cents!
Congrats to Obama, Kerry, and Rouhani…..keep up the great work!
Johnny Punish founded VT in 2004.  After 20 years at the helm, he "retired" from the daily operations in late 2023 passing the ball over to the new owner of VT, Chief Justin Time.   He now writes for VT as "Writer Emeritus".  He is also a global citizen eco-activist, visionary, musician, artist, entertainer, businessman, investor, life coach, podcast host, and syndicated columnist.  
Punish is an ethnically cleansed Palestinian-American whose maternal family was evicted from their home in Haifa, Palestine in 1948 by Irgun; a Euro-Zionist Settler Terrorist Group.  The family became part of the over 1,000,000 Palestinians who are Al-Nakba refugees (The Catastrophe).  The family fled to Beirut Lebanon for 13 years eventually emigrating to the USA in 1961 via a Brasilian passport obtained by his Palestinian Brasilian-born grandmother (In the early 1900s, the family was sent to Sao Paolo Brasil as guest workers in the mining industry.  Punish's father is Italian-American from New York City.  Punish's paternal great-grandparents emigrated to the USA from Naples Italy and Marineo in Sicily in the 1890s.  Punish was born in the Bronx, New York in 1963.
Punish was educated at the University of Nevada Las Vegas (1980-81) and California State University Fullerton (1981-1984) with studies in accounting and business. Before the "internets" had been invented, he owned and ran (5) national newspapers in the United States of America from 1987-1998.  From 2004 to 2023, he owned and managed VT Foreign Policy retiring at the end of 2023.
Punish is also a recording artist.  He has over 100 original songs written. He records and produces music. A member of ASCAP, Punish has several songs placed in feature films. His music is promoted worldwide and played on all digital networks and net radio.
He is also the founder and owner of  Global Thinkers, a freedom media that helps free thinkers create real wealth.
Resources: Facebook –  YouTube – Apple Music – SoundCloud – Spotify –  X (Twitter)
Read Johnny's Full Bio at JohnnyPunish.com >>>
ATTENTION READERS
We See The World From All Sides and Want YOU To Be Fully Informed
In fact, intentional disinformation is a disgraceful scourge in media today. So to assuage any possible errant incorrect information posted herein, we strongly encourage you to seek corroboration from other non-VT sources before forming an educated opinion.
About VT
-
Policies & Disclosures
-
Comment Policy
Due to the nature of uncensored content posted by VT's fully independent international writers, VT cannot guarantee absolute validity. All content is owned by the author exclusively. Expressed opinions are NOT necessarily the views of VT, other authors, affiliates, advertisers, sponsors, partners, or technicians. Some content may be satirical in nature. All images are the full responsibility of the article author and NOT VT.