by Anwar Kazaure
Palestine is an open wound in the heart of the Muslim world. Events in this tiny patch of land has for decades determined the fate of the relationship between the West (read: America) and the 1.7 billion Muslims spread across the globe.  The history of this conflict is filled with a long list of injustices and double-standards, of Cold War realpolitik and bloody massacres; a deadly cycle of revenge, endless retaliations and a huge catalog of human crimes, a metaphor for all the hateful things that man is capable of inflicting on his own kind.
Years of negotiations and peace-making brokered by the International community has failed to find an end to a horrific situation which is of their own creation. The main players in this unfolding drama have become mere participants in the blame-game; neither Israel nor its key benefactor the United States has yet produced a leader with the courage and conviction to stand for what he knows in his heart to be right. It is now self-evident that the present American political system dominated by hyper-rich Wall Street Tycoons and Super-PACS is incapable of producing a Neo-Lincoln- an extinct breed of leaders who are willing to break away from tradition and champion causes based on their own merit. With regards to Palestine, Jimmy Carter's peacemaking and its unprovoked consequences is over-hyped and questionable, Clinton's last minute dash in search of glory is both self-serving and an exercise in futility lacking in true determination and absent political will. This is an obvious parallel to America's successful mediation in Bosnia-Herzegovina and other theaters of the Balkan tinderbox which are backed by a strong threat of air-strikes and NATO military intervention. The Sarajevo example showed that American peacemaking only succeeds when it is truly neutral and objective, there are but few who could ignore the World's sole Super-Power especially when it abides by that famous maxim of age-old Presidential wisdom;
"Speak softly but carry a Big Stick" – Theodore Roosevelt, 1901.
America's failure to do so in Palestine is perhaps the only reason why the battle-lines drawn in 1948 are still with us today. U.S bias towards Israel has resulted in several armed confrontations and damaged her moral standing in the rest of the World. It has provided cover for the Zionists to thrive at the expense of the indigenous Palestinians, it has created a growing rage against the American people alienating their friends, radicalizing enemies and recruiting thousands to their vicious ranks.
It was America's revered founding-Father and first President General George Washington who in his farewell address advised the infant United States to be weary of entanglement in foreign affairs and undue leaning towards a particular country; Washington's prophetic warning proved he undoubtedly understood how this could end, in an irony where the world's most revolutionary democratic nation is reduced to cheer-leading ethnic-cleansing, funding apartheid and perpetrating unnecessary illegal wars on behalf of another foreign state and as such, contrary to its inherent values and harmful to its long-term strategic interests.
THE BOTTOM LINE
Even Lyndon Johnson (his Vietnam misadventures and possible war-crimes in Cambodia and Laos aside), who is arguably one of the finest Presidents the USA had in the last century and whose well deserved laurels for addressing economic inequality, extreme poverty and civil rights made him a new founding-father and FDR's only heir, proved to be a dismal failure at a moment and place where it matters the most; the repeated dive-bombing of USS Liberty in Mediterranean waters, that turning-point in the relationship between the USA and Israel which saw US fighters recalled by an order from high-above and prevented from coming to the aid of unarmed American sailors who were doomed to endure multiple sorties by Israeli war planes and PT Boats in broad daylight.
With the stars and stripes gleaming visibly on the mast, the vessel was pounded with Israel's American-built planes and hit by American-made bombs; brave American boys were left to a watery death.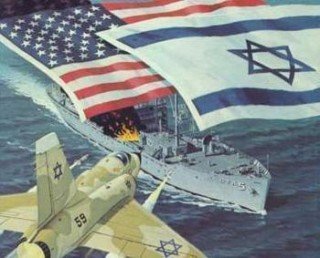 Some say the attack on the Liberty was in fact a False-flag operation designed to be blamed on Egypt in order to justify America's intervention in the 1967 war on the Israeli side and eventually U.S occupation of the Middle East, a Geo-political move designed to reverse Soviet gains and deny them a foothold in the resource rich region. Of course the plan failed, but the lack of American response, the subsequent cover up and in the heat of the moment treason speaks for itself. The message is clear: not even the cold-blooded murder of U.S servicemen or any amount of American lives lost could shatter the hold that Israel through its powerful lobby AIPAC and Wall Street money-men has on the Congress, the White House and the mainstream media which sets the tone for American public opinion.
That Israel's unhealthy control over U.S domestic and foreign policy exist is true and regrettable, how it uses this influence is revelatory and alarming, the failure of American patriots to confront this existential menace to their independence and sovereignty is however not surprising; America has been attacked from within, her institutions victims of their own devices, their traditions abused and their values turned against them.
THEATER OF THE ABSURD
While U.S Secretary of State John Kerry is engaged in shuttle diplomacy in his effort to sustain the newly re-started Israeli-Palestine peace talks (unceremoniously sabotaged in 2011 by stubborn Israeli resolve to continue its illegal expansion and construction of new Jews-only settlements in the occupied West Bank and East-Jerusalem- both lands belonging to the Palestinian state), Palestinians themselves are pessimistic about the outcome, weary of Israel's empty promises and America's diplomatic hot air. Palestinians, those sympathetic to their cause and neutral observers all over the world know what to expect from this or indeed any round of talks in spite of its P.R packaging; nothing. They also know what it would take to achieve an agreement with the essentials of  permanent peace, of sacrifices and commitment that America is unwilling and unable to make, in the absence of which Palestine would remain an open wound in the heart of all Muslims and many non-Muslims alike, a Pandora's Box with only two more things left inside;
The Promise and The Peril.
ATTENTION READERS
We See The World From All Sides and Want YOU To Be Fully Informed
In fact, intentional disinformation is a disgraceful scourge in media today. So to assuage any possible errant incorrect information posted herein, we strongly encourage you to seek corroboration from other non-VT sources before forming an educated opinion.
About VT
-
Policies & Disclosures
-
Comment Policy
Due to the nature of uncensored content posted by VT's fully independent international writers, VT cannot guarantee absolute validity. All content is owned by the author exclusively. Expressed opinions are NOT necessarily the views of VT, other authors, affiliates, advertisers, sponsors, partners, or technicians. Some content may be satirical in nature. All images are the full responsibility of the article author and NOT VT.