You cannot negotiate with Iran. That is what they told us for years.
…. from  Press TV,  Tehran
Israel requires its helpers to get Pollard out of jail


[ Editors Note:  Ron Paul is covering below what we have been writing about for some time.
But as a former member of the Congressional club he sets a line he will not cross. Despite his long record of outspokenness, even he will not use the "E" word…Israeli Espionage.
While he criticizes those below for their poor judgement he will not carry it a step further to include bad faith when the evidence of of that is overwhelming.
These people were not involved in a democratic process where they were just espousing a different opinion.
These were hired hands working for subversive groups inside the American government and in the many inside the beltway espionage boiler rooms called think tanks.

There are so many that the FBI would have to collapse itself all into the DC area to keep track of them. Why are there so many? It is because there is a 'no prosecution' policy…that's why, and that has served as a stimulant to turning the US into a wide open Dodge City for Israeli operators here.
And I am not just talking about the traditional version…but industrial espionage and influence peddling where the Israeli Lobby moonlights offering its services to a wide array of foreign customers as the 'can do' people to do to for getting anything out of America.
This includes restricted technology which they have down to a science and the FBI has a terrible record on because the cases would often involve high level Jewish Lobby operatives.
But Ron Paul does not have to be everything to everybody. We are grateful for what he does that others never even entertain doing. Thank you brother Ron. Let's do some radio sometime… Jim W. Dean ]
________________________________________
… by former Congressman Ron Paul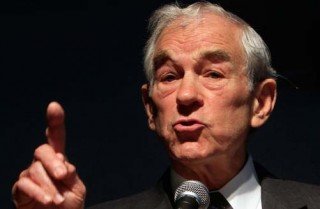 The Iranian leadership is too fanatical, they are not rational actors, they are "not like us." One US official even recently said that deception is part of the Iranian DNA.
But just over a week ago negotiations between the five permanent UN Security Council members plus Germany and the Iranians produced an historic agreement that may be first step toward a new era in US relations with the Middle East.
Earlier this summer the same people made the same arguments about Syria. You cannot negotiate with Syrian President Assad, they said. He is insane; he is another Hitler.
But not only was it possible, a deal was signed ending the threat of a US strike in exchange for Syria agreeing to give up its chemical weapons and the ability to manufacture new ones. Syria upheld its end of the agreement and the chemicals were all accounted for on schedule.
Why have the interventionists, the neocons, and the special interest groups claimed for so long that negotiation and diplomacy was tantamount to surrender; that countries such as Iran and Syria "only understand force"?
It is because these groups are afraid of diplomacy. They do not want a peaceful resolution to these conflicts. They see US foreign relations only in the starkest terms: do what we say and we will give you aid, disobey us and we will bomb you.
Now the warmongers who call themselves "foreign policy experts" have been exposed. The whole world sees that they are wrong. Their advice is bad. Their limited vision of how foreign affairs should be conducted is actually dangerous to the United States. It is now clear that there are workable alternatives.
As with the US threats against Syria, public opinion polls on talks with Iran demonstrate that the American people are solidly behind diplomacy and opposed to another war. According to one recent poll, Americans support the deal reached with Iran by a margin of two-to-one.
Congress, however, is once again far behind the American people. Even as US negotiators were reaching agreement with their Iranian counterparts, US representatives and Senators were drafting legislation to increase sanctions on Iran.
Instead of listening to the American people, many in Congress seem attached to special interests like the Israel and Saudi lobbies, which oppose anything less than full Iranian capitulation.
Israel refuses to join the Non-Proliferation Treaty yet it seeks to dictate the rules of the treaty to those who have signed it.
Saudi Arabia is desperate to control the region politically and economically, and it views an Iran that is free to sell oil and other products on the open market as a threat to Saudi power.
For too long both Israel and the Saudis have benefited from a US military guarantee. It has created "moral hazard" that only encourages more belligerent behavior on both of their parts.
It remains to be seen whether this six month trial period will develop into a permanent move toward normalization of relations with Iran. What if Congress refuses to give Iran its own money back? But we are moving in the right direction and we should be optimistic.
A better US relationship with Iran may signal the beginning of the end of US meddling in the region. This would be a great boost to US national security, just as an Iran open to US business and trade would be a great boost to our economic security. Is peace finally breaking out? Let's hope so.
Editing:  Jim W. Dean
_________________________________
Jim W. Dean was an active editor on VT from 2010-2022.  He was involved in operations, development, and writing, plus an active schedule of TV and radio interviews.
ATTENTION READERS
We See The World From All Sides and Want YOU To Be Fully Informed
In fact, intentional disinformation is a disgraceful scourge in media today. So to assuage any possible errant incorrect information posted herein, we strongly encourage you to seek corroboration from other non-VT sources before forming an educated opinion.
About VT
-
Policies & Disclosures
-
Comment Policy
Due to the nature of uncensored content posted by VT's fully independent international writers, VT cannot guarantee absolute validity. All content is owned by the author exclusively. Expressed opinions are NOT necessarily the views of VT, other authors, affiliates, advertisers, sponsors, partners, or technicians. Some content may be satirical in nature. All images are the full responsibility of the article author and NOT VT.