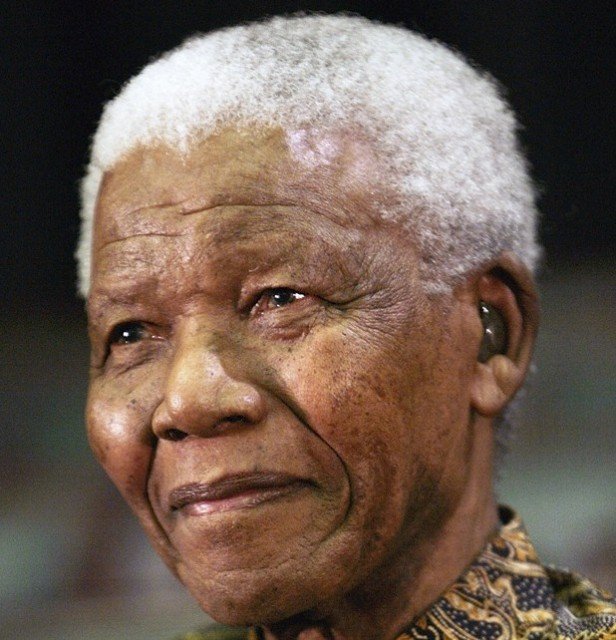 Mandela, like JFK, was a charismatic leader who believed in freedom.  There the comparison ends.  Now that his death has been confirmed officially, I extend my condolences to his family and to the people of South Africa.  There is no doubt that many white South Africans will mourn his passing and that his commitment to reconciliation was genuine.
I never met Mandela, although I got to see his charming daughter Zenani up close when I was a steward at an Anti-Apartheid Movement concert, possibly the 75th anniversary bash at the Alexandra Palace in 1987.  I was rather sorry not to have been a steward at the great 70th birthday concert at Wembley the following year.  I would not have needed the hymn-sheet to sing the great African hymn N'Kosi Sikelele Afrika in Xhosa, not then, anyway.  (I'm a little rusty now!)
I am sure that I spent a lot more time in my youth on Anti-Apartheid activities than Barack Obama.  I even got a nice letter from that lovely man Alfred Nzo, the ANC Secretary-General who became the first post-apartheid Foreign Minister, after his appointment.  In the BBC tribute being broadcast as I am writing this I was amused to see footage of a City of London Anti-Apartheid Group demo outside South Africa House.  I might even have been in it – I used to go along quite regularly.  I was even called as a witness once, when a fellow demonstrator was arrested rather too forcibly by the rozzers.  I spent an entire night outside South Africa House when three young Umkhonto We Sizwe (Spear of the Nation) militants were due to be hanged.  I still think they should not have been executed.
The late Adelaide Tambo was on that vigil.  She was a warm, wonderful character and a lovely lady, if I may say so.  I have a reputation for being marginally to the right of centre (I can't imagine why!) and not terribly cuddly, but at an AAM AGM one year, when Adelaide was speaking, she passed me on her way up to the platform and gave me a great big hug.  I could see mouths drop.  Nelson Mandela attended her funeral.
As you may see, I had a bit of a left-wing youth, but I don't regret opposing apartheid.  It was both hateful and irrational.  Special Branch misunderstood my opposition to apartheid and marked me down as far more left-wing than I actually was.  My opposition to apartheid was fundamentally a moral, not a political, choice.  It was the right choice, even if the ANC have made many wrong choices in power.
I use the formula 'now that his death has been confirmed' advisedly.  My understanding is that the poor man died some time ago and was kept on a ventilator for political reasons.  He should have been allowed to die in peace.  He may even have died in the military ambulance taking him to hospital.  It stopped en route whilst instructions were sought.  How many times do you see ambulances on an emergency call stopped by the roadside whilst everybody has a discussion about what to do?
Most in INTELCOM know that he was a hero with feet of clay.  There is much to come out, e.g. about his dealings with BOSS, and the role of the DVD in threatening to block South African access to MTN trading programs as a pressure tactic, when they switched support from the Nats to the ANC.  Certain favors, e.g. over cocaine trafficking through South Africa, had to be given in return.  It was all very sad for such an enthusiastic AAM member.  There have been unexplained deaths, including Adelaide Tambo's in 2007.
However the requirements of good manners dictate that discussion of these matters is deferred.  Now is a time to mourn the passing of a great man and acknowledge his many qualities.  These included high intelligence, tremendous personal charisma, statesmanship and indomitable courage.  He was also a powerful orator and a great communicator.  Yes, he made mistakes (who doesn't), but the man had real class.
Sgt Alexander Blackman RM
Sgt Blackman too is a man of courage.  His conviction and sentence for the 'murder' of a dying Taliban terrorist has shocked public opinion in Britain and further shaken confidence in our failing military justice system.  I call for him to be granted a Royal Pardon.
I very much hope that his conviction will be overturned.  It was clearly an abuse of process, as no autopsy was ever performed.  It follows that the prosecution could not show that the terrorist had not been fatally wounded.  So far as we know he was hit by fragments from a 30mm cannon round, so he wasn't likely to have been terribly well.
I do not for one moment buy the rozzers' story that they came across a video of the incident 'accidentally'.  It is far more likely that Sgt Blackman was set up, to smear the Royal Marines, rather like the US Marines Corps was smeared over al-Haditha.  There too, wild allegations were made without any autopsy or ballistic evidence.
The time has come to scrap prosecutions for murder on the battlefield that are not supported by autopsy evidence.  Dispatching mortally wounded enemy combatants on the battlefield, let alone unlawful combatants, should never be regarded as murder, indeed it is usually a kindness.  The Royal Marines have wrought great execution and slaughter on the terrorist enemy in the Global War on Terror, much to their credit.
Like Nelson Mandela Sgt Blackman is effectively a political prisoner, imprisoned as a result of a seriously flawed legal process, notwithstanding that each conviction was supported by evidence.  Alex Blackman should be freed, restored to the ranks without loss of seniority and paid massive compensation.  Many thanks to the nice Royal Marine Commando who contributed to this section.
Response to Comments
'Dieter the Hun' and I have found something else to agree on – we both think that Konrad Adenauer was dodgy.  Well spotted 'Dieter'.  The man was a DVD asset, who sanctioned the Munich operation against Manchester United.  He only survived the Nazi period because of his connections to the Abwehr.  It's a great pity that Heinrich Himmler didn't have him executed, preferably with piano wire, no offense intended.  He was a right bastard (Heinrich was a bit of a bastard as well of course, but much more charming than Konrad – he also threw a nicer drinks party, an observation based on the recollections of someone who was at the drinks party at Nuremberg in '37 to which Sir Edward Heath was invited).
There were some sensible comments on Inga, the saucy girlfriend of both Adolf Hitler and JFK, to whose assassination I shall be returning next week.  The public confirmation of Nelson Mandela's death has put back The Kennedy Conspiracy (4) by a week of course.
I am sure that J. Edgar's eyebrows were raised so high that his mascara ran when the G-Men confirmed that a US naval intelligence officer was shagging one of Adolf Hitler's ex-girlfriends.  It wasn't a coincidence and JFK wasn't a Nazi.  He was a Democrat, who just happened to have shared a lady friend with the Führer.   It happens all the time.
Dear old Inga, who was a stunner by the way, was one of that wily old bird Admiral Canaris's birds.  She honey-trapped both a Führer and a future President.  If she'd managed Edward VIII as well she'd have had the full set.
I would not be astonished to learn that JFK spotted her coming, no pun intended, a mile off, called it in to ONI and was ordered to play along to see what he could find out.  You guys had some good personal stuff on Hitler, which could only have come from someone who was close to him.
I am sorry that not all commenters enjoyed We Dive at Dawn.  It's a great war movie, once you make the allowances you have to make for a Brit movie shot in black and white in 1943.  The Admiralty had a strange prejudice against lending warships and facilities to movie producers and kept insisting that there was a war on.
I am sorry that no one took me up on my challenge to go out and buy a non-German intelligence DVD set of Magnum PI and come up with a better date for USS Wedderburn's visit to Pearl Harbor.
Classic Movie of the Week – Heartbreak Ridge
This is a heartwarming war movie, directed by Clint Eastwood (1986).  Based on the US invasion of Grenada in 1983 Eastwood also plays the hero, Gunny Highway.  His character had won the Medal of Honor in the Battle of Heartbreak Bridge in Korea, a classic example of the screw-ups that can result from faulty intelligence.
Gunny Highway is an immensely sympathetic character, an old soldier who whips his recon platoon into shape with compassion and sensitivity, before going into combat with them with a bunch of bad-ass Cubans.  The supporting cast is strong – I particularly liked Everett McGill as Major Powers and Richard Venture as Colonel Meyers.  There is a lot of humor, as well as pathos.  It's Clint Eastwood on fine form, and that should be enough of a recommendation for any movie.  Enjoy.
Michael Shrimpton was a barrister from his call to the Bar in London in 1983 until being disbarred in 2019 over a fraudulently obtained conviction. He is a specialist in National Security and Constitutional Law, Strategic Intelligence and Counter-terrorism. He is a former Adjunct Professor of Intelligence Studies at the American Military University.
Read Articles from Michael Shrimpton;
ATTENTION READERS
We See The World From All Sides and Want YOU To Be Fully Informed
In fact, intentional disinformation is a disgraceful scourge in media today. So to assuage any possible errant incorrect information posted herein, we strongly encourage you to seek corroboration from other non-VT sources before forming an educated opinion.
About VT
-
Policies & Disclosures
-
Comment Policy
Due to the nature of uncensored content posted by VT's fully independent international writers, VT cannot guarantee absolute validity. All content is owned by the author exclusively. Expressed opinions are NOT necessarily the views of VT, other authors, affiliates, advertisers, sponsors, partners, or technicians. Some content may be satirical in nature. All images are the full responsibility of the article author and NOT VT.