The grim horror now surrounding our 'Little Town of Bethlehem'

London's Christmas was made gloomier this year – and rightly so – by the appearance in the courtyard of St James's Church, Piccadilly, of a replica of the hated Israeli annexation Wall that threads its thieving way around the Palestinian West Bank http://bethlehem-unwrapped.org/ .

It's a life-size representation of the actual 8-metre high Wall surrounding Bethlehem and imprisoning its inhabitants. The project, called 'Bethlehem Unwrapped' is a response to a call from the united churches of the Holy Land pleading with churches and communities around the world to "help us get our freedom back".
The Israelis claim that the monstrous Wall, also known as the apartheid Wall, is to protect it's citizens from terrorist attack. But in reality it is carefully routed to bite deep into Palestinian territory in order to steal choice agricultural land and water resources, as well as to seize strategic landscape and communication features and disconnect Palestinian communities from their livelihoods and from each other.
This is not the first time the evil barrier has been replicated by a British church. Over Christmas 2006 at the Sacred Heart Catholic Church in my home town of St. Ives in Cambridgeshire, instead of enjoying the usual live sheep, cow, donkey and newborn babies at a Nativity scene, visitors were greeted by a grim grey replica of the Wall and photos of the real thing http://www.catholic.org/international/international_story.php?id=22318 .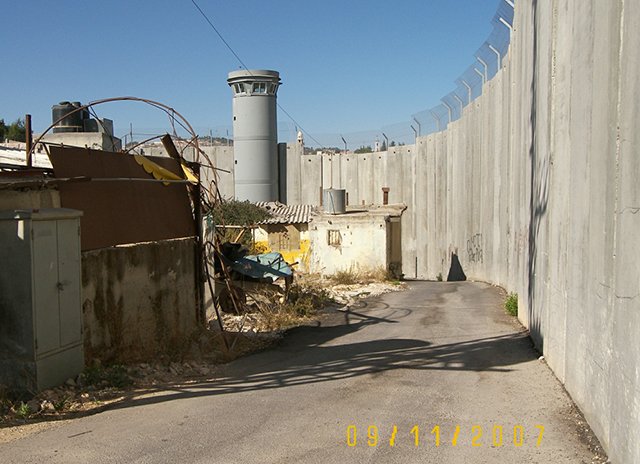 The parish priest wanted to draw attention to the plight of the Palestinian people and replace the romantic idea of a manger crib with the ugly reality of the brutal occupation strangling his congregation's 'Little Town of Bethlehem'. He said he could understand Israel's need for security but it was wrong to build the Wall on Palestinian land.  "The lives of the ordinary citizens of Bethlehem have been devastated…  It affects every aspect of their lives: friends and family are separated, earning a living becomes more and more difficult, and access to health care is severely restricted in the town of Bethlehem, which we sing about at this time of the year. If we can provide these people with a few extra basic provisions and give them a little financial support, we can help make their lives more bearable." He was confident that the people of St Ives would want to express their support for those oppressed people at Christmas.
A spokesman for the Israeli Embassy in London called it a cheap public relations stunt, and the enterprising priest took a lot of flak from others who thought there was nothing wrong with Israel's thuggish ways.

The St Ives parish is twinned with the parish of Aboud in the West Bank. Aboud, once called  the City of Flowers, is a historic town of about 2000 people, half Christian, half Muslim, not far from Ramallah.  On a hill above is the ancient monastery of St Barbara, blown up by the hooligan Israeli  army in 2002. Throughout its long history Aboud is believed to have had no fewer than nine churches. The priest had made regular visits and watched local circumstances grow worse. His replica Wall had the support of his bishop, who said: "It is a dramatic way of highlighting the fact that in Bethlehem today, in particular the ordinary people, still suffer in all kinds of ways as they did in Jesus' day."
I've been to Aboud myself on a couple of occasions. It is a place one could easily fall in love with, but even here in this one-time Arab paradise the wretched Wall threatens to separate the townspeople from much of their land and olive groves and their water supply. The same goes for many more such lovely places in the Holy Land. In the case of Aboud massive protests have caused the Israelis to adjust the route of the Wall but it will still steal valuable property, restrict personal movement and rob the inhabitants of their freedom.
Condemned as illegal by the International Court of Justice, and ordered to be dismantled, the annexation Wall, with its sinister 'goon' towers, continues to be built in utter disregard of international law and other people's human rights. It is symbolic of all that's hateful and disgusting about the Israeli mentality. Because of its despicable purpose, and its sheer cruelty, the Wall contains the seeds of its own destruction. It is only a matter of time.
Meanwhile campaigners would do well to max up the potential of the Wall to shock and shame. And it is the Americans who are showing the way. As Finian Cunningham explains http://mycatbirdseat.com/2013/12/46648-bethlehem-story-present-reality/, one thing often missing from the Christmas celebrations is a connection between the original historical event – some 2,000 years ago – and how this story relates to present reality. A new billboard campaign now running in the US gives the traditional Christmas story realistic, contemporary meaning. "Massive public hoardings, currently on display in various cities across the US, show Mary, pregnant with her soon-to-be-born baby son, Jesus, being led on a donkey towards the ancient Palestinian town of Bethlehem by her husband Joseph. Confronting this weary family is not the occupying forces of the Roman Empire, as in ancient accounts of the nativity, but rather it is the occupying forces of the Zionist Israeli regime."
Stuart Littlewood worked on jet fighters in the RAF then pursued a career in industrial marketing.
More recently he worked as a freelance and with innovation consultancies. Psychology degree Exeter University, Member of the Chartered Institute of Marketing. Served as a Cambridgeshire county councilor 1993-97 and on the Police Authority. Associate of the Royal Photographic Society. Since retiring has been a newspaper columnist and produced two photo-documentary books. He is a regular contributor to a number of internet news magazines.
Stuart's book Radio Free Palestine, with Foreword by Jeff Halper, tells the plight of the Palestinians under brutal occupation. It can now be read on the internet by visiting RadioFreePalestine.org.uk.
ATTENTION READERS
We See The World From All Sides and Want YOU To Be Fully Informed
In fact, intentional disinformation is a disgraceful scourge in media today. So to assuage any possible errant incorrect information posted herein, we strongly encourage you to seek corroboration from other non-VT sources before forming an educated opinion.
About VT
-
Policies & Disclosures
-
Comment Policy
Due to the nature of uncensored content posted by VT's fully independent international writers, VT cannot guarantee absolute validity. All content is owned by the author exclusively. Expressed opinions are NOT necessarily the views of VT, other authors, affiliates, advertisers, sponsors, partners, or technicians. Some content may be satirical in nature. All images are the full responsibility of the article author and NOT VT.