Last Week
… by  Michael Shrimpton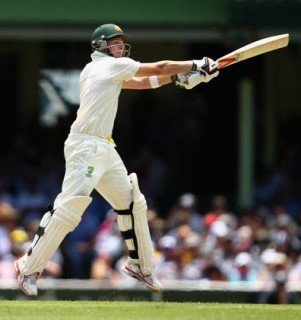 Apologies to readers who were kept waiting until Wednesday for last week's post. Smarter readers will have noted that it was written during the Sydney Test Match, actually on Saturday. No fewer than four e-mails went walkies between myself and VT.
As readers will know, normally when an e-mail does not get through you get a message saying that it has not been delivered.
This does not apply in the case of an intelligence interception. The e-mail just gets lifted. It was probably done by the German electronics company which does the DVD's COMINT.
Quite why last week's post should have been lifted four times is a bit of a mystery. Perhaps they were worried I was going to comment on that odd-looking, and as yet unexplained, Pave Hawk helo crash in England (my commiserations to the loved ones of the crew).
As my critics were the first to observe however, there were no startling revelations, although the DVD are undoubtedly anxious to avoid being linked to the assassination of President Kennedy.
There are a number of reasons for that, not all of which are obvious. Their man Johnson brought in two German policies which proved critical in damaging the American economy. The first, announced fifty years ago this month, was the welfare state, disguised as a 'war on poverty'. In reality it was a warmed over version of the Welfare State launched in Britain after 1945 by Germany's Clement Attlee, in a successful effort to enfeeble the British economy and damage British society.
The second, also a reflection of the Attlee Government's policies, was mass immigration from the Third World, announced by Johnson, but not in those terms, in 1965. Apart from the divisive social consequences, mass immigration displaces domestic labour. Coupled with welfare it drives up government expenditure and taxation, leaving Britain, Canada and America with less to spend on defense.
Immigrants rarely pay enough in tax to cover the welfare costs of subsidizing those whose jobs they take. In Britain we have been treated to a series of dodgy reports pushing the economic 'benefits' of mass immigration, none of which even try to deal with this point.
Linking the introduction of these two policies to the Kennedy Assassination is highly damaging to Germany, as if the truth were known the democracies might reverse these crazy policies.
This would make our economies much more competitive and successful, and see defense expenditure restored to sensible levels.
The left, obsessed as it is by the idea that Kennedy, a patriot and a war hero, strongly opposed to communist tyranny, would have abandoned South Vietnam to communist aggression, will not make the link.
The truth about the blood-stained Johnson Administration is going to hurt the Democratic Party, the left and the DVD. Tough! A few right-wing fanatics in Dallas might have thought that John Kennedy was a commie-lover (this is the theme of Minutaglio and Davis, Dallas 1963).
He wasn't. He was a good and decent man. Like Lincoln and McKinley before him he was also a man of deep intellect, who was able to handle intelligence. The smart ones always end up getting shot, if they're working for the home team that is.
I suspect that what happened last week was that a duty officer in Munich got into a panic. This sometimes happens. It doesn't occur to them that I might have other means of communication, or that I might follow up a non-response to an e-mail with a phone call. Once Gordon and I were talking the e-mails started flowing freely.
________________________________
Response to comments:
I am grateful for one comment, which had a link to a very strange website, of which I would otherwise have been unaware, as I don't waste time chasing down every silly comment about me on the Internet! This site accuses me of being involved in the Heath-Savile paedophile ring in the 1970s (!)
When the paedophile Edward Heath was PM he was being supplied with teenage boys from inter alia a care home in Jersey, by the notorious Jimmy Savile.
When Heath became PM I was aged 13, and living in Australia, facts which are in any reasonably comprehensive bio of me. How a teenager in Australia could be on a yacht in the Channel Islands is not made clear. For the record our family emigrated to Australia in 1964 after my Dad retired from the RAF and I did not return to England until 1975.
The accusation is so asinine that it could have come from Thames Valley Police! From the time I learnt of the DVD I have had more hysterical accusations thrown at me than I can count. They are like water off a duck's back. They are usually a sign that I am hitting home.
Franz von Papen was definitely not a Nazi. He just supported them, as did the Jesuits. Politically von Papen was a centrist, indeed his party was called the Zentrum (think of them as the Third Reich's answer to the Liberal Democrats). He reported to Canaris, not Hitler.
I can definitely assure 'Dieter the Hun' that XXXX is a very drinkable brew, more refreshing than Fosters. The only lager I found to compare with it in Oz was West End, a South Australian offering, also available in Alice Springs. If you're with the NSA and are posted to Pine Gap you definitely want to sample some West End Draught when off duty in the 'Alice'.
I hope that everybody got home alright from Fort Meade last night by the way. I gather that Highway 32 was a bit slippery. Why is the weather in Maryland usually worse than DC?
_________________________________
Earl Warren
Pushers of the 'lone shooter and it was Oswald' theory tend to portray Earl Warren as a respected Chief Justice of the Supreme Court and a wise and impartial tribunal, like some sort of latter day Learned Hand, or Felix Frankfurter. In fact he was a highly political recess appointment, by the DVD's Dwight Eisenhower, following the sudden and unexpected death of respected Chief Justice Fred Vinson. It was so unexpected that it might actually have been murder.
Not long before his sudden and unexpected death Chief Justice Vinson had famously upheld the perfectly proper convictions and death sentences of the German atom spies Julius and Ethel Rosenberg, who were false-flagged via the Soviet NKVD.
Thus Warren was appointed by a German spy after the sudden death of a Chief Justice who had played a key role ensuring that two major German spies met justice, in the chair, at Sing Sing, and helped German intelligence cover up the assassination of a patriotic president by chairing an inquiry which was packed by German assets.
Warren was not only a governor of California (he had no previous judicial experience before being appointed to the Supreme Court and was the last serving politician to be made Chief Justice) he was the Republican Vice-Presidential candidate in 1948. He and Dewey were backed by the DVD, who were desperate to unseat the patriotic Harry S. Truman, who had very properly ordered the atomic bombing of Germany's ally Japan, after Japan's refusal to surrender. The Germans took their defeat badly. They usually do.
The Kennedy assassination cover-up was not the only controversy of Earl Warren's tenure on the bench. He was involved in a series of dubious decisions, starting with Brown v Board of Education. With a startling lack of candor, with respect, Warren was careful to hide his true opinion on segregation from southern Democrats during the nomination process.
Whilst one can agree with the ethics of desegregation, and I find myself in entire agreement with John Grisham's scathing comments on 'separate but equal' in his wonderful new book Sycamore Row (it's a cracking read) the reasoning of Brown is political rather than legal.
Warren followed up that blooper with Mapp v. Ohio, which jacked up the homicide rate by shackling the police. It's the mainspring of the 'fruits of the poisoned tree' doctrine, the fatal flaw in which is that otherwise strong cases can fail through minor procedural errors by the police.
Poisoned trees normally don't bear fruit anyway. Mapp was followed by the notorious Miranda v. Arizona case, the ratio decidendi of which sounds fine until you start to apply it in practice. It's helped lots of guilty felons walk.
Warren, with respect, was a disastrous appointment. His reputation is bound to sink along with the dodgy report which bears his name. I can't help that. He was corrupt – not in the sense of taking backhanders but in the sense of doing shady political deals – and the last thing we need is corrupt judges on the bench. Judge Roy Bean, a great character, known for his wise and efficient selection of jury panels, gave sounder rulings, and was more intellectually honest.
________________________________
This Week's Classic Movie: Force Ten from Navarone (1978)
Pace 'Dieter the Hun' these old war movies still attract a strong following. The Guns of Navarone was followed up on British TV over Christmas by its sequel. I should have mentioned that if you study The Guns of Navarone closely (and I hope it will be possible to provide a link so that you can download it) you will see vanishingly rare footage, for a movie, of an Avro Manchester bomber, forerunner of the Lancaster, with its two huge 24-cylinder Rolls-Royce Vulture engines (great engine, shame about the cowling).
Force Ten has a cracking plot, with lots of intrigue. With those joyous scenes of 'Jerry' Panzers being swept off the viaduct it's no wonder that it's popular viewing in Britain at Christmas, at a time when 'Jerry' is effectively running the government, via the hated Cabinet Office, and we are being crushed under the alien European yoke. I hope I put that neutrally.
The movie suffers by comparison with its predecessor, but that's a bit unfair. 17 years is a long time between a movie and its sequel. In this case it had the unhappy result that none of the major players in the first movie was young enough to reprise their roles. When you're talking Anthony Quayle, Gregory Peck and James Robertson Justice those are big shoes to fill.
However Harrison Ford, in one of his first major outings, and Robert Shaw, in one of his last, do their best. My friend Edward Fox, a superb actor, is tremendous as Sergeant Miller, the plastics man. Nobody better at blowing up a dam. There is also a particularly strong performance from Alan Badel, as a Yugoslav partisan officer.
The movie has a valuable life lesson – if you cannot achieve your objective by frontal attack, think laterally. If you cannot blow up your bridge you can always go upstream and knock off a dam. Provided you end up with dead Germans it doesn't make much difference at the end of the day.
Editing:  Jim W. Dean
__________________________________
Michael Shrimpton was a barrister from his call to the Bar in London in 1983 until being disbarred in 2019 over a fraudulently obtained conviction. He is a specialist in National Security and Constitutional Law, Strategic Intelligence and Counter-terrorism. He is a former Adjunct Professor of Intelligence Studies at the American Military University.
Read Articles from Michael Shrimpton;
ATTENTION READERS
We See The World From All Sides and Want YOU To Be Fully Informed
In fact, intentional disinformation is a disgraceful scourge in media today. So to assuage any possible errant incorrect information posted herein, we strongly encourage you to seek corroboration from other non-VT sources before forming an educated opinion.
About VT
-
Policies & Disclosures
-
Comment Policy
Due to the nature of uncensored content posted by VT's fully independent international writers, VT cannot guarantee absolute validity. All content is owned by the author exclusively. Expressed opinions are NOT necessarily the views of VT, other authors, affiliates, advertisers, sponsors, partners, or technicians. Some content may be satirical in nature. All images are the full responsibility of the article author and NOT VT.