Honoring the dead by never forgetting means learning from, and not repeating their mistakes.  And I promise you…that is not easy.
"We lucky few, we band of brothers, for he today who sheds his blood with me…shall be my brother."

  –  from the play Henry V … Shakespeare
_______________________________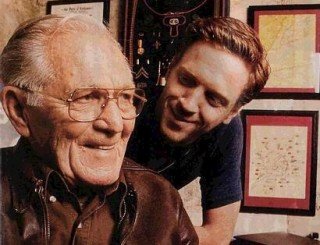 These videos gems below don't need any editorial commenting.  All will be self evident to our VT readers. But one part may not, and that is why I am putting this up.

I spent some time on Skype today with some young documentary filmmakers who are attempting an ambitious project. By that I don't mean a funding hurdle for an expensive film.
It was one where they were going to try to present some soul searching motivation to all the warring factions now in the Mid East, especially the young people being sucked up into the tornado vortex, in a way like Judy Garland and Toto in the Wizard of Oz were transported to a different world.
We old timers admire seeing the young folks really wanting to take on a tough challenge. I was describing to them the triple generation structure we have here…the last of the WWII folks that went through all the Cold War history, the Vietnam era bunch, and then another batch in the mid forties range…Gulf War I.

I was explaining the time that it takes someone who knows a lot, to pass that on to the next generation…and we figure about five years of working closely with senior people, which surprised them. And then they suprised me. They asked if I really thought there was any chance of winning, of turning things around from the God-awful state we are in.

I answered that they need not really try to look at it that way because it can become self defeating, that they needed to view themselves as being in a war that was going to go on maybe forever…and the goal they should have is not letting the other guys beat you.
The first step in winning the battle we are in, is accepting that you might have to be fighting your entire life. And you were going to have to teach your kids and grandkids to do it.
Because if you don't, you sure as hell are going to loose. They were smart. They got it. They live in Beirut, where dealing with reality is not a spectator sport.
So I told them that we would help as best we could, because we had to teach people like them to be able to do what we are doing after we are gone, so they will be feared and dangerous opponents. And that if they do this they will be joining a club that needs a growing membership if we are to win.
With that I want to say thank you to all of you VT readers, especially you long time ones, who have seen us evolve and have gone through a lot of battles with us over the last few years especially. We hope that maybe we have instilled something in you to make you want to do it.
And although we don't view ourselves as Dick Winters, when I watched a bunch of these Band of Brothers clips last night about Easy Company, I saw that we really were, in our own different way.
We have a Dick Winters here that you all know. His name is Gordon Duff. The public did not know who Dick Winters was before the movie. And they do not know how many people like this we have working with us. Many they will never know, and we unfortunately have tons of readers who have not seen the In Memoriam page at the bottom of the staff page, buried away on our large site.
We have tried to contribute leadership where we saw frankly, a shortage of it in our medium…on our battlefield. And we have been fortunate enough to have been able to surround ourselves with our own Easy Company, of which you are a part. So watch the end of clip two, about we Band of Brothers (and sisters)…you will know why we are here, and why you are, too. We are in it to the end.  And we thank you.
_________________________________
[youtube yggdVyan4XI] – Leadership
[youtube s9Ke2bMYBFs] – Last Speech
For those who may have missed yesterday's features, there was a warm up to this last one that you might want to watch if you have never seen the General's Speech before. It was entitled: The Bitter End – No Matter Whose Side. It has picked up 1800 views in less than a day…a lot for a video clip piece, which means folks are passing it around. Whoever came up with the idea to put this in Band of Brothers…it was a brilliant move…the old "there for him, goes me" twist of fate.
[youtube VcMk85ZsBh0] – German General Speech
Jim W. Dean is Managing Editor of Veterans Today involved in operations, development, and writing, plus an active schedule of TV and radio interviews.
ATTENTION READERS
Due to the nature of independent content, VT cannot guarantee content validity.
We ask you to
Read Our Content Policy
so a clear comprehension of VT's independent non-censored media is understood and given its proper place in the world of news, opinion and media.
All content is owned by author exclusively. Expressed opinions are NOT necessarily the views of VT, other authors, affiliates, advertisers, sponsors, partners or technicians. Some content may be satirical in nature. All images within are full responsibility of author and NOT VT.
About VT
-
Read Full Policy Notice
-
Comment Policy