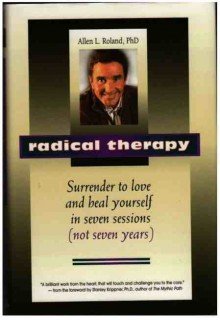 Dr. Allen Roland is a Truther with a capital T.
Sure, he knows that 9/11 was an inside job. But he's on the trail of a deeper truth: The Unified Field.
"The basic underlying and uniting force of the universe is a psychic energy field of love and soul consciousness (the Unified Field) which lies not only beyond time and space but ALSO beneath our deepest fears and whose principal property is the universal urge to unite."
That's quite a unified field theory. It's the topic of Allen Roland's dissertation, entitled "The Unified Field", chosen as one of the four leading entries nationwide for the 1998 Common Boundary/ Institute of Noetic Sciences Thesis and Dissertation Award.
But are there any practical applications?
Absolutely.
For example: You can save yourself a fortune in psychotherapy bills by downloading a copy of Allen Roland's new book Radical Therapy – Surrender to Love and Heal Yourself in Seven Sessions (Not Seven Years).
Dr. Roland's therapy actually works – even on the toughest cases. A Ph.D therapist with over 15,000 hours of clinical experience, Allen Roland specializes in treating veterans with PTSD, and delivers an amazing average of 60% reduction in symptoms. A veteran himself (he spent five years as a Navy fighter pilot),  Dr. Roland understands the trauma that results from being trained to kill. He knows that the stress of military service often causes hearts to wither up and die: PTSD is really post-traumatic heart disorder:
"In March 2005, PBS aired A SOLDIERS HEART where a physician on that show reported that every soldier in Iraq is forever emotionally changed after serving in combat. This can actually become a hardening of the heart whereas the soldier eventually becomes seemingly incapable of giving and receiving love and retreats into a lonely and impenetrable shell."
This hardening of the heart involves a kind of refusal of truth: the truth of our real feelings, the truth that we are all profoundly interconnected, the truth that "the enemy" is another human being like us, the truth of ultimate unity. When Americans hardened their hearts after 9/11 and vowed to march off to kill huge numbers of people who vaguely resembled those alleged to have annihilated the three World Trade Center skyscrapers, they were rejecting truth at all levels – including the ultimate, metaphysical level – and embracing a satanic lie.
A New England Journal of Medicine study found that three to five days after 9/11, nearly half of the American population suffered from PTSD induced by the television images of planes bursting into fireballs and buildings exploding into dust. (The "plane fireball" and "exploding buildings" images were endlessly repeated in sequence, in hypnotic fashion, to create the illusion of a causal link between the two sets of images – and drive that imaginary causal link deep into the collective unconscious where facts would never be able to remove it.)
So it isn't just veterans who need Allen Roland's heart-centered therapy. The whole country needs it. After 9/11, clinical psychologist Dr. Martha Stout explains, Americans  were "suddenly behaving like psychological trauma patients." Abu Ghaib, Guantanamo, insane and illegal wars, NSA spying – all symptoms of collective insanity. If we are all interconnected, as Dr. Roland believes, we have been (in essence) interning ourselves, torturing ourselves, spying on ourselves, going to war against ourselves. And we have been spending ourselves into bankruptcy, buying expensive and destructive "solutions" to non-existent problems.
This collective acting-out in response to trauma parallels our individual struggles. In Radical Therapy, Allen Roland recalls:
"I can still remember standing in the hall of my stepfather's house at age six, suddenly realizing I would never again see my grandfather ~ the person who had been the main source of love in my life. I vividly remember feeling complete panic and desperation, feeling utterly alone and full of hopeless despair.
"I remember when my grandfather eventually came to visit and how I refused to go out on the back porch to see him. I could not bear to face the repressed emotions of the original traumatic event that would be triggered by his leaving again. My heart had closed to block out these unbearable feelings. Emotionally, I had stopped growing.
"It was as if I had been separated from love, when in fact I had separated myself from love by closing my heart to avoid feeling pain. Soon after, I began frantically acting out to avoid these feelings. I stole, lied, set fires, even contracted asthma."
Stealing, lying, setting fires…that's pretty much what America has been doing since 9/11. If the chemtrailers keep at it, we'll probably catch asthma too.
Obviously the whole country needs to get therapy from Allen Roland – which is, amazingly enough, logistically feasible, since for the do-it-yourself therapy all you need to do is download his book. I hope his servers can handle the traffic.
Now I am getting very good at anticipating objections from readers – global warming skeptics who think I'm not skeptical enough, Zionists who think I'm anti-Semitic, Hitler fans who think I'm too anti-Hitler, 9/11 wonks like Jim Fetzer who want me to scorn nanothermite and embrace holograms…you know the drill. So for the record let me state that some traditionalists, anti-NWO activists, and Muslims are undoubtedly going to say:
"Allen Roland's ideas sound awfully new-agey. And the New Age, as we all know, is a satanic New World Order plot to establish one-world government and one-world religion. Is THAT the 'urge to unite' Allen's talking about?"
Hell, no. The NWO uses strife and division to create chaos and misery. They imagine that once they have created enough chaos, they will be in a position to impose their own order on the world. It would be a "new" world order in that it would be purely political and materialist, without any actual spiritual/religious content. Orwell's 1984 is the model, and Machievelli's The Prince is the how-to guide.
Allen Roland is re-stating the perennial wisdom of the great religious traditions – the New World Order's enemies.
Is Allen Roland a Christian? In 12 truths of the unified field, he writes: "Jesus was divinely human ~an evolutionary forerunner for a state of soul consciousness we will all eventually surrender to."
Whatever you want to call it, Allen Roland's brand of Christianity makes perfect sense according to my understanding of Islam. His "unified field" and "urge to unite" is an excellent translation of tawhid, "divine unity" or "making it one" – which is central to Islam. When he tells us to "surrender" (to love/tawhid) that's a re-statement of the word islam which means exactly the same thing.
Dr. Roland's "unified field," like God, is "beyond space and time but also beneath our deepest fears." As the Qur'an says, those who have surrendered to God (who is not only beyond space and time, but also beyond multiplicity, process, causality, and representation) "fear not, and neither will they grieve."
According to Allen Roland, the keys to heart-opening surrender are gratefulness and forgiveness.
To awaken gratefulness, he makes his patients write thank-you letters. In Islam, too, a cardinal virtue is shukr (gratitude). In fact, the word kaffir, the word commonly translated as "infidel," might be better rendered as "ungrateful truth-concealer." Dr. Roland has discovered that by awakening his clients' gratitude towards other people, he can also awaken their thankfulness for the gift of existence. Since existence = truth  = reality, and since God (al-Haqq) IS ultimate Reality (everything else is relative, ephemeral, ultimately unreal) we Muslims like to say al-hamdullilah (all praise and thanks are due to God).
Dr. Roland also has his clients forgive those who have wronged them. As I recall, Jesus (that revered Muslim prophet) advocated the same thing; and the central place of compassion and mercy, the keys to forgiveness, in Islam is indicated by the first two names of God being "the all-Merciful all-Compassionate."
Long story short, that sneaky Radical Therapy guy is such a radical that he's teaching our returning veterans ISLAM! Quick, somebody squeal on him to Pam Geller!
Come to think of it, Pam could probably use Allen Roland's therapy.
For more information listen to my new interview with Allen Roland. In it we cover the 12 truths of the unified field, discuss whether time is running out for the Dick Cheneys and apartheid Israels of the world, reflect on Allen's mystical vision in relation to the perennial wisdom of the prophets, sages and saints, and speculate on who will win the NCAA basketball tournament.
Dr. Kevin Barrett, a Ph.D. Arabist-Islamologist is one of America's best-known critics of the War on Terror.
He is the host of TRUTH JIHAD RADIO; a hard driving weekly radio show funded by listener donations at Patreon.com and FALSE FLAG WEEKLY NEWS (FFWN); an audio-video show produced by Tony Hall, Allan Reese, and Kevin himself. FFWN is funded through FundRazr.
He also has appeared many times on Fox, CNN, PBS, and other broadcast outlets, and has inspired feature stories and op-eds in the New York Times, the Christian Science Monitor, the Chicago Tribune, and other leading publications.
Dr. Barrett has taught at colleges and universities in San Francisco, Paris, and Wisconsin; where he ran for Congress in 2008. He currently works as a nonprofit organizer, author, and talk radio host.
ATTENTION READERS
We See The World From All Sides and Want YOU To Be Fully Informed
In fact, intentional disinformation is a disgraceful scourge in media today. So to assuage any possible errant incorrect information posted herein, we strongly encourage you to seek corroboration from other non-VT sources before forming an educated opinion.
About VT
-
Policies & Disclosures
-
Comment Policy
Due to the nature of uncensored content posted by VT's fully independent international writers, VT cannot guarantee absolute validity. All content is owned by the author exclusively. Expressed opinions are NOT necessarily the views of VT, other authors, affiliates, advertisers, sponsors, partners, or technicians. Some content may be satirical in nature. All images are the full responsibility of the article author and NOT VT.