Fails to keep election promise to see the situation in Gaza for himself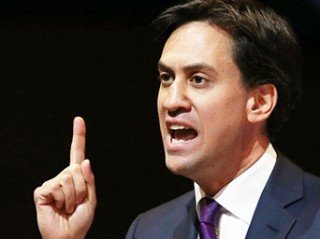 Ed Miliband, UK Labour Party leader and younger brother of former British Foreign Secretary David Miliband, has just been on a visit to Israel and occupied Palestine.
Ed, who is Jewish, is a wannabe prime minister. And he may succeed in taking the top job next year if Agent Cameron continues annoying the voting public.
A BBC report tells us that Miliband and his wife Justine "were shown where the rockets are fired which rain down on this Israeli town of Sderot.
"They visited a playgroup which looks like many you would see in the UK, until you realise the kids are playing inside instead of outside as they would not be safe under the deep blue sky and are only so under a roof of reinforced concrete." http://www.bbc.co.uk/news/uk-politics-26998207
The BBC, as usual when reporting on Israel, jettisons journalistic principles and fails to present a balanced, factual picture. How many Israeli children have actually been killed by garden-shed rockets "raining down" from Gaza? And how safe are Palestinian children from the frequent Israeli air-strikes?
How many have been slaughtered by Israel's state-of-the-art missiles, bombs, tank shells and other ordnance? I'll start them off… 1520 Palestinian children killed and around 6,000 injured since the year 2000.
Dr Mahmoud Al-Zahar, a co-founder of Hamas, underscored the situation in this chilling statement:
"They [the Israelis] have legitimised the murder of their own children by killing the children of Palestine. They have legitimised the destruction of their synagogues and their schools by hitting our mosques and our schools." Al-Zahar knows all about a father's grief. He has been the target of assassination attempts. His two sons were killed and his daughter injured in Israeli raids. Why doesn't the BBC go interview him?
The fact is, Sderot is vital to Israel's propaganda effort. It is an important plank in the regime's attempt to justify the bloodshed it has inflicted on the people of Gaza. The Israelis use it ad nauseam to brainwash the media and their own people. And Miliband E lapped up the nonsense that has been fed to so many before him.
When Western politicians are hustled along to Sderot does it never occur to them to ask, what right have the Israelis to be here? If they did a little homework they would know that Sderot is built on the lands of a Palestinian village called Najd, which was ethnically cleansed by Jewish militia in 1948 before Israel was declared a state and before any Arab armies entered Palestine. The 600+ villagers, were forced to flee for their lives. Britain was on watch as the mandated government while this and many other atrocities were committed by Jewish terrorists.
Najd was just one of 418 Palestinian villages and towns wiped off the map by Zionist Jews. It was not even allocated to the Jews in the 1947 UN Partition Plan but they seized it all the same and bulldozed its 82 homes. There is no American that I know, or Briton, who would stand for being thrown out of his home by foreign thugs.
Palestinian Arabs owned over 90 percent of the land in Najd and, according to UN Resolution 194 and also the Universal Declaration of Human Rights, they have a right to return home. But, as we have come to expect, Israel refuses to recognise the rights of others and will not allow them back.
The inhabitants of Najd, one supposes, became refugees in the nearby Gaza camps. The irony is that the sons and grandsons of some of those displaced and dispossessed families are very likely manning the rocket launchers…. Well, wouldn't you?
And who but an Israeli would be so arrogant as to live on land stolen from their neighbour at gun-point… and demand to be left in peace?
In a statement Ed Miliband told Labour Friends of Palestine and the Middle East: "If elected leader of the Labour Party, I would visit Israel and the Palestinian Authority and take a first-hand look at what is happening on the ground in Gaza." At a reception later, he said: "I did say I would make a visit to see for myself the situation and I promise to do that." http://www.lfpme.org/news-p120
Martin Linton, Director of LFPME, remarked: "We are glad that Ed has said he will go and see the situation on the ground in the West Bank and Gaza for himself. It is difficult for anyone to understand just how desperate the situation is until they have seen it for themselves…."
Did Miliband E drop in on Gaza for coffee with Dr Al-Zahar and Prime Minister Haniyeh? No. Instead of seeing the situation first hand as promised, he accepted whatever tosh came out of Israel's propaganda machine. So, was he prevented from visiting Gaza by Netanyahu, or did he plain forget?
Do let us know, Ed.
_________________________________
Stuart Littlewood worked on jet fighters in the RAF then pursued a career in industrial marketing.
More recently he worked as a freelance and with innovation consultancies. Psychology degree Exeter University, Member of the Chartered Institute of Marketing. Served as a Cambridgeshire county councilor 1993-97 and on the Police Authority. Associate of the Royal Photographic Society. Since retiring has been a newspaper columnist and produced two photo-documentary books. He is a regular contributor to a number of internet news magazines.
Stuart's book Radio Free Palestine, with Foreword by Jeff Halper, tells the plight of the Palestinians under brutal occupation. It can now be read on the internet by visiting RadioFreePalestine.org.uk.
ATTENTION READERS
We See The World From All Sides and Want YOU To Be Fully Informed
In fact, intentional disinformation is a disgraceful scourge in media today. So to assuage any possible errant incorrect information posted herein, we strongly encourage you to seek corroboration from other non-VT sources before forming an educated opinion.
About VT
-
Policies & Disclosures
-
Comment Policy
Due to the nature of uncensored content posted by VT's fully independent international writers, VT cannot guarantee absolute validity. All content is owned by the author exclusively. Expressed opinions are NOT necessarily the views of VT, other authors, affiliates, advertisers, sponsors, partners, or technicians. Some content may be satirical in nature. All images are the full responsibility of the article author and NOT VT.