– First published May 9,  2014  –
Vets continued to take casualities even inside the VA system

[ Note: While in college I was working my first day for a car dealer with a group of three others frat bothers shuttling used rental cars for a rental agency back to the dealer for new ones.

On the way when I was passing a truck out in the country, he made a left hand turn without making a signal and I piled into him at a good rate of speed.

It tood 30 minutes for the rescue squad to get me out of the car, and then I was taken to a small rural clinic where they put me in the morgue because the one emergency room already had someone in it. Because I did not have medical insurance ID with me they said they could not treat me. I never saw a doctor, only a nurse.

And then to my total shock they asked me "where I wanted to go" like I was at a travel agency or something. She named a few hospitals in Raleigh NC where I was going to NC State and said yes to the one whose name I recognized, but was very anxious because it was an hour away.

I had made the worse move possible during the wreck, hitting my brakes and THEN turning the wheel right to try to miss him. I should have done the reverse. All that did was to turn the car sideways. I remember distinctly as I was sliding toward the rear corner of the truck that I had just made the center of impact to be the center of my door.

Fortunately I had the presence of mind to lean over  just before impact. The impact pushed the door through to the center of the car and the seat down through the floor. The truck's tail end came in just over my head as I was leaning over.

Vets are promised access to care,,,but that is not perfect care…as it is not anywhere else.

While waiting for the staff to come and load me into the ambulance I did not know that besides the broken ribs and collapsed lung, I had a ruptured spleen. No one came to get me.

I then learned from the nurse that because it was a county ambulance it could not cross the county line, so they were waiting for Wake Memorial's ambulance to come from Raleigh, which would make the round trip now 2 hours. Ouch!

I asked when was the doctor going to check me out, to my further shock she told me that because I was being transferred they could not treat me…because of liability purposes. When I asked why, she explained that if I died in route after having been treated they could be sued for negligence, but not if they had not treated me. You just can't make this stuff up.

So two hours later I get to Wake Memorial and they carry me in and put me down in the hallway, where no one paid any attention to me at all. We are now at about four hours after the wreck. I got the attention of someone's family member standing around and gave him the quick story and he started raising hell and they finally got me to a bed. But the saga was not over.

After a quick review by a neurosurgeon who determined that I had no brain damage…nothing happened. When I asked when I would be looked at by a "real doctor" the nurse told me they had a surgeon "on the way" but he was held up in rush hour traffic. Mind you this was the largest hospital in Raleigh, and they did not have a surgeon on duty. I began to think I was in a Twilight Zone show…a real life one.

Dr. Preston Gada  finally got there and deduced quickly that because my blood pressure was the lowest he had ever seen I had internal bleeding. Emergency exploratory surgery found the ruptured spleen and he told me later that another 30 minute delay and I would have been dead.

Older chronically ill veterans find themselves competing with chronically ill under vets

I share this story not because I want to cut in line for attention with the vets, but only for framing that when one is involved in a serious accident or illness, you are not instantly transmitted to a perfect world. You will be treated in the imperfect one.

The first mistake made here was that my three fraternity brothers continued on their trip to take the cars to their destination. One of them should have stayed with me all the way. But it was the first time for everybody.

You live and learn as these thing happen, and sometimes you don't live.  That is why I put the plug in for Shinseki in this interview that I knew that 100,000 people a year die in US hospitals due to mistakes, a statistic that is not widely distributed.

This feeds a huge lawsuit industry and pushes premiums way up. I am only typing now, because my bad luck that day was not terminal bad luck. And for that I have been most grateful…JD ]
_______________________________
US military veterans and their families experience "a lot of frustration" from inadequate medical care in the veterans' healthcare system, a political commentator in Atlanta says.
You can listen to the 3.30 minute audio interview at Press TV here: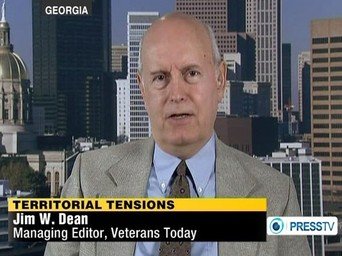 Wounded and disabled veterans "have a lot of problems" with the Department of Veterans Affairs, said Jim Dean, managing editor and columnist at Veterans Today.
The department's backlogs and mismanagement "have made many people hostile," Dean told Press TV on Thursday.
"We have had cases where certain hospitals were overloaded…people that are older and very sick, they're trying not to spend a lot of money on them and use some of the money for the more recent soldiers," he added.
Veterans Affairs Secretary Eric Shinseki said on Wednesday he was "angry" over claims that as many as 40 people died while waiting for medical care in the veterans' healthcare system and wants a full investigation.
Veterans Affairs is the biggest US healthcare system, with 1,700 hospitals, clinics and other facilities. It has nearly 9 million people enrolled.
Meanwhile, new research shows that more than a quarter of US veterans from the wars in Iraq and Afghanistan have difficulty getting enough food, almost double the food insecurity rate in the general population.
Food-insecure veterans are more likely to be alcoholic, use tobacco, get less sleep and be unemployed than those who have enough food, according to the study published May 7 in the journal Public Health Nutrition.
Since 2003, suicide among active-duty members of the military and veterans has soared to record levels. An estimated 22 veterans killed themselves each day in 2010, compared with 18 per day in 2007, according to the latest figures available from the Department of Veterans Affairs.
______________________________
Jim W. Dean is Managing Editor of Veterans Today involved in operations, development, and writing, plus an active schedule of TV and radio interviews.
ATTENTION READERS
Due to the nature of independent content, VT cannot guarantee content validity.
We ask you to
Read Our Content Policy
so a clear comprehension of VT's independent non-censored media is understood and given its proper place in the world of news, opinion and media.
All content is owned by author exclusively. Expressed opinions are NOT necessarily the views of VT, other authors, affiliates, advertisers, sponsors, partners or technicians. Some content may be satirical in nature. All images within are full responsibility of author and NOT VT.
About VT
-
Read Full Policy Notice
-
Comment Policy