The break-up of Iraq was entirely predictable.  As I said at the time both Britain and America pulled out too early, without having sorted either Syria or Iran.
I have never supported Nouri al-Maliki.  He has always been far too close to Iran and he has mis-governed Iraq.  He is Shia, looks out for Shia interests and has caused a complete collapse of Sunni confidence in the government.
I am not speaking with the benefit of hindsight.  I said in 2003 that the pre-coup constitution should be restored, and the most legitimate prince, i.e. the prince closest in the line of succession to King Faisal II, restored to the throne.
Faisal of course was brutally murdered, on German orders (it was a German-sponsored coup) in 1958.  Whilst a Sunni, King Faisal was able to command loyalty from both Shias and Kurds.  He was a focal point of national unity and during his reign Iraq was largely peaceful and prosperous.
I was struck by the association in the comments on last week's article of monarchy and autocracy.  A true monarch is as much bound by the law as an elected president.  That was set out as long ago as the 13th century by England's greatest constitutional scholar, Bracton.
As I explain in Spyhunter, the American colonies were mis-governed by French assets in Westminster, trying to break up the British Empire, not nice old King George, who barely knew what His idiot government were up to.
Iraqis complain about the Allied invasion in 2003, in response to 9/11, but people forget that they enjoyed stable, democratic government in the 1950s, and that many Iraqis supported the brutal murders of their king and members of his family, including the women.
The 1958 coup of course paved the way, eventually, for Saddam Hussein, and decades of war and bloodshed. Iraqis may whine about what has happened to their country but before supporting al Qaeda's attack on New York, Iraq launched two regional wars, against Iran and Kuwait. Their behaviour in both wars was brutal.
---
The Naqshbandi Army
It was an article of faith at CIA after 9/11 that secular Ba'athists and al Qaeda terrorists could not work together. There were two flaws with this argument, apart from the fact that it was bollocks.
The first is that the Ba'ath Party had a history of working with Islamists, the 1958 coup being a prime example. Saddam reached out to Islamic nutters after his defeat in the Gulf War, going so far as to add the Takbir to the national flag.
As I expose in Spyhunter (many thanks by the way to 'Boss One' for his gracious comments about the book in response to last week's column!) bin Laden first 'met' Saddam (they were proximity talks) in about 1989. Bin Laden next visited Baghdad in 1998, staying at the al-Rashid Hotel, although there may have been other visits.
Dr Hamid al-Bayati, in his very important book, published in response to 9/11, The Terrorism Game, lists a series of meetings between senior Mukhabarat officers and al Qaeda.  Only 500 copies were ever printed, but don't let the lack of sales success fool you. It was too important a book for the mainstream media to review.
The second flaw in DDI's post 9/11 analysis was the failure to appreciate that terrorism is a state-sponsored phenomenon. So are coups, successful ones at any rate (any idiot, even Vince Cable, can stage a failed coup).  Since al Qaeda and the Ba'ath Party were both sponsored by the German DVD it stood to reason that they could work together.
As I argue in Spyhunter, bin Laden was not actually a fundamentalist – he was too intelligent. Most religious nutters are not that bright (when did you last meet a highly intelligent Methodist?).
The jihadi outfit was strictly for the videos.  When he had lunch with a friend of mine (obviously in INTELCOM) in early 2005 the guy was wearing a business suit and had lost the beard. (That lunch became famous, as I tipped off NSA to the approximate location, detailed the perimeter defense arrangements, noted by my very observant friend, and you guys got some nice overheads of his safe house – the Obama Administration have lied through their teeth about the death of bin Laden).
We have seen further proof in the last 14 days of the ability of jihadists and Ba'athists to work together on the ground, with the basically Ba'athist Naqshbandi Army working in close alliance with Isis. Those infamous executions of captured Iraqi soldiers seem to have been carried out by Ba'athists.
Don't get too carried away by the Islamist scarves and jihadi outfits. A Democrat can wear a nice suit, but it doesn't make him a gentleman, unless he's from the South.
---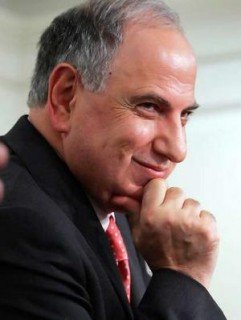 Chalabi
There is no way out of this mess which does not involve airstrikes and boots on the ground. We can't go back in because we've slashed the size of our army, stupidly and short-sightedly, so it looks like its down to you guys, again.  I'm not happy about it – I think the US has been asked to do too much in the War on Terror – but there is nobody else.
The Russians are absorbed by the crisis in the Ukraine, the Europeans are backing Isis, because Germany wants to reverse the sensible Sykes-Picot Agreement and break up Iraq, and we have a weak government and way too small armed forces.
The obvious political leader of Iraq, as he has been since the mid-1990s, is Ahmed Chalabi. The monarchy should still be restored, ideally with the pre-1958 constitution, although that is unlikely to happen.
The post-2003 constitution has collapsed amidst civil war, and there will have to be greater autonomy for the Kurds at least. It won't be a lasting constitutional settlement, but until the Administration grasp that monarchy works, there is no hope of a stable constitution for Iraq.
The best that can be hoped for are sticking plaster solutions that can hold things together between crises. It's rather odd that the only stable Muslim countries in the Middle East are monarchies and all the republics are run by whackos, but Washington wants more republics!
Germany's covert desire to control Iraq, which goes back to the break-up of the Ottoman Empire, will ensure that Iraqis continue to suffer. There will never be peace in the Middle East until we sort out the DVD, a close ally of Iran and the largest sponsor of terrorism in the Middle East.
The recent moves of ISIS bear all the hallmarks of DVD strategic planning, indeed the Germans would probably have been planning this move at the same time as their allies in London, Washington and the media were pushing for the Allies to abandon Iraq and expose Baghdad.
The DVD don't just give up and go away. If you throw over a DVD asset like Saddam they usually have a plan B. The move on Baghdad also takes the heat of Assad, a German ally.
---

MH 370
Last week saw a very silly program, no offense intended, on BBC2's Horizon program.  Pushing the Peking/Kuala Lumpur line that MH 370 magically evaded Malaysian and Vietnamese radar and flew down to the southern Indian Ocean, it featured a lot of unconvincing comment from Inmarsat.
This is the British satellite company that discovered 7 days after the plane 'went missing' that the Earth is round, although that's not quite how they put it.
The programme was a piece of pure propaganda. It dared not mention the shoot-down theory, let alone interview me, although I am the only commentator anywhere in the world to have stated that the airliner was shot down. Anyone making a programme about MH 370 in good faith would surely at least want to talk to me.
The program-makers lied to the viewing public, by seeking to create the impression that MH 370 took off with a full fuel load, by giving the maximum range figure. Very long range commercial planes don't carry a full fuel load on medium range flights.
The BBC however do not want people finding out that the Chinese shot down MH 370. They probably know the truth, at a high level of the Corporation, and banned any approach to me. The 'Beeb' reports to the Cabinet Office, albeit via backchannels (there is a BBC Trust, appointments to which are effectively in the gift of the Cabinet Office), and the Cabinet Office knows the truth. It controls the intelligence services, and GCHQ have the satellite piccies of the shoot-down. You would be amazed at how well missile exhaust shows up on infra-red on a dark night.
The program was a disgrace, and a further insult to the long-suffering families of the murdered passengers. They will continue to be given the run-around. Because the plane was shot down by China they will face a wall of official denial for decades to come. The  Titanic cover-up is now into its second century. Bureaucrats are basically snivelling cowards, no offense intended.
There is almost no limit to their cowardice and willingness to lie. It doesn't matter whether it's London or Washington, Peking or Kuala Lumpur. There is not even a remote possibility of any official, anywhere, summoning the moral courage to tell the truth about Flight MH 370.
---
Review: Timeless, Sky Arts Channel, Playhouse Presents,
series 3, episode 8, airdate June 18th 2014, dir. Tim Firth
This is not a classic, but it will be. I am sorry that most readers will not be able to see it on TV, although it should be downloadable from Sky. Starring that fine actress Sylvia Sims and a small but strong supporting cast, led by Cara Delevinge, this short television play is both funny and intensely moving.
The plot is realistic. The play is set first in wartime Whitby, the delightful North-East fishing port. Sylvia Sims's character has just spent the first night of her honeymoon with her new husband, a Flight Lieutenant in the RAF. We know he is about to rejoin his squadron, but we don't know what type of kite he is flying, or what sort of danger he is about to face.
The play then moves forward to the present day.  Sylvia's character is now a slightly dotty great-grandmother.  She is being 'great-granny-sitted' by her charming young great granddaughter, whose husband is serving with the RAF in Afghanistan.  She collapses, fearing the worst, when a nice lady Flight Lieutenant calls at her great-gran's house.  Her grief is all too real and the Flight Lieutenant, whose sad job it is to notify relatives that their loved ones have gone, realises that she has a relation in the forces.
She has come with bittersweet news for great-gran however.  Her much-loved husband's body has been recovered, in Iceland, after 69 years.  The pair fly to Reykjavik.  As the nice Fight-Lieutenant explains her husband's Short Sunderland flying-boat had crashed on a glacier.
The intense fire melted the ice, but it swiftly refroze, entombing her crew in the glacier and preserving their bodies.  There is then a deeply moving scene as Slyvia Sims's character is re-united, briefly, with her long-dead husband, who had left her with child on their honeymoon.
Great-gran and great granddaughter are brought together by the shared experience of having a loved one go in harm's way.  No veteran or family member of a veteran could fail to be moved by this superb program.  It perfectly illustrates the price paid not just by those who serve, but by those who are left behind.
It ought to be shown on American TV, primetime, and seen by every clown of a military and political leader who wants to throw away lives in the military by not acting on good intelligence advice.
Michael Shrimpton is a barrister, called to the Bar in London 1983. He is a specialist in National Security and Constitutional Law, Strategic Intelligence and Counterterrorism.
Michael was formerly an Adjunct Professor of Intelligence Studies in what was then the Department of National Security, Intelligence and Space Studies at the American Military University.
Michael's ground-breaking, 700 page intelligence text "Spyhunter: The Secret History of German Intelligence" was published in England by June Press on April 14th 2014.
Editing: Jim W. Dean and Erica P. Wissinger
Michael Shrimpton was a barrister from his call to the Bar in London in 1983 until being disbarred in 2019 over a fraudulently obtained conviction. He is a specialist in National Security and Constitutional Law, Strategic Intelligence, and Counter-terrorism. He is a former Adjunct Professor of Intelligence Studies at the American Military University.
ATTENTION READERS
We See The World From All Sides and Want YOU To Be Fully Informed
In fact, intentional disinformation is a disgraceful scourge in media today. So to assuage any possible errant incorrect information posted herein, we strongly encourage you to seek corroboration from other non-VT sources before forming an educated opinion.
About VT
-
Policies & Disclosures
-
Comment Policy
Due to the nature of uncensored content posted by VT's fully independent international writers, VT cannot guarantee absolute validity. All content is owned by the author exclusively. Expressed opinions are NOT necessarily the views of VT, other authors, affiliates, advertisers, sponsors, partners, or technicians. Some content may be satirical in nature. All images are the full responsibility of the article author and NOT VT.