The Porcupine Freedom Festival is a prickly place. Sponsored by the Free State Project – a group dedicated to moving freedom-loving people to New Hampshire – it attracts all 1001 libertarian flavors. Needless to say, not all of them blend harmoniously.
In some ways PorcFest is a funhouse mirror image of the mainstream America it seeks to escape. The love of freedom at the heart of the American creed, here, looks much larger and weirder. "Liberty: Too Big to Fail" reads one oversize sign. DON'T TREAD ON ME flags featuring un-treadable-on snakes or porcupines flutter proudly in the ganja-scented breeze. A sizable fraction of the folks here are visibly packing heat…including dozens whose daily wardrobe would not be complete without an assault rifle. It's a gun nut's paradise and a gun controller's nightmare – a living, breathing advertisement for the notion that guns keep the peace. And they do. Somehow these people are getting high and waxing boisterous, peacefully. Quick, somebody call the cops – and tell them to stay at the donut shop!
PorcFest is a reverse-image bizarro-world version of America. Here, one thing everybody can agree on is that they love the Muslims. As an American Muslim, I find this refreshing.
The Muslims PorcFest people love most are the pair behind Muslims for Liberty, Will Coley and Davi Barker (who will appear on Truth Jihad Radio this Monday). Will is a talented organizer and fire-breathing public speaker; Davi is a fine writer and creative thinker. Both are hardcore entrepreneurs – "agorists" they call it here. Will is selling spice-it-yourself (SIY) Indian food, while Davi's booth is full of books, T-shirts, and alternative currencies. Everybody seems to agree that these two guys, who happen to pray to Allah five times a day, are beloved embodiments of the libertarian ideal.
Besides, they give away free food – an anomaly for libertarians who believe Milton Friedman was right, there's no such thing as a free lunch. Ramadan is beginning, so Will spearheaded a celebratory "feed the multitudes" iftar meal at sundown. This generous behavior is part of Shariah, "God's law," which asks Muslims to give away free food at sunset during Ramadan, and to reach out to non-Muslims in a noble and magnanimous way. So it looks like PorcFest has fallen under Shariah law. Pam Geller, eat your heart out!
Besides "loving our Muslims" and loathing the state, there isn't much at PorcFest that everyone agrees on. One salient schism separates the wild-and-crazy anarchists who are open to everything, including beating the 9/11 truth drums, from the Young-Republicans-who-don't-really-hate-freedom-all-that-much-and-yearn-for-future-funding-from-the-Koch-Brothers. Naturally I gravitated to the anarchists' tent.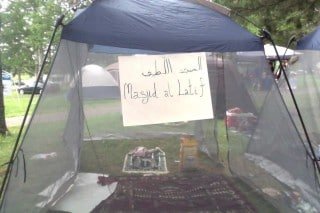 They call themselves AltExpo. One of the ringleaders, Jack Shimek, recognized me as a 9/11 truth troublemaker and invited me to speak that night. He asked for a speech title. I said, "how about, If You're a Libertarian but not a Truther, You're an Idiot." He wrote it down as "Truth and Liberty." I guess even Jack has his limits.
I told the crowd that 9/11 truth was the greatest anti-state commercial of all time…while the almost self-evidently false Official Conspiracy Theory (OCT) was the by far the most influential (and vulnerable) piece of pro-state propaganda ever fabricated. So…In this hand, I have a billion dollars for the Liberty Movement. In the other, I have a bullet. Which one do you want?
Most of them got it. But a few expressed reluctance to embrace the certainty of 9/11 truth. One bright young coding whiz named Justin admitted that the 9/11 Commission Report was a whitewash, but balked at facing the obvious implications. Later I even found an OCT defender – an Ivy League law graduate. He promised to debate me on my radio show…after doing a few months of research. I told him that after a day or two of research he was going to admit I was right.

Another somewhat controversial issue at PorcFest is whether it's okay to assert that shooting police officers is morally justified. (Libertarians oppose the initiation of violence, and when a cop pulls you over by force it's a violent act…so, according to purists, you're within your rights to shoot the bastard.) A popular blogger named Christopher Cantwell was barred from PorcFest this year for supposedly crossing the line on this question. At least that was the first story I heard. Then PorcFest security issued a correction, saying that the real issue was Cantwell's 2012 drunk driving conviction. Whatever the real reason for the ban, getting thrown out of PorcFest for being too libertarian is impressive. Cantwell is now a living legend, like Michael Aquino (expelled from the Church of Satan for being too evil) and ISIL (expelled from al-Qaeda for being too extreme).
The pro-Cantwell contingent plastered the campground with posters suggesting that despite the ban, Cantwell himself would be sneaking into PorcFest on Friday to give a talk. But at the appointed time, it turned out that Cantwell's "appearance" was via Skype on somebody's tablet. PorcFest security had been searching vehicles coming into the campground for nothing. "I'm sitting here at home watching NetFlix and laughing my ass off," he said. Then he went on to lambast the Free State project: "These people are liars. FSP is a business. They're being paid to fail." Cantwell urged his audience to avoid PorcFest in the future. Sour grapes? In any case, the audience was having a blast. Cantwell's scandalous non-appearance was just another form of "only at PorcFest" shock-value entertainment.
No article about PorcFest would be complete without mentioning hemp and cannabis. Did I mention hemp and cannabis? Sorry, my short-term memory isn't what it used to be. Seriously, folks, the long-term one isn't either. Heck, it's been so long, I can't even remember when I last smoked pot.
Getting through two PorcFests without touching the stuff has been quite an ordeal. I hope such saintly self-restraint helps qualify me for a higher station in Paradise. As it were.
The keynote speakers this year, Nick Gillespie and Joel Salatin, came across as very different types of libertarians. Gillespie is a New World Order libertarian. He takes Koch Brothers money, writes for Reason magazine as well as lamestream outlets like Time and the Daily Beast, avoids reflecting on 9/11 and the police state it spawned, and espouses the upbeat view that we're getting ever-closer to a libertarian consumer-culture paradise due to the ever-wider variety of products you can find in your local Wal-Mart, along with the ever-larger number of degenerate sexual acts (and resulting sexually transmitted diseases) that are becoming socially acceptable.
Gilespie illustrated his point by holding up two Pop Tarts: A boring old 1960's-style Pop Tart (they only had four flavors back then) and an exciting new 2014 model (they now come in fancy-colored wrapping in a variety of flavors and colors). Wow. I'm thrilled. Can't wait till my next visit to the Pop Tart section of Wal-Mart so I can get my fix of GMOs.
If you watch Gillespie's talk on youtube, please note that I'm the heckler. (When Gillespie lamely excused the US invasion of Afghanistan by saying "Osama Bin Laden did 9/11" I'm the guy who yelled "NOT" and got a big laugh from the crowd.)
Joel Salatin followed Gillespie's talk with a blistering, hilarious jeremiad against corporate agriculture and the government over-regulation that keeps it corporate. Salatin is America's most famous farmer – a guy who produces more good, healthy, organic food per acre than the techno-farmers can produce bad, toxic frankenfood. But the bureaucrats think his methods are unsound. So Joel is at war with the Department of Agriculture and all of its disgusting appendages. Go, Joel! The man is a real live wire. If you want to save the world by fixing the food supply, sell everything you own and go follow this guy.
As I post this, I am dizzy from fasting the first day of Ramadan, and preparing to join Goshe King, John Blithe, and Chuckleberry Griffenburg of We Are Change New Hampshire for a panel discussion of 9/11 and the police state. (Yes, 9/11 truth managed to sneak onto the official PorcFest schedule this year.) Then it's time for a long drive back to Wisconsin.
See you at PorcFest 2015…insha'allah.
Dr. Kevin Barrett, a Ph.D. Arabist-Islamologist is one of America's best-known critics of the War on Terror.
He is the host of TRUTH JIHAD RADIO; a hard driving weekly radio show funded by listener donations at Patreon.com and FALSE FLAG WEEKLY NEWS (FFWN); an audio-video show produced by Tony Hall, Allan Reese, and Kevin himself. FFWN is funded through FundRazr.
He also has appeared many times on Fox, CNN, PBS, and other broadcast outlets, and has inspired feature stories and op-eds in the New York Times, the Christian Science Monitor, the Chicago Tribune, and other leading publications.
Dr. Barrett has taught at colleges and universities in San Francisco, Paris, and Wisconsin; where he ran for Congress in 2008. He currently works as a nonprofit organizer, author, and talk radio host.
ATTENTION READERS
Due to the nature of independent content, VT cannot guarantee content validity.
We ask you to
Read Our Content Policy
so a clear comprehension of VT's independent non-censored media is understood and given its proper place in the world of news, opinion and media.
All content is owned by author exclusively. Expressed opinions are NOT necessarily the views of VT, other authors, affiliates, advertisers, sponsors, partners or technicians. Some content may be satirical in nature. All images within are full responsibility of author and NOT VT.
About VT
-
Read Full Policy Notice
-
Comment Policy