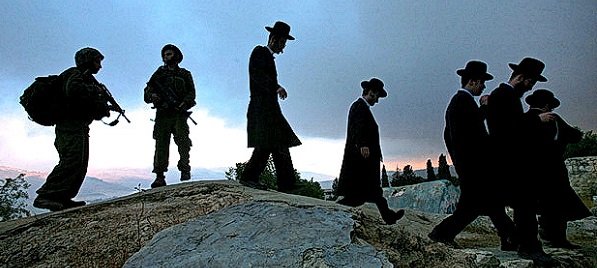 One of Uri's books that no one ever heard of.

[ Editor's note:   I had been waiting for Uri to weigh in on the missing teens. As expected, he gives us a detailed run down on the Likuds milking the incident for all the hate that can be generated toward the Palestinans to support the ongoing group punishment, a Zionist Supremacist specialty.

Jewish elites have always had a great talent for manipulating their flock. Sure, all politicians and political parties who rise to leadership power have these skills, but I am talking about something deeper, more perverse.

I am talking about brain-washing them into becoming remorseless aiders and abettors of Israeli state terror… because they have a reason, one that requires no world community acceptance, whatsoever. The Zios have told all the rest of us to go straight to hell more times than we can remember.

Nothing drives Zionists more crazy than being compared to Nazis, both in their supremacist ideology and their harsh method when emanated from the former.They twist their own perversion into a cheap victimology, which they then hawk like carnival barkers and spit on the non buyers, as the extremist Ultra Orthodox Jews do when they pass a priest wearing a cross. Western media never reports a word of this.

They also did not report that many of the Palestinians being rounded up in the night raids were formerly released in the Shalit prisoner exchange, basically reneging on the exchange. Uri is too nice to say this, but these acts are designed to trigger hotheads to begin the bombing attacks of the past.

Uri was still protesting with Gush Shalom in his 80's.

When Israeli leaders feel their grip slipping on their own, plus the world community, nothing changes that dynamic quicker than a new round of attacks on Jews.

It is written in stone that no one will care if there are reprisal attacks for Israeli terrorist attacks, as mass media pretends such things do not happen.

Because it has worked so well in the past, they keep going to the well when they feel the need. And that will never stop until we change the dynamic.

We have to come up with our own form of nightraids on the Israeli leadership and corresponding group punishment for the rank-and-file Jews there, a total boycott of everything Israeli until they change their ways. It is way past time to use the Zionists' own methods on them. I will be the first to vote for the new policy … Jim W. Dean ]
_________________________
One side's terrorists are the other side's freedom fighters. That is not simply a matter of terminology. It is a difference of perception, which has far-reaching practical consequences. Take prisoners, for example.
For the freedom fighter, achieving the release of imprisoned comrades is a sacred duty, for which he is ready to sacrifice his life.
One of the most daring exploits of the Irgun underground (of which I was for a time a very junior member) was to attack in force the British prison in the Crusader's castle in Acre and release hundreds of prisoners. For our colonial masters, this was considered a dastardly terrorist act.
This should be clear to our present government, based on the Likud party, which was originally founded by former Irgun fighters. However, these are long gone, and present Rightist politicians and military officers are just a bad copy of our former British colonial rulers. They have no idea how the militant's mind works.
This is the core of the incident that has dominated Israel's life for the last two weeks.
At ten o'clock pm, two weeks ago, three teenagers from a settlement yeshiva near Hebron stood at a lonely road crossing, trying to hitchhike to their settlement homes. Since then they have disappeared.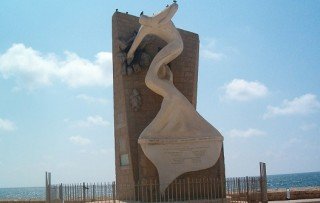 It was immediately assumed, quite logically, that they had been snatched by a Palestinian group in order to carry out a prisoner exchange. Until now, no known organization has claimed responsibility and no demands have been presented.
Thus it is not the same as the capture of the soldier Gilad Shalit some years ago. Shalit was held in the Gaza Strip, which is densely populated by Palestinians and controlled by Hamas.
The West Bank, on the other side, is riddled with Israeli settlements, and it is only a slight exaggeration to say that every tenth Palestinian there is an Israeli informer.
Forty-seven years of occupation have given the Israeli Security Service innumerable opportunities to press Palestinians into their service by blackmail, bribery and other means. Yet so far no sign of the captors or captured has been detected – an extraordinary achievement by the perpetrators.
________________________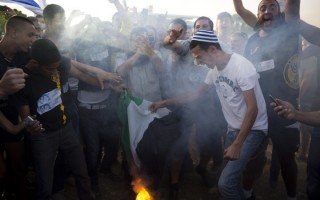 The Netanyahu government immediately saw in the incident an auspicious opportunity. Without the least evidence (as far as we know) it accused Hamas.
The next day (there was a slight delay because of police incompetence) a huge double operation went into action. Many thousands of soldiers were employed to comb the countryside and conduct house-to-house searches.
But at the same time, an even bigger operation that had obviously been prepared a long time in advance, started an attempt to eradicate Hamas in the West Bank.
Night after night, everyone with the slightest connection to Hamas was arrested. Groups of heavily armed soldiers burst into people's homes, pushed away the frightened children and women, dragged the men from their beds, and took them away, handcuffed and blindfolded.
They numbered many hundreds – social workers, teachers, preachers, everyone belonging to the large social and political network of the Hamas movement.
Among the arrested were many released in the Shalit prisoner exchange. The Israeli political and intelligence leadership had agreed to that lopsided exchange (one hostage for more than a thousand prisoners) only under immense public pressure, and had obviously decided even then to return them to prison at the earliest opportunity.
Not by accident was it disclosed this week that one of these released prisoners had been accused of killing an Israeli some months ago. It must be assumed that, while most prisoners are grateful to return to their families after decades of incarceration, some of the most determined indeed returned to militant activity.
The effort to eliminate Hamas is foolish. Hamas is a religious movement that exists in the hearts of its adherents. How many can you arrest?
During these two weeks, Israeli society showed itself in the worst possible light – as an armed ghetto, devoid of compassion for others and incapable of rational thinking.
True, the first reaction was not uniform. I have heard several people in the street cursing the three missing young settlers for their stupid arrogance, standing in the dark of the night in the middle of the occupied territory and climbing into a strange car.
Such impious sentiments were soon washed away by a huge wave of brainwashing, which was well-nigh inescapable.
It is a universal trend for peoples to unite in a national emergency. In Israel, this is amplified by the ghetto reflex, formed by centuries of persecution, for Jews to stand together against the evil goyim.
The deluge of government propaganda assumed incredible proportions. Almost the entire coverage in the newspapers was devoted to the military operations. Radio and TV extended this coverage live around the clock, 24 hours daily, day after day.
The journalistic establishment was led by the "military correspondents", almost all of them former army intelligence officers, who were acting as agents for the army spokesman, reciting army communiqués as though they were their own disclosures and insights.
No difference between the various stations and newspapers could be detected. If some liberal commentator dared to voice a word of criticism, it was very muted and concerned only minor details.
_______________________
There are no coincidences
By chance, at the same time, a bill was making its way in the Knesset. It would make any prisoner exchange illegal – a rare case of a government handcuffing itself. It forbade the government giving amnesty to "security prisoners" or negotiating prisoner exchanges. This means death to hostages.
In their incredible naivety – not to say stupidity – right-wing politicians believe that this would deter hostage-taking. Anyone with even a slight comprehension of militant mentality knows that the effect would be the very opposite: take more hostages, increase the pressure to free prisoners.
The lives of hostages would become very cheap indeed. The present endeavor of the intelligence agencies and the army to discover the whereabouts of the three absentees, if successful, would lead to an action to free them by force.
As experience shows, in such a situation, the chances of the hostages surviving are slim. Caught in the crossfire, they are killed either by their captors or – more frequently – by their liberators. Yet not a single voice in Israel raised this crucial point.
_______________________
Response to Stress – Not All Mothers Look Devastated all the time
The Shalit family, ordinary secular Israelis, were acutely aware of this danger to their son.
Not so the families of the three missing settler-boys, all of them settlers belonging to the extreme Right. They have become willing agents of government propaganda, calling for mass prayers and support for the settler movement.
Their rabbi explained that the capture of the youngsters was God's punishment for recent efforts to compel religious youths to serve in the army. The government is obviously far more interested in a political propaganda victory than in securing the release of the hostages.
The main aim is to pressure Mahmoud Abbas to abandon the inter-Palestinian reconciliation and to destroy the new experts-only Palestinian government. Abbas resists. He is already widely denounced in Palestine, because of the ongoing close cooperation between his security forces and the Israeli ones, even while the Israeli operation is continuing.
Abbas is playing a very dangerous game, trying to balance all the pressures. Whatever one's political opinion, his courage cannot be denied.
The Israeli leadership, living in its bubble, is totally unable to understand world reaction, or the lack of it. Before it all started, the number of Palestinians, including children, killed by live fire during demonstrations had steadily increased.
Apparently, the rules of engagement, as understood by the soldiers, have made this easier. Since the present operation started, more than five non-combatant Palestinians have been killed by the army, some of them children.
In the Israeli edition of the New York Times, a large part of the front page was taken up by the picture of a Palestinian mother grieving for her child, not by the hostages.
But when the three mothers, who were sent for propaganda purposes to the UN human rights commission in Geneva, were accorded a chilly reception, the Israeli government was astonished.
Delegates were more interested in human rights violations by Israel than in the hostages – for many Israelis another glaring example of the anti-Semitism of the UN.
_______________________
Give Peace a Chance
More than anything else, this episode shows again how desperately we need peace. The inter-Palestinian reconciliation could bring peace nearer – and therefore the Israeli Right, and especially the settlers, wants to destroy it.
I believe that the settlements are a disaster for Israel. But my heart bleeds for the three boys – two of them 15 years old, one a bit older – who are now being held in conditions it is hard to imagine, if they are still alive.
The best way to prevent hostage-taking is to release prisoners voluntarily.
Even the Security Service cannot seriously maintain that all the many thousands of political prisoners now in our prisons constitute a mortal danger to our existence. An even better way forward is to end the occupation by making peace.
Editing: Jim W. Dean and Erica P. Wissinger

___________________________
Author Details
Jim W. Dean is Managing Editor of Veterans Today involved in operations, development, and writing, plus an active schedule of TV and radio interviews. He broke into television work doing Atlanta Public TV programs for variety of American heritage, historical,military, veterans and Intel topics and organizations since 2000. Jim's only film appearance was in the PBS Looking for Lincoln documentary with Prof. Henry Lewis Gates, and he has guest lectured at the Army Command and General Staff School at Fort Gordon, GA.
He is working to find time now to database his extensive video archive of Americana and interviews filmed during his public TV days so individual topic segments can be key word searched to quickly use in future multi-media projects.
Read Full Complete Bio >>>
Jim's Latest Posts
ATTENTION READERS
Due to the nature of independent content, VT cannot guarantee content validity.
We ask you to
Read Our Content Policy
so a clear comprehension of VT's independent non-censored media is understood and given its proper place in the world of news, opinion and media.
All content is owned by author exclusively. Expressed opinions are NOT necessarily the views of VT, other authors, affiliates, advertisers, sponsors, partners or technicians. Some content may be satirical in nature. All images within are full responsibility of author and NOT VT.
About VT
-
Read Full Policy Notice
-
Comment Policy