Parc des Expositions   Villepinte, France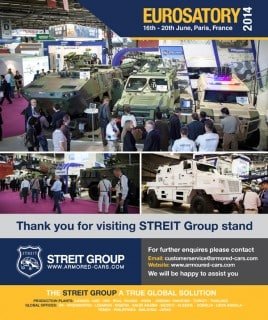 (June 16-June 20, 2014) – For one week every other year Eursatory brings corporations and SMBs together in Paris to meet all the important buyers and government agencies as well as other visitors.  This year there were 152 official delegations from 87 countries.  Eurosatory started as a defence exhibiton but today  it is also involved with security.
There is some relationship between these two areas such as in unmanned vehicles, surveillance cameras, communication means and other areas. This year there were 1,504 exhibitors  There were   55,770 professional visitors and 707 journalists. There were 172 official delegates from 88 countries.  The area was large 172,523 square meters including the outdoor exhbitions.  This year there were 1,504 exhibitors from 58 countries.   Six new countries: Argentina, Colombia, Hong-Kong, Iran, Iraq, Japan and Korea had exhibitions. Usually new countries have one exhibit from one company but Japan had   several  including Fujitsu Limited, Kawasaki Heavy Industries, Mitsubishi Heavy Industries and Toshiba Corporation.
Although I do not have any military background nor technical understanding of military defence and security equipment, I looked forward to attending Eurosatory. Although it is about an hour from where I live to get to the Parc d'Expositions in the North of Paris there was a strike on the suburban train which was the only public transportation to get there so it took much longer as there were about 1 train out of three trains running.  My interest was  primarily limited to vehicles, defence and security products that were new and innovative.  I found the experience intriguing.  I told the exhbitors that I was a journalist from Veterans Today with no military background and they gave me great presentations about their products and told me about their companies:  their products,  their achievements that they were proud of and their innovations.
Before and during the exhibition, companies and the press media sent me reports about companies I could visit.  Those I visited were truly fascinating.
Streit Group is the largest privately owned armored vehicle manufacturer.  Their motto is "Our company  shields you."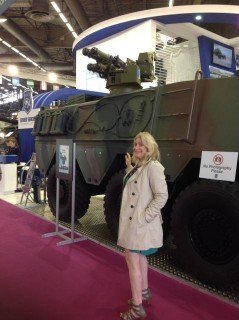 Although each vehicle had a sign posted  NO PHOTOS, as a journalist, I was invited  by  Allyson Higgins and  Rahan Majeed to take several photos.  The company began in Canada in 1992 and now operates out of Dubai in UAE.  Streit works independently and wlth original vehicle manufacturers.  Streit has achieved double digit growth revenue over the past  year  and plans to achieve triple digit growth through contract awards and new commercial and armoured personnel carrier lines.  President Obama  was protected in one of their cars when he visited Malaysia.  Streit is pleased to have  recently received their  largest contract ever: to sell 480 special purpose vehicles in Africa.
I was impressed by their new armoured Varan 6×6 forward fighting vehicle. It is armored up to a full STANG Level 4 and  provides some of  highest  ballistic and blast protection. The fact that it can accomodeate up to 10 people is significant.
Streit has shipped 17,000 vehicles for use in even dangerous situations and not even one casualty has been reported.
Streit wants to be able to provide vehicles for all budgets and is sensitive to customers' needs.   www.armored-cars.com
My two visits to Thales were extremely enlightening.
Thales is a global technology leader in  aerospace,transportation and defence & security markets. In 2013, the company generated revenues of €14.2 billion with 65,000 employees in 56 countries. With its 25,000 engineers and researchers, Thales has a unique capability to design, develop and deploy equipment, systems and services that meet the most complex security requirements. Thales has an exceptional international footprint, with operations around the world working with customers and local partners.
 First, I went to a special briefing for journalists to see the new vehicle the 4×4  Hawkei with a bolted modular design. Thales is hoping to sell 1,300 of these vehicles made in Australia to replace the Australian army land rover fleet.  Hawkei was built in 2009 . It is a 2 door vehicle with a roof top capabilities to provide more room for payload on the back.  The new Hawkei is the export version with 2 commands, 2 utilities and 2 reconnaissances. It was developed to provide protection, mobility and payload.
On the second visit, I went to a special presentation for journalists on innovation but none of the other 159 journalists who visited Thalys came to this presentation. Thalys was so kind as to give me a private tour of two prototype innovations.   My hosts and hostesses  told me that  at Thales innovation is the main element for its strategy of growth, performance and people and that their company listens to the needs of their customers to develp  products suiting their needs and issues that they face.
I entered a large area where innovative technology  equipment  prototypes were displayed. First I put on 3D glasses to see the Battlespace Vista. Looking at the screen I saw in 3D  a digitalisation of physical fields of sea, land, air and space. It can be used to see maps, identifiy allies and enemies, prove situational awareness and therefore  simplifies complex situations integrating ground force equipment, radio and print sensor connectivity.  It allows the viewer to understand where he is in relation  the total situation  i.e. where he is and what is happening in the environment.  This new method of visualizing and sharing command and control photos uses innovative techniques like immersive headsets and showing of aircraft in 3D.  I felt as if I was actually in the situation!
Next I was shown the single-operator control station for multiple UAVs.  I sat down at the control center  and looked up to see a screen and down to see another screen.  Imagine that I could manage seveal agile remotely piloted vehicles and their payloads.  This technology includes automated real-time remote controls,and command modules which include optimising updating of flight plans for missions already in progress.  www.thalesgroup.com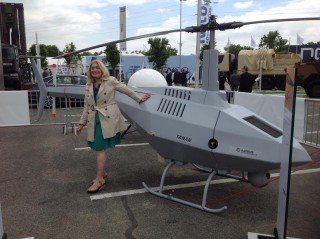 Many people were standing at the outside exhibition at Airbus .   I met Daniel Cucher, from Airbus when looking at the new drone Tananium  that Airbus had on display.  It was developed in 2013 after the  initial concept in 2010 and had its first flight in 2014. The reason it is unique is that it has the capability for two pay loads.  The endurance before refueling is twelve hours.
I went inside the pavilion and was warmly welcomed by Alain Dupiech.  While I knew of Airbus as the manufacturer of airplanes with a facility in Toulouse, he gave me other information .  Airbus is the number 1 producer of helicopters, number 2 producer of satellites after Boeing , number 2 in military systems vehicles,  and number 1 for military defence.   He was very proud of the new Tananium.  www.airbus.com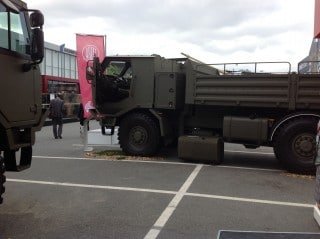 Walking in the outside exhibition area,  I noticed a large sign display at the Tetra  4 x 4  HMHD Chassis- Cab 3-3a/3b Level Armored Cab called T 815-780R59  19 270 4×4.1R a high mobility duty truck manufactured by the company in Czech Republic.  It  is unique because it has the Tetra System's backbone tube and swing semi-axels. This 4×4 all-wheel drive chasis  features the new development of independent suspension and backbone tube front which Tetra has used for over 90 years;   The vehicle has power assisted door openings, air springs all around and independent suspension, with a solid 3D structure.  It also has integrated blast management system and multi-layered scatable armor.  Its uses are for expeditionary forces and deployment overseas.  Tetra welcomes visitors for a tour of their facility in  the Czech Republic.  www.tetratrucks.com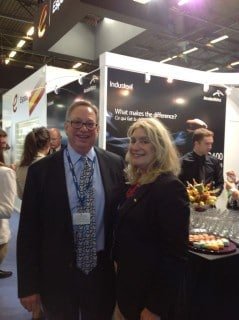 People were drinking champagne at the Arcelor Mittal booth.   Richard C. Garvin welcomed me and offered me a glass of champagne and delicious food.  Dick Garvin told me that the company is based in Coatesville, PA and is the largest producer of steel, present in all world markegts and in 60 countries. As a graduate of University of Pittsburgh, PA,  asked him about the steel in Pittsburgh. He said it is not there any more. I told him that I took a photo of Les Braves ( featured in my article about the Giant Picnic in Veterans Today ) and he said Accelor Mittal made the statue!    I also met another  American , William Gooch of WA Gouch Consulting from Palm Harbor, FL which is involved in armor technology,  development  and testing.  www.acrcelormittal.com
Drinking champagne, I met Captain Alexis Jalwan from the procurement office at the Ministère de la Défense in Versailles. I thanked him for organizing the train ride and other transportation  for  the D Day Ceremonies. He suggested that I visit Nexter.  I went to tour the exhibit but was told I needed to make an appointment and only certain guests could visit.  I called and was granted an appointment to have a guided tour. Each visitor had to be accompanied by someone from the company.
Nexter  has developed its own system called TITUS which stands for Technical Infantry Transport and Utility System. The company manufactures a fully modular family of multirole vehicles.
There were 3 different models of VCBI  vehicles including a military vehicle in green and brown  colors which the French Army used  in Afghanistan and Mali. Nexter  sold more than 500  VBCI vehicles to the French Army. These VCBI vehicles reflect Nexter's standards of perfomance, precision and safety.
  Nexter hopes to sell their new vehicle Scorpion  for 700,000 Euros.  This 6×6 offers the tactile agility of an 8×8. This armored reconnaissance combat vehicle is 100% mission combatile and  offer vetronics  – a fully digital open core plug and play electronic infrastructure.
As the exhibition was huge, it was helpful to have a great press service particularly  Nadia Bouloudene who sent out information. Eurosatory TV had about twenty screens which featured journalists who presented events and topics and also had exhibitor announcements. There were four giant screens in the indoor exhibition center, 2 of which were more than 20 square meters and 18 located near cafés, restaurants  and in the press lounge.
There was written  communications : Eurosatory Daily which for the first time was also available in electronic editions that visitors could download.
Eurosatory was very informative and intriguing. As a civilian, I learned a lot and could appreciate more the tough conditions that the military endure and that special equipment that military personnel have to employ.  I was intrigued by the new development
ATTENTION READERS
Due to the nature of independent content, VT cannot guarantee content validity.
We ask you to
Read Our Content Policy
so a clear comprehension of VT's independent non-censored media is understood and given its proper place in the world of news, opinion and media.
All content is owned by author exclusively. Expressed opinions are NOT necessarily the views of VT, other authors, affiliates, advertisers, sponsors, partners or technicians. Some content may be satirical in nature. All images within are full responsibility of author and NOT VT.
About VT
-
Read Full Policy Notice
-
Comment Policy