Note: This article was revised on July 23 when newly discovered archive photos undermined the evidence showing wreckage of hijacked flight MH-370 (9M-MRO) was photographed at the crash scene.
Overlooked in all the intrigue about corpses in missing aircraft has been the US and international troops deployed to the Ukraine under Exercise Rapid Trident – a 12-Nation joint military exercise in the Ukraine coinciding with the alleged crash of MH-17.
How many times have government and military exercises turned into false flag events like 9/11, Sandy Hook, Boston Marathon Bombing and now, perhaps the alleged missile attack on MH-17?
Ukraine will play host, but the US military will call the shots, in an upcoming military exercise called Rapid Trident that will bring together some 1,300 international forces in Ukraine for a long-planned exercise.

Although the United States canceled Atlas Vision 2014, which was scheduled to take place in July in the northeastern Russian city of Chelyabinsk, the Pentagon says it will go ahead with plans for a multinational military exercise this summer in Ukraine.
To his credit, Youtuber, Dahboo77  saw it coming in April, 2014.
[youtube 3ukUdjIKNH4]
Atlas Vision is a bi-lateral U.S-Russian Ground Forces exercise. The exercise will consist of a battalion-level command post exercise/Computer Assisted exercise and a platoon-level field training exercise.
Interesting how the media will not tell you that Russia knows all about this operation. Even more interesting is Russia had planned to participate in one of these events – Atlas Vision – on their own soil.  Meanwhile, we are left blogging to social media in the dark, while these publicly announced, highly visible, planned exercises have been what we should be looking for,  first.
The starboard section of the fuselage contains important evidence about the configuration of the windows beneath the flag.  Archive photos from 2014 show both aircraft were fitted with the metal "plug" aft of the flag rather than a transparent window. To be clear, this finding, alone does not serve as significant evidence that the aircraft in the photo is actually the hijacked MH-370/9M-MRO but is worth filing for future reference.  Photos of each aircraft showing the metal plug configuration from are available: 9M-MRD  Feb 8, 2014  and 9M-MRO Jan 4, 2014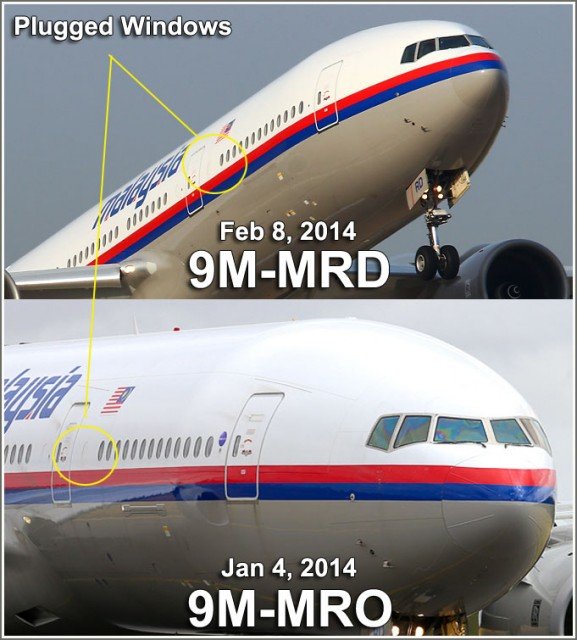 According to Julia Ioffe  at the New Republic:
"And that's when they're (The Pro-russian Separatists) not simply peddling conspiracy theories, which have become a kind of symbiotic feedback loop between state TV and the most inventive corners of the Internet. The best of the bunch is, of course, an elaborate one: MH17 is actually MH370, that Malaysia Airlines flight that disappeared into the Indian Ocean. According to this theory, the plane didn't disappear at all, "it was taken to an American military base, Diego-Garcia."

Then it was taken to Holland. On the necessary day and hour, it flew out, bound for Malaysia, but inside were not live people, but corpses. The plane was flown not by real pilots; it was on autopilot. Or take-off (a complicated procedure) was executed by live pilots, who then ejected on parachutes. Then the plane flew automatically. In the necessary spot, it was blown up, without even using a surface-to-air missile. Instead the plane was packed with a bomb, just like the CIA did on 9/11.

The theory also notes that the passports of victims at the crash site all look brand new even though there was an explosion and a fire."
Julia Ioffe – The New Republic
[vimeo 101544366]
In order to pursue the theory that the aircraft was salted with cadavers, it makes little difference which plane was involved. We know that 9M-MRD was out of service for the flight MH-17  for a complete month prior to the crash, allowing possible opportunity for "modifications" in preparation for a staged event using fly-by-wire technology available in the B-777 aircraft.  So far, the evidence for the window plug is verification that either aircraft could have been modified for use. (See EXHIBIT G)
Flight 370 The CIA Hoax: Gordon Duff
Today we are told that the fate of Flight MH-370 is known, not yet identified debris has been spotted in what is called "the Southern Indian Ocean," perhaps more appropriately described as "north of Antarctica."

We also know that the 777/200 is a "fly by wire" aircraft with controls in place that allows the CIA to remotely pilot the plane "in case of emergency."  We were able to verify the design and implementation of this system through Boeing, Raytheon and commercial pilots."
So Julia Ioffe's dim-witted story that a pilot with a load of cadavers would need to parachute out of the aircraft is to characterize Russians as backward and stupid.  Quick think Colbert rescued the moment to make it clear the story plot was taken from "Sherlock", an English speaking, British crime drama.
"Michael Holmes of CNN shared an image on Twitter via his account @holmescnn of a section of what appears to be a Malaysia Airlines jetliner on a grassy field. The Malaysian flag is clearly depicted and the red and blue livery colours used by MAS are also shown."

The source of the images, a man identifying himself as a tourist guide / traveller / photographer / former soldier from Slovenia, @MatevzNovak, has since posted more photos – taken by a Nadezhda Chernetskaya – of what he claims to be the crash site of Flight MH17 in Grabovo, Ukraine. (TRNS)

Bogus Engine Debris at Alleged MH-17 Crash Site
Crash scene photos clearly reveals engine debris to be from a completely different engine and aircraft type.

Click to Enlarge
__________
Related:
______________
ATTENTION READERS
Due to the nature of independent content, VT cannot guarantee content validity.
We ask you to
Read Our Content Policy
so a clear comprehension of VT's independent non-censored media is understood and given its proper place in the world of news, opinion and media.
All content is owned by author exclusively. Expressed opinions are NOT necessarily the views of VT, other authors, affiliates, advertisers, sponsors, partners or technicians. Some content may be satirical in nature. All images within are full responsibility of author and NOT VT.
About VT
-
Read Full Policy Notice
-
Comment Policy