The photo speaks for itself.  Puppet Selection Not Election.

The photo shows, U.S. Ambassador to Afghanistan, Cunningham, meeting with its new puppet leader,  Ghani,  before the final results of the run off election. It certainly looks like an official meeting. Ghani's Uncle Qayyum Kochai, the man in sunglasses,  who is the principal  (sirmalim)of the Afghan translators and on the U.S. payroll for years, is also at the meeting. It really does show that it is a selection and not an election  by the Afghan people of their president.  The U.S. has selected Ghani as their new puppet leader in Afghanistan. This photo shows that the U.S. is meddling in and controlling Afghanistan's internal affairs. This is not diplomacy.
The United States' and NATO's policy is to divide Afghans, and  Muslims every where, so that Muslims kill Muslims. This policy is the divide and conquer policy that they are and have been using in Muslim countries all over the world. They supply weapons to Muslims to fight other Muslims. They divide Muslims by ethnicity, tribal affiliations and by Shia and Sunni designations. I believe this policy is the wrong policy for a peaceful world. Muslims are beginning to open their eyes to realize that the U.S. and NATO are playing this game.
History has shown that Afghans do not accept a puppet leader chosen by foreigners. Ghani is a puppet leader selected by the U.S. .I believe he will not be accepted by the majority of Afghans no matter how much propaganda the U.S. puts in the media and spends . This selection may fool the majority of American people into thinking that there is democratic nation building happening and there tax dollars are not wasted. But Afghans are realizing that there really was not a true election only fraud and foreign selection.   I am sad to say this selection will not lead to peace but only more instability , suffering for the majority of Afghan people and an escalation of war. I believe this interference and selection by the U.S.  is shameful and a waste of U.S. tax dollars. It is more of the same divide and conquer tactics that U.S. government uses when it wants to control a country and its resources.
What is the main reason that the U.S. feels the need to select a puppet leader like Ghani for president? It is all about controlling Afghanistan's vast untapped REEs (Rare Earth Elements) and other natural resources especially the vast deposits of REEs in the Helmand region which are used in modern technology and defense systems and are worth trillions. The U.S. sees the control of these REEs as vital and it will keep its control by selecting Afghanistan's puppet president and leaders and keeping a U.S. presence there through  its bilateral agreement.  Only the U.S. and its Afghan puppet leaders, war profiteers and the mining companies will profit from the mining of these REEs. The majority of Afghan people will not benefit from their REEs and natural resources. The majority of Afghans, especially the ones who live in areas where these REEs are located, will suffer – their villages are being bulldozed and destroyed,  these Afghans are being forced from their homes, these Afghans are being labeled aws terrorists and killed etc. , while foreigners and war profiteers mine and steal their REEs and other minerals and natural resources. Who are the really terrorists?  It is all about control of these Rare Earth Elements (REEs) and other natural resources which belong to the natives or indigenous peoples of Afghanistan. It's all about REEs!  I believe the majority of Afghans need to educate themselves about these REEs and their resources and take immediate lawful action to stop the stealing of their resources .
Is this really diplomacy? I believe this type of "diplomacy" has only caused division and suffering in Afghanistan and wasted trillions of U.S. tax dollars, which have only benefited the war profiteers. I believe there should have been no U.S. invasion and occupation of Afghanistan . There should have been no illegal collective punishment of Afghans for the tragedy on 9/11.  I believe the money would have been better spent on rebuilding Detroit and on the citizens of America, the majority who are struggling.
Every Afghan knows that the election is  really a shameful U.S. selection to fool the American people into thinking that everything is okay in Afghanistan and that their tax dollars  are not being wasted.
I believe this occupation and meddling in Afghanistan's internal affairs needs to end. I believe the foreign invaders/occupiers need to leave Afghanistan.  Isn't it obvious by now it is the wrong policy that has lead and will only lead to instability and more suffering ? Recent events certainly lead to that conclusion.  War , occupation, deception , disrespect, and systemic corruption never lead to peace and stability.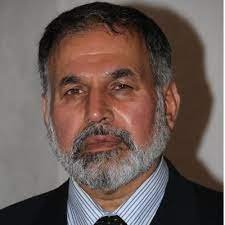 Abdul Kadir Mohmand was born in Kabul, Afghanistan. He currently resides at Kalamazoo, Michigan. He graduated from Kabul High School. On an UNESCO scholarship, Mr. Mohmand studied at Sofia University, Bulgaria from 1976 until 1978 when his studies were interrupted by the Communist seizure of power in Afghanistan. The new Afghan Communist government ordered the Bulgarian government to return him to Afghanistan because he was anti-communist. Mr. Mohmand requested political asylum. With the help of the United Nations and the U.S. Embassy, he arrived to Italy and then the United States in 1979.
Mr. Mohmand returned to his studies and earned his B.S. in 1983 from Western Michigan University. He found employment in various positions in the engineering business. For many years, he worked for BFI and was country operations manager for BFI Italia. Currently, Mr. Mohmand owns a shopping center and develops commercial properties.
During the 1980s, Mr. Mohmand was the Representative of the Afghan Mujahideen for North America. During the 1980s, Mr. Mohmand returned to Afghanistan to fight as a freedom fighter against the Soviets and Afghan communists. Through an arrangement with Borgess Hospital in Kalamazoo, Michigan, Mr. Mohmand would bring back wounded Afghan children and Mujahideen for medical treatment at Borgess and recuperation in his home in Kalamazoo. He formed and was president of a nonprofit, Aid for Afghanistan.
In the 1980s, Mr. Mohmand also worked with the Committee for a Free Afghanistan in Washington D.C to bring wounded Afghans to the United States for medical treatment.
For the past four decades Mr. Mohmand has dedicated his life to working to achieve true peace and stability in Afghanistan.
A few years ago, Mr. Mohmand organized educated Afghans intellectuals across the world who drafted a comprehensive plan for peace. Presently, he has united many different Afghan peace organizations under one umbrella. The goal of this network is to unite Afghans to bring true peace in and the independence of Afghanistan. This network wants to be the bridge between the Afghan freedom fighters and the silent Afghan majority, and the Western World in any peace negotiations.
Mr. Mohmand wants true peace and stability in Afghanistan. As a veteran of war, Mr. Mohmand hates war.
ATTENTION READERS
Due to the nature of independent content, VT cannot guarantee content validity.
We ask you to
Read Our Content Policy
so a clear comprehension of VT's independent non-censored media is understood and given its proper place in the world of news, opinion and media.
All content is owned by author exclusively. Expressed opinions are NOT necessarily the views of VT, other authors, affiliates, advertisers, sponsors, partners or technicians. Some content may be satirical in nature. All images within are full responsibility of author and NOT VT.
About VT
-
Read Full Policy Notice
-
Comment Policy