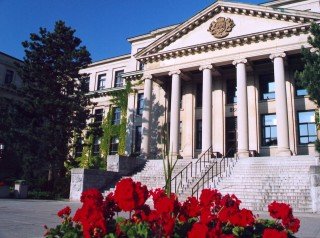 Fortune 500 corporation with US-military and IDF ties buys a "security and policy institute" at the University of Ottawa in Canada's capital
The University of Ottawa was a reputable institution of higher learning in Canada's capital city, before it was taken-over in 2008 by former federal politician and former Canadian Ambassador to the UN Allan Rock.
Following his appointment, Rock immediately proceeded to bring in all his own people to run the place in support of his announced pet projects to support US-colonial "globalization" and to legitimize the state of Israel, in the face of growing international condemnation of Israel's on-going war crimes in Palestine.
There was a complete overhaul of the executive team, and of the Board of Governors (BOG). The new VP-Academic, Francois Houle, disappeared shortly after the start of his mandate. The whole executive team left for one reason or another. The Chair of the BOG left, to be replaced by a retired federal senior civil servant who had been an underling of the then federal minister Allan Rock, and so on.
Rock has gone so far as to receive public condemnations from both the Canadian Civil Liberties Association and the Canadian Association of University Teachers for administrative interferences with the student-based Israel Apartheid Week. He created a questionable joint law graduate degree with an Israeli university, for which there was no apparent or expressed need. He has been pressing for a "School of Government" without consulting the academic community. He accepts large anonymous donations for his pet programs. And so on.
Since Rock's appointment, damaging public relations fiascoes have followed, one after the other, somewhat like in Rock's former political career in which a colleague from his own party said that he has "shit magnets in his pockets".
The most recent matter illustrating Rock's ability to continually harm the institution's reputation has been the subject of several harsh editorial critiques in the national print media: Rock prejudicially and publicly dismissed and tarred the entire university hockey team, thereby wrecking student athlete careers, prior to any criminal charges being laid against two of the team's members.
A PATTERN OF UNILATERAL AND UNCOLLEGIAL EXECUTIVE DECISIONS BY ALLAN ROCK
An illustrative example of how Rock operates, is shown by student reactions to his "School of Government" brainchild, as follows (LINK).
On January 29, 2013, Sarah Tayyem, President, Public & International Affairs Association, Representative of Students from the Public & International Affairs Program, writes (in part):
"Lack of student input into the consultation process … The consulting group did not include students in their process, and so this report does not address or cover student concerns. … There was no student input solicited for the original consultative document, and there has been a lack of effort on the part of the University to solicit feedback from students even though we are at the heart of this proposal. GSPIA students would appreciate a consultation session, especially as we stand to be strongly affected by the proposed SoG."
Similarly, on March 4, 2013, the president of the Association of Professors of the University of Ottawa (APUO), Professor Christian Rouillard, wrote THIS damning letter to Allan Rock (in part):
I am writing to you in regards to the projected School of Government. Listed as one of the initiatives on the horizon in the plan Destination 20/20, where it is introduced as «a premier centre for governance and public-policy research» (…), this project remains a mystery to most members of our university community.

About a year ago, at the Ottawa Mayor's Breakfast: Ottawa Business Journal and Ottawa Chamber of Commerce, you  explained to the members of the business community present that … Yet, one year later, as attested by the feedback we received from many members who are themselves part of «the exceptional cluster of expertise that is already at the  University», i.e. faculty conducting research in the areas of governance, public administration, international affairs,  security and human rights, everyone on campus it seems, has been kept in the dark. No relevant information on the projected school has been formally shared by the administration. Not a word on it is to be found in the minutes of the  Senate meetings held in  the  2012-2013 academic year (…). Similarly, not a word on it is to be found in the minutes  of the Board of governors meetings held in the 2012-2013 academic year …
Such public letters are unprecedented at the University of Ottawa.
THE LATEST ALLAN ROCK SURPRISE: A FOREIGN-FUNDED SECURITY AND POLICY INSTITUTE FOR CANADA
On September 8, 2014, the Allan Rock's university put out THIS previously unannounced press release:
MEDIA ADVISORY: Launch of the Security and Policy Institute of Professional Development at the University of Ottawa

OTTAWA, September 8, 2014  —  The University of Ottawa invites members of the media to attend the launch of the Security and Policy Institute of Professional Development. The new institute will offer a unique professional development program for decision-makers working in the public, para-public and private sectors whose responsibilities require them to pay particular attention to national and international security issues.

The courses offered by the Institute will focus on sharing knowledge and best practices to help students take more informed decisions.

In honour of the Institute's launch, internationally renowned intelligence expert George Friedman will present the first in a series of in-depth lectures on emerging security issues given by world-leading specialists.

Serge Blais, Director of the Centre for Continuing Education at the University of Ottawa, will be on hand to answer questions about this new professional development program.

WHAT: Lecture and inauguration of the new Security and Policy Institute of Professional Development
WHEN: Wednesday, September 10, 2014 at 12:30 p.m.
WHERE: Ballroom of the Chateau Laurier, 1 Rideau Street, Ottawa
It is interesting to note that the press release announces an event to be held off-campus, that a university communications person will answer questions rather than Rock himself, that there is no mention of the funding source of this new institute, and that the guest speaker is a US military intelligence expert (more below).
THIS university webpage informs us that "Symantec is the main sponsor for the launch of the Security and Policy Institute of professional development."
Symantec is a US Fortune 500 corporation, which deals in software/internet "security" (including "cyber war"), and which has strong US military and IDF ties.
Symantec's nine-member Board of Directors (LINK) includes one "Major General and Commander, United States Air Force (retired)".
Symantec has strong corporate ties with Israel and the Israel Defense Force (IDF). Symantec's country manager for Israel is Shmulik Angel. His web bio at Symentec states (LINK):
Previously, he served in the Israeli air force for 25 years. He retired from service as a Colonel and continues to perform active reserve duty in the air force and in the Ministry of Defense. Mr. Angel holds BSc. degree in Industrial Engineering and an MBA from Ben Gurion University, Israel.
The Mossad's cyber weapon "Stuxnet" is said to be "the world's first cyber-weapon of geopolitical significance". It is believed to have been developed in collaboration with the US military, and it is linked to Symantec, as per THIS media report.
IMPLICATIONS OF ROCK'S SECURITY AND POLICY INSTITUTE
Nothing could be a better illustration of Allan Rock's zeal to make the University of Ottawa an instrument to dissolve Canada's sovereignty and to serve the US-Israeli military complex.
Now let us examine Rock's proposed inaugural lecture to launch his institute, given by "internationally renowned intelligence expert George Friedman". Who is George Friedman?
George Friedman is the Chairman of the US global intelligence firm Stratfor (LINK).
Stratfor is dubbed a "shadow CIA" firm, and Wikileaks has shown that 13 Canadian government agencies have high-cost subscriptions to Stratfor (LINK). "National Defence paid Stratfor $78,225 in 2011, $80,175 in 2012 and $82,200" for 2013.
In addition to obtaining actual contracts for secret services, George Friedman also spews out public "intelligence" reports, which are unabashed propaganda, about every conflict of concern to the US-Israel military. These "reports", masked as objective "intelligence" serve to legitimize the global empire's every intervention, including Israel's so-called "self-defence" against the surrounding Arab aggressors who do not accept Israel's existence and who pose a "long-term threat to its survival".
Allan Rock's star speaker is an Israeli apologist, invited just days after Israel's recent bloody massacre in Gaza. And this invited guest will deliver a "series of in-depth lectures on emerging security issue" to Canada's captive minds.
The Emperor will be pleased to learn that President Rock did not show leadership by condemning Israeli war crimes, or the massacre in Gaza. Quite the opposite, their man has stifled such discussion and replaces it with US-Israel propaganda.
Welcome to "Allan Rock's university", in Canada's capital city.
Denis G. Rancourt was a tenured and full professor at the University of Ottawa in Canada. He was trained as a physicist and practiced physics, Earth sciences, and environmental science, areas in which he was funded by a national agency and ran an internationally recognized laboratory.
He published over 100 articles in leading scientific journals. He developed popular activism courses and was an outspoken critic of the university administration and a defender of Palestinian rights.
He was fired for his dissidence in 2009 by a president who is a staunch supporter of Israeli policy. He is the author of the 2013 book "Hierarchy and Free Expression in the Fight Against Racism".
ATTENTION READERS
We See The World From All Sides and Want YOU To Be Fully Informed
In fact, intentional disinformation is a disgraceful scourge in media today. So to assuage any possible errant incorrect information posted herein, we strongly encourage you to seek corroboration from other non-VT sources before forming educated opinion. In addition, to get a clear comprehension of VT's independent non-censored media, please read our
Policies and Disclosures
.
Due to the nature of uncensored content posted by VT's fully independent international writers, VT cannot guarantee absolute validity. All content is owned by the author exclusively. Expressed opinions are NOT necessarily the views of VT, other authors, affiliates, advertisers, sponsors, partners, or technicians. Some content may be satirical in nature. All images are the full responsibility of the article author and NOT VT.
About VT
-
Comment Policy