Harry Hun's Ebola Program Runs Into Difficulties
______________________
Poor old 'Harry Hun'. For decades – ever since World War II in fact – he has poured massive resources and millions of deutschmarks and euros into his Ebola weaponization program. Then, when he finally gets it right, and starts knocking over Africans by the thousand, someone goes and finds a cure! Tough.
Having had my dear friend Christopher Story assassinated by a German bio-weapon in 2010, I am not overly sympathetic.
Just a short posting this fortnight, as I rather have my hands tied up at the moment, and I don't mean with fluffy handcuffs. I may be a Tory, but I'm not an MP.
_________________
The Ebola Virus
Ebola is named for the river in Africa, near to the village of Yambuku in the DRC (Democratic Republic of the Congo – you can forget the 'democratic' bit, it's no more democratic than the EU), where it was first deployed in strength, along with Nzara in the Sudan.
Nobody took the virus from Nzara to Yambuku of course. It was a WMD campaign. Multiple, simultaneous outbreaks in widely different locations are an indicator for WMD.

Like Spanish Flu — the 'Hun's' first successful WMD — it is a viral hemorrhagic fever. Up until now, it has mainly been spread by contact with the bodily fluids of an infected person. It is fatal, with a mortality rate of around 90% up until 2013. It's natural in origin and is generally assumed to be a crossover disease from the animal to human population, possibly through eating bushmeat or fruitbats, or from fruitbat bites.
It might however have been artificially developed for human use (by which I mean misuse) from the animal population, i.e. researchers who have been puzzled by the mechanics of the crossover may find that the answer is that it happened by design rather than accident.
_________________________________
Initial Discovery
Ebola virus seems to have been discovered (not by that name, of course!) in the Belgian Congo, possibly during the 1930s. There are whispers of medical officers coming across it, and reports back to Brussels, where the Abwehr had a heavy presence. It would not be surprising – the disease may have been present in the animal population for centuries.
Belgian colonial officials were not noted for their decency, humanity and compassion, unlike their British counterparts. Given the disease's lethality, and poor communications, doctors were probably seeing bodies rather than patients.
The Abwehr immediately appreciated Ebola's military potential. German intelligence is always on the lookout for new ways of making people die horribly, preferably in terror. Ebola is a nasty little chappie, and people tend to instinctively recoil from a disease which involves bleeding from their bodily orifices. It's a messy way to die. Perfect, for the Bad Guys.
We Good Guys would never dream of weaponizing such a nasty little bug, of course. Our bugs are much nicer, and we only keep them in reserve.
Of course, I am aware of the conspiracy theory circulating on the Net that Ebola was developed in a supposed biological warfare establishment at Fort Meade, MD. Forget it. They don't develop bio-weapons at Meade.
The US facility is at Fort Detrick anyway, not Fort Meade; the US has never gone in for aggressive use of bio-weapons and never had control of the Congo, where this nasty little bug comes from. Germany never controlled the Congo – they just controlled Belgium. That brought with it the intelligence yield from the Congo files.
German assets in the bureaucracy in Brussels made sure that the files were kept safe for their new masters, both in 1914 and 1940. It is even possible that the initial German discovery of Ebola goes back as far as 1914, after their occupation of Belgium. In my analysis, it was only picked up in World War II, not World War I, but it's not entirely clear.
One of the more interesting scientists working in World War II for Dr Josef Mengele on the German Ebola program was a Portuguese doctor, Jose Simoes Ferreira.

His daughter, Teresa, is married to Senator John Kerry, although I am quite sure neither knew anything at all about Ferreira's past until I blew the gaff (it's a topic covered in Spyhunter).

I imagine the Democrats have since tightened up their selection procedure for presidential candidates – surprisingly, no one apparently thought to ask John Kerry in 2004 whether or not his father-in-law was involved in hideous medical experiments on African children in World War II on behalf of Dr Mengele.
_________________________________
What's different this time around?
Previous Ebola outbreaks have been a bit of a washout for our community partner 'the Hun'. There were two big problems with the old version of the disease. As a killer, old Ebola (let's call it Ebola Mk 1) was too efficient, which meant it was inefficient as a WMD.
If you kill the host too quickly, he or she doesn't have time to spread the disease. The second problem was the inefficient method of transmission, which required contact with bodily fluids. This also slowed down its spread.
The DVD appear to have introduced two genetic modifications: they've cut the lethality rate from about 90% to 'only' 70%, increasing the overall death rate, since the lower percentage is of a larger group. Ninety percent of 100 only gives you 90 victims, whereas 70% of 1,000 gives you 700. They also appear to have succeeded in making it airborne. CDC and others are apparently struggling to explain some of the transmissions, e.g. from patient to medical staff observing careful precautions against fluid transfer.
If your precautions are designed for fluid transmission only, they are bound to be defeated by an airborne virus.
The other thing that's different of course is that someone has come up with a cure, much to the disappointment of DVD assets at WHO and elsewhere. ZMapp looks good. I am intrigued by the apparent effectiveness of nano-silver, which seems to be attracting attention from some governments in West Africa, including that of Sierra Leone, one of Germany's geopolitical targets. If nano-silver works, no one seems to be quite sure how, but who cares? Either it works or it doesn't.
If you are unfortunate enough to come down with a touch of Ebola, believe me you're not going to be too worried about the possible side effects of new or unconventional medicines. If you are likely to die a horrible death within the next 24 hours and blood is pouring out of your bodily orifices, you're not going to ask the doctor treating you to go through the waiver bit again, only this time more slowly, before you sign it.
Sovereign governments are going to have to sort this mess. Forget the WHO. Somebody in a position of authority, somewhere, HAS to go public on what we've learnt. There will be less incentive then for German assets in Whitehall and Washington to relax restrictions at borders.
__________________________________
The Ottawa Terrorist Attack
The Islamic terrorist Zehaf-Bibeau was clearly not acting alone. Someone probably drove him into central Ottawa. It is improbable that that he acquired the Winchester (an odd choice, that, for an urban terrorist attack) on his own, and somebody had to brief him in on the best time to attack, i.e. when protection for the Canadian Prime Minister was at its weakest. I incline to the view that Stephen Harper was the primary target. Good shooting Mr Vickers!
The Cabinet Office briefly withdrew protection from David Cameron yesterday (Monday 27th). Given that he is standing firm on demands for extra payments from Brussels that cannot have been a coincidence. It looks like a warning shot.
Withdrawal of close protection for democratically elected leaders has been a problem ever since the assassination of President John F. Kennedy. The answer is to take it out of the hands of hostile state bureaucracies influenced or controlled by Germany (the Secret Service was under effective German control in 1963) and give it to people who can be trusted, which in the UK means the military.
Close protection officers for the Prime Minister and key ministers should be drawn exclusively from the ranks of the SAS and SBS. The SAS would have slotted that idiot yesterday without any difficulty, which would have sent the right message to GO2, the German operation in London, which probably staged the incident.
If that conclusion is right I could not fault GO2 for their choreography. We must get them to do the next production of Swan Lake.
In the States, of course, you have a highly efficient and professional agency, the Secret Service, who are very nice people. They can be trusted to look after the President, but they have to be allowed to do their job, which in practice means giving them back their independence and abolishing the pointless Department of Homeland Security, no offense.
It's so badly penetrated by the DVD it may as well be called the DFS – Department of Fatherland Security (no offense, boys). German inability to control the Secret Service in the Bush-Cheney Administration was one of the reasons why it was set up.
___________________________________________
The verdict and sentence in State v Oscar Pistorius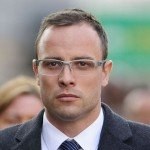 I have refrained from commenting on this case until the conclusion of the proceedings at first instance, as a courtesy to the defence and the court. I am sorry to see such criticism of the learned trial judge, Judge Thokozile Matilda Masipa. With respect, I thought she handled her court very well. I respectfully agree with both the verdict and the sentence. Neither was out of line with my expectations.
The prosecution over-egged the pudding and put unreliable witnesses on the stand – usually fatal. They also conducted the case too aggressively, never an attractive course, frankly. I remember the disputes when I prosecuted for RSPCA HQ – and look at the mess they are in now. Their reputation is in tatters.
When you prosecute in a democracy, you are a minister of justice and should act as such. You should not conduct the case as though you were acting for the wife in a Russian oligarch's divorce (I have done a Russian mini-oligarch's divorce, and believe me they can be catfights!).
Within proper bounds you should assist the court, and your opponent, to whom you should be scrupulously fair. I am not of course suggesting for one moment that prosecuting counsel in the Pistorius case was less than fair, but with great respect I think it could have been conducted in a way which was more helpful to the court.
I see that the prosecution have lodged an appeal against both verdict and sentence. The best of British luck to them. In a case in which so much turned on the court's assessment of oral evidence, I suspect that it will prove to be a futile gesture. Very frankly, it is wrong that the time of South Africa's busy appellate courts should be wasted in this way.
______________________________
Patricia Davies

A sad departure from the intelligence scene. Patricia Davies' obituary appeared in the Daily Telegraph in London last week. She passed in July.

She was the last surviving member of the brilliant naval intelligence team, which included Ian Fleming, which ran Operation Mincemeat.

That was the one where they decided, sensibly, to drop a dead body off a submarine off the Spanish coast, with a bunch of faked papers suggesting the Allies were going to invade anywhere but Sicily. I taught it in my propaganda course at AMU, as a classic exercise in deception. I plan on featuring it in a column, as a tribute to the Mincemeat team.
_________________________________________
___________________
[youtube Wy-c8aAntWA]
_____________________
Classic Bond Movie – The Spy Who Loved Me (1977), dir. Lewis Gilbert
Guy Hamilton was lured away from Eon for this movie, with a fake promise to direct the first Superman movie. That's a classic German tactic by the way – the DVD's Propaganda Section have been running interference on the Bond movies from the beginning. Poor old George Lazenby was sold a pup as well.
It is another cracking movie, this time involving submarines and a plot to start a Third World War, by yet another megalomaniac. There are more megalomaniacs in the Bond films than there are in the Democratic Party.
Curt (Curd) Jurgens is the supercilious baddie, who gets some nice lines in as he blows up the scientists in their helicopter. It's amazing that he was never recruited by the Cabinet Office, who have always tended to favor smooth megalomaniacs, no offense intended.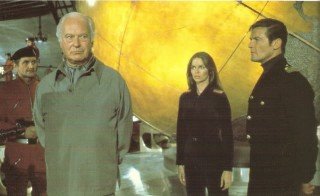 James Bond and his Russian oppo, played by the lovely Barbara Bach, fall for each other, of course. It's what we call détente. Jaws makes his first appearance, a comedic reference to the fish movie.
Richard Kiel sadly died this year – playing Jaws was really the highlight of his career, and he was blocked by German assets in Hollywood thereafter.
The scene with the Leyland Sherpa van in the desert is a real hoot, and yes Leyland vans were a bit like that, even when brand new.
The 007 car is now a Lotus Esprit, and in the movie it turns from an automobile to a submarine. The prop they used didn't actually do that, so you had to shoot one car on land, and another in the water.
The Esprit was a great looking machine and the movie did wonders for the image of Lotus. I love the bit where Roger Moore, playing Bond, drops the fish out the window. Anyone who says he can't act doesn't understand acting. His acting is understated (a bit like myself, I hear some of you saying!), but it's still acting.

October 28, 2014
________________________________________
___________________________________________________
Michael Shrimpton was a barrister from his call to the Bar in London in 1983 until being disbarred in 2019 over a fraudulently obtained conviction. He is a specialist in National Security and Constitutional Law, Strategic Intelligence, and Counter-terrorism. He is a former Adjunct Professor of Intelligence Studies at the American Military University.
ATTENTION READERS
Due to the nature of independent content, VT cannot guarantee content validity.
We ask you to
Read Our Content Policy
so a clear comprehension of VT's independent non-censored media is understood and given its proper place in the world of news, opinion and media.
All content is owned by author exclusively. Expressed opinions are NOT necessarily the views of VT, other authors, affiliates, advertisers, sponsors, partners or technicians. Some content may be satirical in nature. All images within are full responsibility of author and NOT VT.
About VT
-
Read Full Policy Notice
-
Comment Policy