SIAL – World's Largest Food Exhibition Celebrated 50th Anniversary
 ____ 
Paris Nord Villepointe Parc des Expositions
October 19-23, 2014
________
SIAL, the world's largest food exhibition, occurs every two years in Paris. This year commemorated its 50th anniversary, with over 6,500 companies from around the world demonstrating over 400,000 products. The ten largest international pavilions represented Turkey, Spain, Italy, United States, Germany, Greece, China, Brazil, Morocco and Egypt. The top exhibiting countries among the 104 exhibiting countries were:
1) France   2) Italy   3) Spain   4) Turkey   5) China   6) Belgium   7) Netherlands  8) Germany
9) Greece   10) Brazil   11) United Kingdom   12) USA   13) Poland   14) Argentina, and 15) India.
The top 5 sectors were: meat, diary products and eggs, gourmet foods and multi-products, frozen foods and sweets and desserts.
There were 155,766 visitors from 200 countries of which 60% were international visitors.

 ___________________________________
Having attended SIAL twice before, I was eager to discover what was new this year, aside from new products and the fireworks celebration that marked the 50th anniversary.
To facilitate transportation this year there was more free shuttle services, including an online car sharing service which made getting around much more convenient than it was at the 2012 show.
First, I was surprised upon my arrival to see several Zhejiang Pavilion representatives along the main walkway leading into the exhibition handing out coupons for a free internet drawing. SIAL is a costly show for exhibitors, and I appreciated the goodwill gesture of the Chinese representatives. I went to Hall 8 to thank the Zhejiang, China Agricultural Department and the Zhejiang Times International Exposition Service Co. Ltd.
I found all kinds of interesting products from China including frozen foods, groceries, teas, canned food having mixed ingredients. I spoke to Yi Wang, who told me that they were expecting a large crowd. 
Hou Yuyan from Linquan Global Foods Co., Ltd was at SIAL for the first time. He was exhibiting in Hall 8 with the others from China. His company sells spices: garlic in powder, flakes, granules and oil, ginger in various forms, dried vegetables, horseradish, white sesame seeds, hulled sesame seed and dehydrated vegetables. We visited the Greek pavilion together.
This year I noticed that many stands featuring desserts were promoting gluten-free products since research is revealing that that gluten may be unhealthy.  In 2014 the concept is eating more nutritious natural foods free of preservatives and artificial ingredients. The industry is encouraging greater sensitivity to the environment symbiosis as an avenue to foster good health.
 ___________________________________
There was a special event featuring 50 specialty chefs creating special foods that were presented in 50 hampers for all to see and taste.  There was also a special hall for 150 equipment, technology, and service exhibitors for featuring the tools of the trade used by the 36,000 IAA professionals attending SIAL  This is to reinforce that SIAL Paris continues to be  the greatest agrifood event in the world.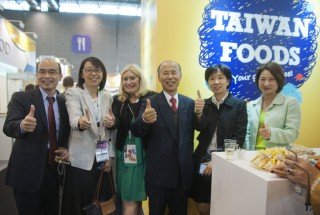 Taiwan had a very large exhibition. Francesa, Mark, our new journalist/photographer, and I were invited to their cocktail party. The Taiwan ambassador, Mr. Michel Ching-Long Lu, made an introductory presentation using opera puppets from Taiwan. Next he told us that Taiwan is a democracy and is 17th in exports worldwide and 19th in international trading. He invited the visitors to have refreshments, to visit the Taiwan Pavilion and to visit Taiwan.
There were exhibits of delicious food items including tea, honey, jelly, pineapple cake, plum square pastries. The people from the Taiwan Trade Center, Paris including Mme. Julia Chen, the director, and  Mme. Carol Hsiao from Association des Entrepreneurs Taiwanais en France (Association of Taiwanese business owners in France ) offered us wine and were eager to answer any questions.
We toasted to Taiwan. In the photo from left to right, Christopher Lai, Director of Economic Affairs, Bureau de Répresentation de Taipei en France, Julia Chen, director of Taiwan Trade Center in Paris, Jane, Ambassador Lu ,Mrs. Jui -Chuan Chang, VP of  Taiwan berverage Industries Association. and Carole Hsaio from Association des Entrepreneurs Taiwanais.
 ___________________________________
A veritable cornucopia of international food products seemed to peak our curiosity every step of the way as we meandered from aisle to aisle through each exhibition hall filled with new and exciting goods to see, sample, and learn about.
Asimah  Asiam from Azaib Holdings Son Bhd  offered us samples of his delicious chocolate  from Kuala Lumpur. Their slogan is "chocolate like you've never tasted before."
Their freeze dried fruit chocolates provided us with a challenge to see which ones we liked best but we couldn't decide.
Jack Emil G. Lumban from Century Pacific had delicious food.. His company's main export product is canned tuna which is FDA certified, CFIA certified from Canada , OU  Orthodox Union certified as Kosher and Earth Island Dolphin Safe Institution certified.
Many new products were being showcased by the Malaysian SHARIFAH. Attendees were offered the rare opportunity to be the first to taste some of the company's premiere products including Nas Goreng Kampung , a ready to eat 1 to 2 portions of Malaysian Kampung Fried Rice. There are no article colorings, no preservatives in this authentic recipe. I received a free sample which was delicious when I cooked it at home. They also had three other new products Kuah  Rendang  Malaysian Rendang Sauce; Nasi Briyani Gam Ayam, Malaysian Chicken  Briyani Gam Rice and Sambai Sotong Kering —  Maysian Dried Cuttlefish Sauce . They also featured their 10 flavor "ready to cook" products including Briyani dishes.
  ___________________________________
It was a special privilege for me to go to the 50th Anniversary Celebration of SIAL presented by Pro Ecuador — the Institute for Export and Investment Promotion from Ecuador. My friend Socorro De Peretti, who is a nutritional consultant from Peru living in Paris, went with me.  The ambassador, Mr. Carlos Jativia, welcomed the director of SIAL, Mr. Nicolas Trentesaux and gave him a gift from Pro Ecuador. I congratulated the ambassador for organizing such a wonderful party and he told me that I am welcome to come to future parties at the embassy.
We had the pleasure of meeting with the chef, Mr. Rémy Henry who created the beautiful chocolate cake. All the Ecuadorian delicacies that we enjoyed were delicious and Socorro assured me that they were healthy. They were made under the supervision of Mrs. Maria Ruth Moreno, an Ecuadorian chef. The sample dishes served by waiters and waitresses were based on principal products exported into France: shrimp, tuna, heart of palm, green bananas, quinoa and chocolate.
In Spanish the delicious foods were cerviche de camaron,  cerviche de pescad y maracuya, bocadito de palmito, bocaditos con atun, tamales de verde y camaron, brownies de quinoa de cocolate (  Cerviche shrimp, cerviche of Fisherman and passion fruit, snack palmetto, snacks with tuna, green and shrimp tamales, quinoa brownies with chocolate) and others.
 ___________________________________ 
The French people had a new title  " Made in France made with Love."  Having the largest number of exhibitions it was great to sample the French delicacies. To see the French products please go to www.frenchfoodandbeverages.com
I visited many other booths and all the exhibitors were very cordial.  Many gave us free samples and of course, the last day we arrived with large bags and even small suitcases to take all the samples we were offered.
We appreciated the hospitality provided by the pressroom where plentiful refreshments were for us to enjoy and facilitated us to meet other journalists available.

SIAL's 50th Anniversary was an immensely informative and enjoyable show.
______________________________________________________
Jane Rosenstein is a U.S. citizen living in Paris, France. She is a professional translator/interpreter. She is the owner of The International Connection which does international marketing consultation including sales of wine, interpretation, and translation.
She enjoys the cultural life that living in Paris offers and has talents in organizing events. She speaks English, French, and Spanish. She has a B.S. degree in mathematics from the University of Pittsburgh and an M.B.A. degree from Georgia State University in Atlanta, GA.
ATTENTION READERS
Due to the nature of independent content, VT cannot guarantee content validity.
We ask you to
Read Our Content Policy
so a clear comprehension of VT's independent non-censored media is understood and given its proper place in the world of news, opinion and media.
All content is owned by author exclusively. Expressed opinions are NOT necessarily the views of VT, other authors, affiliates, advertisers, sponsors, partners or technicians. Some content may be satirical in nature. All images within are full responsibility of author and NOT VT.
About VT
-
Read Full Policy Notice
-
Comment Policy