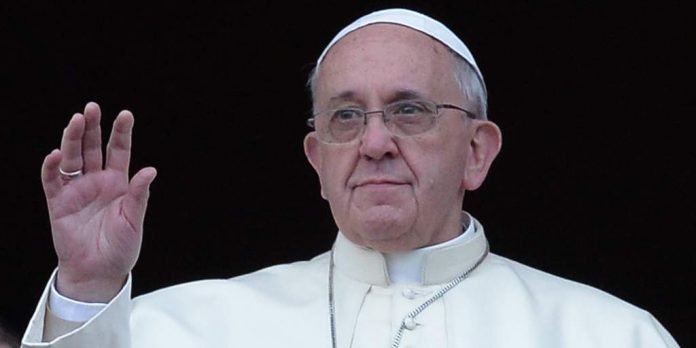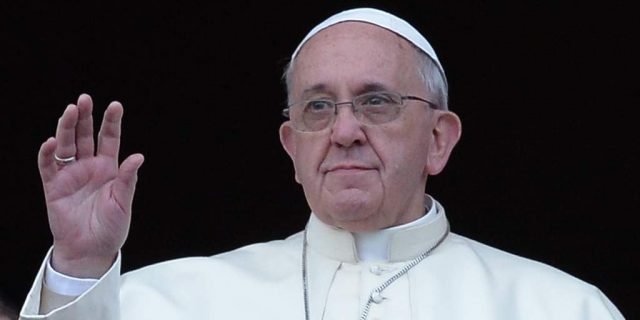 (19 January 2015) – During his May 2014 visit to the Holy Land, Christianity's top man was (presumably) prevented from bearing witness to the human suffering in Gaza. Since then Israel has launched yet another murderous assault slaughtering civilians, including children, on a massive scale and afterwards obstructing humanitarian aid and re-construction. Is it time for the Pope and other religious leaders to mobilise and used their clout?
The Pope's tour of Asia has been greeted ecstatically. He is gaining huge popular support and not just among Catholics. Unfortunately his earlier visit to the Holy Land could hardly be described in such satisfactory terms.
Remembering it, Pope Francis told the Diplomatic Corps the other day Full text: The Pope's speech to the Diplomatic Corps :

"My thoughts turn above all to the Middle East, beginning with the beloved land of Jesus which I had the joy of visiting last May, and for whose peace we constantly pray. We did this with extraordinary intensity, together with the then President of Israel, Shimon Peres, and the President of Palestine, Mahmoud Abbas, inspired by a confident hope that negotiations between the two parties will once more resume, for the sake of ending violence and reaching a solution which can enable Palestinians and Israelis alike to live at last in peace …."
The Pope, war crimes suspect Peres and quisling Abbas all kneeling together before God? Isn't that the sort of scene Charlie Hebdo should be having great sport with?
His Holiness continued:
"A Middle East without Christians would be a marred and mutilated Middle East! In urging the international community not to remain indifferent in the face of this situation, I express my hope that religious, political and intellectual leaders, especially those of the Muslim community, will condemn all fundamentalist and extremist interpretations of religion which attempt to justify such acts of violence."
In case he hadn't noticed, the Middle East has been systematically marred and mutilated by Western Christian predator states reckless of the consequences to their Arab Christian brethren or our Muslim brothers and sisters. And for all practical purposes the international community remains supine. When speaking of the need to condemn fundamentalism and extremism in religion it surely doesn't help to draw attention "especially" to Muslim leaders. They all need to get a grip.
Suffer little children, suffer!
While in Bethlehem the Pope delivered a homily in Manger Square, saying:
"Sadly, in this world… great numbers of children continue to live in inhuman situations… Today, in acknowledging this, we feel shame before God, before God who became a child. And we have to ask ourselves: Who are we, as we stand before the Child Jesus? Who are we, standing as we stand before today's children?… Are we perhaps people who use fine and pious words…?"
Gaza was only a few miles away but for some reason he didn't go to "bear witness" to children living in that "inhuman situation" or to bring much needed comfort to his own flock suffering intensely there. I always thought that bearing witness was a Christian duty, an act of justice that establishes the truth and makes it known. So what kept the Pope from such an important aspect of his work on this particular trip?
Instead, he went off to the Yad Vashem memorial and held meetings with Israel's president and the two Chief Rabbis. He even made a detour to the Victims of Acts of Terror Memorial with Israel's maniacal prime minister Benjamin Netanyahu. Wasn't the irony a little too obvious?
Defence for Children International-Palestine reports that the Israeli cabinet in November approved a bill extending the maximum penalty for those found guilty of throwing stones to 20 years, equivalent to the longest possible sentence for manslaughter! It also applies to children, and the majority of Palestinian children who become entangled in the Israeli military court system are arrested for stone-throwing. Furthermore the use of solitary confinement as a means of coercing confessions, and the arbitrary use of house arrest, continue to prevent Palestinian children from enjoying their rights as enshrined in the Convention on the Rights of the Child.
Brad Parker of DCI-Palestine told Electronic Intifada that Palestinian children face routine physical abuse, violence and torture during arrest raids and detention. "In about twenty percent of cases, kids are brought and held in solitary confinement solely for interrogation purposes", a practice that has been condemned by international law, which equates it to torture, Parker explained.
"In about 75 percent of cases, Palestinian kids arrested by the Israeli army face some type of physical violence during arrest, transfer or interrogation. It could be anything from being slapped in their face, being hit with a rifle, being hit with a helmet, kicked, punched, beaten in the back of a jeep."
In any month nearly 200 Palestinian children are held in Israeli military detention and the numbers remain fairly constant.
Yet when the Pope met Shimon Peres he said Homily of Pope Francis, Manger Square Holy Mass (BETHLEHEM – 25.05.2014 ):
"Mr President, you are known as a man of peace and a peacemaker. I appreciate and admire the approach you have taken. Peacemaking demands first and foremost respect for the dignity and freedom of every human person, which Jews, Christians and Muslims alike believe to be created by God and destined to eternal life. This shared conviction enables us resolutely to pursue peaceful solutions to every controversy and conflict. …
"Mr President, you know that I pray for you and I know that you are praying for me, and I assure you of my continued prayers for the institutions and the citizens of the State of Israel."
Save you prayers, Holiness, for someone and something more deserving. Peres, real name Szymon Perski, was described by respected Israeli journalist Uri Avnery as "the world-renowned Man of Peace, who has started several wars and never done anything for peace".
Electronic Intifada doesn't mince words about this odious individual either Don't honor Peres' war criminal history
On 18 April 1996, when Israel still occupied southern Lebanon, Shimon Peres was Prime Minister… He launched "Operation Grapes of Wrath" causing 400,000 Lebanese to flee their homes, with almost 800 of them fleeing to a UN base in Qana, South Lebanon.
On 18 April the Israeli army shelled the UN shelter in Qana, killing 102 civilians, mainly women, children and the elderly. Many more were injured. Human Rights Watch, the UN and Amnesty International subsequently disproved the myth that the Israeli army did not deliberately intend to shell the UN base. Shimon Peres said at the time, "In my opinion, everything was done according to clear logic and in a responsible way. I am at peace."
The Qana massacre led to Shimon Peres being denied the job he coveted at the time: that of UN Secretary-General. He should have been denied it anyway for being the architect of Israel's nuclear programme — one which remains outside the scrutiny of the world even as Israel bays for the cessation of Iran's pursuit of nuclear energy for civilian purposes.
Peres is on record for being responsible for other war crimes, from building colonies on occupied Arab land to endorsing a policy of extra-judicial killings, which murders Palestinians and other Arabs without the benefit of a trial or, in fact, any proof other than that provided by Israeli Intelligence, the Shin Bet. He also supports the siege on Gaza, the destruction of its airport, and the elaborate system of checkpoints all across the West Bank. He defends the demolition of Palestinian homes, and he justified the atrocities committed by the Israeli army in its recent war on Lebanon in 2006.
Peres is also on record for defending land gained during war, claiming that Israel has the right to the Golan Heights because it was gained during war.
The possibility of Peres ever becoming UN secretary-general is the stuff of nightmares.
A Christian-Muslim alliance?
Not many weeks after that bizarre presidential pray-in with the Pope, Israel launched its most recent murder spree, Operation Protective Edge, slaughtering nearly 2,200 including more than 500 children, seriously injuring thousands more, making countless families homeless, wreaking massive destruction on vital infrastructure and causing lethal public health problems.
His Holiness, on reflection, must know that the situation in Palestine is wretchedly deplorable and an ugly stain on civilisation generally and Christendom in particular for allowing it to happen. Praying with villains like Peres and accepting their refusal to allow access to Gaza's communities doesn't cut the mustard. Extraordinary evil requires extraordinary measures. The world now needs a fearless champion with clout, another overturner of money tables, scatterer of vested interests, exposer of hypocrisy and scourge of the unjust… a genuinely heroic figure that ordinary folk around the world can look up to. People of conscience should urge His Holiness – this Vicar of Christ, this leader of 1.2 billion Catholic adherents and chieftain of the Christian world – to take up the challenge and forge a Christian-Muslim alliance. Then come to Gaza by sea, escorted by the Italian Navy and any other navy that's man enough, and wade ashore on the beach (provided it's OK with the legitimate government there).
Do that and you take the world with you.
Israeli interference would be an act of war. And, according to NATO principles – keystone Article 5 – an attack on one member is an attack on all and will be met with such action as is deemed necessary, including armed force.
Is it not time to bring the world to its senses? Time to bypass corrupted politicians? Time to practise en masse what Christ taught and what the Qur'an also teaches? Time to liberate and restore the Holy Land to its rightful owners and open Jerusalem to everyone of faith and no faith – an international city as decreed by the UN back in 1947?
It is a great opportunity for religious renewal. If the men of God don't seize it we shall all know the answer to the Pope's own question: are we just people who use fine and pious words?
Stuart Littlewood worked on jet fighters in the RAF then pursued a career in industrial marketing.
More recently he worked as a freelance and with innovation consultancies. Psychology degree Exeter University, Member of the Chartered Institute of Marketing. Served as a Cambridgeshire county councilor 1993-97 and on the Police Authority. Associate of the Royal Photographic Society. Since retiring has been a newspaper columnist and produced two photo-documentary books. He is a regular contributor to a number of internet news magazines.
Stuart's book Radio Free Palestine, with Foreword by Jeff Halper, tells the plight of the Palestinians under brutal occupation. It can now be read on the internet by visiting RadioFreePalestine.org.uk.
ATTENTION READERS
Due to the nature of independent content, VT cannot guarantee content validity.
We ask you to
Read Our Content Policy
so a clear comprehension of VT's independent non-censored media is understood and given its proper place in the world of news, opinion and media.
All content is owned by author exclusively. Expressed opinions are NOT necessarily the views of VT, other authors, affiliates, advertisers, sponsors, partners or technicians. Some content may be satirical in nature. All images within are full responsibility of author and NOT VT.
About VT
-
Read Full Policy Notice
-
Comment Policy