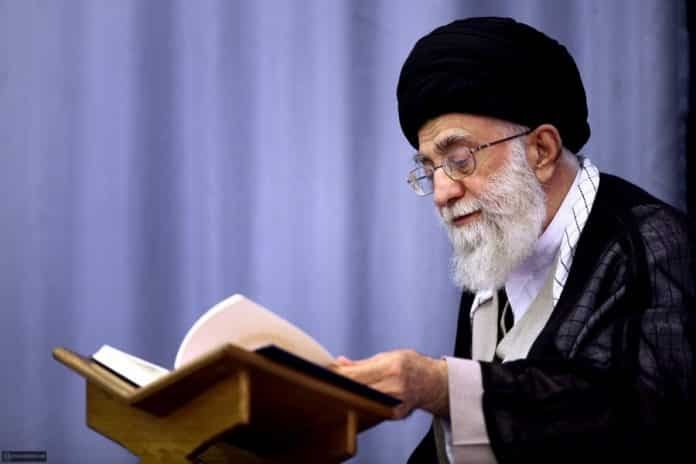 I am honored to publish today's message to Western young people from Seyyed Ali Khamenei, Supreme Leader of the Islamic Republic of Iran, who urges Western young people not to succumb to the islamophobic conditioning of their societies, but instead to think for themselves.
Some readers may be surprised to hear an Islamic leader urging free thought. In the West, it is usually assumed that "freethinkers" are opposed to religion. Today's Western orthodoxy holds that religion and free thought are always at loggerheads. This perspective dominates our schools and universities, where people like Galileo, Voltaire and Darwin are lionized for battling the censorship of the church.
But this perspective is limited and misleading, for two reasons.
First, the actual history of the relationship between science and religion in the West is completely different from the "heroic freethinking atheists vs. blinkered fundamentalists" myth. In reality, the vast majority of the West's great thinkers were deeply religious men who were inspired to do their great thinking by religion. Western science was built mainly by Christians who wanted to know God by better understanding His creation. (And these Christians were standing on foundations largely built by Muslims, who had made the mathematical breakthroughs, such as the invention of algebra, that made modern science possible.)
Second, to the limited extent that there really was a battle between science and religion in the West,  nothing remotely similar has happened anywhere else, least of all in the Islamic world. Historically, Muslims have had very few objections to scientific pursuits or discoveries. Heliocentrism? No problem from Islam's perspective. Evolution? The debate (like the evidence) is mixed, but Muslims are not knee-jerk opponents of all such lines of inquiry. Quantum theory? It sure looks like proof of Divine Unity (tawhid), and maybe even wahdat al-wujud (Unity of Creation) as well.
Indeed, the Qur'an seems almost miraculously compatible with modern science, as Dr. Maurice Bucaille among others has noted.
And then there is the issue of possible extraterrestrial intelligence, which some believe is being withheld from humanity in order to prevent religious people from being shocked. In fact, few Muslims would be shocked by the news that earth is being visited not only by angels and djinn, but perhaps by other varieties of insaan (humanity, loosely defined) as well. After all, the Qur'an calls God "rabb al-alameen," "Lord of the Worlds" – the word worlds is emphatically plural.
Westerners capable of dropping their preconceptions, stepping outside the propaganda bubble, and looking at Islam with a "beginner's mind" (and then using their critical intelligence, al-'aql, as the Qur'an urges) are likely to be astonished at how different the reality is from the derogatory image we're all being force-fed 24/7/365 by the media.

Here is the Supreme Leader's message to Western young people. Please pass it on to any young people you may know.
-KB
Message of Ayatullah Seyyed Ali Khamenei, Leader of The Islamic Republic of Iran
To the Youth of Europe and North America
In the name of Allah, the Beneficent the Merciful
Recent events in France and similar ones in some other Western countries have convinced me to talk to you directly about them. I am addressing you [the youth], not because I overlook your parents; rather it is because the future of your nations and countries will be in your hands, and also I find that the sense of quest for truth is more vigorous and attentive in your hearts.
I don't address your politicians and statesmen in this message because I believe they have consciously separated the route of politics from the path of righteousness and truth.
I would like to talk to you about Islam, particularly the image that is presented to you as Islam. Many attempts have been made over the past two decades, almost since the disintegration of the Soviet Union, to place this great religion in the seat of a horrifying enemy. The provocation of a feeling of horror and hatred and its utilization has unfortunately a long record in the political history of the West.
Here, I don't want to deal with the different phobias with which Western nations have thus far been indoctrinated. A cursory review of recent critical studies of history would bring home to you the fact that the Western governments' insincere and hypocritical treatment of other nations and cultures has been censured in new historiographies.
The histories of the United States and Europe are today full of shame for practicing slavery, embarrassed by the colonial period and the oppression of people of color and non-Christians. Your researchers and historians are deeply ashamed of the bloodshed wrought in the name of religion between Catholics and Protestants or in the name of nationality and ethnicity during the First and Second World Wars. This approach is admirable.
By mentioning a fraction of this long list, I don't want to reproach history; rather I would like you to ask your intellectuals as to why the public conscience in the West awakens and comes to its senses after a delay of several decades or centuries. Why should the revision of collective conscience apply to the distant past but not to current problems? Why is it that attempts are made to prevent public awareness regarding an important issue such as the treatment of Islamic culture and thought?
You know well that humiliation and spreading hatred and illusionary fear of the "Other" have been the common base of all those oppressive profiteers. I would like you to ask yourself why the old policy of spreading "phobia" and hatred has targeted Islam and Muslims with unprecedented intensity. Why does the power structure in the world want Islamic thought to be marginalized and remain latent? What concepts and values in Islam disturb the programs of the super powers and what interests are safeguarded in the shadow of distorting the image of Islam?
Hence, my first request is: Study and research the incentives behind this widespread tarnishing of the image of Islam.
My second request is that in reaction to the flood of prejudgments and disinformation campaigns, try to gain a direct and firsthand knowledge of this religion. The right logic requires that you understand the nature and essence of what they are scaring you about and want you to keep away from.
I don't insist that you accept my reading or any other reading of Islam. What I want to say is: Don't allow this dynamic and effective reality in today's world to be introduced to you through resentments and prejudices. Don't allow them to hypocritically introduce their own recruited terrorists as representatives of Islam.
Receive knowledge of Islam from its primary and original sources. Gain information about Islam through the Qur'an and the life of its great Prophet. I would like to ask you whether you have directly read the Qur'an that Muslims follow. Have you studied the teachings of the Prophet of Islam and his humane, ethical doctrines? Have you ever received the message of Islam from any sources other than the media?
Have you ever asked yourself how and on the basis of which values has Islam established the greatest scientific and intellectual civilization of the world and raised the most distinguished scientists and intellectuals throughout many centuries?
I would like you not to allow the derogatory and offensive image-buildings to create an emotional gulf between you and the reality, taking away the possibility of an impartial judgment from you. Today, the communication media have removed the geographical borders. Hence, don't allow them to besiege you with fabricated and mental borders.
Although no one can individually fill the gaps thus created, each one of you can construct a bridge of thought and fairness over these gaps to illuminate yourself and your surrounding environment. While this preplanned challenge between Islam and you—the youth—is undesirable, it can raise new questions in your curious and inquiring minds. Attempts to find answers to these questions will provide you with an appropriate opportunity to discover new truths.
Therefore, don't miss the opportunity to gain proper, correct and unbiased understanding of Islam so that hopefully, due to your sense of responsibility toward the truth, future generations would write the history of this current interaction between Islam and the West with a clearer conscience and lesser resentment.
Seyyed Ali Khamenei
Dr. Kevin Barrett, a Ph.D. Arabist-Islamologist is one of America's best-known critics of the War on Terror.
He is the host of TRUTH JIHAD RADIO; a hard driving weekly radio show funded by listener donations at Patreon.com and FALSE FLAG WEEKLY NEWS (FFWN); an audio-video show produced by Tony Hall, Allan Reese, and Kevin himself. FFWN is funded through FundRazr.
He also has appeared many times on Fox, CNN, PBS, and other broadcast outlets, and has inspired feature stories and op-eds in the New York Times, the Christian Science Monitor, the Chicago Tribune, and other leading publications.
Dr. Barrett has taught at colleges and universities in San Francisco, Paris, and Wisconsin; where he ran for Congress in 2008. He currently works as a nonprofit organizer, author, and talk radio host.
ATTENTION READERS
Due to the nature of independent content, VT cannot guarantee content validity.
We ask you to
Read Our Content Policy
so a clear comprehension of VT's independent non-censored media is understood and given its proper place in the world of news, opinion and media.
All content is owned by author exclusively. Expressed opinions are NOT necessarily the views of VT, other authors, affiliates, advertisers, sponsors, partners or technicians. Some content may be satirical in nature. All images within are full responsibility of author and NOT VT.
About VT
-
Read Full Policy Notice
-
Comment Policy