Last week, NBC Trusted News Anchor and super likable all-around guy Brian Williams was caught in a lie embellishing his involvement in an under-fire incident whilst in a Helicopter during the illegal U.S. invasion of Iraq.
Swiftly, U.S. Veterans who were on the scene back in the day exposed Brian Williams swiftly while he made his claims to David Letterman.  It was brutal!
In short, he was outted so quickly that Kanye West did NOT even have time to jump on stage and claim that Beyonce should have won the award for Biggest Lie by a Failing Assign for the Corporatocracy.
It must have been a shock to Williams the Embellisher who thought he can simply pass it over and no one would notice. He clearly did NOT understand the power of our new connected world and he is now paying the price for it.  Ouch, Brian!  Come on Man!  Seriously!
The incident highlights an ongoing global cultural change whereby the age of lying and its rewards are slowly diminishing and becoming an extreme and dangerous liability not just to Politicians, Corporate Leaders, and Media Talking Heads but to everyone on the planet.
Granted not everyone has gotten the message yet.  Some are still asleep at the wheel. And so the lying will continue forward in spurts. Of course, the foolish will continue to be outted by the connected global community quickly and swiftly as the last syllable of their lie exits their mouth causing all kinds of stress and confusion for the "shocked" silly goose who was just too ignorant to understand the age we now live in. I mean, this is a process. With our new age of connection, it is taking longer for some to get the message or to figure it out.
Its events like the aforementioned Brian Williams episode that help those in power to understand more of what's really going out there. It will help them get in line with humanity and reality.

Of course, there will be another Brian Williams coming our way very soon. But over time, these incidents will gradually slow down as leaders realize that lying has no reward and only brings them grief and failure.
The new leaders will either take the position that they will tell and sell the truth and let society judge if their positions are worthy of merit and following or they will take the Dick Cheney approach to the 21st-century reality as they will lie, cheat, and steal.  And when caught by the global net citizens and quickly outdated, they will look us right in the eye, grunt, and say "so what!".
They will overtly shove their contempt for truth and our tribe as they pursue their agendas backed by what they believe is a bigger gun; whether it be an armed military or media propaganda machine paid for by their backers posing as a legitimate news organization.  The future Dick Cheney doesn't have respect for others.  It's just all about their power and whatever Machiavellian tactic it takes to get them to the orgasm.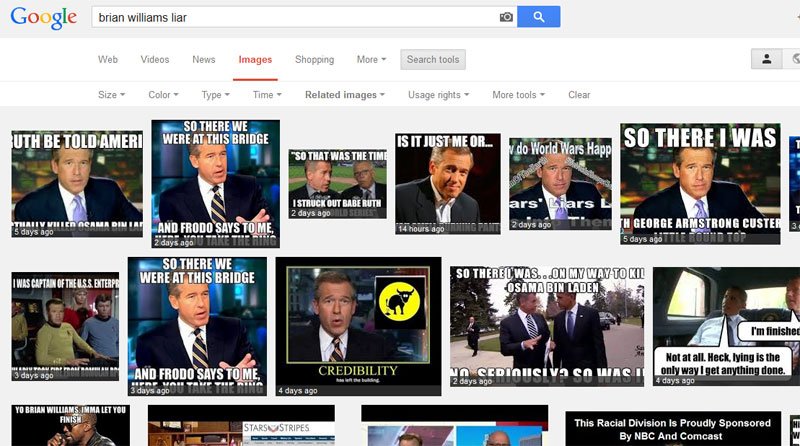 While the Dick Cheney approach to this new reality is bothersome it is far better than the old way of having a leader lie using the propaganda tools at their disposal without questions or challenges. The old way produced horrific tragedies.  The new way gives us a chance to tar the criminal psychotic predator before he can push the murder button!
With the new connected world, we can out actual tragedies and even prevent them before they actually take hold. And at least with the new Dick Cheney's coming our way, we will be able to tar and feather them at the speed of light instead of the 20th century slow methods of the past that took decades.
And so, the Dick Cheney of our future will have to fester under the bright lights of 24/7 exposure while they wiggle and snake around in the mire of their own mentally deranged filth, contempt, and criminal inhumanity while they point their guns at us while they install fake fear into the most vulnerable of us who work for a living just trying to make ends meet.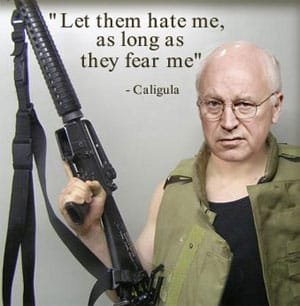 While we can admire the integrity to stick to one's Dick Cheney guns no matter how mentally disturbed they may be, our future will be much brighter as the future Dick Cheney's become marginalized and rendered impotent in favor of real leaders with real visions of success for our collective human tribe.
I mean, its turning out that lying is no longer paying and truth stocks are rising.  Market forces are in play and the world will never be the same.
In fact, the 21st century is turning out to be a wild ride as the culture shifts from the slow hidden past where dark forces can hide in plain sight wearing $ 5000 suits and pretending to be upstanding human beings to a new reality where the Darth Vader's must live under a sun that is so bright that all they can do is admit their sociopathy and took us deep into our eyes and say;
"Yes, I am a sick bastard and so what!  Screw You Jerky! I have a big bankster gun and some asswipe mainstream media moron with a microphone that makes me look like a human being instead of the sick and mentally ill man that I am!".
All this as they slither around sucking up what's left from their 20th-century antiquated oxygen tanks as it slowly empties and goes extinct.
I encourage your comments and thoughts!
Johnny Punish is the founder and owner of VT.  He is also a writer, global citizen eco-activist, visionary, musician, artist, entertainer, businessman, investor, life coach, and syndicated columnist.  Punish was educated at the University of Nevada Las Vegas (1980-81) and California State University Fullerton (1981-1984) with studies in accounting and business. Before the "internets" had been invented, he owned and ran (5) national newspapers in the United States of America from 1987-1998
Punish has over 100 original songs written. He records and produces music. A member of ASCAP, Punish has several songs placed in feature films. His music is promoted worldwide and played on all digital networks and net radio.
Resources:  YouTube – Apple Music – SoundCloud – Spotify – Instagram – Twitter
Read Johnny's Full Bio at JohnnyPunish.com >>>
ATTENTION READERS
Due to the nature of independent content, VT cannot guarantee content validity.
We ask you to
Read Our Content Policy
so a clear comprehension of VT's independent non-censored media is understood and given its proper place in the world of news, opinion and media.
All content is owned by author exclusively. Expressed opinions are NOT necessarily the views of VT, other authors, affiliates, advertisers, sponsors, partners or technicians. Some content may be satirical in nature. All images within are full responsibility of author and NOT VT.
About VT
-
Read Full Policy Notice
-
Comment Policy