[ Editor's Note:  The planning of this has to have been going on for some time, but it seems strange that the Houthis were allowed to make the gains of the last two days unmolested, particularly losing the airport with no defense.
Also, because there was no opposition to the Houthi advance, more of the Yemeni army defected over to them which could have been avoided.
We may be watching the birth of an Arab state NATO of sorts. Once they do something like this, it is hard to put the genie back in the bottle. The Gulf States have put a lot of dough into Egypt, which has the largest manpower pool. The Saudis can certainly afford to rent troops.
But as always happens, even if the Houthis get pushed back out of the cities, it will just trigger a long bloody guerrilla war, with the never-ending mosque bombings and IED attacks. I suspect that with the US pulling out the Special Ops people, they did not go too far... Jim W. Dean ]
_______________________
–  First published  …  March 25,  2015  –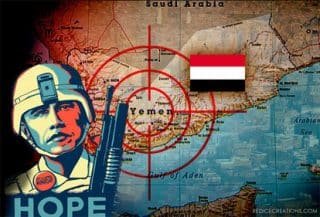 Saudi Arabian forces, joined by nine other countries, have launched a military operation in Yemen against Shiite Houthi rebels, the Saudi ambassador to the US said. The offensive, which started with airstrikes, will also involve "other military assets."

According to Ambassador Adel bin Ahmed Al-Jubeir, the military operation in Yemen started at 7 p.m. EST (11 p.m. GMT). The US is not participating in the operation, the envoy stressed.
Al Arabiya reported that warplanes of the Royal Saudi Air Force bombed positions of Yemen's Houthi militia, targeting their air defenses.
Reports from the ground indicate that Saudi forces have bombed an office belonging to Houthi rebels in Sanaa's Jiraf area, with many casualties. Residents are saying that warplanes are targeting the capital's airport, according to Reuters.
Houthis are using heavy anti-aircraft fire to respond to the bombing.Another warplane attack was said to have been launched on Sanaa's Dulaimi military airbase. The bombers affiliation could not be immediately confirmed.
https://www.youtube.com/watch?v=eeAvKNy6yww
Al-Jubair told Al Jazeera that Houthi fighters are in control of Yemeni's ballistic and heavy weaponry and could be taking over the country's air force. Hadi's government officials have been calling on Gulf states to impose a no-fly zone over Yemen.
Meanwhile, Saudi Arabia, the United Arab Emirates, Bahrain, Qatar, and Kuwait issued a joint statement saying that they "decided to repel Houthi militias, Al-Qaeda and ISIS (Islamic State) in the country." The Gulf states said they were responding to a "major threat" to the stability of the region, saying that their cause is to "repel Houthi aggression" in Yemen.
Al-Jubeir said the 10-country coalition launched the campaign "to protect and defend the legitimate government" of Yemeni President Abd-Rabbu Mansour Hadi after his appeal to intervene. Hadi is believed to have fled the country as Houthi rebels captured the southern seaport of Aden, the deposed leader's stronghold.
Egypt is providing political and military support for the operation, the country's state media said. Cairo is prepared to take part in air, naval and ground operations if necessary, the Egyptian Foreign Ministry has announced.
While the Saudi envoy insisted Washington only "consulted" Riyadh, a US official told Reuters on condition of anonymity that America has been supporting the military operation in an unspecified way.
An unnamed US official confirmed to Reuters that the Saudis consulted with Washington about the military operation at the "highest levels" before proceeding with the attack, adding that US President Barack Obama knew of Riyadh's plans to invade Yemen.
Houthi leaders have in turn branded the Saudi offensive as "aggression" and warned that it will drag the entire Gulf region into conflict.
"There is an aggression underway on Yemen and we will confront it valiantly," a member of the Houthi political office, Mohammed al-Bukhaiti, told Al Jazeera. "Military operations will drag the region to a wide war."
Ships in the region have been urged not to approach Yemen's ports due to the ongoing military operation, Saudi-owned Al-Hadath TV reported.
____________________
Obama ordered support to Saudi-led op, UN still 'checking details'
US President Obama has authorized the provision of logistical and intelligence support to the Gulf Cooperation Council (GCC)-led military operations in Yemen, the White House said in a statement, confirming that Washington had close communication with Hadi, the Saudis and other GCC states prior to the launch of the military operation.
"While US forces are not taking direct military action in Yemen in support of this effort, we are establishing a Joint Planning Cell with Saudi Arabia to coordinate US military and intelligence support," the statement said.
Moreover, the White House urged the Houthis to immediately halt "destabilizing military actions" and to return to political dialogue with the deposed Yemeni government.
Meanwhile, UN deputy spokesman Farhan Haq told TASS that the UN is aware of Saudi Arabia launching a military operation in Yemen and is looking into more details. Just a few hours before the operation, Haq told journalists that the UN does not believe in military actions to resolve the conflict in Yemen.
Jim W. Dean was an active editor on VT from 2010-2022.  He was involved in operations, development, and writing, plus an active schedule of TV and radio interviews.
ATTENTION READERS
Due to the nature of independent content, VT cannot guarantee content validity.
We ask you to
Read Our Content Policy
so a clear comprehension of VT's independent non-censored media is understood and given its proper place in the world of news, opinion and media.
All content is owned by author exclusively. Expressed opinions are NOT necessarily the views of VT, other authors, affiliates, advertisers, sponsors, partners or technicians. Some content may be satirical in nature. All images within are full responsibility of author and NOT VT.
About VT
-
Read Full Policy Notice
-
Comment Policy