… from  Press TV,  Tehran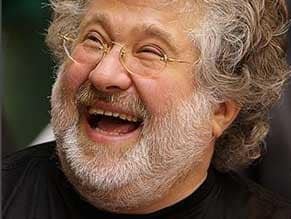 [ Editor's Note:  The night of the long knives has begun in Kiev. Kolymoisky overplayed his hand and is out of government now, an "independent agent.
The interior minister's office was raided last week with lots of boxes of documents carted off and Ukrainian blogs reporting lots of evidence of high level corruption.
Now the cross hairs are turned onto Prime Minister Yatsenyuk who has been plotting to take Poroshenko out.
It seems the US Ambassador has placed his bet on Poroshenko, and in return wants an anti-corruption sweep before the Ukie vultures descend on the IMF money to do as good a disappearing act on it as they can.
But this is a dangerous game, prosecuting top level people for corruption, because for protection insurance they usually have the goods on everybody else stealing to take them down also if targeted. That is why control over the prosecutor's office or Justice Department is so critical. The blackmail payback then remains in the theoretical realm. Handpicked Attorney Generals rarely prosecute their bosses.
To add to this circus our Ukrainian sources are saying no one really wants the PM job as that person would just be the next scapegoat in line for a Ukraine that has become a financial black hole that will be taking making more down the rabbit hole, including the biggies. Many of the oligarchs have lost up to half their wealth, mainly stock equities that have taken big hits.
The 300% consumer gas price increases are going to be kicking in soon with many people not being able to pay. Huge royalties for domestic oil and gas production are going to virtually shut that industry down, leaving the door wide open for outsiders to come in and take over with the usual "tax incentives" offered to foreign investors.
The implosion of Ukraine has not seen the worst by any measure. But Soros has announced he will but in $1 billion, so this looks like a reverse of the "pump and dump", morphed into a "dump and pump".
The big gamble being played here is will the Kiev supporting Ukrainians continue to swallow the "blame it all on the Russians" line when it becomes so obvious that all the huge Russian subsidies are gone forever, replaced  by Western debt slavery. Imagine that !
In the SE Republics, pensioners are going to starting getting their stipends…but in rubles. And no, the money is not coming from Kiev. The list of prospective donors is short.
Crimea is no longer dependent on Ukrainian water, and by the end of the year Russia will have the power trunk lines installed there, so Kiev can kiss that former revenue goodbye forever.
Out of spite now, Kiev has begun to nationalize Russian business and assets in Ukraine, I suspect under some ad hoc reparations scam. There are a lot of these to grab as Russia had kept Ukraine afloat, with its banks having a $25 billion loan portfolio mainly in Eastern Ukraine. But I strongly expect some long litigation over this.
Unlike Crimea, that overwhelming voted to kiss off the Kiev coup, the Russian investors in Ukraine did not vote to be robbed. It looks like the old "democracy and freedom" con as crashed and burned once again. You just can't make this stuff up… Jim W. Dean ]
__________________________
–  First published  …. 
April 04,  2015 

–

Ukrainian lawmakers are set to remove the embattled country's Prime Minister Arseniy Yatsenyuk over corruption charges.

The legislators will remove Yatsenyuk from his post through voting next week after a temporary investigative anti-corruption commission is established, Sergei Kaplin, the representative of the largest faction in the Ukrainian parliament, Petro Poroshenko Bloc, said on Friday.

Kaplin further added that signatures are being gathered for the establishment of the commission in the parliament. The commission will investigate the statements made by the former chairman of the Ukrainian State Financial Inspection, Nikolai Gordienko, who accused Yatsenyuk of corruption.

Yatsenyuk dismissed Gordienko in early March and ordered his activities to be investigated. The premier also accused Gordienko of failing to successfully control state property and state finances.

Gordienko, however, accused the premier of covering up corruption schemes, saying his cabinet blocked the investigation into the corruption schemes from the time of the former government, an allegation denied by Yatsenyuk's cabinet.

According to Gordienko, Ukraine's Ukrtelecom Telecom Company was privatized in violation of the law and caused "billions" in damage. This comes as Ukraine has been witnessing a months-long deadly conflict in its eastern parts.

The two mainly Russian-speaking regions of Donetsk and Luhansk have been hit by deadly clashes between pro-Russia forces and the Ukrainian army since Kiev launched military operations in April last year to crush pro-Russia protests there.

In May 2014, the situation in the two flashpoint regions started to worsen as residents overwhelmingly voted for independence from Ukraine in referendums.

During peace talks in the Belarusian capital city of Minsk on February 11-12, the leaders of Germany, France, Russia and Ukraine agreed on the withdrawal of heavy weapons from Ukraine's frontlines and a ceasefire, which officially went into effect on February 15. The warring sides, however, have continued to engage in sporadic clashes.

More than 6,000 people have died in the conflict, the UN says. Around 1.5 million people have also been forced from their homes over the past months

Author Details

Jim W. Dean is Managing Editor of Veterans Today involved in operations, development, and writing, plus an active schedule of TV and radio interviews. He broke into television work doing Atlanta Public TV programs for variety of American heritage, historical,military, veterans and Intel topics and organizations since 2000. Jim's only film appearance was in the PBS Looking for Lincoln documentary with Prof. Henry Lewis Gates, and he has guest lectured at the Army Command and General Staff School at Fort Gordon, GA.

He is working to find time now to database his extensive video archive of Americana and interviews filmed during his public TV days so individual topic segments can be key word searched to quickly use in future multi-media projects.

Read Full Complete Bio >>> Jim's Latest Posts

ATTENTION READERS

Due to the nature of independent content, VT cannot guarantee content validity.

We ask you to

Read Our Content Policy

so a clear comprehension of VT's independent non-censored media is understood and given its proper place in the world of news, opinion and media.

All content is owned by author exclusively. Expressed opinions are NOT necessarily the views of VT, other authors, affiliates, advertisers, sponsors, partners or technicians. Some content may be satirical in nature. All images within are full responsibility of author and NOT VT.

About VT

-

Read Full Policy Notice

-

Comment Policy